Abstract
The aim of this study is to revisit the physical parameters of umbral dots (UDs) with the latest high-resolution observations and contribute to the scientific understanding of their formation and evolution. In this study, we applied a particle tracking algorithm for detecting UDs in NOAA AR 12384 observed on June 14, 2015 by the Goode Solar Telescope (GST). We analyzed average position distributions, location dependencies, and general properties of the detected total 2892 UDs separately during their life time and the periodic behavior of ten selected long-lived UDs. We found: i) the brightest, largest, fastest and most elliptic UDs tend to be located at the umbra–penumbra boundary while their lifetime does not display any meaningful location dependency, ii) average dynamic velocity of all detected UDs is about twice (0.76 km s−1) of the previously reported average values, iii) obtained trajectories from the longest-lived 354 UDs show that they have generally inward motion, iv) chosen 10 long-lived UDs generally have similar periodic behavior showing 8.5 – 32, 3.5 – 4.1, 1.5 – 1.9, and 1.1 – 1.3 minutes periodicities, v) generally, detected UDs have an elliptical shape with the averaged eccentricity of 0.29, with a 0.11 standard deviation, vi) larger UDs tend to be more elliptic and more dynamic.
Access options
Buy single article
Instant access to the full article PDF.
US$ 39.95
Tax calculation will be finalised during checkout.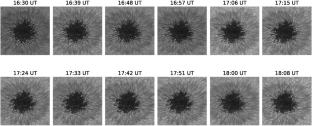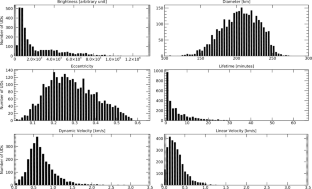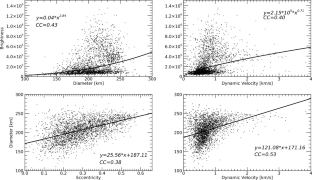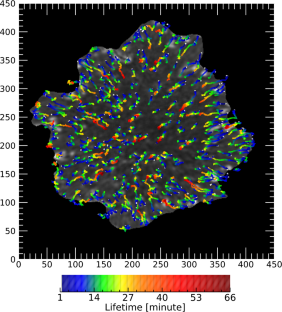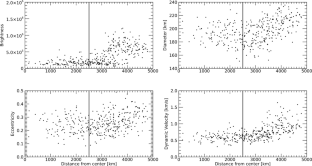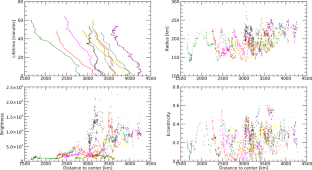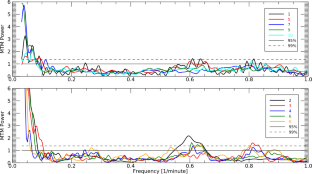 References
Abramenko, V., Yurchyshyn, V., Goode, P., Kilcik, A.: 2010, Statistical distribution of size and lifetime of bright points observed with the New Solar Telescope. Astrophys. J. Lett.725(1), L101. DOI .

Beckers, J.M., Schröter, E.H.: 1968, The intensity, velocity and magnetic structure of a sunspot region. II: Some properties of umbral dots. Solar Phys.4(3), 303. DOI .

Berdyugina, S.V., Solanki, S.K., Frutiger, C.: 2003, The molecular Zeeman effect and diagnostics of solar and stellar magnetic fields II. Synthetic Stokes profiles in the Zeeman regime. Astron. Astrophys.412, 513. DOI .

Choudhuri, A.R.: 1986, The dynamics of magnetically trapped fluids. I. Implications for umbral dots and penumbral grains. Astrophys. J.302, 809. DOI .

Crocker, J.C., Grier, D.G.: 1996, Methods of digital video microscopy for colloidal studies. J. Colloid Interface Sci.179(1), 298. DOI .

Crocker, J.C., Hoffman, B.D.: 2007, Multiple-Particle Tracking and Two-Point Microrheology in Cells, Elsevier, Philadelphia. 978-0-12-370500-6.

Ebadi, H., Abbasvand, V., Pourjavadi, H.: 2017, The study of umbral dots in sunspots based on SOT/Hinode observations. Astron. Nachr.338(6), 662. DOI .

Feng, S., Zhao, Y., Yang, Y., Ji, K., Deng, H., Wang, F.: 2015, Identifying and tracking of peripheral and central umbral dots. Solar Phys.290(4), 1119. DOI .

Ghil, M., Allen, M.R., Dettinger, M.D., Ide, K., Kondrashov, D., Mann, M.E., Robertson, A.W., Saunders, A., Tian, Y., Varadi, F., Yiou, P.: 2002, Advanced spectral methods for climatic time series. Rev. Geophys.40, 3.1. DOI .

Grossmann-Doerth, U., Schmidt, W., Schroeter, E.H.: 1986, Size and temperature of umbral dots. Astron. Astrophys.156, 347.

Kilcik, A., Yurchyshyn, V.B., Rempel, M., Abramenko, V., Kitai, R., Goode, P.R., Cao, W., Watanabe, H.: 2012, Properties of umbral dots as measured from the New Solar Telescope data and MHD simulations. Astrophys. J.745(2), 163. DOI .

Louis, R.E., Mathew, S.K., Bellot Rubio, L.R., Ichimoto, K., Ravindra, B., Raja Bayanna, A.: 2012, Properties of umbral dots from stray light corrected Hinode filtergrams. Astrophys. J.752(2), 109. DOI .

Parker, E.N.: 1979, Sunspots and the physics of magnetic flux tubes. IX. Umbral dots and longitudinal overstability. Astrophys. J.234, 333. DOI .

Rempel, M., Schüssler, M., Knölker, M.: 2009, Radiative magnetohydrodynamic simulation of sunspot structure. Astrophys. J.691(1), 640. DOI .

Riethmüller, T.L., Solanki, S.K., Zakharov, V., Gandorfer, A.: 2008, Brightness, distribution, and evolution of sunspot umbral dots. Astron. Astrophys.492(1), 233. DOI .

Rimmele, T., Marino, J.: 2006, The Evershed flow: Flow geometry and its temporal evolution. Astrophys. J.646(1), 593. DOI .

Schüssler, M., Vögler, A.: 2006, Magnetoconvection in a sunspot umbra. Astrophys. J. Lett.641(1), L73. DOI .

Shumko, S., Gorceix, N., Choi, S., Kellerer, A., Cao, W., Goode, P.R., Abramenko, V., Richards, K., Rimmele, T.R., Marino, J.: 2014, AO-308: The high-order adaptive optics system at Big Bear Solar Observatory. In: Proceedings of the SPIE. Society of Photo-Optical Instrumentation Engineers (SPIE) Conference Series9148, 914835. DOI .

Sobotka, M., Brandt, P.N., Simon, G.W.: 1997, Fine structure in sunspots. II. Intensity variations and proper motions of umbral dots. Astron. Astrophys.328, 689.

Sobotka, M., Hanslmeier, A.: 2005, Photometry of umbral dots. Astron. Astrophys.442(1), 323. DOI .

Spruit, H.C., Scharmer, G.B.: 2006, Fine structure, magnetic field and heating of sunspot penumbrae. Astron. Astrophys.447(1), 343. DOI .

Thomson, D.J.: 1982, Spectrum estimation and harmonic analysis. IEEE Proc.70, 1055.

Tritschler, A., Schmidt, W.: 2002, Sunspot photometry with phase diversity. II. Fine-structure characteristics. Astron. Astrophys.388, 1048. DOI .

Watanabe, H., Kitai, R., Ichimoto, K.: 2009, Characteristic dependence of umbral dots on their magnetic structure. Astrophys. J.702(2), 1048. DOI .

Watanabe, H., Tritschler, A., Kitai, R., Ichimoto, K.: 2010, Temporal evolution of a rapidly-moving umbral dot. Solar Phys.266(1), 5. DOI .

Watanabe, H., Bellot Rubio, L.R., de la Cruz Rodríguez, J., Rouppe van der Voort, L.: 2012, Temporal evolution of velocity and magnetic field in and around umbral dots. Astrophys. J.757(1), 49. DOI .

Weiss, N.O., Proctor, M.R.E., Brownjohn, D.P.: 2002, Magnetic flux separation in photospheric convection. Mon. Not. Roy. Astron. Soc.337(1), 293. DOI .

Wöger, F., von der Lühe, O.: 2007, Field dependent amplitude calibration of adaptive optics supported solar speckle imaging. Appl. Opt.46(33), 8015. DOI .

Yadav, R., Louis, R.E., Mathew, S.K.: 2018, Investigating the relation between sunspots and umbral dots. Astrophys. J.855(1), 8. DOI .

Yuan, D., Sych, R., Reznikova, V.E., Nakariakov, V.M.: 2014, Multi-height observations of magnetoacoustic cut-off frequency in a sunspot atmosphere. Astron. Astrophys.561, A19. DOI .
Acknowledgements
Authors would like to thanks to referee for his/her valuable comments and suggestions that improved the manuscript seriously. The high resolution sunspot data are taken from BBSO/GST. BSO operation is supported by NJIT and US NSF AGS-1821294 grants. GST operation is partly supported by the Korea Astronomy and Space Science Institute (KASI), Seoul National University, and by strategic priority research program of CAS with grant No. XDB09000000. This study was supported by Project 117F145 awarded by the Scientific and Technological Research Council of Turkey. V.Yu. acknowledges support from AFOSR FA9550-19-1-0040, NSF AGS-1821294, AST-1614457, and NASA HGC 80NSSC17K0016 and GI 80NSSC19K0257 grants.
Ethics declarations
Disclosure of Potential Conflicts of Interest
The authors declare that they have no conflicts of interest.
Additional information
Publisher's Note
Springer Nature remains neutral with regard to jurisdictional claims in published maps and institutional affiliations.
About this article
Cite this article
Kilcik, A., Sarp, V., Yurchyshyn, V. et al. Physical Characteristics of Umbral Dots Derived from a High-Resolution Observations. Sol Phys 295, 58 (2020). https://doi.org/10.1007/s11207-020-01618-y
Received:

Accepted:

Published:
Keywords
Sunspots, umbra

Sunspots, magnetic fields

Oscillations, solar