Abstract
There is a collection of about 100 years of Ca-K line spectroheliograms at the Kodaikanal Observatory (KKL) obtained on daily basis with a single instrument that can be used to study long term variations of various chromospheric features. All the Ca-K images have been digitized using specially developed digitizers with uniform and highly stable light source, high quality lens and 4k×4k format CCD camera. The digitization has been carried out in a room with controlled temperature and humidity. The digitized data are in 16-bit format with pixel resolution of 0.86 arcsec. The digitized images have been calibrated by a process that includes flat-fielding, density to intensity conversion, centering the image, and rotation of the image to make the solar north pole in the fixed direction. Then we applied correction for the limb darkening effect and also made the background in the image uniform. The image background was normalized to unity that enabled us to use the intensity contrast to identify different features, such as plages, enhanced (EN), active (AN), and quite network on images and classified them by using different image contrast and area threshold values. After several experiments with different threshold values for different features and careful analysis of a large number of images, we could fix the threshold values of intensity contrast larger than 1.35 and area larger than 1 arcmin2 for plages, larger than 1.35 but area less than 1 arcmin2 for EN, and between 1.25 – 1.35 for AN. We compared the quarterly averaged and half yearly averaged plage areas obtained from KKL with the Mount Wilson (MWO) data and sunspot number. We find that the plage area extracted from the KKL is highly correlated with the MWO plage area, though there is a slight difference between the two data set in cycle 19. The plage area of KKL is also highly correlated with the sunspot number. The areas of EN and AN are also found to have smaller quasi-periodic variations apart from the solar cycle variations.
Access options
Buy single article
Instant access to the full article PDF.
USD 39.95
Price includes VAT (USA)
Tax calculation will be finalised during checkout.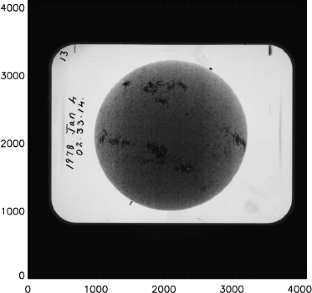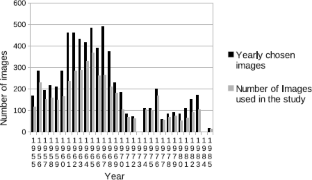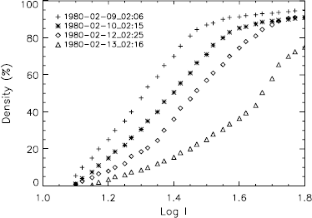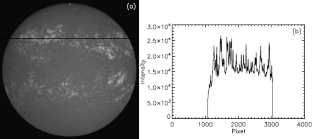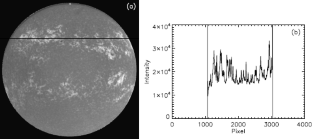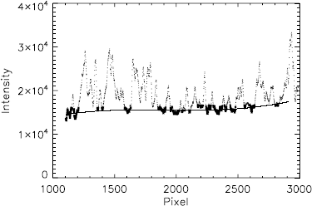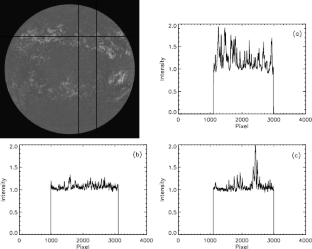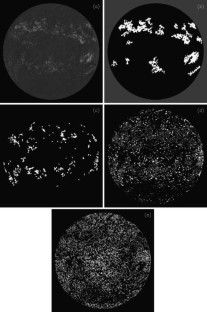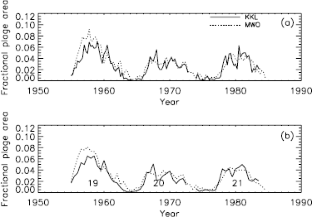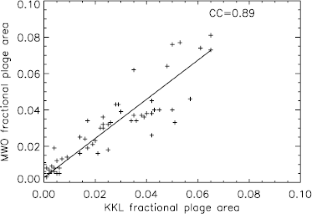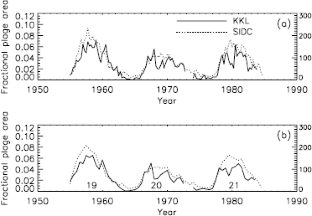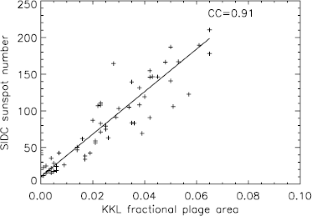 References
Bappu, M.K.V., Sivaraman, K.R.: 1971, Solar Phys. 17, 316.

Bertello, L., Ulrich, R.K., Boyden, J.E.: 2010, Solar Phys. 264, 31.

Caccin, B., Ermolli, I., Fofi, M., Sambuco, A.M.: 1998, Solar Phys. 177, 295.

Denker, C., Johannesson, A., Marquatte, W., Goode, P.R., Wang, W., Zirin, H.: 1999, Solar Phys. 87, 184.

Ermolli, I., Solanki, S.K., Tlatov, A.J., Krivova, N.A., Ulrich, R.K., Singh, J.: 2009, Astrophys. J. 698, 1000.

Foukal, P.: 1996, Geophys. Res. Lett. 23, 2169.

Foukal, P., Milano, L.: 2001, Geophys. Res. Lett. 28, 883.

Foukal, P., Fröhlich, C., Spruit, H., Wigley, T.M.L.: 2006, Nature 443, 161.

Foukal, P., Bertello, L., Livingston, W.C., Pevtsov, A.A., Singh, J., Tlatov, A.G., Ulrich, R.K.: 2009, Solar Phys. 255, 229.

Kariyappa, R., Sivaraman, K.R.: 1994, Solar Phys. 152, 139.

Lean, J.: 1987, J. Geophys. Res. 92, 839.

Lean, J.L., Skumanich, A.: 1983, J. Geophys. Res. 88, 5751.

Livingston, W., Wallace, L., White, O.R., Giampapa, M.S.: 2007, Astrophys. J. 657, 1137.

Schrijver, C.J., Harvey, K.L.: 1989, Astrophys. J. 343, 481.

Schwabe, S.H.: 1844, Astron. Nachr. 21, 233.

Sivaraman, K.R., Singh, J., Bagare, S.P., Gupta, S.S.: 1987, Astrophys. J. 313, 456.

Singh, J., Bappu, M.K.V.: 1981, Solar Phys. 71, 161.

Singh, J., Prabhu, T.P.: 1985, Solar Phys. 97, 203.

Singh, J., Ravindra, B.: 2012, Bull. Astron. Soc. India 40, 77.

Singh, J., Ravindra, B., Selvendran, R., Kumaravel, P., Muthu, P., Priya, T.G., Amareswari, K.: 2012, Res. Astron. Astrophys. 12, 201.

Solanki, S.K., Unruh, Y.C.: 1998, Astron. Astrophys. 329, 747.

Tlatov, G., Pevtsov, A., Singh, J.: 2009, Solar Phys. 255, 239.

White, O.R., Livingston, W.C.: 1981, Astrophys. J. 249, 798.

Worden, J., White, R., Woods, N.: 1998, Astrophys. J. 496, 998.

Zwaan, C.: 1987, Astron. Astrophys. 25, 83.
Acknowledgements
The project to digitize all the solar data obtained at Kodaikanal observatory since 1904 was initiated by Jagdev Singh. Further, he designed and developed the digitizer units along with the additional requirements for digitizing the data at Kodaikanal, trained the team to digitize the data and supervised the process. We thank the observers at Kodaikanal who observed the Sun over 100 years and made them available for the current generation. Some of us would like to thank Prof. Dipankar Banerjee for his support. Special thanks to Nazia, Fathima, Kamesh, Janani, Aysha Banu and Sathish for their great contribution in digitizing and calibration of data. We thank the referee for fruitful comments which helped us to improve the manuscript.
About this article
Cite this article
Priyal, M., Singh, J., Ravindra, B. et al. Long Term Variations in Chromospheric Features from Ca-K Images at Kodaikanal. Sol Phys 289, 137–152 (2014). https://doi.org/10.1007/s11207-013-0315-7
Received:

Accepted:

Published:

Issue Date:
Keywords
Active regions

Chromosphere, quiet

Magnetic fields

Solar cycle, observations