Abstract
With the air quality ranking of China's Ministry of Ecology and Environment as a case, this paper examines whether the public ranking could stimulate the ranked cities to improve performance. The results show that the horizontal ranking, i.e., the relative position among the cities, significantly stimulates the cities to improve air quality. The stimulating effect is significant for all the three type of cities, i.e., cities with good, medium and poor air quality, and is the strongest for the cities with good air quality. However, the stimulating effect for air quality improvement is not enough to alter the air quality comparison among the cities. Compared to other cities, if a city is ranked relatively low in the last year, the air quality in the current year is still relatively poor. The inertia is particularly significant for the cities with poor air quality. The vertical ranking, i.e., if the rank of a city progresses or retrogresses, does not affect the air quality and air quality change of the city. Overall, public ranking is argued to stimulate performance improvement by seducing the competition among local governments, although the actual effect is still subject to the perception of local governments and their capacity to respond to the ranking.
Access options
Buy single article
Instant access to the full article PDF.
USD 39.95
Price excludes VAT (USA)
Tax calculation will be finalised during checkout.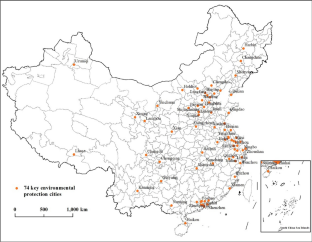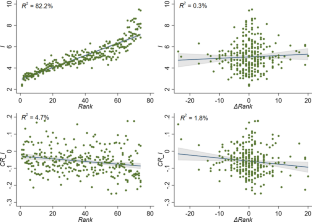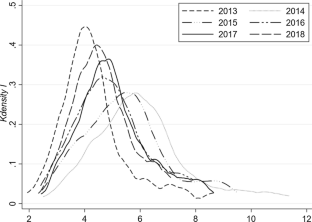 References
Anderson, J. E. (2012). State tax rankings: what do they and don't they tell us? Natl Tax J, 65(4), 985.

Anderson, S. E., Buntaine, M. T., Liu, M., & Zhang, B. (2019). Non-Governmental monitoring of local governments increases compliance with central mandates: a national-scale field experiment in China. Am J Polit Sci, 63(3), 626–643.

Azmat, G., & Iriberri, N. (2010). The importance of relative performance feedback information: evidence from a natural experiment using high school students. J Public Econ, 94(7–8), 435–452.

Brown, N., & Deegan, C. (1998). The public disclosure of environmental performance information—a dual test of media agenda setting theory and legitimacy theory. Account Buss Res, 29(1), 21–41.

Chatterji, A. K., & Toffel, M. W. (2010). How firms respond to being rated. Strateg Manag J, 31(9), 917–945.

Chen, Z., Wang, J.-N., Ma, G.-X., & Zhang, Y.-S. (2013). China tackles the health effects of air pollution. The Lancet, 382(9909), 1959–1960.

Deegan, C. (2002). Introduction: the legitimising effect of social and environmental disclosures. Account Audit Account J, 15(3), 282–311.

Deephouse, D. L., & Carter, S. M. (2005). An examination of differences between organizational legitimacy and organizational reputation. J Manag Stud, 42(2), 329–360.

Dong, C., Huang, G., Cai, Y., & Liu, Y. (2012). An inexact optimization modeling approach for supporting energy systems planning and air pollution mitigation in Beijing city. Energy Policy, 37(1), 673–688.

Dowling, J., & Pfeffer, J. (1975). Organizational legitimacy: social values and organizational behavior. Pac Sociol Rev, 18(1), 122–136.

Du, W., Zhang, Y., Chen, Y., Xu, L., Chen, J., Deng, J., Hong, Y., & Xiao, H. (2017). Chemical characterization and source apportionment of PM2.5 during spring and winter in the Yangtze River Delta, China. Aerosol and Air Quality Research, 17(9), 2165–2180.

Elsbach, K. D., & Kramer, R. M. (1996). Members' responses to organizational identity threats: Encountering and countering the business week rankings. Administrative Science Quarterly, 41(3), 442–476.

Eriksson, T., Poulsen, A., & Villeval, M. C. (2009). Feedback and incentives: experimental evidence. Labour Econ, 16(6), 679–88.

Espeland, W. N., & Sauder, M. (2007). Rankings and reactivity: how public measures recreate social worlds. Am J Sociol, 113(1), 1–40.

Festinger, L. (1954). A theory of social comparison processes. Hum Relat, 7(2), 117–40.

Fombrun, C. J., & Van Riel, C. B. (2004). Fame and fortune: how successful companies build winning reputations. Corpor Reput Rev, 6(4), 390–5.

Giffinger, R., Fertner, C., Kramar, H., & Meijers, E. (2007). City-ranking of European medium-sized cities. Retrieved from http://www.smartcity-ranking.eu/download/city_ranking_final.pdf

Giffinger, R., & Gudrun, H. (2010). Smart cities ranking: an effective instrument for the positioning of the cities? ACE Archit City Environ, 4(12), 7–26.

Gong, Z., & Zhang, X. (2017). Assessment of urban air pollution and spatial spillover effects in China: cases of 113 key environmental protection cities. J Res Ecol, 8(6), 584–94.

Grossman, G. M., & Krueger, A. B. (1995). Economic-growth and the environment. Q J Econ, 110(2), 353–77.

Hannan, R. L., Krishnan, R., & Newman, A. H. (2008). The effects of disseminating relative performance feedback in tournament and individual performance compensation plans. Account Rev, 83(4), 893–913.

Janhäll, S. (2015). Review on urban vegetation and particle air pollution–deposition and dispersion. Atmos Environ, 105, 130–7.

Kale, J. R., Reis, E., & Venkateswaran, A. (2009). Rank-order tournaments and incentive alignment: the effect on firm performance. J Financ, 64(3), 1479–512.

Kreps, D. M., Milgrom, P., Roberts, J., & Wilson, R. (1982). Rational cooperation in the finitely repeated prisoners' dilemma. J Econ Theory, 27(2), 245–52.

Liu, J., Han, Y., Tang, X., Zhu, J., & Zhu, T. (2016). Estimating adult mortality attributable to PM2.5 exposure in China with assimilated PM2.5 concentrations based on a ground monitoring network. Science of the Total Environment, 568, 1253–1262.

Luoma-aho, V. (2007). Neutral reputation and public sector organizations. Corpor Rep Rev, 10(2), 124–43.

Luoma-aho, V. (2008). Sector reputation and public organisations. International Journal of Public Sector Management, 21(5), 446–467.

Mackenzie, C., Rees, W., & Rodionova, T. (2013). Do responsible investment indices improve corporate social responsibility? FTSE4Good's impact on environmental management. Corpor Gov Int Rev, 21(5), 495–512.

Mahon, J. F., & Wartick, S. L. (2003). Dealing with stakeholders: how reputation, credibility and framing influence the game. Corp Reput Rev, 6(1), 19–35.

McHugh, A. (2014). In good standing: The public value of reputation management. PhD thesis, Waterford Institute of Technology.

Meijer, A. J. (2007). Publishing public performance results on the Internet: do stakeholders use the Internet to hold Dutch public service organizations to account? Gov Inf Q, 24(1), 165–85.

Njiru, S. M., Nyaga, M. N., & Karuku, S. (2019). Effects of performance ranking in mathematics on students' and teachers' identity development. Int J Second Educ, 7(1), 7.

Pu, Z., & Fu, J. (2018). Economic growth, environmental sustainability and China mayors' promotion. J Clean Prod, 172, 454–65.

Qiao, K., Zhou, L.-A., & Liu, C. (2014). Interim rank, promotion incentives and current performance: evidence from the dynamic tournament among chinese local officials. China J Econ, 1, 84–106.

Roberts, A., & Kim, B.-Y. (2011). Policy responsiveness in post-communist Europe: public preferences and economic reforms. Br J Polit Sci, 41(4), 819–39.

Sauder, M., & Espeland, W. N. (2009). The discipline of rankings: tight coupling and organizational change. Am Sociol Rev, 74(1), 63–82.

Searcy, C., & Elkhawas, D. (2012). Corporate sustainability ratings: an investigation into how corporations use the Dow Jones Sustainability Index. J Clean Prod, 35, 79–92.

Sheng, N., & Tang, U. W. (2016). The first official city ranking by air quality in China—a review and analysis. Cities, 51, 139–49.

Wæraas, A., & Byrkjeflot, H. (2012). Public sector organizations and reputation management: five problems. Int Public Manag J, 15(2), 186–206.

Wang, L. T., Wei, Z., Yang, J., Zhang, Y., Zhang, F. F., Su, J., Meng, C., & Zhang, Q. (2014). The 2013 severe haze over the southern Hebei China model evaluation source apportionment and policy implications. Atmospheric Chemistry & Physics Discussions, 14, 3151–3173.

Zhang, B., Chen, X., & Guo, H. (2018a). Does central supervision enhance local environmental enforcement? Quasi-experimental evidence from China. J Public Econ, 164, 70–90.

Zhang, S., Li, Y., Hao, Y., & Zhang, Y. (2018b). Does public opinion affect air quality? Evidence based on the monthly data of 109 prefecture-level cities in China. Energy Policy, 116, 299–311.

Zhang, X., Shi, M., Li, Y., Pang, R., & Xiang, N. (2018c). Correlating PM2.5 concentrations with air pollutant emissions: A longitudinal study of the Beijing-Tianjin-Hebei region. Journal of Cleaner Production, 179, 103–113.

Zheng, G., Duan, F., Su, H., Ma, Y., Cheng, Y., Zheng, B., Zhang, Q., Huang, T., Kimoto, T., & Chang, D. (2015). Exploring the severe winter haze in Beijing: the impact of synoptic weather, regional transport and heterogeneous reactions. Atmos Chem Phys, 15(6), 2969.

Zheng, S., Kahn, M. E., Sun, W., & Luo, D. (2014). Incentives for China's urban mayors to mitigate pollution externalities: the role of the central government and public environmentalism. Reg Sci Urban Econ, 47, 61–71.

Zhou, L., & Wang, T. (2014). Social media: a new vehicle for city marketing in China. Cities, 37, 27–32.
Acknowledgements
The study was financially supported by National Natural Science Foundation of China (Grant Number: 71704126).
Ethics declarations
Conflict of interest
The authors declare that they have no known competing financial interests or personal relationships that could have appeared to influence the work reported in this paper.
Additional information
Publisher's Note
Springer Nature remains neutral with regard to jurisdictional claims in published maps and institutional affiliations.
About this article
Cite this article
Liu, L., Yang, Z. & Song, S. Does ranking stimulate government performance? Evidence from China's key environmental protection cities. Soc Indic Res 158, 699–725 (2021). https://doi.org/10.1007/s11205-021-02722-7
Accepted:

Published:

Issue Date:

DOI: https://doi.org/10.1007/s11205-021-02722-7
Keywords
Ranking

Air quality

Local government