Abstract
By relying on two items included in the 8th round of the European Social Survey (2016–2017), this article compares general attitudes towards gays and lesbians and attitudes towards the specific issue of adoption by same-sex couples in 22 countries. Ordered logit multilevel models reveal that age, education and religiosity have a weaker association with attitudes towards adoption than with attitudes towards homosexuality in general. In contrast, at the contextual-level, the presence of laws and policies ensuring rights for the LGBTI population is positively associated with both attitudes to a similar extent. However, models with random slopes and cross-level interactions reveal important differences in the way critical individual-level characteristics operate in different contexts. In particular, across countries, youth, higher educated and secular respondents display more positive attitudes towards homosexuality regardless of whether their country recognizes legal rights to LGBTI people. Instead, these individual characteristics are associated with positive attitudes towards adoption by same-sex couples only in countries that are more progressive in terms of LGBTI rights. These results point to the existence of "mixed opinions" in the way people in Europe think about rights for gays and lesbians and indicate that large attitudinal gaps persist even in the most progressive countries.
Access options
Buy single article
Instant access to the full article PDF.
USD 39.95
Price includes VAT (USA)
Tax calculation will be finalised during checkout.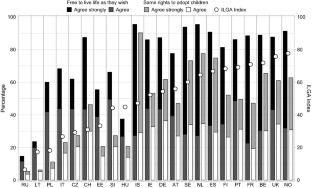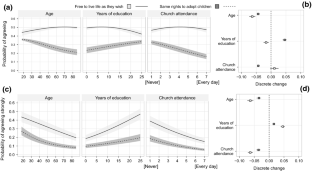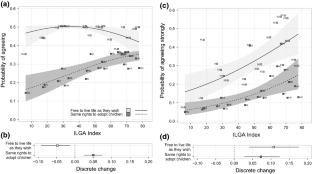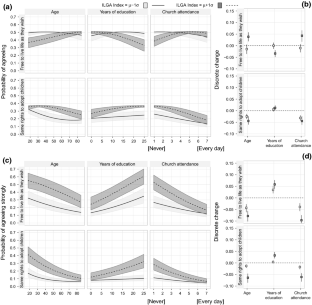 Notes
1.

For each variable we have no more than 5% missing observations.

2.

We acknowledge that other macro level variables could be informative for the study of attitudes towards same-sex relationships. However, given the focus of article on comparing general versus specific attitudes, we decided to restrict the focus on variables that had been already used in previous studies on the topic and that offer a solid insight in attitudes towards homosexuality.

3.

Discrete changes are calculated as first differences in the probabilities of agreeing strongly between 1 standard deviation above the average of the independent variable of interest and its average, holding constant at the mean the other covariates (Long 1997).

4.

The predicted probabilities and discrete changes of the individual level variables of interest are calculated at one standard deviation below the mean of the ILGA Index and one standard deviation above such mean.
References
Adamczyk, A., & Pitt, C. (2009). Shaping attitudes about homosexuality: The role of religion and cultural context. Social Science Research,38(2), 338–351.

Agresti, A. (2010). Analysis of ordinal categorical data. New York: Wiley.

Altemeyer, B. (2001). Changes in attitudes toward homosexuals. Journal of Homosexuality,42(2), 63–75.

Andersen, R., & Fetner, T. (2008). Economic inequality and intolerance: Attitudes toward homosexuality in 35 democracies. American Journal of Political Science,52(4), 942–958.

Berggren, N., Bjørnskov, C., & Nilsson, T. (2017). What aspects of society matter for the quality of life of a minority? Global evidence from the new gay happiness index. Social Indicators Research,132(3), 1163–1192.

Bourdieu, P. (1984). Distinction: A social critique of the judgment of taste. Cambridge: Harvard University Press.

Brewer, P. R., & Wilcox, C. (2005). Same-sex marriage and civil unions. Public Opinion Quarterly,69(4), 599–616.

Costa, P. A., Almeida, R., Anselmo, C., Ferreira, A., Pereira, H., & Leal, I. (2014). University students' attitudes toward same-sex parenting and gay and lesbian rights in Portugal. Journal of Homosexuality,61(12), 1667–1686.

ESS. (2016). ESS Round 8: European social survey round 8 data (2016) data file edition 2.0. NSD—Norwegian Centre for Research Data, Norway—Data Archive and distributor of ESS data for ESS ERIC.

Flores, A. R. (2015). Examining variation in surveying attitudes on same-sex marriage: A meta-analysis. Public Opinion Quarterly,79(2), 580–593.

Gelman, A., & Hill, J. (2006). Data analysis using regression and multilevel/hierarchical models. Cambridge: Cambridge University Press.

Graff, A. (2014). Report from the gender trenches: War against 'genderism' in Poland. European Journal of Women's Studies,21(4), 431–435.

Halman, L., & van Ingen, E. (2015). Secularization and changing moral views: European trends in church attendance and views on homosexuality, divorce, abortion, and euthanasia. European Sociological Review,31(5), 616–627.

ILGA. (2017). Annual review of the human rights situation of Lesbian, gay, bisexual, trans and intersex people: 2017. Brussels: ILGA.

Jäckle, S., & Wenzelburger, G. (2015). Religion, religiosity, and the attitudes toward homosexuality: A multilevel analysis of 79 countries. Journal of Homosexuality,62(2), 207–241.

Jakobsson, N., Kotsadam, A., & Jakobsson, S. S. (2013). Attitudes toward same-sex marriage: The case of Scandinavia. Journal of Homosexuality,60(9), 1349–1360.

Kováts, E. (2018). Questioning consensuses: Right-wing populism, anti-populism, and the threat of 'gender ideology'. Sociological Research Online,23(2), 242–252.

Kuhar, R., & Paternotte, D. (Eds.). (2017). Anti-gender campaigns in Europe. Mobilizing against equality. London: Rowman & Littlefield.

Kuntz, A., Davidov, E., Schwartz, S. H., & Schmidt, P. (2015). Human values, legal regulation, and approval of homosexuality in Europe: A cross-country comparison. European Journal of Social Psychology,45(1), 120–134.

Loftus, J. (2001). America's liberalization in attitudes toward homosexuality, 1973 to 1998. American Sociological Review,66(5), 762–782.

Long, S. (1997). Regression models for categorical and limited dependent variables. Thousand Oaks: Sage.

Lottes, I. L., & Alkula, T. (2011). An investigation of sexuality-related attitudinal patterns and characteristics related to those patterns for 32 European countries. Sexuality Research and Social Policy,8(2), 77–92.

Lubbers, M., Jaspers, E., & Ultee, W. (2009). Primary and secondary socialization impacts on support for same-sex marriage after legalization in the Netherlands. Journal of Family Issues,30(12), 1714–1745.

Meezan, W., & Rauch, J. (2005). Gay marriage, same-sex parenting, and America's children. The Future of Children,15(2), 97–115.

Merin, Y. (2010). Equality for same-sex couples. The legal recognition of gay partnerships in Europe and the United States. Chicago: Chicago University Press.

Ohlander, J., Batalova, J., & Treas, J. (2005). Explaining educational influences on attitudes toward homosexual relations. Social Science Research,34(4), 781–799.

Page, D. (2018). When do voters support the European Union's involvement in gay rights? Political Behavior,40(1), 103–126.

Persell, C. H., Green, A., & Gurevich, L. (2001). Civil society, economic distress, and social tolerance. Sociological Forum,16(2), 203–230.

Rogers, E. (1962). Diffusion of innovations. New York: Free Press.

Scott, J. (1998). Changing attitudes to sexual morality: A cross-national comparison. Sociology,32(4), 815–845.

Slenders, S., Sieben, I., & Verbakel, E. (2014). Tolerance towards homosexuality in Europe: Population composition, economic affluence, religiosity, same-sex union legislation and HIV rates as explanations for country differences. International Sociology,29(4), 348–367.

Takács, J., Szalma, I., & Bartus, T. (2016). Social attitudes toward adoption by same-sex couples in Europe. Archives of Sexual Behavior,45(7), 1787–1798.

Treas, J. (2002). How cohorts, education, and ideology shaped a new sexual revolution on American attitudes toward nonmarital sex, 1972–1998. Sociological Perspectives,45(3), 267–283.

Treas, J., Lui, J., & Gubernskaya, Z. (2014). Attitudes on marriage and new relationships: Cross-national evidence on the deinstitutionalization of marriage. Demographic Research,30(54), 1495–1526.

Van den Akker, H., Van der Ploeg, R., & Scheepers, P. (2013). Disapproval of homosexuality: Comparative research on individual and national determinants of disapproval of homosexuality in 20 European countries. International Journal of Public Opinion Research,25(1), 64–86.

Whitehead, A. L. (2010). Sacred rites and civil rights: Religion's effect on attitudes toward same-sex unions and the perceived cause of homosexuality. Social Science Quarterly,91(1), 63–79.

Whitehead, A. L., & Perry, S. L. (2016). Religion and support for adoption by same-sex couples: The relative effects of religious tradition, practices, and beliefs. Journal of Family Issues,37(6), 789–813.

World Bank. (2018). World development indicators. Retrieved May 21, 2018, from https://data.worldbank.org/products/wdi.

Yerkes, M. A., Dotti Sani, G. M., & Solera, C. (2018). Attitudes toward parenthood, partnership, and social rights for diverse families: Evidence from a pilot study in five countries. Journal of Homosexuality,65(1), 80–99.
Additional information
Publisher's Note
Springer Nature remains neutral with regard to jurisdictional claims in published maps and institutional affiliations.
Appendix
Appendix
About this article
Cite this article
Dotti Sani, G.M., Quaranta, M. Let Them Be, Not Adopt: General Attitudes Towards Gays and Lesbians and Specific Attitudes Towards Adoption by Same-Sex Couples in 22 European Countries. Soc Indic Res 150, 351–373 (2020). https://doi.org/10.1007/s11205-020-02291-1
Accepted:

Published:

Issue Date:
Keywords
Attitudes towards adoption

Homosexuality

Gay and lesbian couples

European social survey

Europe