Abstract
Social norms are essential but vary across human societies. With the internationalization of human society, the population's mobility has greatly increased, which can impact people's psychological states and behaviors. The current research aimed to examine the hypothesis that residential mobility plays a crucial role in the perception of social norm violations with six studies. Studies 1 and 2 used an association test and experimental manipulation, respectively, and found that residential mobility was associated with a decreased perception of weak social norm violations in females. Study 3 further suggested that residential mobility modulates individuals' perception threshold to social norm violation behavior. Studies 4 and 5 revealed that the relationship between residential mobility and perception of social norm violations is mediated by face threats, and a mini meta-analysis further confirmed the significant effect of residential mobility on the perception of social norm violations. Our findings provide insights into how and why individuals' perceptions of social norm-violating behaviors vary according to the dynamic development of society. As residential mobility continues to increase worldwide, especially in developing countries, we may observe concomitant changes in the subjective perception of social norms that should be given more attention during social governance.
Access options
Buy single article
Instant access to the full article PDF.
US$ 39.95
Tax calculation will be finalised during checkout.
Subscribe to journal
Immediate online access to all issues from 2019. Subscription will auto renew annually.
US$ 119
Tax calculation will be finalised during checkout.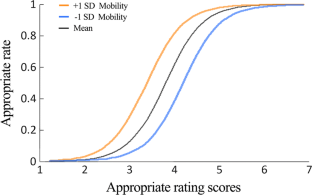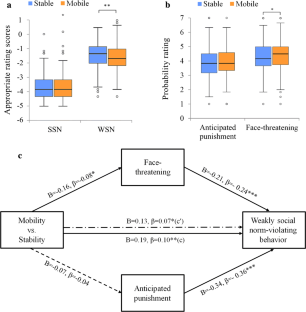 References
Abell, E., & Gecas, V. (1997). Guilt, shame, and family socialization: A retrospective study. Journal of Family Issues,18(2), 99–123.

Aiken, L. S., West, S. G., & Reno, R. R. (1991). Multiple regression: Testing and interpreting interactions. Sage.

Bao, Y., Zhou, K. Z., & Su, C. (2003). Face consciousness and risk aversion: do they affect consumer decision-making? Psychology & Marketing,20(8), 733–755.

Baumeister, R. F. (1986). Identity: Cultural change and the struggle for self. Oxford: Oxford University Press.

Baumeister, R. F. (1987). How the self became a problem: A psychological review of historical research. Journal of Personality and Social Psychology,52(1), 163–176.

Bicchieri, C. (2005). The grammar of society: The nature and dynamics of social norms. Cambridge: Cambridge University Press.

Borenstein, M., Hedges, L. V., Higgins, J. P. T., & Rothstein, H. R. (2009). Introduction to meta-analysis. Chichester: Wiley.

Bosker, M., Brakman, S., Garretsen, H., & Schramm, M. (2012). Relaxing hukou: Increased labor mobility and china' s economic geography. Journal of Urban Economics,72(2–3), 252–266.

Boyd, R., & Richerson, P. J. (1992). Punishment allows the evolution of cooperation (or anything else) in sizable groups. Ethology and Sociobiology,13(3), 171–195.

Brown, P., & Levinson, S. C. (1987). Politeness: Some universals in language usage. New York: Cambridge University Press.

Capraro, V., & Perc, M. (2018). Grand challenges in social physics: In pursuit of moral behavior. Frontiers in Physics, 6, 107.

Carter, J. D., & Hall, J. A. (2008). Individual differences in the accuracy of detecting social covariations: Ecological sensitivity. Journal of Research in Personality,42(2), 439–455.

Castles, S., de Haas, H., & Miller, M. (2013). The age of migration-international movements in the modern world (S. Castles Ed. ed.).

Chan, H., Wan, L. C., & Sin, L. Y. (2009). The contrasting effects of culture on consumer tolerance: Interpersonal face and impersonal fate. Journal of Consumer Research,36(2), 292–304.

Chekroun, P., & Brauer, M. (2002). The bystander effect and social control behavior: The effect of the presence of others on people's reactions to norm violations. European Journal of Social Psychology,32(6), 853–867.

Chen, X., Szolnoki, A., & Perc, M. (2012). Risk-driven migration and the collective-risk social dilemma. Physical Review E,86(3), 036101.

Chu, G. C. (1985). The changing concept of self in contemporary China. In A. J. Marsella, G. DeVos, & F. L. K. Hsu (Eds.), Culture and self: Asian and Western perspectives (pp. 252–277). New York: Tavistock Publications.

Chu, R. (2006). Social interactions among the Chinese: On the issue of face. Chinese Social Psychological Review,2, 79–106.

Cohen, D. (1998). Culture, social organization, and patterns of violence. Journal of Personality and Social Psychology,75(2), 408–419.

Cohen, D. (2001). Cultural variation: Considerations and implications. Psychological Bulletin,127(4), 451–471.

Cross, S. E., & Madson, L. (1997). Models of the self: Self-construals and gender. Psychological Bulletin,122(1), 5–37.

Czaika, M., & De Haas, H. (2014). The globalization of migration: Has the world become more migratory? International Migration Review,48(2), 283–323.

Ding, G., & Bao, Y. (2014). Editorial perspective: Assessing developmental risk in cultural context: the case of 'left behind' children in rural China. Journal of Child Psychology and Psychiatry,55(4), 411–412.

Fan, C. C. (2003). Rural-urban migration and gender division of labor in transitional China. International Journal of Urban and Regional Research,27(1), 24–47.

Gelfand, M. J., Raver, J. L., Nishii, L., Leslie, L. M., Lun, J., Lim, B. C., et al. (2011). Differences between tight and loose cultures: A 33-nation study. Science,332(6033), 1100–1104.

Goffman, E. (1959). The presentation of self in everyday life. New York: Garden City.

Goffman, E. (1967). Interaction ritual: Essays on face-to-face interaction. Oxford: Aldine.

Goh, J. X., Hall, J. A., & Rosenthal, R. (2016). Mini meta-analysis of your own studies: Some arguments on why and a primer on how. Social and Personality Psychology Compass,10(10), 535–549.

Gordon, I., Vander Wyk, B. C., Bennett, R. H., Cordeaux, C., Lucas, M. V., Eilbott, J. A., et al. (2013). Oxytocin enhances brain function in children with autism. Proceedings of the National Academy of Sciences,110(52), 20953–20958.

Guimond, S., Chatard, A., Martinot, D., Crisp, R. J., & Redersdorff, S. (2006). Social comparison, self-stereotyping, and gender differences in self-construals. Journal of Personality and Social Psychology,90(2), 221–242.

Halpern, D. (2001). Moral values, social trust and inequality: Can values explain crime? British Journal of Criminology,41(2), 236–251.

Helbing, D., Brockmann, D., Chadefaux, T., Donnay, K., Blanke, U., Woolley-Meza, O., et al. (2015). Saving human lives: What complexity science and information systems can contribute. Journal of Statistical Physics,158(3), 735–781.

Henrich, J., & Boyd, R. (2001). Why people punish defectors: Weak conformist transmission can stabilize costly enforcement of norms in cooperative dilemmas. Journal of Theoretical Biology,208(1), 79–89.

Ho, D. (1991). The concept of "face" in Chinese-American interaction. In Encountering the Chinese: a guide for Americans, 111–124.

Ho, V. T., Rousseau, D. M., & Levesque, L. L. (2006). Social networks and the psychological contract: Structural holes, cohesive ties, and beliefs regarding employer obligations. Human Relations,59(4), 459–481.

Holleran, P. A., Littman, D. C., Freund, R. D., & Schmaling, K. B. (1982). A signal detection approach to social perception: Identification of negative and positive behaviors by parents of normal and problem children. Journal of Abnormal Child Psychology,10(4), 547–557.

International Organization for Migration. (2015). World migration 2015: Migrants and cities: New partnerships to manage mobility. Retrieved from Geneva, Switzerland: Author.

Jonsson, G. (2009). Comparative report: African migration trends. African perspectives on human mobility programme.

Joy, A. (2001). Gift giving in Hong Kong and the continuum of social ties. Journal of Consumer Research,28(2), 239–256.

King, A. (1988). Face, shame and the analysis of behavior patterns of the Chinese. In The Psychology of the Chinese, pp. 319–345.

King, A., & Bond, M. H. (1985). The Confucian paradigm of man: A sociological view. In Chinese culture and mental health, pp. 29–45.

Krumhuber, E. G., Tsankova, E., & Kappas, A. (2016). Examining subjective and physiological responses to norm violation using text-based vignettes. International Journal of Psychology,53(1), 1–8.

Lee, M. D., & Wagenmakers, E. J. (2014). Bayesian cognitive modeling: A practical course. Cambridge: Cambridge University Press.

Levari, D. E., Gilbert, D. T., Wilson, T. D., Beau, S., Amodio, D. M., & Thalia, W. (2018). Prevalence-induced concept change in human judgment. Science,360(6396), 1465–1467.

Li, J. J., & Su, C. (2007). How face influences consumption. International Journal of Market Research,49(2), 237–256.

Lu, M., & Gao, H. (2011). Labour market transition, income inequality and economic growth in China. International Labour Review, 150, 1–2.

Lun, J., Oishi, S., & Tenney, E. R. (2012). Residential mobility moderates preferences for egalitarian versus loyal helpers. Journal of Experimental Social Psychology,48(1), 291–297.

Ma, Y., & Han, S. (2012). Functional dissociation of the left and right fusiform gyrus in self-face recognition. Human Brain Mapping,33(10), 2255–2267.

Magdol, L. (2002). Is moving gendered? The effects of residential mobility on the psychological well-being of men and women. Sex roles,47(11), 553–560.

Mak, W. W., Chen, S. X., Lam, A. G., & Yiu, V. F. (2009). Understanding distress: the role of face concern among Chinese Americans, European Americans, Hong Kong Chinese, and mainland Chinese. The Counseling Psychologist,37(2), 219–248.

Mak, W. W., & Cheung, R. Y. (2012). Psychological distress and subjective burden of caregivers of people with mental illness: the role of affiliate stigma and face concern. Community Mental Health Journal,48(3), 270–274.

Markus, H. R., & Kitayama, S. (1991). Culture and the self: Implications for cognition, emotion, and motivation. Psychological Review,98(2), 224.

Mazzurega, M., Marisa, J., Zampini, M., & Pavani, F. (2018). Thinner than yourself: Self-serving bias in body size estimation. Psychological Research. https://doi.org/10.1007/s00426-018-1119-z.

McElreath, R. (2004). Community structure, mobility and the strength of norms in an African society, the Sangu of Tanzania. In Foundations of human sociality: Ethnogra, pp. 335–355.

Miller, S. C., Kennedy, C. C., DeVoe, D. C., Hickey, M., Nelson, T., & Kogan, L. (2009). An examination of changes in oxytocin levels in men and women before and after interaction with a bonded dog. Anthrozoös,22(1), 31–42.

Moineddin, R., Matheson, F. I., & Glazier, R. H. (2007). A simulation study of sample size for multilevel logistic regression models. BMC Medical Research Methodology,7(1), 34.

Mu, Y., Kitayama, S., Han, S., & Gelfand, M. J. (2015). How culture gets embrained: Cultural differences in event-related potentials of social norm violations. Proceedings of the National Academy of Sciences,112(50), 15348–15353.

Oetzel, J., Ting-Toomey, S., Masumoto, T., Yokochi, Y., Pan, X., Takai, J., et al. (2001). Face and facework in conflict: A cross-cultural comparison of China, Germany, Japan, and the United States. Communication Monographs,68(3), 235–258.

Ohbuchi, K. I., Tamura, T., Quigley, B. M., Tedeschi, J. T., Madi, N., Bond, M. H., et al. (2004). Anger, blame, and dimensions of perceived norm violations: Culture, gender, and relationships. Journal of Applied Social Psychology,34(8), 1587–1603.

Oishi, S. (2010). The psychology of residential mobility implications for the self, social relationships, and well-being. Perspectives on Psychological Science,5(1), 5–21.

Oishi, S., & Graham, J. (2010). Social ecology: Lost and found in psychological science. Perspectives on Psychological Science,5(4), 356–377.

Oishi, S., Kesebir, S., Miao, F. F., Talhelm, T., Endo, Y., Uchida, Y., et al. (2013). Residential mobility increases motivation to expand social network: But why? Journal of Experimental Social Psychology,49(2), 217–223.

Oishi, S., Lun, J., & Sherman, G. D. (2007). Residential mobility, self-concept, and positive affect in social interactions. Journal of Personality and Social Psychology,93(1), 131.

Oishi, S., Miao, F. F., Koo, M., Kisling, J., & Ratliff, K. A. (2012). Residential mobility breeds familiarity-seeking. Journal of Personality and Social Psychology,102(1), 149.

Oishi, S., & Talhelm, T. (2012). Residential mobility: What psychological research reveals. Current Directions in Psychological Science,21(6), 425–430.

Ozsoy, S., Esel, E., & Kula, M. (2009). Serum oxytocin levels in patients with depression and the effects of gender and antidepressant treatment. Psychiatry Research,169(3), 249–252.

Royzman, E. B., Leeman, R. F., & Baron, J. (2009). Unsentimental ethics: Towards a content-specific account of the moral–conventional distinction. Cognition,112(1), 159–174.

Sampson, R. J., Raudenbush, S. W., & Earls, F. (1997). Neighborhoods and violent crime: a multilevel study of collective efficacy. Science,277(5328), 918–924.

Schoemann, A. M., Boulton, A. J., & Short, S. D. (2017). Determining power and sample size for simple and complex mediation models. Social Psychological and Personality Science,8, 379–386.

Su, J. C., Chiu, C. Y., Lin, W. F., & Oishi, S. (2016). Social monitoring matters for deterring social deviance in stable but not mobile socio-ecological contexts. PLoS ONE,11(11), e0167053.

Thornton, I. M., Srismith, D., Oxner, M., & Hayward, W. G. (2019). Other-race faces are given more weight than own-race faces when assessing the composition of crowds. Vision Research, 157, 159–168.

Ting-Toomey, S., Gao, G., Trubisky, P., Yang, Z., Soo Kim, H., Lin, S.-L., et al. (1991). Culture, face maintenance, and styles of handling interpersonal conflict: A study in five cultures. International Journal of conflict management,2(4), 275–296.

van Honk, J., Schutter, D. J., Hermans, E. J., Putman, P., Tuiten, A., & Koppeschaar, H. (2004). Testosterone shifts the balance between sensitivity for punishment and reward in healthy young women. Psychoneuroendocrinology,29(7), 937–943.

Wang, C. S., & Leung, A. K. Y. (2010). The cultural dynamics of rewarding honesty and punishing deception. Personality and Social Psychology Bulletin,36(11), 1529–1542.

Wood, W., & Eagly, A. H. (2012). Biosocial construction of sex differeces and similarities in behavior. Advances in Experimental Social Psychology,46, 55–123.

Wu, W. (2006). Migrant intra-urban residential mobility in urban China. Housing Studies,21(5), 745–765.

Wu, T., Fu, F., Zhang, Y., & Wang, L. (2012). Expectation-driven migration promotes cooperation by group interactions. Physical Review E,85(6), 066104.

Yang, K. S. (1981). Social orientation and individual modernity among Chinese students in Taiwan. Journal of Social Psychology,113(2), 159–170.

Yu, J., & Xie, Y. (2015). Cohabitation in China: Trends and determinants. Population and Development Review, 41(4), 607–628.
Acknowledgements
This work was supported by grants from the Science Foundation of Ministry of Education of China (Project 17YJCZH121) and the Natural Science Foundation of Guangdong Province (Project 2017A030310553) and the Natural Science Foundation of China (Project 31800916).
Ethics declarations
Conflict of interest
The authors declare that the research was conducted in the absence of any commercial or financial relationships that could be construed as a potential conflict of interest.
Ethics Statement
All participants gave written informed consent, and the study was approved by the Department of Psychology of Sun Yat-sen University Ethics Committee.
Code Availability
The custom computer code and questionnaire that was used in the main analysis of this study is available from the corresponding author upon reasonable request.
Data Availability
The deidentified data that support the main findings of this study are available from the corresponding author upon reasonable request.
Additional information
Publisher's Note
Springer Nature remains neutral with regard to jurisdictional claims in published maps and institutional affiliations.
Electronic supplementary material
Below is the link to the electronic supplementary material.
About this article
Cite this article
Luo, S., Kong, Q., Ke, Z. et al. Residential Mobility Decreases the Perception of Social Norm Violations. Soc Indic Res 148, 961–986 (2020). https://doi.org/10.1007/s11205-019-02224-7
Accepted:

Published:

Issue Date:
Keywords
Residential mobility

Social norm violations

Face threatening