Abstract
For all its benefits, mainly through contributing to economic growth, tourism can cause certain negative externalities, increased crime incidence being one of them. More crime leads to immediate costs to residents, tourists and the host country, but can also imperil the destination's image and fend off tourists in the future. We study the impact of tourism on crime in Croatia by estimating the elasticity of property crime with respect to tourist arrivals on monthly panel data at the county level over the period 1998–2016. We find robust evidence that tourism increases property crime. The elasticity varies spatially and by type of property crime, being higher in coastal than in continental counties, and higher for theft than for larceny. The estimates are used for counter-factual calculations which show that, had tourism been the only factor affecting property crime, the number of crimes would have evolved over 2006–2016 to a much higher level than it actually has. The elasticities are large enough that, absent sufficiently strong countervailing factors, even a moderately paced tourism growth can bring a sizeable increase in property crime over a decade. From the policy perspective, it is important to understand the countervailing factors and to consider the costs of tourism-induced crime in social cost-benefit assessments of tourism growth.
Access options
Buy single article
Instant access to the full article PDF.
US$ 39.95
Tax calculation will be finalised during checkout.
Subscribe to journal
Immediate online access to all issues from 2019. Subscription will auto renew annually.
US$ 119
Tax calculation will be finalised during checkout.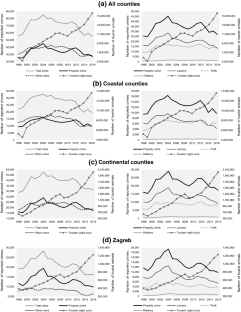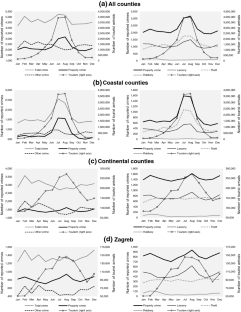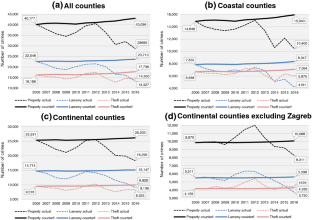 Notes
1.

Figure S1, panel a, in Supplementary Material displays a map of Croatia and the neighbouring countries.

2.

In references, the titles of media articles are translated from Croatian by the authors.

3.

Figure S1, panel b, in Supplementary Material displays a map of Croatia with county borders. It is also indicated which counties are coastal and which are continental.

4.

For details, see Croatian Criminal Act, Articles 229–231.

5.

Hereafter, we will use just 'average' to mean 'average compound'.

6.

Note also that it can be interpreted as the effect of the number of tourist arrivals per square kilometre on the number of crimes per square kilometre of the county surface area, owing to the fact that we control for county fixed effects.

7.

In all tables with regression results, the coefficient estimates are displayed with four decimals, but in text we round them to two decimals. We do so throughout the whole text.

8.

Recall that Zagreb comprises two counties, namely the City of Zagreb and County of Zagreb.

9.

Full results are provided in Table S1 in Supplementary Material.

10.

Full results are provided in Table S1 in Supplementary Material.

11.

With one exception, where one of the controls is appropriately redefined (see next paragraph).

12.

Full results are provided in Table S2 in Supplementary Material.

13.

Full results are provided in Table S3 in Supplementary Material.

14.

It might be that for theft the clear-up rate better measures deterrence, though it is admittedly hard to know what might be the reasons for that.

15.

Note that it would not make a substantial difference if it were included as the share of the unemployed in population instead, given that we control for population (as previously discussed in the cases crime vs. crime per 100,000 inhabitants and tourist arrivals vs. tourist arrivals per 100,000 population). Unfortunately, there are no monthly data on the number of active population at the county level, so we are not able to control for the unemployment rate.

16.

Full results are provided in Table S4 in Supplementary Material.

17.

Here 'full sample' refers to the sample covering all counties and all months for which the number of unemployed persons at the county level is available, namely from January 2004 to December 2016.

18.

Full results are provided in Table S5 in Supplementary Material.

19.

Unemployment is regularly at its lowest point over a year during the summer months, when the tourist season is peaking. In addition, besides tourism, other important sectors, most notably construction, employ more during summer months, though more so outside the areas with most tourists.

20.

We have also tried controlling for (the natural logarithm of) gross domestic product, on which we have only annual, rather than monthly, county-level data. These data are not available for 1998 and 1999. The results—available on request—show that the coefficient on ln(GDP) is never statistically significant and the crime elasticity estimate hardly changes.

21.

The evolution of tourist arrivals was depicted in Fig. 1.
References
Adam, I., & Adongo, C. A. (2016). Do backpackers suffer crime? Empirical investigation of crime perpetrated against backpackers in Ghana. Journal of Hospitality and Tourism Management, 27, 60–67.

Alleyne, D., & Boxill, I. (2003). The impact of crime on tourist arrivals in Jamaica. International Journal of Tourism Research, 5(5), 381–391.

Altindag, D. T. (2012). Crime and unemployment: Evidence from Europe. International Review of Law and Economics, 32(1), 145–157.

Andresen, M. A., & Malleson, N. (2013). Crime seasonality and its variations across space. Applied Geography, 43, 25–35.

Barker, M., Page, S., & Meyer, D. (2002). Modeling tourism crime: The 2000 America's cup. Annals of Tourism Research, 29(3), 762–782.

Baumer, E., & Wright, R. (1996). Crime seasonality and serious scholarship: A comment on farrell and pease. The British Journal of Criminology, 36, 579.

Becker, G. S. (1968). Crime and punishment: An economic approach. In N. G. Fielding, A. Clarke, & R. Witt (Eds.), The economic dimensions of crime (pp. 13–68). Berlin: Springer.

Biagi, B., & Detotto, C. (2014). Crime as tourism externality. Regional Studies, 48(4), 693–709.

Biagi, B., Brandano, M., & Detotto, C. (2012). The effect of tourism on crime in Italy: A dynamic panel approach. Economics: The Open-Access, Open-Assessment E-Journal, 6(25), 1–24.

Bimonte, S., Brida, J. G., Pulina, M., & Punzo, L. F. (2012). Tourism and growth: Stories of two continents. In L. F. Punzo, C. A. Feijo, & M. P. Anyul (Eds.), Beyond the global crisis: Structural adjustments and regional integration in Europe and latin America (pp. 252–268). London: Routledge.

Bindler, A. (2016). Still unemployed, what next? Crime and unemployment duration. In GUPEA working papers in economics no. 660.

Block, C. R. (1984). Is crime seasonal? In Illinois criminal justice information authority Chicago. Chicago: Illinois Criminal Justice Information Authority. https://www.bjs.gov/content/pub/pdf/ics.pdf. Accessed 16 July 2019.

Buonanno, P. (2006). Crime and labour market opportunities in Italy (1993–2002). Labour, 20(4), 601–624.

Campaniello, N. (2013). Mega events in sports and crime: Evidence from the 1990 football world cup. Journal of Sports Economics, 14(2), 148–170.

Cheatwood, D. (1988). Is there a season for homicide? Criminology, 26(2), 287–306.

Chesney-Lind, M., & Lind, I. Y. (1986). Visitors as victims crimes against tourists in Hawaii. Annals of Tourism Research, 13(2), 167–191.

Chesney-Lind, M., Lind, I. Y., & Schaafsma, H. (1983). Salient factors in Hawaii's crime rate. Manoa: University of Hawaii.

Cohen, L. E., & Felson, M. (1979). Social change and crime rate trends: A routine activity approach. American Sociological Review, 44(4), 588–608.

Crotts, J. C. (1996). Theoretical perspectives on tourist criminal victimisation. Journal of Tourism Studies, 7(1), 2.

Dimanche, F., & Lepetic, A. (1999). New Orleans tourism and crime: A case study. Journal of Travel Research, 38(1), 19–23.

Ehrlich, I. (1973). Participation in illegitimate activities: A theoretical and empirical investigation. The Journal of Political Economy, 81(3), 521–565.

Falk, G. J. (1952). The influence of the seasons on the crime rate. The Journal of Criminal Law, Criminology, and Police Science, 43(2), 199–213.

Fujii, E. T., & Mak, J. (1979). The impact of alternative regional development strategies on crime rates: Tourism vs. agriculture in Hawaii. The Annals of Regional Science, 13(3), 42–56.

Fujii, E. T., & Mak, J. (1980). Tourism and crime: Implications for regional development policy. Regional Studies, 14(1), 27–36.

Ghali, M., Estores, E., Okano, F., & Tanaka, R. (1983). Economic factors and the composition of juvenile property crimes. Applied Economics, 15(2), 267–281.

Grinols, E. L., Mustard, D. B., & Staha, M. (2011). How do visitors affect crime? Journal of Quantitative Criminology, 27(3), 363–378.

Ivandić, N., & Šutalo, I. (2018). The contribution of tourism to the Croatian economy: An IO approach. Ekonomski Pregled, 69(1), 20–42.

Jud, G. D. (1975). Tourism and crime in Mexico. Social Science Quarterly, 56(2), 324–330.

Jutarnji List (2017). Croatian tourist boom: The coast is overcrowded, and two towns are recorders! https://www.jutarnji.hr/vijesti/hrvatska/hrvatski-turisticki-boom-jadran-je-prekrcan-ali-dva-gradica-su-apsolutni-rekorderi-broj-stanovnika-ljeti-im-je-skocio-za-nevjerojatnih-450-posto/6464227/. Accessed 10 Oct 2018.

Levantis, T., & Gani, A. (2000). Tourism demand and the nuisance of crime. International Journal of Social Economics, 27(7/8/9/10), 959–967.

Lider, H. (2017). Plitvice lakes are under risk of long-term devastation due to overbuilding. https://lider.media/aktualno/biznis-i-politika/hrvatska/dobrovic-plitvickim-jezerima-prijeti-trajna-devastacija-zbog-prekomjerne-izgradnje/. Accessed 10 Oct 2018.

Linning, S. J., Andresen, M. A., & Brantingham, P. J. (2017). Crime seasonality: Examining the temporal fluctuations of property crime in cities with varying climates. International Journal of Offender Therapy and Comparative Criminology, 61(16), 1866–1891.

Lombroso, C. (1912). Crime, its causes and remedies. Boston: Little Brown.

McPheters, L. R., & Stronge, W. B. (1974). Crime as an environmental externality of tourism: Miami, Florida. Land Economics, 50(3), 288–292.

Montolio, D., & Planells-Struse, S. (2016). Does tourism boost criminal activity? Evidence from a top touristic country. Crime & Delinquency, 62(12), 1597–1623.

Mummolo, J., & Peterson, E. (2018). Improving the interpretation of fixed effects regression results. Political Science Research and Methods, 6, 1–7.

Novi List (2017). Frequent theft: Beaches are el dorado for thiefs. http://www.novilist.hr/Vijesti/Crna-kronika/UCESTALE-KRADE-Plaze-su-eldorado-za-dugoprstice. Accessed 10 Oct 2018.

O'Donnell, C. R., & Lydgate, T. (1980). The relationship to crimes of physical resources. Environment and Behavior, 12(2), 207–230.

Quetelet, L. A. J. (1842). A treatise on man and the development of his faculties. Edinburgh: W. and R. Chambers.

Ryan, C. (1993). Crime, violence, terrorism and tourism: An accidental or intrinsic relationship? Tourism Management, 14(3), 173–183.

Schubert, S. F. (2010). Coping with externalities in tourism: A dynamic optimal taxation approach. Tourism Economics, 16(2), 321–343.

UNWTO (2017). Why tourism?http://www2.unwto.org/content/why-tourism. Accessed 23 Aug 2018.

Van Tran, X., & Bridges, F. S. (2009). Tourism and crime in European nations. E-Review of Tourism Research, 7(3), 52–67.

Walmsley, D. J., Boskovic, R. M., & Pigram, J. J. (1983). Tourism and crime: An Australian perspective. Journal of Leisure Research, 15(2), 136.
Funding
Funding was provided by TvojGrant@EIZ.
Additional information
Publisher's Note
Springer Nature remains neutral with regard to jurisdictional claims in published maps and institutional affiliations.
Electronic supplementary material
Below is the link to the electronic supplementary material.
About this article
Cite this article
Recher, V., Rubil, I. More Tourism, More Crime: Evidence from Croatia. Soc Indic Res 147, 651–675 (2020). https://doi.org/10.1007/s11205-019-02160-6
Accepted:

Published:

Issue Date:
Keywords
Tourism

Property crime

Larceny

Theft

Panel data

Fixed-effects