Abstract
The great recession has severely harmed the living conditions of many citizens in South European democracies. This article explores to what extent the deterioration of personal circumstances due to the economic crisis is related to the erosion of political trust. Previous accounts have provided scarce evidence of this sort of egotropic effects. Instead, they have underlined the role of sociotropic evaluations of the economic and political performance of institutions. However, these factors could be suspicious of endogeneity and third-variable bias. This article uses a survey fielded in the Spanish region of Catalonia that contains a novel battery of items to measure how the crisis has personally affected respondents. Latent class analysis is applied to that battery and propensity score matching is employed to estimate the causal effect of being personally affected by the crisis vis-à-vis not being affected. Results indicate that personal hardship reduces trust in institutions in turbulent economic times. Furthermore, the study of the Catalan circumstances sheds light on how attribution of blame works in a multilevel structure of governance during times of crisis. Personal economic hardship happens to decrease trust on national institutions and the EU but not on regional institutions, controlling for the ethno-national composition of the population of that region.
This is a preview of subscription content, log in to check access.
Access options
Buy single article
Instant access to the full article PDF.
US$ 39.95
Price includes VAT for USA
Subscribe to journal
Immediate online access to all issues from 2019. Subscription will auto renew annually.
US$ 199
This is the net price. Taxes to be calculated in checkout.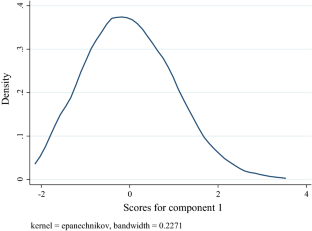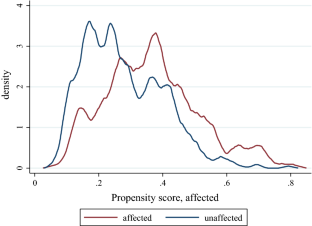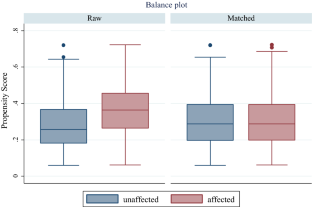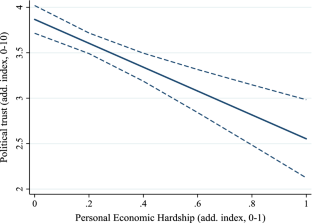 Notes
1.

This is a CATI survey implemented by the Centre d'Estudis d'Opinió, the official institute for public opinion studies of the regional government of Catalonia in Spain. It uses a stratified proportional sample of 1050 individuals, representative of the population above 17 years of age living in Catalonia and with Spanish citizenship (3.02% margin of error for P = Q=50).

2.

Vidal (2017) found that the electorate of these challenger parties shares a sharp dissatisfaction with the political system and a desire for political regeneration, in contrast with voters of the old mainstream parties.

3.

According to the CEO surveys (CEO 518, 2009; and CEO 758, 2014), in 2009, the average trust in the Spanish Parliament (in a scale from 0 to 10) was 4.4 in the whole sample as well as among the two distinct national communities. In 2014, the average figure was reduced to 3.1 (a statistically significant reduction: t = 6.3; p = 0.00), while among Spanish nationals it was 3.2 and 2.8 among Catalan nationals. The decrease in trust took place clearly among the two groups, though it was slightly more pronounced between Catalan nationals.

4.

The exact wording of the battery is the following: "Next, I will mention several institutions. Please, rate the degree of trust you have in each of them using a scale from 0 to 10, where 0 is no trust at all and 10 is a lot of trust: the courts of justice, the political parties, the Spanish government, the trade unions, the business associations/employers, the Catalan government, the Spanish Parliament, the Catalan Parliament, the European Union, the Catholic Church, the press, the army, the Spanish monarchy".

5.

Two separate PCA analyses have been carried out in the group of those who feel nationally Catalan and among those who feel Spanish, and the results are equivalent (available upon request). Only a single component including the same set of Spanish institutions and the EU emerged in both subsamples. Therefore, irrespective of the national community of reference these set of institutions seem to be the ones perceived as most responsible for the economic situation.

6.

Having to resort to the economic help of relatives implies a range of possible situations going from the occasional assistance with some invoice to not being able to make ends meet on a regular basis. It expresses a situation of vulnerability and the incapacity of self-sustaining. Changing residence because of economic difficulties means not being able to afford the rent or mortgage. This has been one main problem in Spain due to the huge job losses and wage reductions, and the unfavorable legislation on evictions. Before the crisis, Spain was massively receiving immigration, and it turned into an emigrants' country during the years of the crisis. Having thought of going to work to another country in such a context of deep crisis happens when people are unemployed, see no prospects of improvement, or their job is in danger or deteriorating. It is a thought, an idea, but it comes from an analysis of one's current situation and the perceived lack of alternatives. Have trouble sleeping due to the economic situation is an objective condition that derives from an intense level of psychological distress. Having health related problems is also a rather objective state that stems from the psychosomatic effects of the levels of stress linked to the economic situation.

7.

In any case, other operationalizations of the construct have been implemented: a latent trait and an additive index (see supplementary material B). Their impact on the dependent variable has also been tested, and results are presented in the robustness check section.

8.

Further checks such as testing of the balancing scores by blocks using the Stata command pscore have also been performed producing successful results and being the balancing property satisfied. These results are available upon request.

9.

An additional model presented in Table B6 in the Supplementary material B also includes proximity to the incumbent party (Partido Popular) as a predictor. Although this is a much more endogenous variable than ideology and subjective national identification, its inclusion does not erode the effect of personal economic hardship on political trust. On the contrary, the effect continues to be strong and significant.

10.

Supplementary regression models including the interaction of the treatment with national identification show no moderator effects (not presented for the sake of simplicity).

11.

Further tests have been performed to check the robustness of the findings. The same group of predictor variables was regressed on each of the items (separately) that compose the political trust index to verify any discrepancy that might have been hidden in the aggregation of the index (see table B2 in the supplementary material B). Results from the models are consistent in all cases. The effects of personal hardship (using the additive index) are always significant and relevant, and similar across the different items (the different political institutions). This model was also applied to six indices of political trust in which a different item of the original group of six was removed at a time (table B3). Results were consistent again. Following the same logic but with the target independent variable, five regression models were run excluding one item of the personal economic hardship additive index at a time (table B5). Results were another time consistent in all cases. The last test consisted in using the same regression model but only including one item of the battery of personal economic hardship each time (table B4). Except for the case of "changing the place of residence as a result of the crisis", the separate items had significant and relevant effects on political trust. The lack of effects of this particular item might be related to the specificity of the Spanish case with a high proportion of homeowners in comparison with the share of renters. When economic hardship strikes, homeowners that pay mortgages might prefer reducing consumption levels instead of moving to a cheaper residence (in a situation of a collapse of the housing market). It might only be in the extreme situation of not being able to pay the mortgage by any means, that people would be forced to move or directly evicted from their homes (due to the strict Spanish legislation on evictions).

12.

In Spain, the emergence of challenging parties during the crisis seems not to have come from the appearance of a new political cleavage (Fernández-Albertos 2015). The traditional left/right dimension continues to dominate the scene, and differences between old and new parties seem to come from their voters' degree of dissatisfaction with the political system and their demands of political regeneration, which overlap with a generational divide (Vidal 2017). In Catalonia, however, there have historically been two political cleavages: the left/right dimension, and the (national) identity one (Pérez-Nievas and Fraile 2000). During the crisis, this second territorial cleavage might have gained prominence, as it could have captured the issues of the crisis of representation and the aspirations for political regeneration (in the form of the creation of a new state). This has happened in a general context where the differences between left and right were blurring, because social-democrats when in government were forced to implement austerity policies.
References
Alós, R., & Lope, A. (2015). El desempleo y sus consecuencias: Vulnerabilidad y riesgo de exclusión social. In C. Torres (Ed.), España 2015. Situación social (pp. 651–662). Madrid: CIS.

Álvarez, M., Nagler, J., & Willette, J. (2000). Measuring the relative impact of issues and the economy in democratic elections. Electoral Studies, 19, 237–257.

Anderson, C., & Guillory, C. (1997). Political institutions and satisfaction with democracy: A cross-national analysis of consensus and majoritarian systems. American Political Science Review, 91, 66–88.

Angrist, J., & Pischke, J.-S. (2009). Mostly harmless econometrics: An empiricist's companion. Princeton, NJ: Princeton University Press.

Aragón, J., Cruces, J., de la Fuentes, L., Martínez, A., & Otaegui, A. (2012). Trabajadores y empobrecimiento en España. Madrid: Fundación 1º de Mayo.

Armingeon, K., & Guthmann, K. (2014). Democracy in crisis? The declining support for national democracy in European countries, 2007–2011. European Journal of Political Research, 53, 423–442.

Ayala, L. (2016) La Desigualdad en España: Fuentes, Tendencias y Comparaciones Internacionales, FEDEA Working Papers 2016-24, Madrid: Fundación de Estudios de Economía Aplicada.

Bianco, W. (1994). Trust. Representatives and constituents. Ann Arbor, MI: Michingan University Press.

Braithwaite, V., & Levi, M. (Eds.). (2003). Trust and governance. New York, NY: The Russell Sage Foundation.

Brooks, C., & Manza, J. (2007). Why welfare states persist: The importance of public opinion in democracies. Chicago, IL: Chicago University Press.

Caliendo, M., & Kopeing, S. (2005) Some practical guidance for the implementation of propensity score matching. IZA Discussion Paper 1588, Bonn: IZA Institute of Labor Economics.

CEO (Centre d'Estudis d'Opinio). (2015). Surveys no. REO 518 (2009), 758 (2014), and 798.

Clarke, H. D., & Kornberg, A. (1989). Public reactions to economic performance and political support in contemporary liberal democracies. In H. D. Clarke, M. C. Stewart & G. Zuk (Eds.), Economic decline and political change; Canada, Great Britain, the United States. Pittsburgh: University of Pittsburgh. Press.

Clarke, H., Dutt, N., & Kornberg, A. (1993). The political economy of attitudes toward polity and society in Western democracies. Journal of Politics, 55, 551–562.

Colomer, Josep M. (2017). The venturous bid for the independence of catalonia. Nationalist Papers, 45, 950–967.

Coromina, L., & Bartolomé, E. (2016). Trust in political institutions. Stability of measurement model in Europe. In M. Voicu, I. Mochmann, & H. Dülmer (Eds.), Values, economic crisis and democracy (pp. 50–69). London: Routledge.

Dahl, R. (1971). Polyarchy: Participation and opposition. New Haven, CT: Yale University Press.

Dalton, R. (2004). Democratic challenges, democratic choices. The erosion of political support in advanced industrial democracies. Oxford: Oxford University Press.

De Castro, C., & Pedreño, A. (2015). Trabajo y ocupaciones. In C. Torres (Ed.), España 2015. Situación social (pp. 617–628). Madrid: CIS.

Denters, B., Gabriel, O., & Torcal, M. (2007). Political confidence in representatives democracies: Socio-cultural vs. political explanations. In J. van Deth, J. Montero, & A. Westholm (Eds.), Citizenship and involvement in European democracies (pp. 66–87). London: Routledge.

Duran, J., & Isusi, Í. (2010) Working poor in Europe—Spain. In EurWORK. Accessed at: http://www.eurofound.europa.eu/ewco/studies(tn0910026s/es0910029q.htm. February 20, 2017.

EAPN. (2015). El estado de la pobreza. 5º Informe. Seguimiento del indicador de riesgo de pobreza y exclusion social en España 2009–2014. Accessed at: http://www.eapn.es/ARCHIVO/documentos/recursos/1/1444833751_20151015_el_estado_de_la_pobreza_seguimiento_del_arope_2014_pdf.pdf. March 2, 2017.

ECAS. (2014). Informe INSOCAT per al a millora de l'acció social. Indicadors socials a Catalunya en relació al context estatal i europeu. Escenari postcrisi: Treballadors pobres, desigualtats profundes. Report number 4. Accessed at: https://acciosocial.org//wp-content/uploads/2015/12/INSOCAT_num4_juliol2014_informeECAS_vreduida1.pdf.

ECAS. (2015). Informe INSOCAT per al a millora de l'acció social. Indicadors socials a Catalunya en relació al context estatal i europeu. Polarització social i pobresa més severa. Report number 6. Accessed at: https://acciosocial.org//wp-content/uploads/2015/12/INSOCAT-6_Polaritzacio-i-pobresa-severa_ECAS.pdf.

Echaves, A., & Echaves, C. (2017). Jóvenes aún más precarios: Crisis económica y desigualdad laboral en España. Cuadernos de Investigación en Juventud, 2, e007. https://doi.org/10.22400/cij.2.e007.

Ellinas, A., & Lamprianou, I. (2014). Political trust in extremis. Comparative Politics, 46, 231–250.

Eurostat EU-SILC. Statistics on Income and Living Conditions.

Faulkner, N., Martin, A., & Peyton, K. (2015). Priming political trust: Evidence from an experiment. Australian Journal of Political Science, 50, 164–173.

Fernández-Albertos, J. (2015). Nuevos partidos, ¿nuevos ejes de competición política?. Piedras de Papel. Accessed at: https://www.eldiario.es/piedrasdepapel/Nuevos-partidos-nuevos-competicion-politica_6_629997015.html.

Fisher, J., Heerde, J. V., & Tucker, A. (2010). Does one trust judgement fit all? Linking theory and empirics. The British Journal of Politics and International Relations, 12, 161–188.

Flesher, C. (2015). Redefining the crisis/redefining democracy: Mobilizing for the right to housing in Spain's PAH Movement. South European Society & Politics, 20, 465–485.

Gallie, D. (1994). Are the unemployed an underclass? Some evidence from the social change and economic life initiative. Sociology, 28, 737–757.

Goerlich, F. (2016). Distribución de la renta, crisis económica y política redistributivas. Bilbao: Fundación BBVA.

Hacker, J. (2008). The great risk shift: The new economic insecurity and the decline of the American dream. New York, NY: Oxford University Press.

Hacker, J., Rehm, P., & Schlesinger, M. (2013). The insecure American: Economic experiences, financial worries, and policy attitude. Perspectives on Politics, 11, 23–49.

Hernández, E., & Kriesi, H. (2016). The electoral consequences of the financial and economic crisis in Europe. European Journal of Political Research, 55, 203–224.

Hetherington, M. (1998). The political relevance of political trust. American Political Science Review, 92, 791–808.

Hierro, M. J. (2013). Changes in national identification. The Case of Catalonia. Madrid: Institutio Juan March de Estudios e Investigaciones, Centro de Estudios Avanzados en Ciencias Sociales.

Hooghe, L., & Marks, G. (2005). Calculation, community and cues: Public opinion on European integration. European Union Politics, 6, 419–443.

Hutter, S., Kriesi, H., & Vidal, G. (2018). Old versus new politics: The political spaces in southern Europe in times of crises. Party Politics, 24, 10–22.

Incantalupo, M. (2011) The effects of unemployment on voter turnout in U.S. National elections. Accessed at: http://scholar.princeton.edu/mincanta/pages/research. November 15, 2016.

Kaase, M. (1999). Interpersonal trust, political trust and non-institutionalised political participation in Western Europe. West European Politics, 22, 1–21.

Kahneman, D., & Tversky, A. (1979). Prospect theory: An analysis of decision under risk. Econometrica, 47, 263–291.

Khandker, S., Gayatri, K., & Samad, H. (2010). Handbook of impact evaluation. Quantitative methods and practices. Washington: The World Bank.

Kinder, D., & Kiewiet, R. (1979). Economic discontent and political behavior: The role of personal grievances and collective economic judgements in congressional voting. American Journal of Political Science, 23, 495–527.

Kumlin, S. (2011). Dissatisfied democrats, policy feedback, and European Welfare states, 1976–2001. In M. Hooghe & S. Zmerli (Eds.), Political Trust, Why Context Matters (pp. 163–185). Colchester: ECPR Press.

Levi, M., & Stoker, L. (2000). Political trust and trustworthiness. Annual Review of Political Science, 3, 475–507.

Lockerbie, B. (1993). Economic dissatisfaction and political alienation in Western Europe. European Journal of Political Research, 23, 281–293.

Luisiani, N. (2014). Rationalising the right to health: Is Spain's austere response to the economic crisis impermissible under international human rights law? In A. Nolan (Ed.), Economic and social rights after the global financial crisis (pp. 202–233). Cambridge: Cambridge University Press.

Marien, S. (2011). Measuring political trust across time and space. In M. Hooghe & S. Zmerli (Eds.), Political trust. Why context matters (pp. 13–46). Colchester: ECPR Press.

Marien, S., & Hooghe, M. (2011). Does political trust matter? An empirical investigation into the relation between political trust and support for law compliance. European Journal of Political Research, 50, 267–291.

Martín, A., & Pérez, F. (2015). Cambios de las relaciones laborales. In C. Torres (Ed.), España 2015. Situación social (pp. 684–701). Madrid: CIS.

Martínez-Celorrio, X., & Marín, A. (2016). Crisi, descens social i xarxes de confiança. Anàlisi longitudinal del PaD (2008–2012). Barcelona: Document de treball. Fundació Jaume Bofill.

McAllister, I. (1999). The economic performance of governments. In P. Norris (Ed.), Critical citizens: Global support for democratic governance (pp. 188–203). Oxford: Oxford University Press.

Miguélez, F., & Molina, Ó. (2015). Políticas de empleo. In C. Torres (Ed.), España 2015. Situación social (pp. 672–683). Madrid: CIS.

Miller, A., & Listhaug, O. (1990). Political parties and confidence in government: A comparison of Norway, Sweden and the United States. British Journal of Political Science, 29, 357–386.

Miller, A., & Listhaug, O. (1999). Political performance and political trust. In P. Norris (Ed.), Critical citizens: Global support for democratic government (pp. 204–216). Oxford: Oxford University Press.

Mishler, W., & Rose, R. (2001). What are the origins of political trust? testing institutional and cultural theories in post-communist societies. Comparative Political Studies, 34, 30–62.

Mughan, A., & Lacy, D. (2002). Economic performance, job insecurity and electoral choice. British Journal of Political Science, 32, 513–533.

Muñoz, J., & Tormos, R. (2015). Economic expectations and support for secession in catalonia: Between causality and rationalization. European Political Science Review, 7(2), 315–341.

Muro, D., & Vidal, G. (2016). Political mistrust in southern Europe since the great recession. Mediterranean Politics, 22, 197–217.

Nannestad, P., & Paldam, M. (1994). The VP-function: A survey of the literature on vote and popularity functions after 25 years. Public Choice, 79, 213–245.

Newton, K. (2001). Trust, social capital, civil society, and democracy. International Political Science Review, 22, 201–214.

Pérez-Nievas, S., & Fraile, M. (2000) Is the nationalist vote really nationalist? Dual Voting in Catalonia, 1980–1999. Madrid, Estudio/Working Paper no. 2000/147, Juan March Institute.

Polavieja, J. (2013). Economic crisis, political legitimacy, and social cohesion. In D. Gallie (Ed.), Economic crisis, quality of work, and social integration (pp. 256–278). Oxford: Oxford University Press.

Prieto, C., & Pérez, S. (2015). La precarización del empleo en el marco de la norma flexible-empresarial del empleo. In C. Torres (Ed.), España 2015. Situación social (pp. 629–639). Madrid: CIS.

Rico, G., Guinjoan, M., & Anduiza, E. (2017). The emotional underpinnings of populism: How anger and fear affect populist attitudes. Swiss Political Science Review, 23(4), 444–461.

Rosenbaum, P., & Rubin, D. (1983). The central role of the propensity score in observational studies for causal effects. Biometrika, 70, 41–55.

Rosenstone, S., Hansen, J., & Kinder, D. (1986). Measuring change in personal well-being. Public Opinion Quarterly, 50, 176–192.

Roth, F., Nowak-Lehmann, F., & Otter, T. (2013). Has the financial crisis shattered citizens' trust in national and European governmental institutions? Evidence from the EU member states, 1999–2010. CEPS Working Document 343, Brussels: CEPS.

Rudolph, T., & Evans, J. (2005). Political trust, ideology, and public support for government spending. American Journal of Political Science, 49, 660–671.

Schyns, P., & Koop, C. (2010). Political distrust and social capital in Europe and the USA. Social Indicators Research, 96, 145–167.

Torcal, M. (2014). The decline of political trust in Spain and Portugal: Economic performance or political responsiveness? American Behavioral Scientist, 58, 1542–1567.

Torcal, M. (2016). Political trust in Western and Southern Europe. In S. Zmerli & T. van der Meer (Eds.), Handbook of political trust (pp. 418–439). Chetelham: Edward Elgar Publishing.

United Nations (2012) El Derecho a una vivienda digna. Informe Relatora Especial A/67/286. Accessed at: http://afectadosporlahipoteca.files.wordpress.com/2012/10/informe-relatora-onu-oct2012.pdf. March 20, 2017.

Vidal, G. (2017). Challenging business as Usual? The rise of new parties in Spain in times of crisis. West European Politics, 41, 261–286.

Virós, R., Canals, R., & Pallarés, F. (1991). Influència en l'opció electoral d'alguns factors sociodemogràfics i polítics. Perfils dels electorats. Estudis Electorals, 10, 125–147.

Weatherford, M. (1987). How does government performance influence political support? Political Behavior, 9, 5–28.

Wilson, R. (2011). The contribution of behavioral economics to political science. Annual Review of Political Science, 14, 201–223.

Wroe, A. (2014). Political trust and job insecurity in 18 European polities. Journal of Trust Research, 4, 90–112.

Wroe, A. (2015) Economic insecurity and political trust in the United States. American Politics Research. https://doi.org/10.1177/1532673x15597745.
Additional information
Publisher's Note
Springer Nature remains neutral with regard to jurisdictional claims in published maps and institutional affiliations.
The original version of this article was revised due to the the alignment of Tables 5 and 6 has been placed incorrectly.
Electronic supplementary material
Below is the link to the electronic supplementary material.
About this article
Cite this article
Tormos, R. Measuring Personal Economic Hardship and Its Impact on Political Trust During the Great Recession. Soc Indic Res 144, 1209–1232 (2019). https://doi.org/10.1007/s11205-019-02082-3
Accepted:

Published:

Issue Date:
Keywords
Political trust

Economic crisis

Egotropic economic considerations

South of Europe

Propensity score matching

Latent class analysis

Catalonia