Abstract
Given that economic growth is typically associated with ecological destruction and little improvement in human happiness, alternative indicators of progress have been developed to provide decision-makers with additional non-economic information that might better protect the environment and promote human well-being. However, to our knowledge, no experimental evidence exists which demonstrates that the use of such alternative indicators actually causes changes in behaviors. We therefore asked participants to pretend that they were the mayor of a small city that had the opportunity to develop natural land on its borders. Participants were randomly assigned to receive either standard indicators (consisting of only economic information) or alternative indicators (consisting of economic, ecological, and well-being information) as they made decisions over the course of their "term" as mayor. Participants who received alternative indicator feedback developed significantly fewer acres of the natural land than did those who received standard indicator feedback (Cohen's d = .52). The effect of indicator type did not significantly interact with gender, ethnicity, or value orientation, but participants low in need for cognition were more sensitive to the type of indicator provided than were those high in need for cognition. The results provide the first experimental evidence supporting the claim that alternative indicators can cause decision-makers to focus less on economic outcomes and to prioritize well-being and ecological outcomes.
Access options
Buy single article
Instant access to the full article PDF.
USD 39.95
Price excludes VAT (USA)
Tax calculation will be finalised during checkout.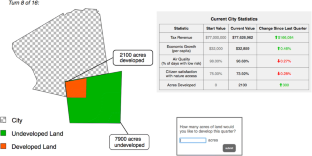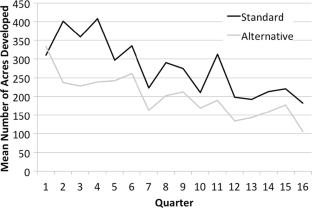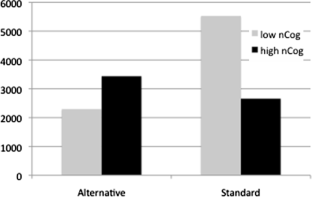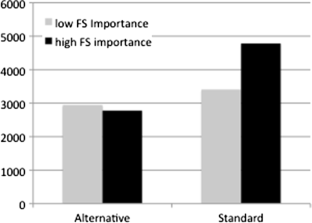 Notes
Levene's test for equality of variances was significant (p = .03), so we used a Welch's t test, which does not assume equal variances between groups.

Because some participants developed all of the 10,000 available acres before quarter 16, results should be treated with caution, particularly for the Year 4 comparisons.
References
Barrington-Leigh, C. B., & Escande, E. (2018). Measuring progress and well-being: A comparative review of indicators. Social Indicators Research, 135(3), 893–925.

Bleys, B. (2012). Beyond GDP: Classifying alternative measures for progress. Social Indicators Research, 109(3), 355–376.

Brown, K. W., & Kasser, T. (2005). Are psychological and ecological well-being compatible? The role of values, mindfulness, and lifestyle. Social Indicators Research, 74(2), 349–368.

Cacioppo, J. T., Petty, R. E., Feinstein, J. A., & Jarvis, W. B. G. (1996). Dispositional differences in cognitive motivation: The life and times of individuals varying in need for cognition. Psychological Bulletin, 119(2), 197–253.

Cacioppo, J. T., Petty, R. E., & Kao, C. F. (1984). The efficient assessment of need for cognition. Journal of Personality Assessment, 48(3), 306–307.

Ceballos, G., Ehrlich, P. R., Barnosky, A. D., Garcia, A., Pringle, R. M., & Palmer, T. M. (2015). Accelerated modern human-induced species losses: Entering the sixth mass extinction. Science Advances, 1(5), e 1400254. https://doi.org/10.1126/sciadv.1400253.

Chilton, P., Crompton, T., Kasser, T., Maio, G., & Nolan, A. (2012). Communicating bigger-than-self problems to extrinsically-oriented audiences. https://valuesandframes.org/downloads. Accessed 12 April 2018.

Diener, E., & Seligman, M. E. P. (2004). Beyond money: Toward an economy of well-being. Psychological Science in the Public Interest, 5(1), 1–31. https://doi.org/10.1111/j.0963-7214.2004.00501001.x.

Easterlin, R. A. (2001). Income and happiness: Towards a unified theory. The Economic Journal, 111(473), 465–484. https://doi.org/10.1111/1468-0297.00646.

Eckersley, R. (2000). The state and fate of nations: Implications of subjective measures of personal and social quality of life. Social Indicators Research, 52(1), 3–27.

Evans, L., Maio, G. R., Corner, A., Hodgetts, C. J., Ahmed, S., & Hahn, U. (2013). Self-interest and pro-environmental behavior. Nature Climate Change, 3, 122–125. https://doi.org/10.1038/nclimate1662.

Gobet, F., de Voogt, A., & Retschitzki, J. (2004). Moves in mind: The psychology of board games. East Sussex: Psychology Press.

Gough, I. (2017). Heat, greed, and human need: Climate change, capitalism, and sustainable well-being. Cheltenham: Edward Elgar Publishing.

Grouzet, F. M. E., Kasser, T., Ahuvia, A., Fernandez-Dols, J. M., Kim, Y., Lau, S., et al. (2005). The structure of goal contents across 15 cultures. Journal of Personality and Social Psychology, 89(5), 800–816.

Hak, T., Kova, S. J., Abdallah, S., Seaford, C., & Mahony, S. (2012). Review report on beyond GDP indicators: Categorization, intentions, and impacts. Final version of Brainpool deliverable 1.1, a collaborative project funded by the European Commission under the FP7 Programme (Contract no 283024). Prague: CUEC.

Helm, S. V., Pollitt, A., Barnett, M. A., Curran, M. A., & Craig, Z. R. (2018). Differentiating environmental concern in the context of psychological adaptation to climate change. Global Environmental Change, 48, 158–167. https://doi.org/10.1016/j.gloenvcha.2017.11.012.

Hurst, M., Dittmar, H., Bond, R., & Kasser, T. (2013). The relationship between materialistic values and environmental attitudes and behaviors: A meta-analysis. Journal of Environmental Psychology, 36, 257–269. https://doi.org/10.1016/j.jenvp.2013.09.003.

Jackson, T. (2009). Prosperity without growth: Economics for a finite planet. London: Earthscan.

Kasser, T. (2011). Ecological challenges, materialistic values, and social change. In R. Biswas-Diener (Ed.), Positive psychology as social change (pp. 89–108). Dordrecht: Springer.

Kasser, T. (2016). Materialistic values and goals. Annual Review of Psychology, 67, 489–514.

Kasser, T., & Ryan, R. M. (1996). Further examining the American dream: Differential correlates of intrinsic and extrinsic goals. Personality and Social Psychology Bulletin, 22(3), 281–288.

Rose, C., & Dade, P. (n.d.) Using values modes. http://bit.ly/fa7SMG. Accessed 6 April 2018.

Sheldon, K. M., & Kasser, T. (2008). Psychological threat and extrinsic goal striving. Motivation and Emotion, 32(1), 37–45.

Sheldon, K. M., Nichols, C. P., & Kasser, T. (2011). Americans recommend smaller ecological footprints when reminded of intrinsic American values of self-expression, family, and generosity. Ecopsychology, 3(2), 97–104.

Stiglitz, J. E., Sen, A., & Fitoussi, J. P. (2009). Report by the Commission on the measurement of economic performance and social progress. http://ec.europa.eu/eurostat/documents/118025/118123/Fitoussi+Commission+report. Accessed 14 April 2018.

van Damme, E., Binmore, K. G., Roth, A. E., Samuelson, L., Winter, E., Bolton, G. E., et al. (2014). How Werner Güth's ultimatum game shaped our understanding of social behavior. Journal of Economic Behavior & Organization, 10, 292–318. https://doi.org/10.1016/j.jebo.2014.10.014.

Wallace, J., & Schmuecker, K. (2012). Shifting the dial: From wellbeing measures to policy practice. Dunfermline: Carnegie UK Trust.

Willis, R. L., Provost, S. C., & Christidis, L. (2017). Influences on sustainable behavior. Ecopsychology, 9(1), 19–25.

Wong, R. Y., & Hong, Y. (2005). Dynamic influences of culture on cooperation in the prisoner's dilemma. Psychological Science, 16(6), 429–434.
Acknowledgements
Funding for this study was provided by a seed grant from the Association for the Advancement of Sustainability in Higher Education (AASHE) to the State University of New York at New Paltz. The authors also thank Zhaorui Ren for computer programming, Lucas Kasser for mathematical assistance, and Kasser and Maynard's undergraduate RAs for help collecting data.
About this article
Cite this article
Kasser, T., Maynard, D. & Perry, A. An Experimental Laboratory Test of the Effects of Alternative Indicators of Progress. Soc Indic Res 143, 901–915 (2019). https://doi.org/10.1007/s11205-018-2027-8
Accepted:

Published:

Issue Date:

DOI: https://doi.org/10.1007/s11205-018-2027-8
Keywords
Indicators of progress

Pro-ecological behavior

Values

Need for cognition