Abstract
This laboratory study examines an individual's acceptance of distributional inequality after exposure to competition and the role of competitive intensity in this relationship among young adults in mainland China. We randomly assigned participants to tournaments with different levels of prize spread and winning selectivity, thereby engendering different levels of competitive intensity. Moreover, the lab experiment measured the participants' preference for inequality in the distribution of tournament awards–what we call merit-based inequality acceptance. We obtained three main results. (1) Exposure to competition increases the level of inequality acceptance, and the effect of such increase tends to be great among strong performers in a tournament. (2) Exposure to competition with large prizes is positively associated with high level of inequality acceptance, whereas the relationship of winning selectivity to inequality acceptance has an inverted U shape. (3) The main source of inequality acceptance is the difference in the payoffs to strong and poor performers in a tournament. Results suggest that increasing competition intensity for economic rewards may have the unintended consequence of enhancing merit-based inequality acceptance among young Chinese university students.
This is a preview of subscription content, log in to check access.
Access options
Buy single article
Instant access to the full article PDF.
US$ 39.95
Price includes VAT for USA
Subscribe to journal
Immediate online access to all issues from 2019. Subscription will auto renew annually.
US$ 199
This is the net price. Taxes to be calculated in checkout.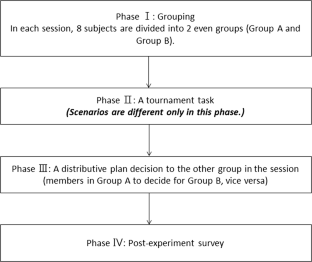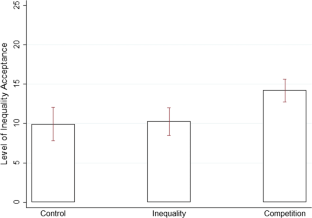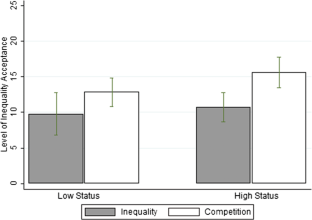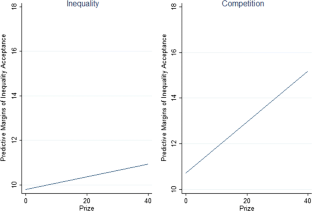 Notes
1.

For instance, three salient fairness are summarized (Almås et al. 2010) as strict egalitarianism (Rawls 1971)—finding all inequalities unfair, meritocratism (Arrow et al. 2000)—justifying inequalities reflecting differences in talents and production, and libertarianism (Nozick 1974)—justifying all inequalities in earnings even if the disparities are outcomes of luck or any uncontrolled reason.

2.

Inequality acceptance refers to an acceptance towards inequality based on talents, efforts and merits in this case and hereafter.

3.

A total of 352 Chinese young adults participated in the experiment, of which 342 were left when 10 failed cases were excluded. In one session, eight participants encountered a connection problem during the experiment. Two additional participants failed to understand the experimental procedures.

4.

This following payment structure (35, 35, 15, 15) is used for brevity.

5.

Participants were unaware of the other group's decisions until the end of the experiment, which was designed to avoid reciprocity effect.

6.

For each participant, the reward for the other group was proportional to the average of the distributive decisions by four participants in another group. Thus, all decisions were considered.

7.

The distributive plan failed to change the payment of the decision-maker.

8.

This selection ensures that payment structure will not distort our results.

9.

Since the sample size for low- and high-inequality groups is the same, we weight the mean to reflect a balanced sample size for low- and high-competition groups.

10.

If we include four competition treatments in the analysis, the results remain robust. The difference on distributional inequality acceptance is significant between competition and inequality (t(298) = 3.52, p = 0.001), and competition and control (t(276) = 2.86, p = 0.005).

11.

We rescale the variance of the implicit latent outcome variable to 1.

12.

Mean score is 77.46, and standard deviation is 18.62. The score difference is insignificant (p > 0.15) across experimental groups.

13.

The difference between control group and Treatment II LPHS (40, 20, 20, 20) is insignificant (F = 0.28, p > 0.15 in the ANOVA test).

14.

We append an additional check to exclude those majoring in economics and rerun the regression. The main findings remain unchanged; thus, those participants do not alter our results.

15.

When prize is added as a continuous variable, the values for high prize, low prize, and control group are 40, 20, and 0, respectively. The values for low selectivity, high selectivity, and control are 0.5, 0.25, and 1, respectively (See Table 2).

16.

We initially use a continuous prize in Model 3 and Table 4 and discover that the relationship between continuous prize and the odds of accepting larger inequality in a subsequent distribution is at a significance level of 0.001.

17.

We only account for prize levels in two inequality groups given that we tested prize rather than selectivity in a competition as the major determinant of inequality acceptance in the previous discussion.

18.

The coefficient for prize under competition situation is significant (at a level of 0.05), while this coefficient for inequality situation is not.

19.

We control two variables in regression, and neither of the variables significantly affect inequality acceptance (p value > 0.15).

20.

The problem of generalizability should not prevent social science researchers from acquiring knowledge through lab experiments (Falk and Heckman 2009).
References
Almås, I., Cappelen, A. W., Sørensen, E. Ø., & Tungodden, B. (2010). Fairness and the development of inequality acceptance. Science, 328(5982), 1176–1178.

Aronson, E., & Mills, J. (1959). The effect of severity of initiation on liking for a group. The Journal of Abnormal and Social Psychology, 59(2), 177–181.

Arrow, K. J., Bowles, S., & Durlauf, S. N. (2000). Meritocracy and economic inequality. Princeton, NJ: Princeton University Press.

Balietti, S., Goldstone, R. L., & Helbing, D. (2016). Peer review and competition in the Art Exhibition Game. Proceedings of the National Academy of Sciences, 113(30), 8414–8419.

Becker, B. E., & Huselid, M. A. (1992). The incentive effects of tournament compensation systems. Administrative Science Quarterly, 37(2), 336–350.

Chen, H., Ham, S. H., & Lim, N. (2011). Designing multiperson tournaments with asymmetric contestants: An experimental study. Management Science, 57(5), 864–883.

Connelly, B. L., Tihanyi, L., Crook, T. R., & Gangloff, K. A. (2014). Tournament theory thirty years of contests and competitions. Journal of Management, 40(1), 16–47.

Dawes, C. T., Fowler, J. H., Johnson, T., McElreath, R., & Smirnow, O. (2007). Egalitarian motives in human. Nature, 446(7137), 794–796.

Eriksson, T. (1999). Executive compensation and tournament theory: Empirical tests on Danish data. Journal of Labor Economics, 17(2), 262–280.

Erkal, N., Gangadharan, L., & Nikiforakis, N. (2011). Relative earnings and giving in a real-effort experiment. American Economic Review, 101(7), 3330–3348.

Falk, A., & Heckman, J. J. (2009). Lab experiments are a major source of knowledge in the social sciences. Science, 326(5952), 535–538.

Fehr, E., Naef, M., & Schmidt, K. M. (2006). Inequality aversion, efficiency, and maximin preferences in simple distribution experiments: Comment. American Economic Review, 96(5), 1912–1917.

Festinger, L. (1962). A theory of cognitive dissonance. Stanford: Stanford University Press.

Fischbacher, U. (2007). z-Tree: Zurich toolbox for ready-made economic experiments. Experimental Economics, 10(2), 171–178.

Gong, X., & Sanfey, A. G. (2017). Social rank and social cooperation: Impact of social comparison processes on cooperative decision-making. PLoS ONE, 12(4), e0175472. https://doi.org/10.1371/journal.pone.0175472.

Greenwald, A. G., & Ronis, D. L. (1978). Twenty years of cognitive dissonance: Case study of the evolution of a theory. Psychological Review, 85(1), 53–57.

Harbring, C. (2010). On the effect of incentive schemes on trust and trustworthiness. Journal of Institutional and Theoretical Economics, 166(4), 690–714.

Harbring, C., & Irlenbusch, B. (2003). An experimental study on tournament design. Labor Economics, 10(4), 443–464.

Harbring, C., & Irlenbusch, B. (2008). How many winners are good to have? On tournaments with sabotage. Journal of Economic Behavior & Organization, 65(3), 682–702.

Keck, S., & Karelaia, N. (2012). Does competition foster trust? The role of tournament incentives. Experimental Economics, 15(1), 204–228.

Kiatpongsan, S., & Norton, M. I. (2014). How much (more) should CEOs make? A universal desire for more equal pay. Perspectives on Psychological Science, 9(6), 587–593.

Kidd, M., Nicholas, A., & Rai, B. (2013). Tournament outcomes and prosocial behaviour. Journal of Economic Psychology, 39, 387–401.

Kruger, J., Wirtz, D., Van Boven, L., & Altermatt, T. W. (2004). The effort heuristic. Journal of Experimental Social Psychology, 40(1), 91–98.

Lazear, E. P. (1999). Personnel economics: Past lessons and future directions. Journal of Labor Economics, 17(2), 199–236.

Lazear, E. P., & Rosen, S. (1981). Rank-order tournaments as optimum labor contracts. Journal of Political Economy, 89(5), 841–864.

Li, H. (2003). Economic transition and returns to education in China. Economics of Education Review, 22(3), 317–328.

Melamed, D. (2012). The effects of legitimacy and power on perceptions of fairness. Sociological Focus, 45(2), 125–142.

Meng, X., & Kidd, M. P. (1997). Labor market reform and the changing structure of wage determination in China's state sector during the 1980s. Journal of Comparative Economics, 25(3), 403–421.

Mood, C. (2010). Logistic regression: Why we cannot do what we think we can do, and what we can do about it. European Sociological Review, 26(1), 67–82.

Moss, D. A., Thaker, A., & Rudnick, H. (2013). Inequality and decision making: Imagining a new line of inquiry. Harvard Business School BGIE Unit Working Paper. https://doi.org/10.2139/ssrn.2284341.

Nee, V., & Matthews, R. (1996). Market transition and societal transformation in reforming state socialism. Annual Review of Sociology, 22(1), 401–435.

Niederle, M., & Vesterlund, L. (2007). Do women shy away from competition? Do men compete too much? The Quarterly Journal of Economics, 122(3), 1067–1101.

Nilsson, T. (2010). Health, wealth and wisdom: Exploring multidimensional inequality in a developing country. Social Indicators Research, 95(2), 299–323.

Norton, M. I., & Ariely, D. (2011). Building a better America—One wealth quintile at a time. Perspectives on Psychological Science, 6(1), 9–12.

Nozick, R. (1974). Anarchy, State and Utopia. New York, NY: Basic books.

Piketty, T., & Saez, E. (2014). Inequality in the long run. Science, 344(6186), 838–843.

Pop, I. A., Van Ingen, E., & Van Oorschot, W. (2013). Inequality, wealth and health: Is decreasing income inequality the key to create healthier societies? Social Indicators Research, 113(3), 1025–1043.

Rawls, J. (1971). A theory of justice. Cambridge, MA: Harvard University Press.

Rözer, J., & Kraaykamp, G. (2013). Income inequality and subjective well-being: A cross-national study on the conditional effects of individual and national characteristics. Social Indicators Research, 113(3), 1009–1023.

Sands, M. L. (2017). Exposure to inequality affects support for redistribution. Proceedings of the National Academy of Sciences, 114(4), 663–668.

Schurr, A., & Ritov, I. (2016). Winning a competition predicts dishonest behavior. Proceedings of the National Academy of Sciences, 113(7), 1754–1759.

Sheremeta, R. M. (2016). The pros and cons of workplace tournaments. IZA World of Labor SSRN Working Paper. https://ssrn.com/abstract=2862456.

Starmans, C., Sheskin, M., & Bloom, P. (2017). Why people prefer unequal societies. Nature Human Behaviour, 1, 0082. https://doi.org/10.1038/s41562-017-0082.

Tam, T., & Jiang, J. (2014). The making of higher education inequality how do mechanisms and pathways depend on competition? American Sociological Review, 79(4), 807–816.

Taylor, B. A., & Trogdon, J. G. (2002). Losing to win: Tournament incentives in the National Basketball Association. Journal of Labor Economics, 20(1), 23–41.

Vojnović, M. (2016). Contest theory: Incentive mechanisms and ranking methods. Cambridge: Cambridge University Press.

Wang, P., Pan, J., & Luo, Z. (2015). The impact of income inequality on individual happiness: Evidence from China. Social Indicators Research, 121(2), 413–435.

Whyte, M. (2010). Myth of the social volcano: Perceptions of inequality and distributive injustice in contemporary China. Stanford, CA: Stanford University Press.

Whyte, M. K., & Im, D. K. (2014). Is the social volcano still dormant? Trends in Chinese attitudes toward inequality. Social Science Research, 48, 62–76.

Wilkinson, R. G., & Pickett, K. E. (2009). Income inequality and social dysfunction. Annual Review of Sociology, 35, 493–511.

Winship, C., & Mare, R. D. (1983). Structural equations and path analysis for discrete data. American Journal of Sociology, 89(1), 54–110.

Xie, Y., & Zhou, X. (2014). Income inequality in today's China. Proceedings of the National Academy of Sciences, 111(19), 6928–6933.

Zagorski, K., Evans, M. D., Kelley, J., & Piotrowska, K. (2014). Does national income inequality affect individuals' quality of life in Europe? Inequality, happiness, finances, and health. Social Indicators Research, 117(3), 1089–1110.

Zaman, K., & Shamsuddin, S. (2017). Linear and non-linear relationships between growth, inequality, and poverty in a panel of Latin America and the Caribbean countries: a new evidence of pro-poor growth. Social Indicators Research, 1, 2–3. https://doi.org/10.1007/s11205-017-1581-9.

Zhang, J., Zhao, Y., Park, A., & Song, X. (2005). Economic returns to schooling in urban China, 1988–2001. Journal of Comparative Economics, 33(4), 730–752.
Acknowledgements
The authors gratefully acknowledge funding support from the CUHK-CASS Joint Lab on Social Psychology, sponsored by CUHK Research Committee via the Faculty of Social Science Chinese University of Hong Kong, Guangzhou Association of Social Science "Social mentality research in new era: merit-based distribution and sense of acquisition" (No2018GZQN21) and MOE "Trend and Pattern of Chinese Social Mobility: Ethnic minorities' educational and occupational attainments" (No. 16YJC880104).
Electronic supplementary material
Below is the link to the electronic supplementary material.
About this article
Cite this article
Chen, J.C., Tam, T. & Chiang, Y. The Rise of Merit-based Inequality Acceptance After Exposure to Competition: Experimental Evidence among Chinese University Students. Soc Indic Res 144, 707–728 (2019). https://doi.org/10.1007/s11205-018-2011-3
Accepted:

Published:

Issue Date:
Keywords
Merit-based inequality acceptance

Exposure to competition

Distribution

China