Abstract
At the beginning of the 2000s, Switzerland went through two global recessions: the Dot-com crisis and the Great Recession. Even though Switzerland experienced milder effects compared to its European neighbours, the Swiss unemployment rate increased considerably compared to its status quo. This paper explores the resilience of vulnerable groups to these economic downturns using both objective (income poverty and material deprivation) and subjective (wellbeing and satisfaction with the financial situation) indicators of quality of life. To analyse how quality of life evolved since the early 2000s, we use a longitudinal database: the Swiss Household Panel. Studying both objective and subjective indicators, results suggest that the dot-com crisis had a stronger negative effect than the Great Recession on vulnerable groups. This was particularly true for single parents and large families. Disadvantaged groups during the first crisis reacted in different ways during the second crisis. Some groups (the unemployed, the low-educated and the solo self-employed) experienced some scarring effects sometimes only according to objective indicators; others were resilient and continued with their normal trends (migrants and the young), whereas the most strongly affected groups during the first crisis (single parents and large families) registered an improvement in their conditions in the second crisis. These results point to a combination of subjective and objective indicators to evaluate the effects of recurrent crises on vulnerable groups.
This is a preview of subscription content, log in to check access.
Access options
Buy single article
Instant access to the full article PDF.
US$ 39.95
Price includes VAT for USA
Subscribe to journal
Immediate online access to all issues from 2019. Subscription will auto renew annually.
US$ 199
This is the net price. Taxes to be calculated in checkout.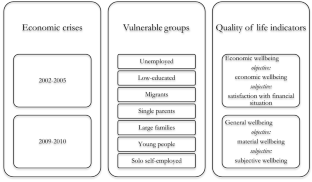 Notes
1.

Financial difficulty was measured by asking the question: "How easy or difficult is for you to make ends meet?".

2.

Economic stress was measured with the level of difficulty in making ends meet.

3.

Households are observed on average for 6.35 years, individuals for 5.57 years.

4.

The statistical office has also highlighted that an important consequence of the last crisis was also short-term work. The number of people under this type of contracts rose from 40,000 to 72,500 from 2008 to 2009 and then declined steadily to reach before-crisis level in 2012. Conversely, there was no effect on average hours worked per worker (SFOS 2015).

5.

In Switzerland, unemployment insurance is withheld from every salary and therefore, individuals can receive between 70 and 80% of their salary when they become unemployed. This benefit is usually provided for a period ranging from 6 months to 2 years (depending of the number of contributing years).

6.

In Switzerland, the solo self-employed do not receive unemployment benefits. Therefore, they have no income security in case of a job loss.

7.

By subjective wellbeing we mean satisfaction with life in general. This concept is expressed on a scale from 1 to 10 and corresponds to the answer to the question: "In general, how satisfied are you with your life if 0 means "not at all satisfied" and 10 means "completely satisfied"?". Numerous works explained that questioning individuals about global evaluation of their lives provides a reliable measure of subjective wellbeing (Sandvik et al. 1993; Blanchower and Oswald 2004).

8.

This threshold is calculated with all unavoidable expenses including rents, but not health insurance premiums, which are already deducted in our disposable income. In 2009, this threshold included 960 CHF for basic needs (food, clothing, transportation, leisure, etc.), 1183 CHF for housing costs and 100 CHF for other unexpected expenditures.

9.

A third pillar corresponds to a private pension savings plan.

10.

We estimate the models with the Stata commands "xtlogit" for poverty and material deprivation and "xtmixed" for subjective wellbeing and the satisfaction with the financial situation.

11.

The threshold for satisfied is set at the mean of the distribution. A score equal to or higher than the mean qualifies people as satisfied.

12.

13.

Since 2009, benefits for families have slightly increased (SFOS 2017).

14.

According to the OECD Family Database, childcare fees are 67.3% of the average wage. This is the highest proportion among the 35 OECD countries. For middle-class two-income families, this corresponds to 23.6% of net household income. Switzerland can be ranked together with other liberal countries with a proportional fee for childcare 2.4 times higher than in Germany or France and almost 9 times higher than in Austria.
References
Addabbo, T., García-Fernández, R., Llorca-Rodríguez, C., & Maccagnan, A. (2012). Poverty and unemployment: The cases of Italy and Spain. In G. Parodi & D. Sciulli (Eds.), Social exclusions (pp. 199–219). Berlin: Springer.

Alwang, J., Siegel, P. B., & Jorgensen, S. L. (2001). Vulnerability: A view from different disciplines. Washington: The World Bank. (Discussion paper no. 0115).

Arampatzi, E., Burger, M. J., & Veenhoven, R. (2015). Financial distress and happiness of employees in times of economic crisis. Applied Economics Letters, 22(3), 173–179.

Arechavala, N. S., Zarzosa Espina, P., & Pena Trapero, B. (2015). The economic crisis and its effects on the quality of life in the European Union. Social Indicators Research, 120, 323–343.

Babones, S., Simona Moussa, J., & Suter, C. (2015). A poisson-based framework for setting poverty thresholds using indicators lists. Social Indicators Research, 126(1), 711–726.

Bell, D. N. F., & Blanchflower, D. G. (2011). Young people and the Great Recession. Oxford Review of Economic Policy, 27(2), 241–267.

Bjørnskov, C. (2014). Do economic reforms alleviate subjective well-being losses of economic crises? Journal of Happiness Studies, 15, 163–182.

Blanchower, D. G., & Oswald, A. J. (2004). Well-being over time in Britain and the USA. Journal of Public Economics, 88(7), 1359–1386.

Bonoli, G. (2006). New social risks and the politics of post-industrial social policies. In K. Armingeon & G. Bonoli (Eds.), Adapting post-war social policies to new social risks (pp. 3–26). London: Routledge.

Camfield, L. (2011). Resilience and well-being among urban Ethiopian children: What role do social resources and competencies play? Social Indicators Research, 107(3), 393–410.

Chzen, Y. (2016). Perceptions of the economic crisis in Europe: Do adults in households with children feel a greater impact? Social Indicators Research, 127(1), 341–360.

Clark, A. E., Diener, E., Georgellis, Y., & Lucas, R. E. (2008). Lags and leads in life satisfaction: A test of the baseline hypothesis. The Economic Journal, 118(529), 222–243.

Clark, A., Knabe, A., & Rätzel, S. (2010). Boon or bane? Others' unemployment, well-being and job insecurity. Labour Economics, 17(1), 52–61.

Crettaz, E., & Suter, C. (2013). The impact of adaptive preferences on subjective indicators: An analysis of poverty indicators. Social Indicators Research, 114(1), 139–152.

Cummins, R. A., Li, L., Wooden, M., & Stokes, M. (2014). A demonstration of set-points for subjective wellbeing. Journal of Happiness Studies, 15(1), 183–206.

Cummins, R. A., & Wooden, M. (2014). Personal resilience in times of crisis: The implications of SWB homeostasis and set-points. Journal of Happiness Studies, 15(1), 223–235.

Deaton, A. (2012). The financial crisis and the well-being of Americans. Oxford Economic Papers, 64, 1–26.

EU. (2004). The future of pension systems. Brussels: European Commission.

Eurofound. (2013). Third European quality of life survey—Quality of life in Europe: Social inequalities. Luxembourg: Publications Office of the European Union.

Ferrer-i-Carbonell, A., & Frijters, P. (2004). How important is methodology for the estimates of the determinants of happiness? The Economic Journal, 114(497), 641–659.

Gábos, A., Branyiczki, R., Lange, B., & György Tóth, I. (2015). Employment and poverty dynamics in the EU countries before, during and after crisis. ImPRovE working papers, 15(06). Antwerp: Herman Deleeck Centre for Social Policy.

Graham, C., Chattopadhyay, S., & Picon, M. (2010). Adapting to adversity: Happiness and the 2009 economic crisis in the United States. Social Research, 77(2), 715–748.

Guardiola, J., & Guillen-Royo, M. (2015). Income, unemployment, higher education and wellbeing in times of economic crisis: Evidence from Granada (Spain). Social Indicators Research, 120, 395–409.

Gudmundsdottir, D. G. (2013). The impact of economic crisis on happiness. Social Indicators Research, 110, 1083–1101.

Guio, A.-C., Marlier, E., Gordon, D., Fahmy, E., Nandy, S., & Pomati, M. (2016). Improving the measurement of material deprivation at the European Union level. Journal of European Social Policy, 26(3), 219–333.

Helliwell, J. F., Huang, H., & Wang, S. (2014). Social capital and well-being in times of crisis. Journal of Happiness Studies, 15, 145–162.

Houtman, D. (1997). Contested conceptions of citizenship: Judgments on the rights and obligations of the unemployed. In M. D. Jong & A. Zijderveld (Eds.), The gift of society (pp. 113–132). Nijkerk: Enzo Press.

Hoynes, H., Miller, D. L., & Schaller, J. (2012). Who suffers during recessions? The Journal of Economic Perspectives, 26(3), 27–47.

Hugman, R., Pittaway, E., & Bartolomei, L. (2011). When 'do no harm'is not enough: The ethics of research with refugees and other vulnerable groups. The British Journal of Social Work, 41(7), 1271–1287.

Jenkins, S. P., Brandolini, A., Micklewright, J., & Nolan, B. (Eds.). (2012). The Great Recession and the distribution of household income. New York: Oxford University Press.

Keeley, B., & Love, P. (2010). From crisis to recession: The causes, course and consequences of the Great Recession. Paris: OECD.

Kelly, E., McGuinness, S., O'Connell, P. J., Haugh, D., & Gonzalez, A. (2014). Transitions in and out of unemployment among young people in the Irish recession. Comparative Economic Studies, 56, 616–634.

Kohli, M. (2005). Generational changes and generational equity. In M. Johnson, V. Bengtson, P. Coleman, & T. Kirkwood (Eds.), The Cambridge handbook of age and ageing. Cambridge: Cambridge University Press.

Kymlicka, W., & Banting, K. (2006). Immigration, multiculturalism and the welfare state. Ethics and International Affairs, 20(3), 281–304.

Leu, R. E., & Burri, S. (1999). Poverty in Switzerland. Swiss Journal of Economics and Statistics, 135(III), 303–328.

Marazzi, C. (1991). La povertà in Svizzera. Sintesi delle ricerche sul fenomeno della povertà. Canton Ticino: Dipartimento delle opere sociali.

Marchal, S., Marx, I., & Van Mechelen, N. (2014). The great wake-up call? Social citizenship and minimum income provisions in Europe in times of crisis. Journal of Social Policy, 43(2), 247–267.

Mayer, A. (2015). Recession and life satisfaction in 35 countries. International Journal of Happiness and Development, 2(2), 118–136.

McCoy, S., Smyth, E., Watson, D., & Darmody, M. (2014). Leaving school in Ireland: A longitudinal study of post-school transitions (Research series number 36). Dublin: The Economic and Social Research Institute.

Mertens, A., & Beblo, M. (2016). Self-reported satisfaction and the economic crisis of 2007–2010: Or how people in the UK and Germany perceive a severe cyclical downturn. Social Indicators Research, 125(1), 537–565.

Muriel, A., & Sibieta, L. (2009). Living standards during previous recessions. IFS Briefing Note, BN85. Institute for Fiscal Studies.

OECD. (2016). Society at a glance 2016: OECD social indicators. Paris: OECD. https://doi.org/10.1787/9789264261488-en.

Oesch, D., & Lipps, O. (2012). Does unemployment hurt less if there is more of it around? A panel analysis of life satisfaction in Germany and Switzerland. European Sociological Review, 29(5), 955–967.

Riederer, B., Philipov, D., & Rengs, B. (2017). Vulnerability of families with children: Experts' opinions about the future and what families think about it. Families and societies working paper series, 65. Vienna: Wittgenstein Centre.

Rumo, S. (2015). La statistique de l'aide sociale de 2005 à 2013: présentation des groupes à risque. Dossier préparé par l'Office fédéral de la statistique (OFS). Monthly report ARTIAS. http://www.artias.ch/wp-content/uploads/2015/01/Dossierjanvier15.pdf.

Saltkjel, T., & Malmberg-Heimonen, I. (2016). Welfare generosity in Europe: A multi-level study of material deprivation and income poverty among disadvantaged groups. Social Policy & Administration. https://doi.org/10.1111/spol.12217.

Sandvik, E., Diener, E., & Seidlitz, L. (1993). Subjective well-being: The convergence and stability of self-report and non-self-report measures. Journal of Personality, 61(3), 317–342.

SFOS. (2015). Rapport social statistique Suisse 2015. Neuchâtel: Office Fédéral de la Statistique.

SFOS. (2017). Les familles en Suisse. Neuchâtel: Office Fédéral de la Statistique.

Smeeding, T. M., Thompson, J. P., Levanon, A., & Burak, E. (2011). Poverty and income inequality in the early stages of the Great Recession. In D. B. Grusky, B. Western, & C. Wimer (Eds.), The Great Recession (pp. 82–126). New York: Russell Sage Foundation.

Stiglitz, J. E., Sen, A., & Fitoussi, J.-P. (2008). Report by the commission on the measurement of economic performance and social progress. Paris: INSEE.

Suter, C., & Iglesias, K. (2005). Relative deprivation and well-being: Switzerland in comparative perspective. In H. Kriesi, P. Farago, M. Kohli, & M. Zarin-Nejadan (Eds.), Contemporary Switzerland, revisiting the special case (pp. 9–37). Houndmills: Palgrave Macmillan.

Suter, C., Katia, I., & Moussa, J. (2015). From dissonance to well-being and adaptation? Quality of life in Switzerland over the past decades. In W. Glatzer, L. Camfield, V. Moller, & M. Rojas (Eds.), The global handbook of quality of life (pp. 685–714). Dordrecht: Springer.

Taylor-Gooby, P. (Ed.). (2004). New risks, new welfare: The transformation of the European welfare state. Oxford: Oxford University Press.

Van Oorschot, W. (2008). Solidarity towards immigrants in European welfare states. International Journal of Social Welfare, 17, 3–14.

Van Oorschot, W., & Meuleman, B. (2014). Popular deservingness of the unemployed in the context of welfare state policies, economic conditions and cultural climate. In S. Kumlin & I. Stadelmann-Steffen (Eds.), How welfare states shape the democratic public: Policy feedback, participation, voting, and attitudes (pp. 244–268). Cheltenham: Edward Elgar.

Watson, D., Maître, B., Grotti, R., & Whelan, C. T. (2018). Poverty dynamics of social risk groups in the EU: An analysis of the EU statistics on income and living conditions, 2005 to 2015. Social inclusion report no. 7. Dublin: Department of Employment Affairs and Social Protection and the Economic and Social Research Institute.

Watson, D., Whelan, C. T., Maître, B., & Williams, J. (2015). Family economic vulnerability and the Great Recession: An analysis of the two waves of the growing up in Ireland study. Longitudinal and Life Course Studies, 6(3), 230–244.

Welsch, H., & Kühling, J. (2016). How has the crisis of 2008–2009 affected subjective well-being? Evidence from 25 OECD countries. Bulletin of Economic Research, 68(1), 34–54.

Whelan, C. T., & Maître, B. (2010). Identifying economically vulnerable groups as the economic crisis emerged. The Economic and Social Review, 41(4), 501–525.

Whelan, C. T., & Maître, B. (2012a). Material deprivation, economic stress and reference groups in Europe: An analysis of EU-SILC 2009. GINI discussion paper, 36. Amsterdam: AIALS.

Whelan, C. T., & Maître, B. (2012b). Understanding material deprivation: A comparative European analysis. Research in Social Stratification and Mobility, 30(4), 489–503.

Whelan, C. T., Russell, H., & Maître, B. (2016). Economic stress and the Great Recession in Ireland: Polarization, individualization or 'middle class squeeze'? Social Indicators Research, 126(1), 503–526.

Wolfers, J. (2003). Is business cycle volatility costly? Evidence from surveys of subjective wellbeing. NBER working paper series, 9619, 1–28.
Ethics declarations
Conflict of interest
The authors declare that they have no conflict of interest.
About this article
Cite this article
Simona-Moussa, J., Ravazzini, L. From One Recession to Another: Longitudinal Impacts on the Quality of Life of Vulnerable Groups. Soc Indic Res 142, 1129–1152 (2019). https://doi.org/10.1007/s11205-018-1957-5
Accepted:

Published:

Issue Date:
Keywords
Economic crises

Indicators

Subjective wellbeing

Poverty

Vulnerability

Resilience