Abstract
This study seeks to empirically investigate whether demographic transition with dynamics of human capital matters for economic growth for a representative sample of developing world. The empirical analysis based on panel of 67 developing countries, using 5-year interval data over 1960–2014, has been done by employing dynamic panel System-Generalized Method of Moments (Sys-GMM) estimator. The empirical findings suggest that demographic transition and human capital, in accordance with the theory, matter for economic growth of developing economies. The economically active population and labor force participation rate have positive contribution in economic growth. Moreover, the inclusion of human capital in level-form makes economic growth more sensitive to changes in human capital. The lag term of human capital yields insightful findings that higher the accumulation of human capital in previous time period, higher will be the economic growth in the current time period. However, the pre-requisite to achieve the benefits of this demographic transition in developing world is flexible labor markets capable to absorb the youth entering the working-age population. For market flexibility, sustained investment in human capital is required.
This is a preview of subscription content, log in to check access.
Access options
Buy single article
Instant access to the full article PDF.
US$ 39.95
Price includes VAT for USA
Subscribe to journal
Immediate online access to all issues from 2019. Subscription will auto renew annually.
US$ 199
This is the net price. Taxes to be calculated in checkout.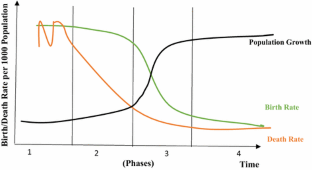 Notes
1.

Crude Death Rate describes the number of deaths occurring during a year, per 1000 population and Crude Birth Rate describes the number of live births occurring during a year, per 1000 population. Crude Death Rate minus Crude Birth Rate results into rate of change in population in the absence of migration.

2.

Average number of children per woman at which a population replaces itself, it is usually 2.1 births per woman.

3.

The literature suggests that monetary, fiscal and trade policies affect Total Factor Productivity but they are not focus of the current study.
References
Aboubacar, B., & Xu, D. Y. (2017). The impact of health expenditure on the economic growth in Sub-Saharan Africa. Theoretical Economics Letters, 7, 615–622.

Ahmad, M., & Khan, R. E. A. (2018). Age-structure, human capital and economic growth in developing economies: Disaggregated analysis. Pakistan Journal of Commerce and Social Sciences, 12, 227–257.

Aiyar, S., & Mody, A. (2013). The demographic dividend: Evidence from the Indian States. Indian Policy Forum, 9, 105–148.

Ando, A., & Modigliani, F. (1963). The life-cycle hypothesis of saving: Aggregate implications and tests. American Economic Review, 53, 55–84.

Arellano, M., & Bond, S. (1991). Some tests of specification for panel data: Monte Carlo evidence and an application to employment equations. The Review of Economic Studies, 58, 277–297.

Arellano, M., & Bover, O. (1996). Another look at the instrumental variable estimation of error components models. Journal of Econometrics, 68, 29–51.

Barro, R. J. (1996). Determinants of economic growth: A cross-country empirical study. NBER Working Paper 5698. Cambridge, MA: Natioanl Bureau of Economic Research.

Basu, T., Barik, D., & Arokiasamy, P. (2013). Demogrpahic determinents and economic growth in BRICS Countries. In IUSSP international population conference. Busan, Republic of Korea. 26–31 August.

Benhabib, J., & Spiegel, M. M. (1994). The role of human capital in economic development: Evidence from aggregate cross country. Journal of Monetary Economics, 34, 143–173.

Benhabib, J., & Spiegel, M. M. (2002). Human capital and technology diffusion. FRBSF Working Paper Series 2003-02. Federal Reserve Bank of San Francisco.

Bloom, D. E., & Canning, D. (2008). Global demogrpahic change: Dimensions and economic singnificance. Population and Development Review, 34, 17–51.

Bloom, D. E., Canning, D., Fink, G., & Finlay, J. (2009). Fertility, female labor force participation, and the demographic dividend. Journal of Economic growth, 2, 79–101.

Bloom, D. E., Canning, D., Fink, G., & Finlay, J. E. (2012). Microeconomic foundations of the demographic dividend. PGDA Wokring Paper No.93. Program on the Global Demography of Aging. School of Public Health, Harvard University Boston, USA. http://www.hsph.harvard.edu/pgda/working.htm. Accessed 10 January 2015.

Bloom, D. E., Canning, D., & Graham, B. (2003). Longevity and life cycle savings. Scandenavian Journal of Economics, 3, 319–338.

Bloom, D. E., Canning, D., & Sevilla, J. (2001). Economic growth and the demographic transition. NBER Working Paper No. 8685. Cambridge, MA: Natioanl Bureau of Economic Research.

Bloom, D. E., & Finlay, J. E. (2009). Demographic change and economic growth in Asia. Asian Economic Policy Review, 41, 45–64.

Bloom, D. E., Humair, H., Rosenberg, L., Sevilla., J., & Trussel, J. (2013). A demographic dividend for Sub-Saharan Africa: Source, magnitude and realization. IZA, Discussion Paper No.7855. IZA Germany.

Bloom, D. E., & Williamson, J. G. (1998). Demographic transition and economic miracles in emerging Asia. World Bank Economic Review, 12, 419–455.

Blundell, R., & Bond, S. (1999). GMM estimation with persistent panel data: An application to production functions. IFS Working Paper, 19 (4). Institute of Fiscal Studies, London, UK.

Bongaats, J. (2009). Human population growth and the demographic transition. Philosophical Transactions of the Royal Society: Biological Sciences, 364, 2985–2990.

Cheema, D. A. (2014). Pakistan's demographic transition: Young adults, human capital and jobs. National Human Development Report 2015. UNDP, Pakistan.

Coale, A. J., & Hoover, E. M. (1958). Population growth and economic development in low income countries. Princeton: Princeton University Press.

Dalgaard, C.-J., & Strulik, H. (2013). The history augmented solow model. European Economic Review, 63, 134–149.

Eggleston, K. N., & Fuchs, V. R. (2012). The new demogrpahic transition: Most gains in life expectancy now realized late in life. Journey of Economic Perspectives, 26, 137–156.

Freeman, R. B., & Bloom, D. E. (1988). Economic development and the timing and components of population growth. Journal of Policy Modeling, 10, 57–81.

Hall, R. E., & Jones, C. I. (1999). Why do some countries produce so much more output per workers than others? The Quarterly Journal of Economics, 114, 83–116.

Hirchman, A. O. (1958). The strategy of economic development. New Haven: Yale University Press.

Jones, G., & Schneider, W. J. (2006). Intelligence, human capital and economic growth: A Bayesian averaging of classical estimates (BACE) approach. Journal of Economic Growth, 11, 71–93.

Kelley, A. C. (1988). Economic consequences of population change in the Third World. Journal of Economic Literature, 26(4), 1685–1728.

Kelly, A. C., & Schmidt, R. M. (2005). Evolution of recent economic-demographic modeling: A synthesis. Population Economics, 18, 275–300.

Lee, R., & Mason, A. (2010). Fertility, human capital and economic growth over the demographic transition. European Journal of Population, 26, 159–182.

Mallick, L., Das, P. K., & Pradhan, K. C. (2016). Impact of education expenditure on economic growth in major Asian countries: Evidence from econometric analysis. Theoretical and applied economics, 2(607), 173–186.

Mankiw, N. G., Romer, D., & Weil, D. N. (1992). A contribution to the empirics of economic growth. The Quarterly Journal of Economics, 107, 407–437.

Mason, A. (2001). Population policies and programs in East Asia. East-West Center Occasional Papers No.123. East-West Center, Honolulu.

Mason, A. (2003). Population change and economic development: What have we learned from the East Asia experience? Applied Population and Policy, 1, 3–14.

McCarthy, K. F. (2001). World population shifts: Boom or doom?. Populations Matters. Santa Monica, CA: RAND.

Navaneetham, K. (2002). Age structural transiton and economic growth: Evidence from South and Southeast Asia. Working Paper 337. Centre for Development Studies, Kerela, India. www.cds.edu. Accessed 01 January 2015.

Nayab, D. (2008). Demographic dividend or demographic threat in Pakistan. Pakistan Development Review, 47, 1–26.

Nelson, R. R., & Phelps, E. S. (1966). Investment in humans, technological diffusion and economic growth. American Economic Review, 56, 69–75.

Prettner, K., & Prskawetz, A. (2010). Demographic change in models of endogenous economic growth. A Survey. Central European Journal of Operations Research, 18, 593–608.

Rahman, R. I., & Islam, R. (2013). Female labour force participation in Bangladesh: Trends, drivers and barriers. ILO Asia-Pacifi Working Paper.

Sarel, M. (1995). Demographic dynamics and the empirics of economic growth. Staff Papers (International Monetary Fund), 42, 398–410.

Solow, R. M. (1956). A contribution to the theory of economic growth. Quarterly Journal of Economics, 70(1), 65–94.

Song, S. (2013). Demographic changes and economic growth: Empirical evidence from Asia. Honors Projects, Paper No. 121. http://digitalcommons.iwu.edu/econ_honproj/121. Accessed 09 October 2015.

Valdes, A., & Foster, W. (2005). Reflections of the role of agriculture on pro-poor growth. In Prepared for the research workshop: The future of small farms, Wye, Kent. June 26–29.

Williamsom, J. G., & Higgins, M. (1997). Asian demography and foreign capital dependence. NBER Working Paper No.5560. Cambridge, MA: Natioanl Bureau of Economic Research.

Yashiro, N. (2013). Human capital in Japan's demographic transitons: Implications for other Asian Countries. In W. Dobson (Ed.), Human capital formation and economic growth in Asia and the Pacific (pp. 68–73). London: Routledge.
Appendix
Appendix
Sample of developing countries
1. Algeria
18. Ecuador
35. Dominican Republic
52. Philippines
2. Argentina
19. El Salvador
36. Lesotho
53. Rwanda
3. Bangladesh
20. Fiji
37. Liberia
54. Senegal
4. Benin
21. Gabon
38. Malawi
55. South Africa
5. Belize
22. Gambia, The
39. Malaysia
56. Sri Lanka
6. Bolivia
23. Ghana
40. Mali
57. Sudan
7. Botswana
24. Guatemala
41. Mauritania
58. Swaziland
8. Brazil
24. Guyana
42. Mauritius
59. Syrian Arab Republic
9. Burundi
26. Haiti
43. Mexico
60. Togo
10. Cameroon
27. Honduras
44. Nepal
61. Thailand
11. Central African Republic
28. India
45. Nicaragua
62. Tunisia
12. Chile
29. Indonesia
46. Niger
63. Turkey
13. China
30. Iran, Islamic Rep.
47. Pakistan
64. Uruguay
14. Colombia
31. Iraq
48. Panama
65. Venezuela
15. Costa Rica
32. Jamaica
49. Papua New Guinea
66. Zambia
16. Cote d'Ivoire
33. Kenya
50. Paraguay
67. Zimbabwe
17. Cuba
34. Latvia
51. Peru
 
About this article
Cite this article
Ahmad, M., Khan, R.E.A. Does Demographic Transition with Human Capital Dynamics Matter for Economic Growth? A Dynamic Panel Data Approach to GMM. Soc Indic Res 142, 753–772 (2019). https://doi.org/10.1007/s11205-018-1928-x
Accepted:

Published:

Issue Date:
Keywords
Demographic transition

Human capital

System generalized method of moments estimator

Economic growth

Dynamic panel