Abstract
The aim of this article is to examine the effect of social relations on support for redistribution and to explore desirable forms of redistribution based on mutual understanding. Most previous studies have explained support for redistribution as insurance against risk or the pursuit of self-interest. Under the current framework, however, it is difficult to explain the establishment of a sustainable redistributive policy. To overcome this limitation, I focus on the role of social relations that suppress the tendency to pursue self-interest and promote support for redistribution. My findings indicate that social relations moderate the effect of self-interest and directly affect support for redistribution. From this result, I conclude that social relations could facilitate mutual understanding and alleviate the negative side effects of the labor market.
This is a preview of subscription content, log in to check access.
Access options
Buy single article
Instant access to the full article PDF.
US$ 39.95
Price includes VAT for USA
Subscribe to journal
Immediate online access to all issues from 2019. Subscription will auto renew annually.
US$ 199
This is the net price. Taxes to be calculated in checkout.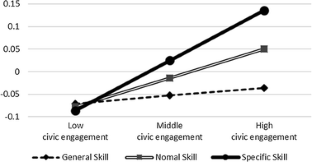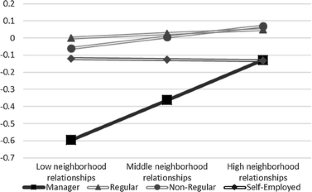 Notes
1.

Representative explanations include the EGP class hypothesis (Svallfors 1997), asset theory (Iversen and Soskice 2001), prospects of upward mobility hypothesis (Benabou and Ok 2001), fairness hypothesis (Alesina and Angeletos 2005) risk aversion hypothesis (Rehm 2009) and relative deprivation (satisfying rationality) hypothesis (Shin 2017).

2.

Borrowing the terms used by Karl Polanyi, a self-regulating market economy is always subordinate to democratic society. Mark Granovetter more definitely stated that economic actions are always embedded in society.

3.

Following Iversen's advice, I do not simultaneously measure skill specificity and occupation. Iversen provided the following warning: "However, since the alternative conceptions of class often rely on simple classifications extracted from ILO's standard classification of occupations (ISCO-88), which is also used in the construction of the skill variable, great care must be taken in designing the tests and interpreting the results. This note explains the problems in using class dummies extracted from occupational classifications, and then suggests a remedy." Therefore, I also avoided the EGP scheme and replaced it with employment status. The EGP scheme does not reflect the effect of non-regular workers who experience insecurity and poor working conditions; rather, employment status encompasses the issue of non-regular employment. For more details, the interested reader is referred to the following site: http://www.people.fas.harvard.edu/~iversen/SkillSpecificity.htm.

4.

5.

6.

7.

Skill in the current occupation is mostly unnecessary in another occupational category. For example, even if a worker is proficient at oxyacetylene welding, he or she cannot use this skill for statistical analysis.

8.

Separating politics from civic engagement is useful in the context of Japanese society for several reasons. First, except from 1993 to 1996 and from 2009 to 2012, the Liberal Democratic Party of Japan (LDPJ) has been the ruling party since 1955. Second, the turnover of voters varies according to age; for example, the turnover rates of voters in their 20, 30, 40, 50 and 60 s are 32.58, 42.09, 49.98, 60.07 and 68.28%, respectively. Third, although grass-roots social movements and volunteer activities are widespread, participation in political movements has been relatively low since protests were defeated in the 1960s and 1970s.

9.

10.

Please check the web appendix to confirm the results of the robustness tests and explanations.

11.

Related to this issue, Kirkpatrick et al. (2007) elaborated on community development in Oakland, California. Their case study focused on two different communities; one effectively protects itself against pressures of marketization and gentrification, whereas the other fails to do so. They argued that although the pressures of marketization threaten communities, overcoming these pressures is possible as they are operating on "the neighborhood's strong network of community-based organization." This result indicates that social relations may be a useful apparatus.

12.

Barabaschi (2015) noted that solidarity is based on the willingness to share risks. Following this argument, workers who actively participate in community affairs and have specific labor market skills will support redistribution.

13.

Iversen and Soskice (2006) showed that the middle class is likely to affiliate with a center-right party in a two-party majoritarian system. In contrast, in a proportional system, the middle-class tends to support redistribution. These results imply that support for redistribution depends on political context and circumstances.
References
Adler, R. P., & Goggin, J. (2005). What do we mean by "civic engagement"? Journal of Transformative Education, 3(3), 236–253.

Alesina, A., & Angeletos, G. M. (2005). Fairness and redistribution: US vs. Europe, American Economic Review, 95, 913–935.

Alesina, A. F., & Giuliano, P. (2009). Preferences for redistribution (No. w14825). Cambridge: National Bureau of Economic Research.

Alesina, A., & La Ferrara, E. (2005). Preferences for redistribution in the land of opportunities. Journal of public Economics, 89(5), 897–931.

Alt, J., & Iversen, T. (2017). Inequality, labor market segmentation, and preferences for redistribution. American Journal of Political Science, 61(1), 21–36.

Arikan, G., & Bloom, P. B. (2015). Social values and cross-national differences in attitudes towards welfare. Political Studies, 63, 431–448.

Backus, P. G., & Esteller-Moré, A. (2017). Risk aversion and inequity aversion in demand for unemployment benefits. International Tax and Public Finance, 24(2), 198–220.

Barabaschi, B. (2015). Intergenerational Solidarity in the Workplace: Can It Solve Europe's Labor Market and Social Welfare Crises? SAGE Open, 5(4), 2158244015621464.

Benabou, R., & Ok, E. A. (2001). Social mobility and the demand for redistribution: The POUM hypothesis. The Quarterly Journal of Economics, 116(2), 447–487.

Berger, B. (2009). Political theory, political science and the end of civic engagement. Perspectives on Politics, 7(2), 335–350.

Blekesaune, M. (2013). Economic strain and public support for redistribution: A comparative analysis of 28 European Countries. Journal of Social Policy, 42(01), 57–72.

Bothner, M. S., Stuart, T. E., & White, H. C. (2004). Status differentiation and the cohesion of social networks. Journal of Mathematical Sociology, 28(4), 261–295.

Brady, D., & Bostic, A. (2015). Paradoxes of social policy: Welfare transfers, relative poverty, and redistribution preferences. American Sociological Review, 80(2), 268–298.

Brady, D., & Finnigan, R. (2014). Does immigration undermine public support for social policy? American Sociological Review, 79(1), 17–42.

Burgoon, B., Koster, F., & Van Egmond, M. (2012). Support for redistribution and the paradox of immigration. Journal of European Social Policy, 22(3), 288–304.

Checchi, D., & Filippin, A. (2004). An experimental study of the POUM hypothesis. In F. Cowell (Ed.), Inequality, welfare and income distribution: Experimental approaches. Research on Economic Inequality (Vol. 11, pp. 115–136). Emerald Group Publishing Limited.

Cohen, J. L., & Arato, A. (1994). Civil society and political theory. Cambridge: MIT Press.

Cojocaru, A. (2014). Prospects of upward mobility and preferences for redistribution: Evidence from the life in transition survey. European Journal of Political Economy, 34, 300–314.

Corneo, G., & Fong, C. M. (2008). What's the monetary value of distributive justice? Journal of Public Economics, 92(1), 289–308.

Corneo, G., & Grüner, H. P. (2002). Individual preferences for political redistribution. Journal of public Economics, 83(1), 83–107.

Cusack, T., Iversen, T., & Rehm, P. (2006). Risks at work: The demand and supply sides of government redistribution. Oxford Review of Economic Policy, 22(3), 365–389.

Diez Roux, A. V. (2001). Investigating neighborhood and area effects on health. American Journal of Public Health, 91(11), 1783–1789.

Durante, R., Putterman, L., & Weele, J. (2014). Preferences for redistribution and perception of fairness: An experimental study. Journal of the European Economic Association, 12(4), 1059–1086.

Ekman, J., & Amnå, E. (2012). Political participation and civic engagement: Towards a new typology. Human affairs, 22(3), 283–300.

Fox, C. (2004). The changing color of welfare? How Whites' attitudes toward Latinos influence support for welfare. American Journal of Sociology, 110(3), 580–625.

Granovetter, M. (1985). Economic action and social structure: The problem of embeddedness. American Journal of Sociology, 91(3), 481–510.

Guillaud, E. (2013). Preferences for redistribution: An empirical analysis over 33 countries'. The Journal of Economic Inequality, 11(1), 57–78.

Habermas, J. (1984) [1981]. The theory of communicative action: Reason and the rationalization of society (T. McCarthy, Trans.) (Vol. 1). Boston: Beacon.

Habermas, J. (1987) [1981]. The theory of communicative action: Lifeworld and system: A critique of functionalist reason (T. McCarthy, Trans.) (Vol. 2). Boston: Beacon.

Hipp, J. R., & Wickes, R. (2016). Minority Status Distortion and Preference for In-group Ties: Consequences for Social Capital. Socius, 2, 2378023116640281.

Iversen, T., & Soskice, D. (2001). An asset theory of social policy preferences. American Political Science Review, 95(4), 875–893.

Iversen, T., & Soskice, D. (2006). Electoral institutions and the politics of coalitions: Why some democracies redistribute more than others. American Political Science Review, 100(2), 165–181.

Jæger, M. M. (2006). Welfare regimes and attitudes towards redistribution: The regime hypothesis revisited. European Sociological Review, 22(2), 157–170.

Kearns, A., Bailey, N., Gannon, M., Livingston, M., & Leyland, A. (2014). 'All in it together'? Social cohesion in a divided society: Attitudes to income inequality and redistribution in a residential context. Journal of Social Policy, 43(3), 453–477.

Keeter, S., Zukin, C., Andolina, M., & Jenkins, K. (2002). The civic and political health of the nation: A generational portrait. Medford: Center for information and research on civic learning and engagement (CIRCLE).

Kirkpatrick, L. O. (2007). The two "logics" of community development: Neighborhoods, markets, and community development corporations". Politics & Society, 35(2), 329–359.

Kulin, J., Eger, M. A., & Hjerm, M. (2016). Immigration or welfare? The progressive's dilemma revisited. Socius. https://doi.org/10.1177/2378023116632223.

Kulin, J., & Svallfors, S. (2013). Class, values, and attitudes towards redistribution: A European comparison. European Sociological Review, 29(2), 155–167.

Luttmer, E. F. (2001). Group loyalty and the taste for redistribution. Journal of Political Economy, 109(3), 500–528.

Martín, I., & Van Deth, J. W. (2007). 12 Political involvement. In J. W. van Deth, J. R. Montero (Eds.), Citizenship and involvement in European democracies: A comparative analysis (pp. 303–333). London: Routledge.

Nagayoshi, K., & Sato, Y. (2014). Who supports redistributive policies in contemporary Japan? An integrative approach to self-interest and trust models. International Sociology, 29(4), 302–323.

Offe, C. (1987). Democracy against the welfare state? Structural foundations of neoconservative political opportunities. Political Theory, 15(4), 501–537.

Paskov, M., & Dewilde, C. (2012). Income inequality and solidarity in Europe. Research in Social Stratification and Mobility, 30(4), 415–432.

Piff, P. K., Kraus, M. W., Côté, S., Cheng, B. H., & Keltner, D. (2010). Having less, giving more: the influence of social class on prosocial behavior. Journal of Personality and Social Psychology, 99(5), 771–784.

Polanyi, K. (2001) [1944]. The great transformation:(The political and economic origin of our time). Boston: Beacon Press.

Raven, J., Achterberg, P., Van der Veen, R., & Yerkes, M. (2011). An institutional embeddedness of welfare opinions? The link between public opinion and social policy in the Netherlands (1970–2004). Journal of Social Policy, 40(2), 369–386.

Rehm, P. (2009). Risks and redistribution: An individual-level analysis. Comparative Political Studies, 42(7), 855–881.

Robert, P. (1993). Making democracy work: Civic traditions in modern Italy. Princeton: Princeton University Press.

Rodger, J. J. (2003). Social solidarity, welfare and post-emotionalism. Journal of Social Policy, 32(3), 403–421.

Rokeach, M. (1973). The nature of human values. New York: Free press.

Schmidt, U. (2016). Insurance demand under prospect theory: A graphical analysis. Journal of Risk and Insurance, 83(1), 77–89.

Schwartz, S. H. (1992). Universals in the content and structure of values: Theoretical advances and empirical tests in 20 countries. Advances in Experimental Social Psychology, 25, 1–65.

Schwartz, S. H. (1994). Are there universal aspects in the structure and contents of human values? Journal of Social Issues, 50(4), 19–45.

Shin, J. (2017). Relative deprivation, satisfying rationality, and support for redistribution. Social Indicators Research. https://doi.org/10.1007/s11205-017-1769-z.

Svallfors, S. (1997). Worlds of welfare and attitudes to redistribution: A comparison of eight western nations. European Sociological Review, 13(3), 283–304.

Svallfors, S. (2006). The moral economy of class: Class and attitudes in comparative perspective. Palo Alto: Stanford University Press.

Svallfors, S., Kulin, J., & Schnabel, A. (2012). Age, class, and attitudes towards government responsibilities. In S. Svallfors (Ed.), Contested welfare states. Welfare attitudes in Europe and beyond. Palo Alto: Stanford University Press.

Talò, C., & Mannarini, T. (2015). Measuring participation: Development and validation the participatory behaviors scale. Social Indicators Research, 123(3), 799–816.

Tóth, I. G. & Keller, T. (2011). Income distributions, inequality perceptions and redistributive claims in European societies. AIAS, GINI Discussion Paper 7.

Yamamura, E. (2012). Social capital, household income, and preferences for income redistribution. European Journal of Political Economy, 28(4), 498–511.
Acknowledgements
This work was supported by JSPS KAKENHI Grant Number 16H02045, as part of the SSP Project (http://ssp.hus.osaka-u.ac.jp/). This work was supported by JSPS KAKENHI Grant Number 17J01448. I would like to thank the anonymous referee for valuable input in the process of writing this article.
Electronic supplementary material
Below is the link to the electronic supplementary material.
About this article
Cite this article
Shin, J. How Can we Achieve a Sustainable Redistributive Policy? Rethinking the Relationship Between Civic Engagement, Neighborhood Relationship and Labor Market Status. Soc Indic Res 142, 343–362 (2019). https://doi.org/10.1007/s11205-018-1922-3
Accepted:

Published:

Issue Date:
Keywords
Social relations

Neighborhood relationship

Civic engagement

Support for redistribution

Skill specificity

Redistribution

Social policy