Abstract
Due to the urbanization and economic growth, planning of regional sustainable development has become one of the major challenges in the world. The key indicators such as gross domestic product (GDP), electricity and energy consumption and greenhouse gas emission (GHG) are considered in sustainable development planning. This paper determines number of required workforce in different sectors of each province in Iran considering targets/goals for sustainable development indicators in the 2030 macroeconomic and regional planning. First, the relative goals are designed for GDP, electricity, energy and GHG emission and then, two weighted goal programming models are applied to allocate the optimal workforce among four sectors: agriculture, industry, services and transportation. The first model minimizes recruitment of new workforce and allows current workforce exchange among the four sectors in each province in order to achieve the goals, while the second model indicates equitable distribution of new workforce recruitment in different sectors within each province. In both models, the workforce changes have been investigated based on achieving the desirable growth rates of GDP, GHG, electricity and energy consumption as planned by the government. Based on the results of this paper, policy makers can manage workforce and the government can make optimized decisions to macroeconomic and regional planning.
This is a preview of subscription content, log in to check access.
Access options
Buy single article
Instant access to the full article PDF.
US$ 39.95
Price includes VAT for USA
Subscribe to journal
Immediate online access to all issues from 2019. Subscription will auto renew annually.
US$ 199
This is the net price. Taxes to be calculated in checkout.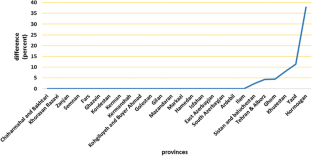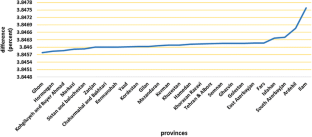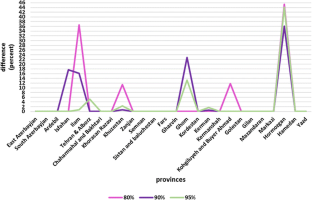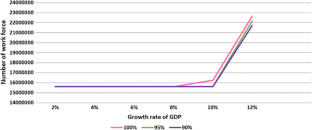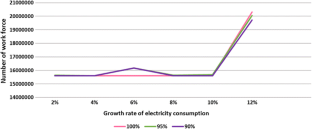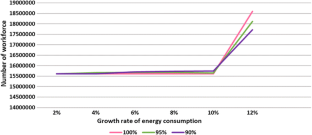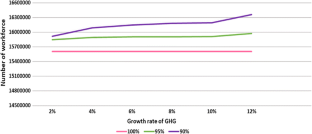 References
Abou-Ali, H., & Abdelfattah, Y. M. (2013). Integrated paradigm for sustainable development: A panel data study. Economic Modelling, 30, 334–342.

Bao, C., & Fang, C. L. (2013). Geographical and environmental perspectives for the sustainable development of renewable energy in urbanizing China. Renewable and Sustainable Energy Reviews, 27, 464–474.

Bečić, E., Mulej, E. M., & Švarc, J. (2012). Measuring social progress by sustainable development indicators: Cases of Croatia and Slovenia. Procedia: Social and Behavioral Sciences, 37, 458–465.

Beckerman, W. (1992). Economic growth and the environment: Whose growth? Whose environment? World Development, 20(4), 481–496.

Bolcárová, P., & Kološta, S. (2015). Assessment of sustainable development in the EU 27 using aggregated SD index. Ecological Indicators, 48, 699–705.

Butnariu, A., & Avasilcai, S. (2015). The assessment of the companies' sustainable development performance. Procedia Economics and Finance, 23, 1233–1238.

Charnes, A., Cooper, W. W., & Ferguson, R. O. (1955). Optimal estimation of executive compensation by linear programming. Management Science, 1(2), 138–151.

Ciegis, R., Ramanauskiene, J., & Startiene, G. (2015). Theoretical reasoning of the use of indicators and indices for sustainable development assessment. Engineering Economics, 63(4), 33–40.

Commission of the European Communities (CEC). (2001). A sustainable Europe for a better world: The European Union strategy for sustainable development. Brussels: Commission of the European Communities.

Devarajan, S., & Mottaghi, L. (2015). MENA quarterly economic brief, January 2015: Plunging oil prices. Washington, DC: World Bank.

Donnelly, A., Jones, M., O'Mahony, T., & Byrne, G. (2007). Selecting environmental indicator for use in strategic environmental assessment. Environmental Impact Assessment, 27(2), 161–175.

Greaker, M., Stoknes, P. E., Alfsen, K. H., & Ericson, T. (2013). A Kantian approach to sustainable development indicators for climate change. Ecological Indicators, 91, 10–18.

Hak, T., Kovanda, J., & Weinzettel, J. (2012). A method to assess the relevance of sustainability indicators: Application to the indicator set of the Czech Republic's sustainable development strategy. Ecological Indicators, 17, 46–57.

Henriques, C. O., & Antunes, C. H. (2012). Interactions of economic growth, energy consumption and the environment in the context of the crisis—A study with uncertain data. Energy, 48(1), 415–422.

Iddrisu, I., & Bhattacharyya, S. C. (2015). Sustainable Energy Development Index: A multi-dimensional indicator for measuring sustainable energy development. Renewable and Sustainable Energy Reviews, 50, 513–530.

Ifaei, P., Karbassi, A., Lee, S., & Yoo, C. (2017). A renewable energies-assisted sustainable development plan for Iran using techno-econo-socio-environmental multivariate analysis and big data. Energy Conversion and Management, 153, 257–277.

Iribarren, D., Martín-Gamboa, M., O'Mahony, T., & Dufour, J. (2016). Screening of socio-economic indicators for sustainability assessment: a combined life cycle assessment and data envelopment analysis approach. International Journal of Life Cycle Assessment, 21(2), 202–214.

Jayaraman, R., Colapinto, C., La Torre, D., & Malik, T. (2016a). A weighted goal programming model for planning sustainable development applied to Gulf Cooperation Council Countries. Applied Energy. https://doi.org/10.1016/j.apenergy.2016.04.065.

Jayaraman, R., Colapinto, C., Liuzzi, D., & La Torre, D. (2016b). Planning sustainable development through a scenario-based stochastic goal programming model. Operations Research. https://doi.org/10.1007/s12351-016-0239-8.

Jayaraman, R., La Torre, D., Malik, T., & Pearson, Y. E. (2015a). Optimal work force allocation for energy, economic and environmental sustainability in the United Arab Emirates: A goal programming approach. Energy Procedia, 75, 2999–3006.

Jayaraman, R., Liuzzi, D., Colapinto, C., & Malik, T. (2015b). A fuzzy goal programming model to analyze energy, environmental and sustainability goals of the United Arab Emirates. Annals of Operations Research. https://doi.org/10.1007/s10479-015-1825-5.

Jones, D., & Tamiz, M. (2010). Case study: Application of goal programming in portfolio selection. In Practical goal programming. International series in operations research and management science (Vol. 141, pp. 151–160). Springer US.

Kılkış, Ş. (2015). Sustainable development of energy, water and environment systems index for Southeast European cities. Journal of Cleaner Production, 130, 222–234.

Lee, S. M. (1972). Goal programming for decision analysis of multiple objectives. Sloan Management Review, 14, 11–24.

Lee, S. M., & Clayton, E. R. (1972). A goal programming model for academic resource allocation. Management Science, 18(8), B-395.

Limaei, S. M., Kouhi, M. S., & Sharaji, T. R. (2014). Goal programming approach for sustainable forest management (case study in Iranian Caspian forests). Journal of Forestry Research, 25(2), 429–435.

Munda, G. (2005). Multiple criteria decision analysis and sustainable development. In Multiple criteria decision analysis: State of the art surveys (pp. 953–986). New York: Springer.

Niemeijer, D., & de Groot, R. S. (2008). A conceptual framework for selecting environmental indicator sets. Ecological Indicators, 8(1), 14–25.

OECD. (2001). The well being of nations: The role of human and social capital. OECD Publication. http://www.oecd.org. Accessed on 2016.

Ozyurt, O. (2010). Energy issues and renewables for sustainable development in Turkey. Renewable and Sustainable Energy Reviews, 14(9), 2976–2985.

Pérez, V., Hernández, A., Guerrero, F., León, M. A., da Silva, C. L., & Caballero, R. (2016). Sustainability ranking for Cuban tourist destinations based on composite indexes. Social Indicators Research, 129(1), 425–444.

Ren, H., Zhou, W., Nakagami, K. I., Gao, W., & Wu, Q. (2010). Multi-objective optimization for the operation of distributed energy systems considering economic and environmental aspects. Applied Energy, 87(12), 3642–3651.

Rinne, J., Lyytimäki, J., & Kautto, P. (2013). From sustainability to well-being: Lessons learned from the use of sustainable development indicators at national and EU level. Ecological Indicators, 35, 35–42.

San Cristóbal, J. R. (2012). A goal programming model for environmental policy analysis: Application to Spain. Energy Policy, 43, 303–307.

Sayed, H., Hamed, R., Hosny, S. H., & Abdelhamid, A. H. (2017). Avoiding ranking contradictions in Human Development Index using goal programming. Social Indicators Research. https://doi.org/10.1007/s11205-017-1663-8.

Sayed, H., Hamed, R., Ramadan, M. A. G., & Hosny, S. (2015). Using meta-goal programming for a new human development indicator with distinguishable country ranks. Social Indicators Research, 123(1), 1–27.

Sébastien, L., & Bauler, T. (2013). Use and influence of composite indicators for sustainable development at the EU-level. Ecological Indicators, 35, 3–12.

Todaro, M. P., & Smith, S. C. (2011). Economic Development. Addison-Wesley, Edition 11

Tsai, W. H., & Chou, W. C. (2009). Selecting management systems for sustainable development in SMEs: A novel hybrid model based on DEMATEL, ANP, and ZOGP. Expert Systems with Applications, 36(2), 1444–1458.

Wilson, J., Tyedmers, P., & Pelot, R. (2007). Contrasting and comparing sustainable development indicator metrics. Ecological Indicators, 7(2), 299–314.

World Summit for Social development Copenhagen. (1995). http://www.un.org/esa/socdev/wssd/index.html. Accessed on 2016.

Zhang, J. (2016). Weighing and realizing the environmental, economic and social goals of tourism development using an analytic network process-goal programming approach. Journal of Cleaner Production, 127, 262–273.

Zolfani, S. H., & Zavadskas, E. K. (2013). Sustainable development of rural areas' building structures based on local climate. Procedia Engineering, 57, 1295–1301.
Acknowledgements
The authors would like to thank Professor Filomena Maggino, the editor of Social Indicators Research Journal, and five reviewers for their insightful comments and suggestions. As results this paper has been improved substantially.
Electronic supplementary material
Below is the link to the electronic supplementary material.
About this article
Cite this article
Omrani, H., Valipour, M. & Emrouznejad, A. Using Weighted Goal Programming Model for Planning Regional Sustainable Development to Optimal Workforce Allocation: An Application for Provinces of Iran. Soc Indic Res 141, 1007–1035 (2019). https://doi.org/10.1007/s11205-018-1868-5
Accepted:

Published:

Issue Date:
Keywords
Sustainable development

Weighted goal programming

Regional planning

Optimal workforce allocation