Abstract
The OECD Better Life Index is an interactive composite index that aggregates a country's well-being outcomes through the weights defined by online users. This paper analyses these weights by analysing the responses given by close to 88,000 users since 2011 to date. The contribution of this paper is threefold. First, it investigates the factors shaping users' preferences over a set of 11 well-being dimensions, while most of the previous empirical works in the area have focused on factors affecting support for a specific well-being domain (e.g. redistribution, environmental concerns) at a time. Second, it provides insights into users' preferences for a large group of countries, which differ in terms of culture and living conditions. Third, a finite mixture model (FMM) approach is used to test for heterogeneity in the effect of satisfaction levels on the weight attached to a given BLI dimension across sub-population groups. Various empirical models are used to identify responses' patterns and see whether they can be accounted for respondents' characteristics and their perceived level of well-being. The paper finds that health, education and life satisfaction are the aspects that matter the most in OECD countries. Descriptive statistics show that men assign more importance to material conditions than women; while women in general value quality of life more than men. Environment, housing, civic engagement, safety and health become more important with age, while life satisfaction, education, work-life balance, jobs and income are particularly important for those younger than 35. There are also regional patterns in users' findings, for instance civic engagement is particularly important in South America, while safety and work-life balance matter tremendously in Asia-Pacific. Furthermore, an additional analysis carried out on a subset of observations finds that for several well-being dimensions (i.e. jobs, housing, community, health, education, civic engagement, safety, life satisfaction and work-life balance) there is a positive and linear relationship between individual preferences and self-reported satisfaction in those dimensions. Finally, the check for heterogeneity in the relationship of satisfaction to preferences in well-being dimensions, via an FMM analysis, reveals that, in the case of income and education, two classes of individuals with distinct effects of satisfaction levels on preferences are identified.
Access options
Buy single article
Instant access to the full article PDF.
US$ 39.95
Tax calculation will be finalised during checkout.
Subscribe to journal
Immediate online access to all issues from 2019. Subscription will auto renew annually.
US$ 119
Tax calculation will be finalised during checkout.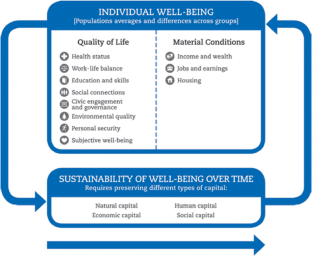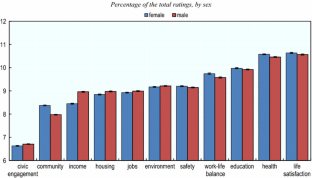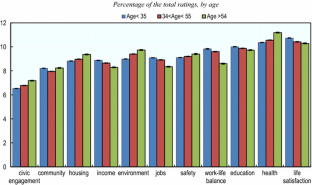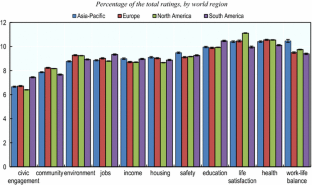 Notes
1.

In the 1970 s the definition of the OECD-UN guidelines on social indicators was a critical step to the development of internationally harmonised social statistics.

2.

3.

The dashboard is published in the biennial report "How's Life? Measuring Well-Being".

4.

Please, refer to Annex 1 for more details.

5.

6.

7.

Notice that in "income" scenarios it understates the weight of income in hypothetical choices.

8.

Information on educational level is available only for those users who decide to complete and submit the extended survey.

9.

For example in Iceland there is no girl aged 0–24 years in the sample.

10.

Asia-Pacific includes: Australia, Japan, Korea and New Zealand; Europe includes: Austria, Belgium, the Czech Republic, Denmark, Germany, Estonia, Finland, France, Greece, Hungary, Iceland, Ireland, Israel, Italy, Luxemburg, the Netherlands, Norway, Poland, Portugal, the Slovak Republic, Slovenia, Spain, Sweden, Switzerland, the United Kingdom and Turkey; North America includes: Canada and the United States; and South America includes: Chile and Mexico.

11.

As previously mentioned, the countries included in the analysis are the OECD member countries as of March 2016 (34 countries).

12.

The BLI_XX coefficients capture the effect of living in a country with average level of well-being outcomes proxied by the different BLI dimensions on BLI weights. To give an example, the BLIDimension corresponding to the well-being dimension "Health" is BLI_HS = BLI dimension "Health". BLI_HS is the country's performance in the "Health" dimension of the BLI, which is the simple average of the country's score in life expectancy at birth and self-reported health, the two indicators which compose the BLI dimension "Health". For the list of the indicators included in each dimension, please refer to the website: http://www.oecdbetterlifeindex.org/.

13.

The analysis is conducted using the package STATA 14.

14.

15.

Results from the post-estimation tests are available from the authors upon request.

16.

By clicking on the "Gender differences" button underneath the mixer tool of the weights.

17.

By clicking on the "Compare with others" button underneath the mixer tool of the weights.

18.

By clicking on the "Share your index" button underneath the mixer tool of the weights, the user has the possibility to share it via Facebook, Twitter, e-mail or to embed it somewhere.
References
Adler, M., & Dolan, P.(2008). Introducing "Different Lives" approach to the valuation of health and well-being, ILE Research Paper 08-05.

Adler, M., Dolan, P., & Kavetsos, G. (2014). Understanding "Life choices" Happiness or something else?. London: Mimeo, London School of Economics.

Becchetti, L., Corrado, L., & Fiaschetti, M. (2013). The heterogeneity of wellbeing "expenditure" preferences: Evidence from a simulated allocation choice on the BES indicators, CEIS Research Paper 297, Tor Vergata University, CEIS, revised 12 Nov 2013.

Benjamin, D. J., Heffetz, O., Kimball, M. S., & Szmbrot, N. (2014a). Beyond happiness and satisfaction: Toward well-being indices based on stated preferences. American Economic Review, 104, 2698–2735.

Benjamin, D. J., Kimball, M. S., Heffetz, O., & Rees-Jones, A. (2012). What do you think would make you happier? What do you think you would choose? American Economic Review, 102, 208.

Benjamin, D. J., Kimball, M. S., Heffetz, O., & Rees-Jones, A. (2014b). Can marginal rates of substitution be inferred from happiness data? Evidence from residency choices. American Economic Review, 104(11), 3498–3528.

Bernheim, B. D. (2009). Behavioral welfare economics. Journal of the European Economic Association, 7(2–3), 267–319.

Bernheim, B. D., & Rangel, A. (2009). Beyond revealed preference: Choice theoretic foundations for behavioral welfare economics. Quarterly Journal of Economics, 124(1), 51–104.

Clark, A. E., & Fawaz Y. (2015). Retirement and the marginal utility of income. PSE Working Papers n 2015-25.

Clark, A. E., & Oswald, A. J. (2002). A simple statistical method for measuring how life events affect happiness. International Journal of Epidemiology, 31, 1139–1144.

Decancq, K., Fleurbaey, M., & Schokkaert, E. (2015a). Happiness, equivalent incomes and respect for individual preferences. London: Economica, London School of Economics.

Decancq, K., Fleurbaey, M., & Schokkaert, E. (2015b). Inequality, income and well-being. In A. B. Atkinson & F. Bourguignon (Eds.), Handbook on income distribution (Vol. 2, pp. 67–140). Amsterdam: Elsevier.

Decancq, K., & Lugo, M.-A. (2013). Weights in multidimensional indices of well-being: An overview. Econometric Reviews, 32, 7–34.

Decancq, K., & Neumann, D. (2014). Does the choice of well-being measure matter empirically? An illustration with German data. IZA Discussion paper 8589 (unpublished data)

Decancq, K., & Schokkaert, E. (2016). Beyond GDP: Using equivalent incomes to measure well-being in Europe. Social Indicators Research, 126, 21. doi:10.1007/s11205-015-0885-x.

Decoster, A. & Haan, P (2010). Empirical welfare analysis in random utility models of labour supply. IZA discussion paper 6012.

Murtin F., Boarini R., Cordoba J., & Ripoll M. (2015). "Beyond GDP: Is there a law of one shadow price?", OECD Statistics Working Papers, 2015/05, OECD Publishing, Paris. http://dx.doi.org/10.1787/5jrqppxzss47-en.

OECD. (2011). How's life? Measuring well-being. Paris: OECD Publishing.

OECD. (2013). How's Life? 2013 measuring well-being. Paris: OECD Publishing.

OECD. (2015). How's Life? 2015 measuring well-being. Paris: OECD Publishing.

Schwandt, H. (2015). Do people seek to maximize their subjective well-being? IZA discussion paper 9450

Stiglitz, J., Sen, A. & Fitoussi, J-P. (2009). Report by the Commission on the Measurement of Economic Performance and Social Progress.
Acknowledgements
The views expressed in this article are those of the authors and do not represent the official views of the OECD or of its member countries. The authors thank the two anonymous reviewers for their thoughtful comments and suggestions.
Appendices
Annex 1
How the BLI works
In the BLI users assign a weight ranging from 0 to 5 to each well-being dimension through the interface of the web tool (Fig. 5). The user can see how countries' average achievements compare based on her own personal priorities in life: the weights assigned, which are recalculated to sum to 100. Users can also explore gender differences,Footnote 16 compare their choices with peersFootnote 17 and share their index with other people in their network and with the OECD.Footnote 18 When a user decides to compare her BLI, a small section asking the country of origin, the sex and the age group appears. Once the user has filled this in, she can click on "submit your index" and she will be able to compare her results with people from the same country, same sex and belonging to the same age group. The same section appears when she decides to share her BLI, if she did not already go through it in the "compare" step. When the user submits her index, the application stores anonymously her selection. The user has also the possibility to participate to an extended survey, where she is asked about her level of education, occupation, the family structure (married/being together, single, with children), how she heard about the BLI and her satisfaction with her life as a whole and with the 11 well-being dimensions.
Annex 2
The Better Life Index Extended Survey
This section lists the questions (and possible replies) that are included in the Better Life Index extended survey:
Level of education: Primary/Secondary/University/college

Occupation: Employee/Unpaid worker/Professional/Self-employed/Retired/Senior executive/Academic/Student/Unemployed

Family structure: Married or Living together/Single

With children: (option to be ticked or not)

How did you hear about the Better Life Index: Friends/Media/Work/Other
How is Your Life?
In this section all answers are on a 0–10 scale with 0 = not satisfied at all and 10 = most satisfied
Thinking about your own life and personal circumstances, how satisfied are you with your life as a whole?
How satisfied are you with…
your income and standard of living?

your housing?

your job?

your health?

your education and skills?

your work- life balance?

your community and support network?

your civic engagement opportunities?

the quality of your environment?

your level of personal safety?
About this article
Cite this article
Balestra, C., Boarini, R. & Tosetto, E. What Matters Most to People? Evidence from the OECD Better Life Index Users' Responses. Soc Indic Res 136, 907–930 (2018). https://doi.org/10.1007/s11205-016-1538-4
Accepted:

Published:

Issue Date:
Keywords
Better life index

Composite index

OECD

Users

Preferences

Well-being