Abstract
Economic growth is widely considered an effective instrument to combat poverty, and child malnutrition. Though there is a substantial literature on the relationship between economic growth and child malnutrition in a wide range of countries, empirical evidence on this relationship is sparse in the case of Egypt. Using repeated crosssectional data from five rounds of the National Demographic and Health Survey (DHS), we examine the association between income per-capita growth, at the governorate level, and various child malnutrition outcomes: stunting, wasting, and underweight, in Egypt during the period 1992–2008. A logistic regression model, with regional and time fixed effects applied to pooled data of the five DHS rounds, is used. The analyses control for the structure of the data, and the clustering of observations (children nested within households within clusters nested in governorates). Statistics show that 29% of the children-under-5 years were stunted, 7.2% were wasted, and 6% were underweight in 2008. We found a robust statistically significant negative association between economic growth, at the governorate level, and four indicators of child malnutrition, namely; underweight, wasting, extreme wasting, and extreme stunting. Though a negative association was also found between economic growth and stunting and extreme underweight, the odd ratios were not statistically significant but were well below unity which indicates economic significance if estimated precisely. No significant association was found between income inequality, as measured by the Gini-index, and any of the malnutrition indicators. Results also reveal that child and household-level characteristics including; child age, sex, the birth interval of a child, whether the child is a twin and father`s education, are particularly important determinants of malnutrition indicators in Egypt. The findings of the current study provide additional supportive evidence, using data from Egypt, that economic growth is an effective instrument to combat child malnutrition and improve population health outcomes.
Access options
Buy single article
Instant access to the full article PDF.
US$ 39.95
Tax calculation will be finalised during checkout.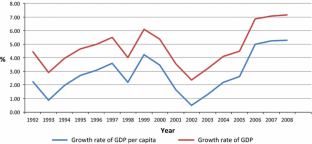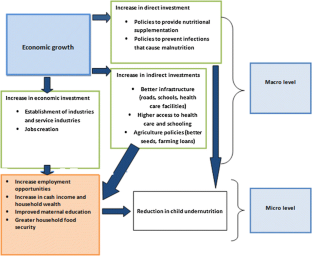 References
Alderman, H., Hoogeveen, H., & Rossi, M. (2006). Reducing child malnutrition in Tanzania: Combined effects of income growth and program interventions. Economics & Human Biology, 4(1), 1–23.

Barker, D. J., Eriksson, J. G., Forsén, T., & Osmond, C. (2002). Fetal origins of adult disease: Strength of effects and biological basis. International Journal of Epidemiology, 31(6), 1235–1239.

Bijlmakers, L. A., Bassett, M. T., & Sanders, D. (1998). Socioeconomic stress, health and child nutritional status in Zimbabwe at a time of economic structural adjustment: A three year longitudinal study (vol. 105). Nordic Africa Institute.

Case, A., &Paxson, C. (2006). Stature and status: Height, ability, and labor market outcomes (No. w12466). National Bureau of Economic Research.

Case, A., Paxson, C., & Islam, M. (2009). Making sense of the labor market height premium: Evidence from the British Household Panel Survey. Economics Letters, 102(3), 174–176.

Chen, X. K., Wen, S. W., Fleming, N., Demissie, K., Rhoads, G. G., & Walker, M. (2007). Teenage pregnancy and adverse birth outcomes: A large population based retrospective cohort study. International Journal of Epidemiology, 36(2), 368–373.

Conde-Agudelo, A., Rosas-Bermudez, A., Castaño, F., & Norton, M. H. (2012). Effects of birth spacing on maternal, perinatal, infant, and child health: A systematic review of causal mechanisms. Studies in Family Planning, 43(2), 93–114.

Currie, J., & Madrian, B. C. (1999). Health, health insurance and the labor market. Handbook of Labor Economics, 3, 3309–3416.

De Haen, H., Klasen, S., & Qaim, M. (2011). What do we really know? Metrics for food insecurity and undernutrition. Food Policy, 36(6), 760–769.

Dewey, K. G., & Cohen, R. J. (2007). Does birth spacing affect maternal or child nutritional status? A systematic literature review. Maternal & Child Nutrition, 3(3), 151–173.

El-Laithy, H., Lokshin, M., &Banerji, A. (2003). Poverty and economic growth in Egypt, 1995–2000. World Bank Policy Research Working Paper, (3068).

Frijters, P., Haisken-DeNew, J. P., & Shields, M. A. (2005). The causal effect of income on health: Evidence from German reunification. Journal of Health Economics, 24(5), 997–1017.

Gragnolati, M., Shekar, M., Gupta, M. D., Bredenkamp, C., & Lee, Y. K. (2005). India's undernourished children: a call for reform and action. Washington, DC: World Bank.

Harttgen, K., Klasen, S., & Vollmer, S. (2012). Economic growth and child undernutrition in Africa (No. 14). Global Food Discussion Papers.

Heltberg, R. (2009). Malnutrition, poverty, and economic growth. Health Economics, 18(S1), S77–S88.

Jayachandran, S., & Pande, R. (2013). Why are Indian Children Shorter than African Children? Department of Economics, Northwestern University, Mimeo.

Kavle, J., Mehanna, S., Saleh, G., Foaud, M., Ramzy, M., Hamed, D. et al. (2014). Examining factors associated with stunting in Lower Egypt in comparison to Upper Egypt. Bridging the gap between cultural beliefs and feasible feeding practices through Trials for Improved Practices, Washington DC.

Kheir-El-Din, H., & El-Laithy, H. (2008). An assessment of growth, distribution, and poverty in Egypt: 1990/91-2004/05. The Egyptian Economy: Current Challenges and Future Prospects, Cairo, pp. 13–52.

Maluccio, J. A., Hoddinott, J., Behrman, J. R., Martorell, R., Quisumbing, A. R., & Stein, A. D. (2009). The impact of improving nutrition during early childhood on education among Guatemalan adults. The Economic Journal, 119(537), 734–763.

Namoro, S., & Roushdy, R. (2009). Intrahousehold resource allocation in Egypt: Women empowerment and investment in children. Middle East Development Journal, 1(01), 105–121.

Pickett, K. E., & Wilkinson, R. G. (2007). Child wellbeing and income inequality in rich societies: Ecological cross sectional study. BMJ, 335(7629), 1080.

Pritchett, L., & Summers, L. H. (1996). Wealthier is healthier. Journal of Human Resources, 31(4), 841–868.

Ramakrishnan, U., Grant, F., Goldenberg, T., Zongrone, A., & Martorell, R. (2012). Effect of women's nutrition before and during early pregnancy on maternal and infant outcomes: A systematic review. Paediatric and Perinatal Epidemiology, 26(s1), 285–301.

Rutstein, S. O., & Johnson, K. (2004). The DHS wealth index. DHS comparative reports no. 6. Calverton: ORC Macro.

Sen, A., & Sengupta, S. (1983). Malnutrition of rural children and the sex bias. Economic and Political Weekly, 18(19/21), 855–864.

Smith, L. C., & Haddad, L. (2002). How potent is economic growth in reducing undernutrition? What are the pathways of impact? New cross-country evidence*. Economic Development and Cultural Change, 51(1), 55–76.

Subramanyam, M. A., Kawachi, I., Berkman, L. F., & Subramanian, S. V. (2011). Is economic growth associated with reduction in child undernutrition in India? PLoS Medicine, 8(3), 448.

The Egyptian Cabinet Information and Decision Support Center (IDSC). (2013). The cost of hunger in Egypt implications of child undernutrition on the social and economic development of Egypt. Cairo: IDSC.

UNICEF. (2013). Improving child nutrition: The achievable imperatives for global progress. New York: UNICEF.

UNICEF, & World Health Organization. (2015). Improving nutrition outcomes with better water, sanitation and hygiene: practical solutions for policies and programmes.

United Nations Children's Fund. (2013). Improving child nutrition: The achievable imperative for global progress. New York, USA: UNICEF.

Van de Poel, E., Hosseinpoor, A. R., Jehu-Appiah, C., Vega, J., & Speybroeck, N. (2007). Malnutrition and the disproportional burden on the poor: The case of Ghana. International journal for equity in health, 6(1), 21.

Vella, V., Tomkins, A., Borghesi, A., Migliori, G. B., Adriko, B. C., & Crevatin, E. (1992). Determinants of child nutrition and mortality in north-west Uganda. Bulletin of the World Health Organization, 70(5), 637.

Victora, C. G., Adair, L., Fall, C., Hallal, P. C., Martorell, R., Richter, L., et al. (2008). Maternal and child under nutrition: Consequences for adult health and human capital. The Lancet, 371(9609), 340–357.

Vollmer, S., Harttgen, K., Subramanyam, M. A., Finlay, J., Klasen, S., & Subramanian, S. V. (2014). Association between economic growth and early childhood under nutrition: Evidence from 121 Demographic and Health Surveys from 36 low-income and middle-income countries. The Lancet, Global Health, 2(4), e225–e234.

Wamani, H., Åstrøm, A., Peterson, S., Tumwine, J. K., & Tylleskär, T. (2007). Boys are more stunted than girls in sub-Saharan Africa: A meta-analysis of 16 demographic and health surveys. BMC Pediatrics, 7(1), 1.

Wells, J. C. (2000). Natural selection and sex differences in morbidity and mortality in early life. Journal of Theoretical Biology, 202(1), 65–76.

World Bank. (2014). International Economics Dept. Development data group. World Development Indicators. World Bank.
Acknowledgements
We would like to thank the anonymous reviewers, and the academic editor of this journal for the invaluable comments and suggestions that substantially improved the manuscript. We would also like to thank Stephan Klasen, Jurgen Maurer, Samer Atallah, and Doaa Omran for useful comments on an earlier version of the manuscript.
Electronic supplementary material
Below is the link to the electronic supplementary material.
About this article
Cite this article
Rashad, A.S., Sharaf, M.F. Economic Growth and Child Malnutrition in Egypt: New Evidence from National Demographic and Health Survey. Soc Indic Res 135, 769–795 (2018). https://doi.org/10.1007/s11205-016-1515-y
Accepted:

Published:

Issue Date:
Keywords
Economic growth

Inequality

Malnutrition

Stunting

Wasting

Underweight

Egypt