Abstract
Following the 2008/9 financial crisis, China instituted a 4 trillion RMB stimulus package that was spent mostly on infrastructure, with a particular impact at local level. The goal was to sustain economic growth and preserve social stability. We use the Asian Barometer surveys from shortly before and after the stimulus to examine its impact on public trust in government, and find a reversal of a previous downward trend and a substantial increase in trust in local government post stimulus. We consider a number of alternative explanations for this increase in trust, and conclude that the stimulus package is the most convincing explanation. Both perceptions of corruption and experience of corruption increased over the stimulus period. Given the strong negative correlation between corruption and trust, this implies that trust would have increased even further if the level of corruption had remained the same.
Access options
Buy single article
Instant access to the full article PDF.
US$ 39.95
Tax calculation will be finalised during checkout.
Subscribe to journal
Immediate online access to all issues from 2019. Subscription will auto renew annually.
US$ 119
Tax calculation will be finalised during checkout.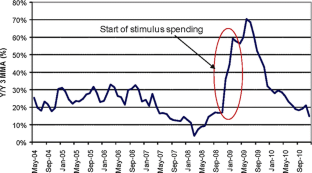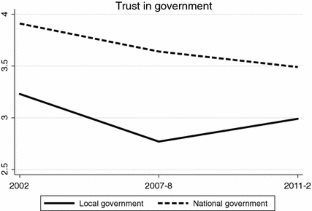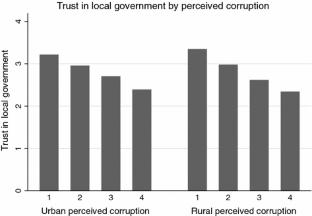 Notes
1.

Source: China Statistical Yearbook 2013.

2.

3.

Section 2 describes these controls in detail.

4.

Education is reported on a scale from 2 to 10. 40.74 % of the sample report education at level 4 or below, and 72.78 % report education at level 5 or below. The dummy is 1 for people reporting education level 5 or higher.

5.

Since trust is itself a subjective variable, a case can be made for preferring a subjective measure of income in a model of trust even if an objective one were available.

6.

7.
References
Ayres, I., & Braithwaite, J. (1992). Responsive regulation: Transcending the deregulation debate. Oxford: Oxford University Press.

Cai, Y. (2008). Social conflicts and modes of action in China. The China Journal, 59, 89–109.

Cai, F. (2011). Hukou system reform and unification of rural–urban social welfare. China and World Economy, 19(3), 33–48.

Chan, K. W. (2010). The global financial crisis and migrant workers in China: 'There is no future as a labourer; returning to the village has no meaning'. International Journal of Urban Regional Research, 34(3), 659–677.

Chang, Y., & Chen, R. (2010). An empirical study of criminal offences of returning migrant workers in Chongqing city (chóngqìng shì huíliú nóngmín gōng fànzuì shízhèng yánjiū). Frontiers (Qianyan), 8, 93–96.

Chang, E. C., & Chu, Y. (2006). Corruption and trust: Exceptionalism in asian democracies? Journal of Politics, 68(2), 259–271.

Chen, C. J. (2009). Growing social unrest and emergent protest groups in China. Rise of China: Beijing's Strategies and Implications for the Asia-Pacific. (pp. 87–105)

Christensen, T., & Lægreid, P. (2005). Trust in government: The relative importance of service satisfaction, political factors, and demography. Public Performance and Management Review, 28(4), 487–511.

Chu, Y. (2013). Sources of regime legitimacy and the debate over the Chinese model. China Review, 13(1), 1–42.

Cui, E., Tao, R., Warner, T. J., & Yang, D. L. (2015). How do land takings affect political trust in rural China? Political Studies, 63(S1), 91–109.

Delury, J. (2008). "Harmonious" in China. Policy Review, 148, 35.

Fan, S., & Chan-Kang, C. (2005). Road development, economic growth, and poverty reduction in China. International Food Policy Research Institute (IFPRI) Report No. 138, Washington DC.

Fang, L. (2009). Formation of institutional trusts–the case of new rural cooperative healthcare (zhidu xinren de xingcheng guocheng–yi xinxing nongcun hezuo yiliao zhidu weili). Sociology Studies (shehuixue yanjiu) 2

Fang, F. (2013a). Fairness and justice of the rural minimum living standard guarantee system (nongcun dibao zhidu de gongping zhengyi wenti tantao). Truth Seeking (Qiushi), 1, 91–93.

Fang, L. (2013b). China's health reform and development report. In P. Li, G. Chen, & Y. Zhang (Eds.), 2014 China social situation analysis and prediction (pp. 90–105). Beijing: Social Sciences Academic Press.

Fidrmuc, J., & Korhonen, I. (2010). The impact of the global financial crisis on business cycles in Asian emerging economies. Journal of Asian Economics, 21(3), 293–303.

Göbel, C., & Ong, L. H. (2012). Social unrest in China. Long Briefing, Europe China Research and Academic Network (ECRAN)

Huang, H. (2010). Entrepreneurship among returning henan migrant workers (hénán shěng huí xiāng nóngmín gōng chuàngyè wèntí yánjiū). Ph.D thesis, Henan Agriculture University

Huang, J., Zhi, H., Huang, Z., Rozelle, S., & Giles, J. (2011). The impact of the global financial crisis on off-farm employment and earnings in rural China. World Development, 39(5), 797–807.

Jiang, Y. (2015). Vulgarisation of Keynesianism in China's response to the global financial crisis. Review of International Political Economy, 22(2), 360–390.

Kang, C., & Qijun, L. (2015). Economic development and corruption in China in the shadow of rent. In R. D. Congleton & A. L. Hillman (Eds.), Companion to the political economy of rent seeking (pp. 395–409). Cheltenham: Edward Elgar Publishing.

Kong, D. T. (2013). Intercultural experience as an impediment of trust: Examining the impact of intercultural experience and social trust culture on institutional trust in government. Socical Indicators Research, 113(3), 847–858.

Levi, M. (1998). A state of trust. Trust and Governance, 1, 77–101.

Levi, M., & Stoker, L. (2000). Political trust and trustworthiness. Annual Review of Political Science, 3(1), 475–507.

Li, L. (2004). Political trust in rural China. Modern China, 30(2), 228–258.

Li, H. (2012). Rural residents' trust of the rural minimum incomeguarantee system (nongcun jumin dui nongcun dibao zhidu de xinrenyanjiu). Master's thesis, Central Agriculture University

Li, B. (2013). Future trajectories for China. In J. Midgley & D. Piachaud (Eds.), Social protection, economic growth and social change (pp. 59–76). Cheltenham: Edward Elgar Publishing.

Lubell, M. (2007). Familiarity breeds trust: Collective action in a policy domain. Journal of Politics, 69(1), 237–250.

National Bureau of Statistics of China (2014) China statistical yearbook. http://data.stats.gov.cn/easyquery.htm?cn=C01&zb=A0P06&sj=2014.

Naughton, B. (2009). Understanding the Chinese stimulus package. China Leadership Monitor, 28(2), 1–12.

Ngok, K. (2013). Shaping social policy in the reform era in China. In M. Izuhara (Ed.), Handbook on east Asian social policy (pp. 105–125). Cheltenham: Edward Elgar Publishing.

Qian, Z. (2015). Land acquisition compensation in post-reform China: Evolution, structure and challenges in Hangzhou. Land Use Policy, 46, 250–257.

Rahn, W. M., & Rudolph, T. J. (2005). A tale of political trust in American cities. Public Opinion Quarterly, 69(4), 530–560.

Saich, A. (2012) The quality of governance in China: The citizen's view. Working paper series, Harvard University, John F. Kennedy School of Government

Smyth, R., & Qian, J. X. (2009). Corruption and left-wing beliefs in a post-socialist transition economy: Evidence from China's "harmonious society". Economics Letters, 102(1), 42–44.

Toffler, A. (2014). Learning what makes government work in the 21st century. In Z. K. Bhatti, J. Zall Kusek, & T. Verheijen (Eds.), Logged On: Smart Government Solutions from South Asia (pp. 28–57). Washington DC: World Bank.

Tong, Y., & Lei, S. (2010). Large-scale mass incidents in China. East Asia Policy, 2(2), 22–33.

Tyler, T. R. (2006). Why people obey the law. Princeton: Princeton University Press.

Wang, Z. (2008). National humiliation, history education, and the politics of historical memory: Patriotic education campaign in china. International Studies Quarterly, 52(4), 783–806.

Wei, S. (2014). The logic (or illogic) of China's local government debts out of control-law, governance or other perspectives. Governance or Other Perspectives, 44(3), 887–916.

Wen, Y., & Wang, X. (2013). Multiplier effects of government spending: Atale of China. In 2013 Meeting papers, society for economic dynamics, p. 214.

Wong, C. (2009). Rebuilding government for the 21st century: Can China incrementally reform the public sector? The China Quarterly, 200, 929–952.

Wong, C. (2011). The fiscal stimulus programme and public governance issues in China. OECD Journal of Budgeting, 11(3), 1–22.

Yuan, C., Liu, S., & Xie, N. (2010). The impact on Chinese economic growth and energy consumption of the global financial crisis: An input-output analysis. Energy, 35(4), 1805–1812.

Zhang, Z. (2014). Diminishing significance of Hukou and decline of rural–urban divide in China's social policy reforms. Transforming Chinese Cities London: Routledge.

Zhao, P. (2012). Affordable housing effectively increase the housing supply (băozhàng fáng yŏuxiào zēngjiāle zhùfáng gōngjĭ). China Information News (Zhōngguó xìnxī bào).
Ethics declarations
Conflict of interest
The authors declare that they have no conflict of interest.
Additional information
We would like to thank seminar participants at Monash University, International Conference on Public Policy (Milan 2015), and the Chinese Economic Society of Australia (CESA) conference in Beijing (2014) for their comments. Guy Mayraz would like thank the Canadian Institute for Advanced Research (CIFAR) for funding support.
About this article
Cite this article
Li, B., Mayraz, G. Infrastructure Spending in China Increases Trust in Local Government. Soc Indic Res 132, 341–356 (2017). https://doi.org/10.1007/s11205-015-1223-z
Accepted:

Published:

Issue Date:
Keywords
Financial crisis

Stimulus package

Public spending

Social stability

Trust in government

China

Infrastructure
JEL Classification