Abstract
This paper takes a look at the countries of the world and their rankings in terms of material wealth. Using the attributes and variables featured in the development of these countries and synthetic indexes, it analyzes the relationship between wealth levels and estimates of social development. First we use the indicators estimated by UNDP. Using UNDP methodology and multivariate statistical methods such as factor analysis, we then turn to complementary estimators. Our results not only allow us to identify which countries are better (or worse) at turning economic growth into social development but they also contribute to detecting the dimensions of development behind position changes across various rankings.
This is a preview of subscription content, log in to check access.
Access options
Buy single article
Instant access to the full article PDF.
US$ 39.95
Price includes VAT for USA
Subscribe to journal
Immediate online access to all issues from 2019. Subscription will auto renew annually.
US$ 199
This is the net price. Taxes to be calculated in checkout.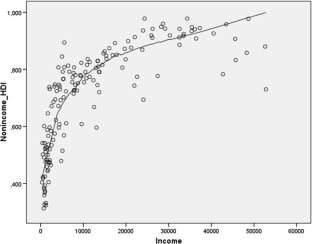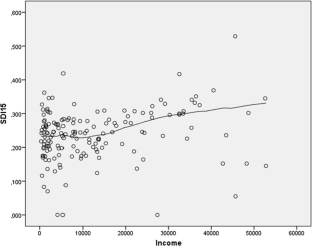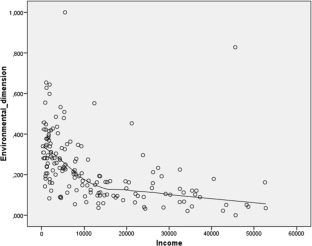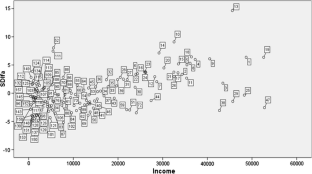 Notes
1.

2.

This indicator uses the average of four dimensions: fourteen variables, including income although per capita consumption is not included.

3.

Sanchez-Fernandez and Prada (2015) carried out a similar exercise limited to the countries of the European Union.

4.

5.

Standardized geometric average of HDIpc, life expectancy and standardized schooling variable.

6.

Objectively speaking, this paper deals with nothing on the "happiness of the countries".

7.

This is the total amount for which the UNDP supplies data.

8.

9.

The analysis of Qatar and Liechtenstein has been eliminated given that their GDPpc was over $80,000 and this created a break in the trend of the variable for the rest of the countries.

10.

This is a third of the countries under study (34.6 %).

11.

We have not included strictly economic indicators (productivity, salary per employee, household expenses, and available income) because the behavior of these indicators is very linked to the level of wealth, income or economic growth of the countries (Villaverde and Maza 2013).

12.

Specifically: ecological variables, mortality rates, unemployment, homicides, suicides and inequality.

13.

Social Development Index for the 15 variables selected.

14.

(UNDP 2010: VI) preface of the 20th edition of the United Nations Report.

15.

As in the previous case, Qatar and Liechtenstein have been eliminated given their over $80,000 GDP that created a break in the path of the variable for the rest of the countries.

16.

0.23 is the correlation coefficient between GNIpc and SDI15 for all of the countries of the world under study.

17.

Australia, Germany, Sweden, US, Canada, Norway and United Kingdom.

18.

This means that there is a high intercorrelation among variables.

19.

It specifically compares the $30,277 GNIpc of France as opposed to the $828 GNIpc of Madagascar.

20.

Its weakness basically stems from infant mortality, university education and homicide rates.

21.

For the results obtained with our SDIfa.

22.

Situations of the "paradox of opulence" (Hirsch 1976).
References
Akpan, U. F., & Abang, D. E. (2014). Environmental quality and economic growth. MPRA 54461, University Library of Munich, Germany.

Anand, S., & Sen, A. K. (1994). The human development index: Methodology and measurement. Human Development Report. Occasional paper no 12, UNDP, New York.

Brandolini, A. (2009). On applying synthetic indices of multidimensional well-being: Health and income inequalities in France, Germany, Italy, and the United Kingdom. In R. Gotoh & P. Doumouchel (Eds.), Against injustice: The new economics of Amartya Sen (pp. 221–252).

Chang, H. J. (2012). 23 things they don't tell you about capitalism. USA: Bloomsbury Publishing.

Cuenca, G. E., Rodriguez Martín, J. A., & Navarro Pabsdorf, M. (2010). The features of development in the Pacific Countries of the African, Caribbean and Pacific Group. Social Indicators Research, 99(3), 469–485.

Deaton, A. (2003). Health, inequality and economic development. Journal of Economic Literature, 41(1), 113–158.

Diener, E., & Suh, E. (1997). Measuring quality of life: Economic, social, and subjective indicators. Social Indicators Research, 40(1–2), 189–216.

European Union. (2014). Towards a better measurement of welfare inequalities. EU Employment and Social Situation, Quarterly Review, Special Supplement on Beyond GDP. Brussels. http://www.eesc.europa.eu/resources/docs/towards-a-better-measurement-of-welfare.pdf.

Field, A. (2008).  Discovering statistics using SPSS. SAGE Publications Ltd.

García, J., & Pulgar, N. (2010). Globalización: aspectos políticos, económicos y sociales. Revista de Ciencias Sociales, 16(4), 721–726.

Hirsch, F. (1976). Social limits to growth. Cambridge: Harvard University Press.

Jackson, T. (2011). Prosperity without growth: Economics for a finite planet. London: Routledge.

Kovacevic, M. (2011). Review of HDI critiques and potential improvements. UNDP, Human Development Reports 2010/33.

Kuznets, S. (1989). Economic development, the family, and income distribution. Selected essays: Cambridge University Press.

Laxe, F. G., Palmero, F. M., & Francos, M. F. (2004). Medición del desarrollo sostenible y análisis regional: diseño y aplicación de un índice sintético global a las comunidades autónomas españolas. Investigaciones regionales, 5, 91–112.

Mankiw, N. G. (2012). Principles of economics (6th ed.). South-Western: Cengage Learning.

Mankiw, N. G., Romer, D., & Weil, D. N. (1992). A contribution to the empirics of economic growth. The Quarterly Journal of Economics, 107(2), 407–437.

McKee, D., & Todd, P. E. (2011). Los efectos a largo plazo de programas de incremento en el capital humano sobre la pobreza y la desigualdad: Oportunidades en México. Estudios de economía, 38(1), 67–100.

Minty, P., & Lessaer, B. (2013). Indicators of inclusive growth to complement GDP growth. en Comisión Europea: Employment and Social Developments in Europe 2013. Catalog N.: KE-BD-13-001-EN-C, Bruselas.

Mishan, E. J. (1969). Growth: The price we pay. London: Staples Press.

Morris, M. D. (1979). Measuring the condition of the world's poor: The physical quality of life index. New York: Pergamon.

OECD. (2008). Handbook on constructing composite indicators. Paris: OECD-JCR European Commission.

OECD. (2010). Measuring and fostering the progress of societies. C/MIN(2010)13.

OECD. (2013). How's life?. Paris: OECD-JCR European Commission.

Oliveira, S. J., Lourenco Marques, M. M., & Ferreira Monteiro, C. M. (2003). A multivariate methodology to uncover regional disparities: A contribution to improve European Union and governmental decisions. European Journal of Operational Research, 145(1), 121–135.

Osberg, L., & Sharpe, A. (2005). How should we measure the "economic" aspects of well-being? Review of Income and Wealth, 51, 311–336.

Pérez, J. C. (2008). Factores relevantes en la medición de la pobreza y el desarrollo humano: índices PNUD. Revista de Economía Mundial, 19, 183–197.

Peters, W. S., & Butler, J. Q. (1970). The construction of regional economic indicators by principal components. The Annals of Regional Science, 4(1), 1–14.

Raworth, K., & Stewart, D. (2003). Critiques of the Human Development Index: A review. en Fukuda-Parr. S. y Shiva Kumar, A. K. (2003) Readings in human development. New Delhi: Oxford University Press.

Rodríguez Martín, J. A. (2012). An index of child health in the least developed countries (LDCs) of Africa. Social Indicators Research, 105(3), 309–322.

Rodríguez Martín, J. A., Holgado Molina, M. M., & Salinas Fernández, J. A. (2012). An index of social and economic development in the Community's Objective-1 Regions of Countries in Southern Europe. European Planning Studies, 20(6), 1059–1074.

Sachs, J. D., Mellinger, A. D., & Gallup, J. L. (2001). The geography of poverty and wealth. Scientific American, 284(3), 70–75.

Sagar, A. D., & Najam, A. (1998). The human development index: A critical review. Ecological Economics, 25, 249–264.

Sanchez-Fernandez, P., & Prada, A. (2015). Del concepto de crecimiento económico al de desarrollo de las naciones: Una aplicación a la Unión Europea. Revista de Economía Mundial, 40, 221–252.

Sen, A. (1981). Public action and the quality of life in developing countries. Oxford Bulletin of Economics and Statistics, 43(4), 287–319.

Sen, A. (1985). Commodities and capabilities. Amsterdam: North-Holland.

Skidelsky, R. J. A., & Skidelsky, E. (2012). How much is enough? The love of money and the case for the good life. UK: Penguin.

Stiglitz, J. (2012). The price of inequality. UK: Penguin.

Stiglitz, J., Sen, A., & Fitoussi, J. P. (2010). Mismeasuring our lives. Why GDP doesn't add up. New York: The New Press.

Sustainable Development Commission. (2003). Redefining prosperity: Resource productivity, economic growth and sustainable development. Londres: SDC Report.

Sustainable Development Commission. (2006). Redefining progress, report of the SD Panel consultation on Progress. Londres: SDC Report.

UNDP. (1990). Human development report. New York: Oxford University Press.

UNDP. (2010). Human development report 2010 – 20th anniversary edition. The real wealth of nations: Pathways to human development. United Nations Development Programme, Palgrave Macmillan.

UNDP. (2013). Human development report. http://hdr.undp.org/en/reports/. Last Retrieved June 6, 2015.

UNRISD. (1972). Contents and measurement of socio-economic development: A staff study. New York: Praeger.

Viegas, M., & Antunes, M. (2013). Convergence in the Spanish and Portuguese NUTS 3 regions: An exploratory spatial approach. Intereconomics: Review of European Economic Policy, 48(1), 59–66.

Villaverde, J., & Maza, A. (2013). To what extent do regional disparities depend on the measure and indicator employed? A reference to the EU. Revista de Economía Mundial, 34, 145–171.

Wilkinson, R., & Pickett, K. (2009). The spirit level: Why more equal societies almost always do better. Leadership and Policy in Schools, 11(1), 129–134.
About this article
Cite this article
Prada-Blanco, A., Sanchez-Fernandez, P. Empirical Analysis of the Transformation of Economic Growth into Social Development at an International Level. Soc Indic Res 130, 983–1003 (2017). https://doi.org/10.1007/s11205-015-1206-0
Accepted:

Published:

Issue Date:
Keywords
Wealth

Social development

Synthetic indicators

UNDP
JEL Classification