Abstract
Health services are among the most comparison-resistant services in international comparisons such as the Eurostat–OECD Purchasing Power Parities (PPP) program and the ICP. Traditionally, PPPs for health services are estimated on the basis of input methods, e.g. by comparing salaries of doctors and nurses. This mainly reflects the difficulties inherent in measuring the output of services produced by nonmarket producers. Since 2007, OECD and Eurostat have undertaken work, with their Member States, to develop explicit output-based measures of prices and volumes of hospital services directed at comparisons across countries. The approach is based on collecting quasi-prices for a basket of comparable and representative medical and surgical hospital services. Eurostat and OECD used the new approach for the first time in their PPP calculations that entered the 2011 ICP benchmark round. The paper describes the output-based approach, the way it was developed and tested to assess its feasibility, and the results based on the latest data collection.
This is a preview of subscription content, log in to check access.
Access options
Buy single article
Instant access to the full article PDF.
US$ 39.95
Price includes VAT for USA
Subscribe to journal
Immediate online access to all issues from 2019. Subscription will auto renew annually.
US$ 199
This is the net price. Taxes to be calculated in checkout.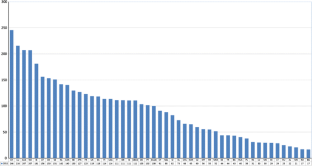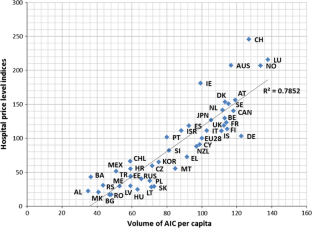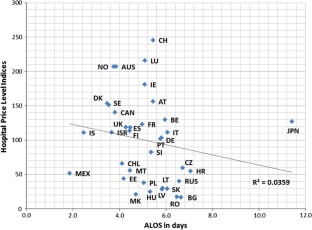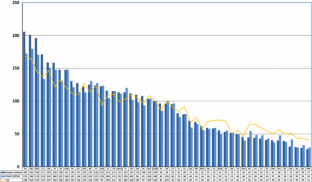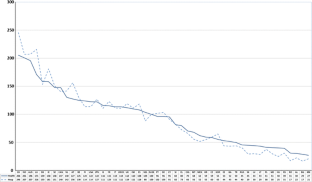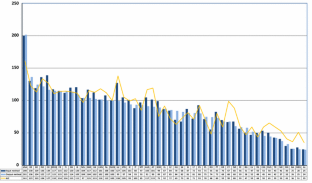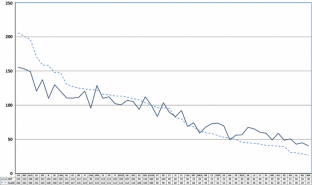 Notes
1.

It was also investigated whether an output volume approach were feasible, i.e. an approach based on measuring directly the quantity and quality of output on the basis of numbers of treatments. However, it turned out that the DRG systems in place in different countries are not sufficiently comparable for this approach to work.

2.

Secondary, or administrative, datasets contain coded data that describe services provided by healthcare providers. They are usually available through health administrations and national insurance funds for the purposes of reimbursement and health financing.

3.

External validity refers to how accurately the data and the conclusions drawn from the data represent what goes on in the population.

4.

In reality, treatments are often delivered by a combination of providers, e.g., a general practitioner, a medical specialist, a hospital, etc.

5.

Arthroscopic excision of meniscus of knee, cataract surgery, ligation and stripping of varicose veins—lower limb and tonsillectomy and/or adenoidectomy.

6.

The number of days an inpatient spends in hospital. It is calculated in different ways for different purposes. The most common involves subtracting the discharge date from the admission date.

7.

Data were collected for 3 years 2010, 2011, 2012 but it was decided to present only results for the year 2011 in this document as data were missing for some countries for 2010 and were still preliminary for some countries for 2012.

8.

Switzerland collected hospital data for 2011 on a voluntary basis. Only since 2012 it is mandatory for hospitals to provide data according to the Swiss DRG tariff system. This new calculation system is still under development.

9.

10.

The Agency for Healthcare Research and Quality (AHRQ) filled in the output-based hospitals PPPs survey for 2011 for the United States. However, after reviewing preliminary results, an input-based approach was used as several specificities of the method used for the calculation limit the international comparability of the US estimates. In particular, it was not possible to exclude outliers in terms of the length of stay from the population under study and to include data on outpatient surgical case types which represent a large part of hospital activity and expenditure. OECD will work with AHRQ for further data collection and methodological development which should enable future inclusion of output-based figures for hospitals PPPs in across countries comparisons.

11.

It should be noted that those weights are based on the sample of case types, not the population that this sample is supposed to represent.

12.

Complexity of cases refers to a set of interrelated but distinct patient attributes – including severity of illness, prognosis, treatment difficulty, need for intervention and resource intensity – that are not captured by the case types definitions.

13.

The completeness of hospital coding, represented by the mean number of secondary diagnoses, can differ across countries in terms of who is responsible for code assignment, strength, and scope of incentives for coding and implementation of coding guidelines.

14.

Calculated over all countries with available data.

15.

16.

To do that, we first identified homogeneous groups of health systems for countries reporting SHA questionnaire, then assign those countries not reporting SHA to one of those groups and lastly impute the missing values. The identification of homogeneous groups was derived from the analysis proposed by Joumard et al. 2011, where OECD countries were clustered into five groups, primarily on the basis of their institutional characteristics. Within each group, an average value of each expenditure component has been computed on the basis of the available information. Those average values have then been imputed to the countries without SHA data within each group.
References
ABS. (2011). 6401.0 Consumer Price Index, Australia. Canberra.

Atkinson, T. (2005). Atkinson review: Final report. Measurement of government output and productivity for the national accounts. Great Britain: Palgrave MacMillan.

Castelli, A., Dawson, D., Gravelle, H., & Street, A. (2007). Improving the measurement of health system output growth. Health Economics, 16(10), 1091–1107.

Deveci, N. (2011). General government output and productivity, 2002–2009. Statistics Denmark.

Diewert, W. E. (2011). Measuring productivity in the public sector: Some conceptual problems. Journal of Productivity Analysis, 36, 177–191.

Diewert, W. E. (2012). The measurement of productivity in the nonmarket sector. Journal of Productivity Analysis, 37, 217–229.

Eurostat. (2001). Handbook on price and volume measures in national accounts. Luxembourg.

Eurostat & OECD (2012). Eurostat-OECD methodological manual on purchasing power parities (2012th ed.). Luxembourg: European Union.

Evans, R. G. (2013). Waste, Economists and American Healthcare. Healthcare Policy, 9(2), 12–20.

Gerdtham, U., & Jönnson, B. (1991). Conversion factor instability in international comparisons of health care expenditure. Journal of Health Economics, 10, 227–234.

Gutacker, N., Bojke, C., Daidone, S., Devlin, N., Parkin, D., & Street, A. (2011). Truly inefficient or providing better quality of care? Analysing the relationship between risk-adjusted hospital costs and patients' health outcomes. Centre for Health Economics. University of York.

Health and Social Care Information Centre. Patient reported outcome measures, http://www.hscic.gov.uk/proms

Joumard, I., Hoeller, P., André, C., & Nicq, C. (2010). Health care systems: Efficiency and policy settings. Paris: OECD Publishing.

Kavanos, P., & Mossialos, E. (1999). International comparisons of health care expenditures: What we know and what we do not know. Journal of Health Services Research and Policy, 4(2), 122–125.

Koechlin, F., Lorenzoni, L., & Schreyer, P. (2010). Comparing price levels of hospital services across countries: Results of a pilot study. OECD Health Working Paper 53. www.oecd.org/els/health/workingpapers

Lorenzoni, L., & Pearson, M. (2011). Description of alternative approaches to measure and place a value on hospital products in seven PECD countries. Paris: OECD Publishing.

Melberg, H. (2011). Some problems with international comparisons of health spending—and a suggestion how to quantify the size of the problem. Working paper 2011:4, University of Oslo & HERO, Department of Health Management and Health Economics.

Newman, D., & Davis, C. (2010). The independent payment advisory board. Washington DC: CRS Report for Congress, Congressional Research Service.

OECD. (2013). Health at a Glance 2013: OECD indicators. Paris: OECD Publishing.

OECD, Eurostat, WHO. (2011). A system of health accounts. Paris: OECD Publishing.

Schreyer, P. (2010). Towards measurement the volume output of education and health services. A handbook. OECD Statistics Working papers, 2010/02, Paris.

Schreyer, P. (2012). Output, outcome and quality adjustment in measuring health and education services. Review of Income and Wealth, 58(2), 257–278.

Wordsworth, S., & Ludbrook, A. (2005). Comparing costing results in across-country economic evaluations: The use of technology specific purchasing power parities. Health Economics, 14, 93–99.
Additional information
The views and opinions expressed in this article are those of the authors and do not necessarily reflect the official policy or position of the OECD and Eurostat or of their member countries.
Appendices
Appendix 1: Case Types List
Medical case types
M01:

Acute Myocardial Infarction

M02:

Angina pectoris

M03:

Cholelitiasis

M04:

Heart failure

M05:

Malignant neoplasm of bronchus and lung

M06:

Normal delivery

M07:

Pneumonia
Surgical case types
S01:

Appendectomy

S02:

Caesarean section

S03:

Cholecystectomy

S04:

Colorectal resection

S05:

Coronary artery bypass graft

S06:

Discectomy

S07:

Endarterectomy: vessels of head and neck

S08:

Hip replacement: total and partial

S09:

Hysterectomy: abdominal and vaginal

S10:

Knee replacement

S11:

Mastectomy

S12:

Open prostatectomy

S13:

Percutaneous transluminal coronary angioplasty (PTCA)

S14:

Peripheral vascular bypass

S15:

Repair of inguinal hernia

S16:

Thyroidectomy

S17:

Transurethral resection of prostate

S18:

Arthroscopic excision of meniscus of knee (Inpatient and Outpatient)

S19:

Lens and cataract procedures (Inpatient and Outpatient)

S20:

Ligation and stripping of varicose veins – lower limb (Inpatient and Outpatient)

S21:

Tonsillectomy and/or adenoidectomy (Inpatient and Outpatient)
Appendix 2: List of Countries and Method Used
| Code | Description | Co-ordinating organisation | Input- or output-based method used for hospital services? |
| --- | --- | --- | --- |
| AL | Albania | Eurostat | Input |
| AUS | Australia | OECD | Output |
| AT | Austria | Eurostat | Output |
| BE | Belgium | Eurostat | Output |
| BA | Bosnia | Eurostat | Input |
| BG | Bulgaria | Eurostat | Output |
| CAN | Canada | OECD | Output |
| CHL | Chile | OECD | Output |
| HR | Croatia | Eurostat | Output |
| CY | Cyprus | Eurostat | Input |
| CZ | Czech Republic | Eurostat | Output |
| DK | Denmark | Eurostat | Output |
| EE | Estonia | Eurostat | Output |
| RUS | Federation of Russia | OECD | Output |
| FI | Finland | Eurostat | Output |
| FR | France | Eurostat | Output |
| MK | FYROM | Eurostat | Output |
| DE | Germany | Eurostat | Output |
| EL | Greece | Eurostat | Input |
| HU | Hungary | Eurostat | Output |
| IS | Iceland | Eurostat | Output |
| IE | Ireland | Eurostat | Output |
| ISR | Israel | OECD | Output |
| IT | Italy | Eurostat | Output |
| JPN | Japan | OECD | Output |
| KOR | Korea | OECD | Input |
| LV | Latvia | Eurostat | Output |
| LT | Lithuania | Eurostat | Output |
| LU | Luxembourg | Eurostat | Output |
| MT | Malta | Eurostat | Output |
| MEX | Mexico | OECD | Output |
| ME | Montenegro | Eurostat | Input |
| NL | Netherlands | Eurostat | Output |
| NZL | New Zealand | OECD | Input |
| NO | Norway | Eurostat | Output |
| PL | Poland | Eurostat | Output |
| PT | Portugal | Eurostat | Output |
| RS | Republic of Serbia | Eurostat | Input |
| RO | Romania | Eurostat | Output |
| SK | Slovak Republic | Eurostat | Output |
| SI | Slovenia | Eurostat | Output |
| ES | Spain | Eurostat | Output |
| SE | Sweden | Eurostat | Output |
| CH | Switzerland | Eurostat | Output |
| TR | Turkey | Eurostat | Input |
| UK | United Kingdom | Eurostat | Output |
| USA | United States | OECD | Input |
About this article
Cite this article
Koechlin, F., Konijn, P., Lorenzoni, L. et al. Comparing Hospitals and Health Prices and Volumes Across Countries: A New Approach. Soc Indic Res 131, 43–64 (2017). https://doi.org/10.1007/s11205-015-1196-y
Accepted:

Published:

Issue Date:
Keywords
Health prices

Hospital prices

Purchasing power parities