Abstract
This study explores the overall expectations of Europeans on railway competition effects for long-distance passenger transport. This construct is measured by a set of items, namely how railway companies are managed, frequency of trains, ticket prices, quality of services offered to passengers on the train, punctuality, number of stations or routes served, safety of the railway network, and comfort and cleanliness of trains. A multilevel factor framework controls within- and between-variability across European Union countries and takes cross-country invariance into account. Results show that the overall expectations of Europeans on railway competition effects are significant in explaining variations in all the observed items for the railway competition effects at both levels. The multilevel structure (between-country variability) accounts for 12.1 % of the total variability.
Access options
Buy single article
Instant access to the full article PDF.
US$ 39.95
Tax calculation will be finalised during checkout.
Subscribe to journal
Immediate online access to all issues from 2019. Subscription will auto renew annually.
US$ 119
Tax calculation will be finalised during checkout.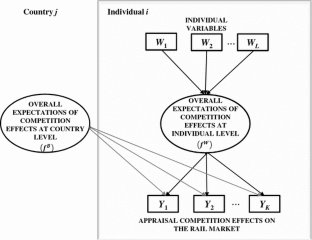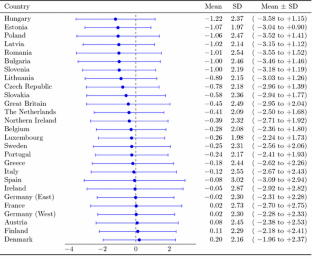 Notes
1.

As many attitudes and behaviors show an ideal-point relation with age, we tried a quadratic relation between age and the individual latent variable. However, the estimate of the quadratic coefficient was positive and smaller than 0.001, which proved not to be significant. Consequently, we defined a piecewise relation given by dummy-coding groups that shows there is a significant relation for the 35 years or older age group.

2.

Main reasons for using national or regional trains was not added to the model as covariate. Respondents who answer "never" to Frequency of travel on national or regional trains were not asked about the reasons (missing by design due to the filter). Therefore, the inclusion of this covariate would shrink the sample size to 13230 observations. Additionally, as we can observe in Table 2, this would completely bias the results at country level.
References
Chou, J., & Kim, C. (2009). A structural equation analysis of the QSL relationship with passenger riding experience on high speed rail: An empirical study of Taiwan and Korea. Expert Systems with Applications, 36(3), 6945–6955.

Costa, L. P., & Dias, J. G. (2015). What do Europeans believe to be the causes of poverty? A multilevel analysis of heterogeneity within and between countries. Social Indicators Research, 122(1), 1–20.

Davidov, E., Meuleman, B., Cieciuch, J., Schmidt, P., & Billiet, J. (2014). Measurement equivalence in cross-national research. Annual Review of Sociology, 40, 55–75.

de Oña, J., de Oña, R., Eboli, L., & Mazzulla, G. (2013). Perceived service quality in bus transit service: A structural equation approach. Transport Policy, 29, 219–226.

de Oña, J., de Oña, R., Eboli, L., & Mazzulla, G. (2015). Heterogeneity in perceptions of service quality among groups of railway passengers. International Journal of Sustainable Transportation, 9(8), 612–626.

de Oña, R., Eboli, L., & Mazzulla, G. (2014). Key factors affecting rail service quality in the Northern Italy: A decision tree approach. Transport, 29(1), 75–83.

Eboli, L., & Mazzulla, G. (2007). Service quality attributes affecting customer satisfaction for bus transit. Journal of Public Transportation, 10(3), 21–34.

Eboli, L., & Mazzulla, G. (2012). Structural equation modelling for analysing passengers' perceptions about railway services. Procedia-Social and Behavioral Sciences, 54, 96–106.

Eboli, L., & Mazzulla, G. (2015). Relationships between rail passengers satisfaction and service quality: A framework for identifying key service factors. Public Transport, 7(2), 185–201.

European Commission. (2012). Special Eurobarometer 388: Rail competition. Brussels: European Commission.

European Commission. (2013a). Fourth railway package. Brussels: European Commission. http://ec.europa.eu/transport/modes/rail/packages/2013_en.htm. Accessed 29 Oct 2014.

European Commission (2013b). Report from the Commission to the European Parliament, the Council, the European Economic and Social Committee and the Committee of the Regions on the opening of the market of international rail passenger transport. Brussels: European Commission. http://www.euissuetracker.com/SiteCollectionDocuments/30%20JAN%2013%20CEC%20Report%20on%20the%20implementation%20of%20Directive%202007-58-EC%20(COM(2013)%2034).pdf. Accessed 5 Nov 2015.

Fiorio, C. V., Florio, M., & Perucca, G. (2013). User satisfaction and the organization of local public transport: Evidence from European cities. Transport Policy, 29, 209–218.

Hox, J. (2002). Multilevel analysis: Techniques and applications. Mahwah: Lawrence Erlbaum Associates.

Hu, L., & Bentler, P. M. (1999). Cutoff criteria for fit indexes in covariance structure analysis: Conventional criteria versus new alternatives. Structural Equation Modeling, 6, 1–55.

Moksnes, U. K., Lohre, A., Byrne, D. G., & Haugan, G. (2014). Satisfaction with life scale in adolescents: Evaluation of factor structure and gender invariance in a Norwegian sample. Social Indicators Research, 118(2), 657–671.

Mullen, M. R. (1995). Diagnosing measurement equivalence in cross-national research. Journal of International Business Studies, 26(3), 573–596.

OECD (2013). Policy roundtables: Recent developments in rail transportation services. DAF/COMP(2013)24. Organisation for Economic Co-operation and Development, Paris. Accessed on 23 July 2015 http://www.oecd.org/daf/competition/

Priest, S. H., Bonfadelli, H., & Rusanen, M. (2003). The "trust gap" hypothesis: Predicting support for biotechnology across national cultures as a function of trust in actors. Risk Analysis, 23(4), 751–766.

Redman, L., Friman, M., Gärling, T., & Hartig, T. (2013). Quality attributes of public transport that can attract car users: A research view. Transport Policy, 25, 119–127.

Reeskens, T., & Hooghe, M. (2008). Cross-cultural measurement equivalence of generalized trust. Evidence from the European Social Survey (2002 and 2004). Social Indicators Research, 85(3), 515–532.

Schlueter, E., Meuleman, B., & Davidov, E. (2013). Immigrant integration policies and perceived group threat: A multilevel study of 27 Western and Eastern European countries. Social Science Research, 42(3), 670–682.

Seabright, P. (2003). The economics of passenger rail transport: A survey. IDEI Report #1 on Passenger Rail Transport. Institut d'Economie Industrielle, Toulouse School of Economics, Toulouse.

Steenkamp, J.-B., & Baumgartner, H. (1998). Assessing measurement invariance in cross-national consumer research. Journal of Consumer Research, 25(1), 78–90.

Tomyn, A. J., Tyszkiewicz, M. D. F., & Cummins, R. A. (2013). The Personal Wellbeing Index: Psychometric equivalence for adults and school children. Social Indicators Research, 110(3), 913–924.
Acknowledgments
The authors would like to thank the editor and two anonymous reviewers for their constructive comments, which helped us to improve the manuscript.
About this article
Cite this article
Dias, J.G., Trindade, G. The Europeans' Expectations of Competition Effects in Passenger Rail Transport: A Cross-National Multilevel Analysis. Soc Indic Res 129, 1383–1399 (2016). https://doi.org/10.1007/s11205-015-1168-2
Accepted:

Published:

Issue Date:
Keywords
Expectations of railway competition effects

Cross-cultural research

Multilevel factor model

Service quality

European Union