Abstract
The core challenge facing South Africa after it became a democracy in 1994 was twofold: to meet the basic needs of (black) people denied these by apartheid, and simultaneously restoring dignity and undoing the psycho-social damage of racist white rule. This article analyses the first two in a planned long-term sequence of quality of life surveys in the Gauteng City-Region, the economic power-house of South Africa, with Johannesburg at its centre. The survey gathers data across multiple objective and subjective indicators. The key challenge is to try and understand the interplay between the two—and thus what impact, if any, meeting basic needs has on the psycho-social profile of residents of the city-region. The conclusion is that the impact is limited: objective indicators, which largely measure delivery of goods and services by government, drives the quality of life index up; but social, community and individuated indicators (such as anomie and alienation) pull scores down, and most particularly so for older, low educated black South Africans. The future may look positive for those born after apartheid; but for those who sacrificed their education in the struggle to topple the regime, the future looks like 'more of the same'. Education emerges as the key asset that allows black South Africans to overcome the damage of apartheid; lack of (or low levels of) education do the reverse; this is true of both socio-economic advancement and social attitudes.
This is a preview of subscription content, log in to check access.
Access options
Buy single article
Instant access to the full article PDF.
US$ 39.95
Price includes VAT for USA
Subscribe to journal
Immediate online access to all issues from 2019. Subscription will auto renew annually.
US$ 199
This is the net price. Taxes to be calculated in checkout.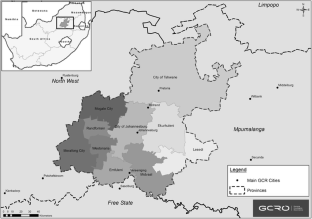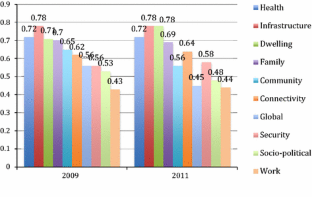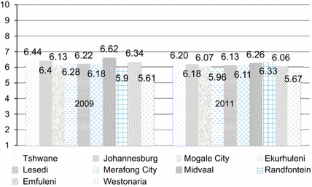 Notes
1.

According to a recent South African Press Association release quoting police figures: "Gauteng police had dealt with 569 protest marches in the last 3 months, of which 122 were violent." (Quintal 2014).
References
African National Congress. (1994). The reconstruction and development programme. Johannesburg: Ravan Press.

Babbie, E. (1995). The practice of social research (seventh edition). Belmont: Wadsworth Publishing Company.

Boddy, M., & Parkinson, M. (2004). City matters: Competitiveness, cohesion and urban governance. Bristol: The Policy Press.

Constitutional Assembly. (1996). Constitution of the Republic of South Africa, 1996 (Act 108 of 1996). Pretoria: Government Printer.

Everatt, D., & Orkin, M. (1993). Growing up tough: A national survey of South African youth. Submitted to the second national conference on `Marginalised Youth' convened by the Joint Enrichment Project, Broederstroom, March 1993.

Greyling, T. (2011). Measuring and understanding the well-being of the Gauteng City-Region's population. In Working paper, Gauteng City-Region Observatory.

Hack, G., Barkin, D., & LeRoyer, A. Global city regions: Searching for common ground. Landlines, 8(1) (Lincoln Institute of Land Policy).

Higgs, N. (2003). Beyond wealth and poverty: A new model—measuring well-being and everyday quality of life: How people live. Paper presented to the Market Research Society Annual Conference, 2003.

Jennings, R., & Everatt, D. (2001). Evaluation of the 1998/99 community based public works programme: Consolidated report. Pretoria: SA Government.

Mercer at http://www.mercer.com/referencecontent.htm?idContent=1173105. Accessed 27 August 2009.

Møller, V. (1998). Quality of life in South Africa: Post-apartheid trends. Social Indicators Research, 43, 27.

Møller, V. (2007). Quality of life in South Africa: The first 10 years of democracy. Social Indicators Research, 81(2), 181–201.

Nussbaum, M., & Sen, A. (1993). The quality of life. Oxford: Oxford University Press.

Organisation for Economic Co-operation and Development (OECD). (2011). Territorial review of the Gauteng City Region. Paris.

Quintal, G. (2014). South African Press Association press release on protest statistics: Johannesburg, 5 February 2014.

South Africa: The Good News Website at http://www.sagoodnews.co.za/benchmarking_progress/quality_of_life_improves_but_inequality_widens.html. Accessed 20 Aug 2008.

Statistics South Africa. (2011). Census 2011: Preliminary findings. StatsSA: Pretoria.
Additional information
Executive Director, Gauteng City Region Observatory, a partnership between the University of Johannesburg, the University of the Witwatersrand, Johannesburg, the Gauteng Provincial Government and organised local government.
About this article
Cite this article
Everatt, D. Quality of Life in the Gauteng City-Region, South Africa. Soc Indic Res 130, 71–86 (2017). https://doi.org/10.1007/s11205-015-1127-y
Accepted:

Published:

Issue Date:
Keywords
South Africa

Gauteng City-Region

Quality of life

Race

Apartheid

Marginalisation