Abstract
Employment is a well-known social determinant of health and wellbeing and important for the liveability of a region. Yet, spatial data are rarely used to understand barriers and facilitators of accessing employment within a city. Therefore it remains challenging to plan cities that provide equitable opportunities for urban job seekers. This paper sought to: (1) identify urban planning and neighbourhood spatial attributes that facilitate access to employment; (2) conceptualise how neighbourhood attributes that facilitate accessible urban employment may be related to health and wellbeing behaviours and outcomes; and (3) isolate potentially important neighbourhood-level spatial measures that policy-makers and planners could use to assess urban employment accessibility. A conceptual framework was developed through a social determinants of health lens, where more upstream (e.g., neighbourhood attributes) and more downstream (e.g., behaviours, intermediate outcomes) determinants of urban employment were identified in relation to long-term health and social outcomes of interest. Six potential neighbourhood spatial measures of employment were identified. These were classified into measures of: access to employment (n = 4), local employment (n = 1), and neighbourhood employment level (n = 1). The spatial measures proposed rely on routinely collected administrative datasets existing within Australia (i.e., census data); therefore can be replicated over time and data are available nationally. Together, this research identified a suite of potential (and readily available) spatial measures that can be used to assess selected neighbourhood attributes as they relate to urban employment access. Such spatial measures can be used to inform future planning decisions that integrate policies across multiple sectors, thereby improving employment accessibility in an urban context.
Access options
Buy single article
Instant access to the full article PDF.
US$ 39.95
Tax calculation will be finalised during checkout.
Subscribe to journal
Immediate online access to all issues from 2019. Subscription will auto renew annually.
US$ 119
Tax calculation will be finalised during checkout.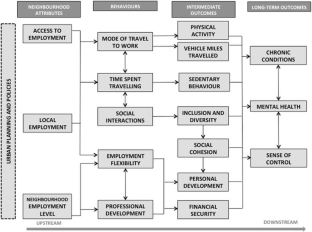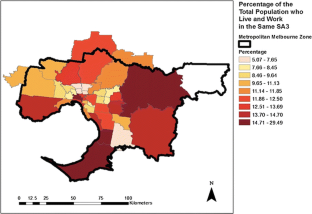 References
Australian Bureau of Statistics. (2011a). Australian rural profile. Canberra: Australian Bureau of Statistics.

Australian Bureau of Statistics. (2011b). Statistical geography fact sheet. Canberra: Australian Bureau of Statistics.

Australian Bureau of Statistics. (2012). New data from the 2011 census released today: Occupation.

Badland, H., Hickey, S., Bull, F., & Giles-Corti, B. (2014a). Public transport access and availability in the RESIDE study: Is it taking us where we want to go? Journal of Transport and Health, 1, 45–49.

Badland, H., Schofield, G., & Schluter, P. (2007). Objectively measured commute distance: Associations with actual travel modes and perceptions to place of work or study in Auckland, New Zealand. Journal of Physical Activity & Health, 4(1), 80–86.

Badland, H., Whitzman, C., Lowe, M., Davern, M., Aye, L., Butterworth, I., et al. (2014b). Urban liveability: Emerging lessons from Australia for exploring the potential for indicators to measure the social determinants of health. Social Science and Medicine, 111, 64–73.

Baum, F., Ziersch, A., Zhang, G., & Osborne, K. (2009). Do perceived neighbourhood cohesion and safety cohesion contribute to neighbourhood differences in health? Health & Place, 15(4), 925–934.

Brownson, R., Boehmer, T., & Luke, D. (2005). Declining rates of physical activity in the United States: What are the contributors? Annual Review of Public Health, 26, 421–443.

Cervero, R., & Duncan, M. (2006). Which reduces vehicle travel more: Jobs-housing balance or retail-housing mixing? Journal of the American Planning Association, 72(4), 475–490.

Chaloff, J. (2008). Management of low-skilled labour migration. International migration outlook. Paris: OECD.

Chandola, T., Ferrie, J., Sacker, A., & Marmot, M. (2007). Social inequities in self-reported health in early old age: Follow-up of prospective cohort study. BMJ, 334(7601), 990–994.

Currie, G., & Delbosc, A. (2011). Mobility vs. affordability as motivations for car ownership choice in urban fringe, low income Australia. In K. Lucas, E. Blumenberg, & R. Weinberger (Eds.), Auto motives: Understansing car use behaviours (pp. 193–208). Bingley: Emerald Publishing Group.

Department for Transport. (2013). National travel survey statistics. London: Department for Transport.

Department of State Development, B. a. I. (2013). Industry atlas of Victoria 2013. Melbourne: Department of State Development, Business and Innovation.

Dobbs, L. (2005). Wedded to the car: Women, employment, and the importance of private transport. Transport Policy, 12(3), 266–278.

Florida, R. (2011). The rise of the creative class: Revisited. New York: Basic Books.

Frank, L., Andresen, M., & Schmid, T. (2004). Obesity relationships with community design, physical activity, and time spent in cars. American Journal of Preventive Medicine, 27(2), 87–96.

Galster, G. (2010). The mechanism(s) of neighborhood effects. Theory, evidence, and policy implications. Paper presented at the ESRC seminar: Neighbourhood effects: Theory & evidence. Scotland: St Andrews University. February 4–5.

Jackson, L. (2003). The relationship of urban design to human health and condition. Landscape and Urban Planning, 64, 191–200.

Kjellstrom, T., & Hinde, S. (2006). Car culture, transport policy, and public health. In I. Kawachi & S. Wamala (Eds.), Globalization and health (pp. 98–121). New York: Oxford University Press.

Korsu, E., & Wenglenski, S. (2010). Job accessibility, residential segregation and risk on long-term unemployment in the Paris region. Urban Studies, 47, 2279–2324.

Kwan, M.-P. (2012). The uncertain geographic context problem. Annals of the Association of American Geographers, 102(5), 958–968.

Learnihan, V., Van Neil, K., Giles-Corti, B., & Knuiman, M. (2011). Effect of scale on the links between walking and urban design. Geographical Research, 49(2), 183–191.

Lowe, M., Whitzman, C., Badland, H., Davern, M., Hes, D., Aye, L., et al. (2013). Liveable, health, sustainable: What are the key indicators for Melbourne neighbourhoods? In Place, health, and liveability research program (Vol. Research paper 1). University of Melbourne.

Lyseen, A., Nøhr, C., Sørensen, E., Gudes, O., Geraghty, E., Shaw, N., et al. (2014). A review and framework for categorizing current research and development in health related geographical information systems (GIS) studies. Yearbook of Medical Informatics, 9, 110–124.

Mackinnon, D., Krull, J., & Lockwood, C. (2000). Equivalence of the mediation, confounding and suppression effect. Preventive Science, 1, 173–181.

Milner, A., Kavanagh, A., Krnjacki, L., Bentley, R., & LaMontagne, A. (2013). Area-level unemployment and job insecurity: Evidence from a longitudinal study conducted in the Australian working age population. Annuals of Occupational Hygiene,. doi:10.1093/annhyg/met066.

Milner, A., Page, S., & LaMontagne, A. (2014). Cause and effect in studies of unemployment, mental health, and suicide: A meta-analytic and conceptual review. Psychological Medicine, 44, 909–917.

Milner, A., Smith, P., & LaMontagne, A. (under review). Working hours and mental health: Evidence from an Australian population-based cohort, 2001 to 2012. Occupational and Environmental Medicine.

New South Wales Planning and Infrastructure. (2014). Community guide: Draft metropolitan strategy for Sydney to 2031. Sydney: New South Wales Planning and Infrastructure.

Roberts, K. (2012). Country note: Australia. Education at a glance: OECD indicators 2012. Paris: OECD.

Roelfs, D., Shor, E., Davidson, K., & Schwartz, J. (2011). Losing life and livelihood: A systematic review and meta-analysis of unemployment and all-cause mortality. Social Science and Medicine, 72, 840–854.

Sanchez, T. (1999). The connection between public transit and employment. Journal of the American Planning Association, 65(3), 284–297.

State Government Victoria. (2014). Plan Melbourne. Metropolitan planning strategy 2014. Melbourne: State Government Victoria.

Stoll, M. (2005). Geographical skills mismatch, job search and race. Urban Studies, 42, 695–717.

Strategic Review of Health Inequalities in England post-2010. (2010). Fair society, healthy lives. London: Department of Health.

Theorell, T. (2000). Working conditions and health. In L. Berkman & I. Kawachi (Eds.), Social epidemiology (pp. 95–117). New York: Oxford University Press.

US Department of Transportation, & Bureau of Transportation Statistics. (2003). NHTS: Highlights of the 2001 national household travel survey. Washington: US Department Transport Bureau and Transportation Statistics.

van Lenthe, F., Borrell, L., Costa, G., Diez Roux, A., Kauppinen, T., Marinacci, C., et al. (2005). Neighbourhood unemployment and all cause mortality: A comparison of six countries. Journal of Epidemiology and Community Health, 59, 231–237.

Van Rooy, D. (2006). Effects of automobile commute characteristics on affect and job candidate evaluations. Environment and Behavior, 38(5), 626–655.

Warr, D., Feldman, P., Tacticos, T., & Kelaher, M. (2009). Sources of stress in impoverished neighbourhoods: Insights into links between neighbourhood environments and health. Australian and New Zealand Journal of Public Health, 33(1), 25–35.

Weir, M., Weintraub, J., Humphreys, E., Seto, E., & Bhatia, R. (2009). An area-level model of vehicle-pedestrian injury collisions with implications for land use and transportation planning. Accident Analysis and Prevention, 41(1), 137–145.

Western Australian Planning Commission, & Department for Planning and Infrastructure. (2009). Liveable neighbourhoods: A Western Australian Government sustainable cities initiative (2nd ed.). Perth: Western Australian Planning Commission.

Wilkinson, R., & Marmot, M. (2003). Social determinants of health: The solid facts. Copenhagen: World Health Organization.

Wilson, J. (2000). Volunteering. Annual Review of Sociology, 26, 215–240.

Wilson, K., Stemp, K., & McGinty, S. (2011). Re-engaging young people with education and training. What are the alternatives. Youth Studies Australia, 30, 32–39.

Zhao, P., Lu, B., & de Roo, G. (2011). The impact of urban growth on commuting patterns in a restructuring city: Evidence from Beijing. Papers in Regional Science, 90, 735–754.
Acknowledgments
This work was supported by the NHMRC Centre for Excellence in Healthy Liveable Communities (No. 1061404) and The Australian Prevention Partnership Centre (TAPPC) (the latter is supported by NHMRC, ACT Health, NSW Health, the Australian National Preventive Health Agency (ANPHA), the Hospitals Contribution Fund of Australia (HCF) and the HCF Research Foundation). BGC is supported by an NHMRC Principal Research Fellow Award (No. 1004900). All authors are in part, supported by VicHealth.
Conflict of interest
None.
About this article
Cite this article
Badland, H., Davern, M., Villanueva, K. et al. Conceptualising and Measuring Spatial Indicators of Employment Through a Liveability Lens. Soc Indic Res 127, 565–576 (2016). https://doi.org/10.1007/s11205-015-0978-6
Accepted:

Published:

Issue Date:
Keywords
Geographical information systems

Liveability

Policy

Social determinants of health

Urban planning