Abstract
Conceptually, the Satisfaction with Life Scale (SWLS; Diener et al. in J Pers Assess 49(1):71–75, 1985) emphasizes evaluations comparing actual and expected life circumstances. Contrastingly we developed the Harmony in Life Scale (HILS) emphasizing psychological balance and flexibility in life. Study 1 (476 participants) developed the HILS. In Study 2 participants (N = 787, T1; N = 545, T2) answered well-being related questionnaires and generated words/texts related to HIL/SWL. The HILS yields satisfactory statistical properties, correlates as expected to well-being related scales, whilst HIL/SWL form a two-factor model. Hierarchical regressions reveal that HILS explains considerably more unique variance than SWLS in most included measures. Quantitative semantic analyses (employing latent semantic analyses) on words related to HIL/SWL reveal that they differ significantly in their semantic content. Word frequency analyses show that harmony significantly relate to peace, balance, etc. and satisfaction with job, money, etc. The HILS demonstrates validity, reliability, and uniqueness complementing the SWLS in forming a more holistic understanding of subjective well-being.
Access options
Buy single article
Instant access to the full article PDF.
USD 39.95
Price excludes VAT (USA)
Tax calculation will be finalised during checkout.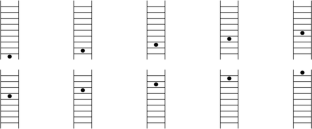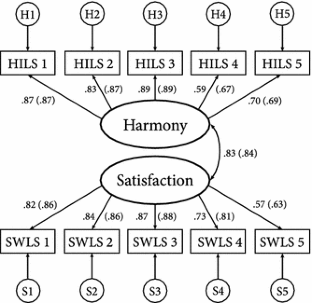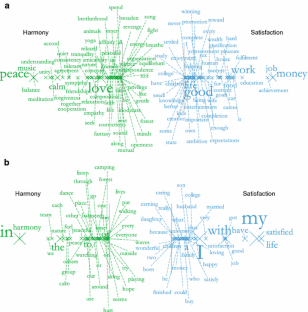 References
Abdallah, S., Michaelson, J., Shah, S., Stoll, L., & Marks, N. (2012). The Happy Planer Index—2012 report: A Global index of sustainable well-being. London: nef (the new economics foundation).

Abele, A. E., & Wojciszke, B. (2007). Agency and communion from the perspective of self versus others. Journal of Personality and Social Psychology, 93(5), 751–763. doi:10.1037/0022-3514.93.5.751.

Aron, A., Aron, E. N., & Smollan, D. (1992). Inclusion of other in the self scale and the structure of interpersonal closeness. Journal of Personality and Social Psychology, 63(4), 596–612.

Arvidsson, D., Sikstrom, S., & Werbart, A. (2011). Changes in self and object representations following psychotherapy measured by a theory-free, computational, semantic space method. Psychotherapy Research, 21(4), 430–446. doi:10.1080/10503307.2011.577824.

Baer, R. A., Smith, G. T., & Allen, K. B. (2004). Assessment of mindfulness by self-report: The Kentucky inventory of mindfulness skills. Assessment, 11(3), 191–206. doi:10.1177/1073191104268029.

Bell, D. A., & Mo, Y. (2014). Harmony in the world 2013: The ideal and the reality. Social Indicators Research,. doi:10.1007/s11205-013-0439-z.

Bergomi, C., Tschacher, W., & Kupper, Z. (2013). The assessment of mindfulness with self-report measures: Existing scales and open issues. Mindfulness, 4(3), 191–202. doi:10.1007/s12671-012-0110-9.

Buhrmester, M., Kwang, T., & Gosling, S. D. (2011). Amazon's Mechanical Turk: A new source of inexpensive, yet high-quality, data? Perspectives on Psychological Science (Sage Publications Inc.), 6(1), 3–5. doi:10.1177/1745691610393980.

Cantril, H. (1965). The pattern of human concerns. New Brunswick, NJ: Rutgers University Press.

Christopher, J. C. (1999). Situating psychological well-being: Exploring the cultural roots of its theory and research. Journal of Counseling and Development, 77(2), 141–152.

Cloninger, C. R., Svrakic, D. M., & Przybeck, T. R. (1993). A psychobiological model of temperament and character. Archives of General Psychiatry, 50(12), 975–990.

Crowne, D. P., & Marlowe, D. (1960). A new scale of social desirability independent of psychopathology. Journal of Consulting Psychology, 24(4), 349–354. doi:10.1037/h0047358.

Dambrun, M., & Ricard, M. (2011). Self-centeredness and selflessness: A theory of self-based psychological functioning and its consequences for happiness. Review of General Psychology, 15(2), 138–157. doi:10.1037/a0023059.

Davis, L. L. (1992). Instrument review: Getting the most from a panel of experts. Applied Nursing Research, 5(4), 194–197. doi:10.1016/S0897-1897(05)80008-4.

Delle Fave, A., Brdar, I., Freire, T., Vella-Brodrick, D., & Wissing, M. P. (2011). The Eudaimonic and Hedonic components of happiness: Qualitative and quantitative findings. Social Indicators Research, 100(2), 185–207. doi:10.1007/s11205-010-9632-5.

Diener, E. (1984). Subjective well-being. Psychological Bulletin, 95(3), 542–575. doi:10.1037//0033-2909.95.3.542.

Diener, E., Emmons, R. A., Larsen, R. J., & Griffin, S. (1985). The satisfaction with life scale. Journal of Personality Assessment, 49(1), 71–75.

Diener, E., Inglehart, R., & Tay, L. (2013). Theory and validity of life satisfaction scales. Social Indicators Research, 112(3), 497–527.

Diener, E., Scollon, C. N., & Lucas, R. E. (2009). The evolving concept of subjective well-being: The multifaceted nature of happiness. In E. Diener (Ed.), Assessing well-being: The collected works of ed Diener (pp. 67–100). Social Indicators Research Series, Vol. 39. Dordrecht and New York: Springer.

Garcia, D., Al Nima, A., & Kjell, O. N. E. (2014). The affective profiles, psychological well-being, and harmony: environmental mastery and self-acceptance predict the sense of a harmonious life. Peerj, 2, e259–e259. doi:10.7717/peerj.259.

Garcia, D., & Sikström, S. (2013). Quantifying the semantic representations of adolescents' memories of positive and negative life events. Journal of Happiness Studies, 14(4), 1309–1323. doi:10.1007/s10902-012-9385-8.

Gudykunst, W. B., & Lee, C. M. (2003). Assessing the validity of self construal scales: A response to Levine et al. Human Communication Research, 29(2), 253–274. doi:10.1111/j.1468-2958.2003.tb00838.x.

Hoaglin, D. C., & Iglewicz, B. (1987). Fine-tuning some resistant rules for outlier labeling. Journal of the American Statistical Association, 82(400), 1147.

Kabat-Zinn, J. (2004). Wherever you go, there you are: Mindfulness meditation for everyday life. London: Piatkus Books.

Kals, E., & Maes, J. (2002). Sustainable development and emotions. In P. Schmuck & P. W. Schultz (Eds.), Psychology of sustainable development (pp. 97–122). Boston: Kluwer Academic Publisher.

Kashdan, T. B., & Rottenberg, J. (2010). Psychological flexibility as a fundamental aspect of health. Clinical Psychology Review, 30(4), 467–480.

Kesebir, P., & Diener, E. (2008). In pursuit of happiness empirical answers to philosophical questions. Perspectives on Psychological Science, 3(2), 117–125. doi:10.1111/j.1745-6916.2008.00069.x.

Kjell, O. N. E. (2011). Sustainable well-being: A potential synergy between sustainability and well-being research. Review of General Psychology, 15(3), 255–266. doi:10.1037/a0024603.

Koltko-Rivera, M. E. (2006). Rediscovering the later version of Maslow's hierarchy of needs: Self-transcendence and opportunities for theory, research, and unification. Review of General Psychology, 10(4), 302–317. doi:10.1037/1089-2680.10.4.302.

Landauer, T. K., & Dumais, S. T. (1997). A solution to Plato's problem: The latent semantic analysis theory of acquisition, induction, and representation of knowledge. Psychological Review, 104(2), 211–240. doi:10.1037/0033-295x.104.2.211.

Lee, I. A., & Preacher, K. J. (2013). Calculation for the test of the difference between two dependent correlations with one variable in common. Computer software. http://quantpsy.org

Li, C. (2006). The confucian ideal of harmony. Philosophy East and West, 56(4), 583–603. doi:10.1353/pew.2006.0055.

Li, C. (2008a). The ideal of harmony in ancient chinese and greek philosophy. Dao, 7(1), 81–98.

Li, C. (2008b). The philosophy of harmony in classical confucianism. Philosophy Compass, 3(3), 13.

Lovibond, S. H., & Lovibond, P. F. (1995). Manual for the Depression Anxiety and Stress Scales (2nd ed.). Sydney: Psychology Foundation.

Lyubomirsky, S., & Lepper, H. S. (1999). A measure of subjective happiness: Preliminary reliability and construct validation. Social Indicators Research, 46(2), 137–155.

Markus, H. R., & Kitayama, S. (1991). Culture and the self: Implications for cognition, emotion, and motivation. Psychological Review, 98(2), 224–253. doi:10.1037/0033-295X.98.2.224.

Morling, B., & Evered, S. (2006). Secondary control reviewed and defined. Psychological Bulletin, 132(2), 269–296. doi:10.1037/0033-2909.132.2.269.

Morling, B., & Fiske, S. T. (1999). Defining and measuring harmony control. Journal of Research in Personality, 33(4), 379–414.

Oppenheimer, D. M., Meyvis, T., & Davidenko, N. (2009). Instructional manipulation checks: Detecting satisfying to increase statistical power. Journal of Experimental Social Psychology, 45(4), 867–872. doi:10.1016/j.jesp.2009.03.009.

Oropesa, R. S. (1995). Consumer possessions, consumer passions, and subjective well-being. Sociological Forum, 10(2), 215–244. doi:10.1007/bf02095959.

Reynolds, W. M. (1982). Development of reliable and valid short forms of the Marlowe-Crowne social desirability scale. Journal of Clinical Psychology, 38(1), 119–125. doi:10.1002/1097-4679(198201)38:1<119:aid-jclp2270380118>3.0.co;2-i.

Rothbaum, F., Weisz, J. R., & Snyder, S. S. (1982). Changing the world and changing the self: A two-process model of perceived control. Journal of Personality and Social Psychology, 42(1), 5–37.

Ryff, C. D. (1989). Happiness is everything, or is it: Explorations on the meaning of psychological well-being. Journal of Personality and Social Psychology, 57(6), 1069–1081.

Ryff, C. D., & Keyes, C. L. M. (1995). The structure of psychological well-being revisited. Journal of Personality and Social Psychology, 69(4), 719–727. doi:10.1037/0022-3514.69.4.719.

Schreiber, J. B., Nora, A., Stage, F. K., Barlow, E. A., & King, J. (2006). Reporting structural equation modeling and confirmatory factor analysis results: A review. Journal of Educational Research, 99(6), 323–337.

Shapiro, D. N., Chandler, J., & Mueller, P. A. (2013). Using mechanical turk to study clinical populations. Clinical Psychological Science, 1(2), 213–220. doi:10.1177/2167702612469015.

Sinclair, S. J., Siefert, C. J., Slavin-Mulford, J. M., Stein, M. B., Renna, M., & Blais, M. A. (2012). Psychometric evaluation and normative data for the Depression, Anxiety, and Stress Scales-21 (DASS-21) in a nonclinical sample of U.S. adults. Evaluation and the Health Professions, 35(3), 259–279. doi:10.1177/0163278711424282.

Tatarkiewicz, W. (1976). Analysis of happiness. The Hague, Netherlands: Martinus Nijhoff.

Teasdale, J. D., & Chaskalson, M. (2011a). How does mindfulness transform suffering? I: The nature and origins of dukkha. Contemporary Buddhism, 12(1), 89–102. doi:10.1080/14639947.2011.564824.

Teasdale, J. D., & Chaskalson, M. (2011b). How does mindfulness transform suffering? II: The transformation of dukkha. Contemporary Buddhism, 12(1), 103–124. doi:10.1080/14639947.2011.564826.

Watson, D., Clark, L. A., & Tellegen, A. (1988). Development and validation of brief measures of positive and negative affect: The PANAS scales. Journal of Personality and Social Psychology, 54(6), 1063–1070. doi:10.1037/0022-3514.54.6.1063.
About this article
Cite this article
Kjell, O.N.E., Daukantaitė, D., Hefferon, K. et al. The Harmony in Life Scale Complements the Satisfaction with Life Scale: Expanding the Conceptualization of the Cognitive Component of Subjective Well-Being. Soc Indic Res 126, 893–919 (2016). https://doi.org/10.1007/s11205-015-0903-z
Accepted:

Published:

Issue Date:

DOI: https://doi.org/10.1007/s11205-015-0903-z
Keywords