Abstract
This paper presents the International Wealth Index (IWI), the first comparable asset based index of household's material well-being, or economic status, that can be used for all low and middle income countries. IWI is similar to the widely used wealth indices included in the Demographic and Health Surveys and UNICEF MICS surveys, but adds the property of comparability across place and time. IWI is based on data from 2.1 million households in 97 developing countries. With IWI we provide a stable and understandable yardstick for evaluating and comparing the situation of households, social groups and societies among all regions of the developing world. A household's ranking on IWI indicates to what extent the household possesses a basic set of assets, valued highly by people across the globe. IWI is tested thoroughly and turns out to be a stable index that hardly depends on the inclusion of specific items or on data for specific regions or time periods. National IWI values are highly correlated with human development, life expectancy, and national income, and IWI-based poverty measures with poverty headcount ratios.
Access options
Buy single article
Instant access to the full article PDF.
US$ 39.95
Tax calculation will be finalised during checkout.
Subscribe to journal
Immediate online access to all issues from 2019. Subscription will auto renew annually.
US$ 119
Tax calculation will be finalised during checkout.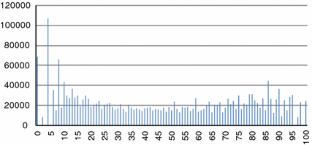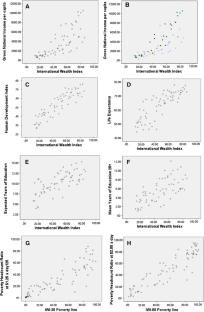 References
Bollen, K. A., Glanville, J. L., & Stecklov, G. (2002). Economic status proxies in studies of fertility in developing countries: Does the measure matter? Population Studies, 56, 81–96.

Booysen, F., van der Berg, S., Burger, R., von Maltitz, M., & du Rand, G. (2008). Using an asset index to assess trends in poverty in seven sub-saharan African Countries. World Development, 36(6), 1113–1130.

Cordoba, A. (2008). Methodological note: Measuring relative wealth using household asset indicators. Americas Barometer Insights: No. 6. Latin American Public Opinion Project.

Falkingham, J., & Namazi, C. (2002). Measuring health and poverty: A review of approaches to identifying the poor. London: DFID Health Systems Resource Centre.

Filmer, D., & Pritchett, L. (1999). The effect of household wealth on educational attainment: Evidence from 35 countries. Population and Development Review, 25(1), 85–120.

Filmer, D., & Pritchett, L. (2001). Estimating wealth effect without expenditure data-or tears: An application to educational enrollments in states in India. Demography, 38(1), 115–132.

Filmer, D., & Scott, N. (2012). Assessing asset indices. Demography, 49, 359–392.

Guiley, D., & Jayne, S. (1997). Fertility transition in Zimbabwe: determinants of contraceptive use and method choice. Population Studies, 51(2), 173–190.

Gwatkin, D. R., Rutstein, S. Johnson, K., Suliman, E., Wagstaff, A., & Amouzou, A. (2007) Socio-economic differences in health, nutrition, and population within developing countries. HNP, The World Bank.

Howe, L. D., Hargreaves, J. R., Gabrysch, S., & Huttly, Sharon R. A. (2009). Is the wealth index a proxy for consumption expenditure? A systematic review. Journal of Epidemiology and Community Health, 63, 871–880.

Howe, L. D., Hargreaves, J. R., & Huttly, Sharon R. A. (2008). Issues in the construction of wealth indices for the measurement of socio-economic position in low-income countries. Emerging Themes in Epidemiology, 5, 3.

McKenzie, D. J. (2005). Measuring inequality with asset indicators. Journal of Population Economics, 18, 229–260.

Montgomery, M., Gragnolati, M., Burke, K., & Paredes, E. (2000). Measuring living standards with proxy variables. Demography, 37, 155–174.

Rutstein, S. O. (2008). The DHS Wealth Index: Approaches for rural and urban areas. DHS working paper, 2008, 60, Measure DHS.

Rutstein, S. & Johnson, K. (2004) The DHS Wealth Index, DHS Comparative Report, No. 6, ORC Macro, Calverton, MD.

Sahn, D. E., & Stifel, D. C. (2000). Poverty comparisons over time and across countries in Africa. World Development, 28(12), 2123–2155.

Sahn, D. E., & Stifel, D. C. (2003). Exploring alternative measures of welfare in the absence of expenditure data. Review of Income and Wealth, 49(4), 463–489.

Stanton, E. (2006). Accounting for Inequality: A proposed revision of the Human Development Index. PERI working paper 119. Amherst: Political Economy Research Institute.

UNDP. (2011). Human development report 2011. New York: United Nations Development Programme.

Vyas, S., & Kumaranayake, L. (2006). Constructing socio-economic status indices: how to use principal components analysis. Oxford: Oxford University Press. doi:10.1093/heapol/czl029.
Acknowledgments
We are grateful to the DHS Program, the UNICEF MICS department, the Pan Arabic Project for Family Health (PAPFAM), the Integrated Public Use Microdata Series (IPUMS) department of the Minnesota Population Center, the National Statistical Offices of Brazil, Chile, Costa Rica, Sudan, Uruguay and Venezuela, the Statistical Information and Monitoring Programme on Child Labour (SIMPOC) of ILO-IPEC, and the Carolina Population Center at the University of North Carolina at Chapel Hill for making the datasets available that have been used in this project.
Electronic supplementary material
About this article
Cite this article
Smits, J., Steendijk, R. The International Wealth Index (IWI). Soc Indic Res 122, 65–85 (2015). https://doi.org/10.1007/s11205-014-0683-x
Accepted:

Published:

Issue Date:
Keywords
Comparable wealth index

Assets

Developing world

Material well-being

Welfare measurement

Poverty measurement