Abstract
This paper investigates the relationships among national identity, national pride, and happiness, using a nationally representative survey dataset from South Korea. Two dimensions of national identity—civic and ethnic—are considered, after factor-analyzing eight survey items. The results demonstrate that national pride is positively associated with happiness, but empirical evidence is scarce regarding the relationship between national identity and happiness. Also, we have not found alleged moderating effects of national identity on the relationship between national pride and happiness. Lack of statistically significant effects of national identity is not consistent with the pre-existing findings from cross-national surveys. Given that national identity is deeply rooted in a historically unique context of each nation, this study calls for a more nuanced conceptualization of national identity and culture-specific measures to fully grasp its association with happiness.
Access options
Buy single article
Instant access to the full article PDF.
USD 39.95
Price excludes VAT (USA)
Tax calculation will be finalised during checkout.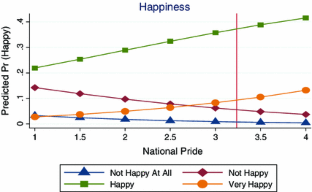 Notes
Scholars have identified three aspects of subjective well-being: (1) evaluative, (2) experience, and (3) eudemonic (Dolan and Metcalfe, 2012). Evaluative aspect of subjective well-being refers to global judgment of life satisfaction, experience aspect corresponds to positive feelings in daily life, and eudemonic aspect focuses on meaningful life with morally and ethically worthwhile activities. Gilbert (2006) uses different terms to denote these three aspects of subjective well-being, i.e., judgmental, emotional, and moral happiness, respectively. In the present study, we pay attention to evaluative (or judgmental) dimension of happiness, given that the survey question we use is about retrospective evaluation of the respondent's life.

In this vein, Kavetsos (2012) reports that national pride increases in the period following a major sporting event (e.g., the World Cup or the Olympic Games), particularly among individuals from both host and winning countries. After controlling for sports events, economic development turns out to be unassociated with national pride.
References
Blanchflower, D., & Oswald, A. (2008). Is well-being U-shaped over the life cycle? Social Science and Medicine, 66, 1733–1749.

Brubaker, R. (1992). Citizenship and nationhood in France and Germany. Cambridge, MA: Harvard University Press.

Brubaker, R. (2004). Ethnicity without groups. Cambridge, MA: Harvard University Press.

Campbell, A., Converse, P. E., & Rodgers, W. L. (1976). The quality of American life: Perceptions, evaluations, and satisfaction. New York: Russell Sage Foundation.

Clark, A. E. (2011). Income and happiness: Getting the debate straight. Applied Research in Quality of Life, 6, 253–263.

Cohen-Zada, D., & Sander, W. (2011). Religious participation versus shopping: What makes people happier? Journal of Law and Economics, 54, 889–906.

Davidov, E. (2009). Measurement equivalence of nationalism and constructive patriotism in the ISSP: 34 countries in a comparative perspective. Political Analysis, 17, 64–82.

de Figueiredo, R. J. P., & Elkins, Z. (2003). Are patriots bigots? An inquiry into the vices of in-group pride. American Journal of Political Science, 47, 171–188.

Di Tella, R., MacCulloch, R., & Oswald, A. (2001). Preferences over inflation and unemployment: Evidence from surveys of happiness. American Economic Review, 91, 335–341.

Diener, E., & Biswas-Diener, R. (2002). Will money increase subjective well-being? A literature review and guide to needed research. Social Indicators Research, 57, 119–169.

Diener, E., Gohm, C. L., Suh, E., & Oishi, S. (2000). Similarity of the relations between marital status and subjective well-being across cultures. Journal of Cross-Cultural Psychology, 31, 419–436.

Diener, E., & Tov, W. (2007). Subjective well-being and peace. Journal of Social Issues, 63, 421–440.

Dolan, P., & Metcalfe, R. (2012). Measuring subjective wellbeing: Recommendations on measures for use by national governments. Journal of Social Policy, 41, 409–429.

Dolan, P., Peasgood, T., & White, M. (2008). Do we really know what makes us happy: A review of the economic literature on the factors associated with subjective well-being. Journal of Economic Psychology, 29, 94–122.

Gilbert, D. (2006). Stumbling on happiness. New York: Vintage.

Gudmundsdottir, D. G. (2013). The impact of economic crisis on happiness. Social Indicators Research, 110, 1083–1101.

Johnson, W., & Krueger, R. F. (2006). How money buys happiness: Genetic and environmental processes linking finances and life satisfaction. Journal of Personality and Social Psychology, 90, 680–691.

Jones, F. L., & Smith, P. (2001). Diversity and commonality in national identities: An exploratory analysis of cross-national patterns. Journal of Sociology, 37, 45–63.

Kavetsos, G. (2012). National pride: War minus the shooting. Social Indicators Research, 106, 173–185.

Kosterman, R., & Feshbach, S. (1989). Toward a measure of patriotic and nationalistic attitudes. Political Psychology, 10, 257–274.

Kunovich, R. M. (2009). The sources and consequences of national identification. American Sociological Review, 74, 573–593.

Latcheva, R. (2011). Cognitive interviewing and factor-analytic techniques: A mixed method approach to validity of survey items measuring national identity. Quality & Quantity, 45, 1175–1199.

Lee, K. S., & Ono, H. (2012). Marriage, cohabitation, and happiness: A cross-national analysis of 27 countries. Journal of Marriage and Family, 74, 953–972.

Lim, C., & Putnam, R. (2010). Religion, social networks, and life satisfaction. American Sociological Review, 75, 914–933.

Long, J. Scott. (1997). Regression models for categorical and limited dependent variables. Thousand Oaks, CA: Sage Publications Inc.

Markus, H. R., & Kitayama, S. (1991). Culture and the self: Implications for cognition, emotion, and motivation. Psychological Review, 98, 224–253.

Morrison, M., Tay, L., & Diener, E. (2011). Subjective well-being and national satisfaction: Findings from a worldwide survey. Psychological Science, 22, 166–171.

Okun, M. A., Stock, W. A., Haring, M. J., & Witter, R. A. (1984). Health and subjective well-being: A meta-analysis. International Journal of Aging and Human Development, 19, 111–132.

Phinney, J. S., & Baldelomar, O. A. (2011). Identity development in multiple cultural contexts. In L. A. Jensen (Ed.), Bridging cultural and developmental approaches to psychology (pp. 161–186). New York: Oxford University Press.

Rasciute, S., & Downward, P. (2010). Health or happiness? What is the impact of physical activity on the individual? Kyklos, 63, 256–270.

Reeskens, T., & Wright, M. (2011). Subjective well-being and national satisfaction: Taking seriously the "proud of what?" question. Psychological Science, 22, 1460–1462.

Roshwald, A. (2006). The endurance of nationalism: Ancient roots and modern dilemmas. New York: Cambridge University Press.

Schatz, R. T., Staub, E., & Lavine, H. (1999). On the varieties of national attachment: Blind versus constructive patriotism. Political Psychology, 20, 151–174.

Shulman, S. (2002). Challenging the civic/ethnic and west/east dichotomies in the study of nationalism. Comparative Political Studies, 35, 554–585.

Tajfel, H. (1981). Human groups and social categories. Cambridge: Cambridge University Press.

Tracy, J. L., & Robins, R. W. (2007). The psychological structure of pride: A tale of two facets. Journal of Personality and Social Psychology, 92, 506–525.

Wright, M., Citrin, J., & Wand, J. (2012). Alternative measures of American national identity: Implications for the civic-ethnic distinction. Political Psychology, 33, 469–482.
About this article
Cite this article
Ha, S.E., Jang, SJ. National Identity, National Pride, and Happiness: The Case of South Korea. Soc Indic Res 121, 471–482 (2015). https://doi.org/10.1007/s11205-014-0641-7
Accepted:

Published:

Issue Date:

DOI: https://doi.org/10.1007/s11205-014-0641-7
Keywords
National identity

National pride

Happiness

South Korea