Abstract
A negative effect of unemployment on subjective well-being has been demonstrated in many studies casting substantial doubt about assumptions of decisions of individuals to choose unemployment voluntarily as the utility-maximising option. These studies have been extended to take into account national-level context factors which have been shown to moderate the relationship between unemployment and life-satisfaction. So far most studies focussed mainly on economic indicators, although demographic and cultural differences between countries also affect how unemployment is perceived. An important variable that is not included in the majority of proper multilevel studies is the extent of unemployment benefits. Traditional micro-economic approaches argue that more extensive provisions should reduce the cost of unemployment and therefore reduce the motivation to regain employment—reflected in a reduction of the negative impact of unemployment. This study investigates this claim by using European Values Study data from all European Union countries and Norway as well as harmonised macroeconomic statistics from Eurostat. It finds that the effect of unemployment on life-satisfaction is indeed moderated by economic and demographic national-level factors, but not by unemployment benefits. To what extent unemployment reduces life-satisfaction varies greatly between countries, but appears to not be influenced by the extent of state unemployment provisions.
Access options
Buy single article
Instant access to the full article PDF.
US$ 39.95
Tax calculation will be finalised during checkout.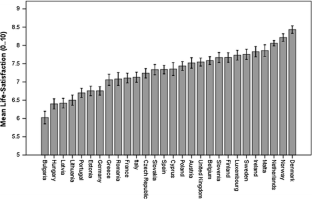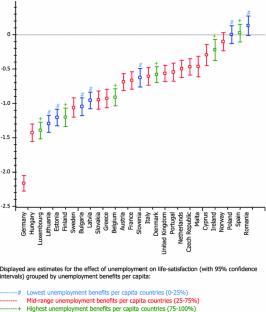 Notes
1.

All computations were done using HLM 6.06.

2.

The mean number of respondents that were included in the analysis was 860/country.

3.

Please see the descriptives table for the operationalisation of the variables (Table 1).

4.

The predictors included: sex, age, dummy: married, dummy: having children, subjective health, dummy: higher education, parental education, happiness, welfare reliance, employment status, achievement orientation, autonomy perception, generalised trust.

5.

However, the author acknowledges that a holistic assessment of robustness is difficult considering the restricted number of aggregate-level cases and the consequential limitation in applying simultaneous aggregate controls.

6.

As briefly mentioned earlier, these results also held for other specifications of welfare state provisions for the unemployed and just general estimates of social welfare payments overall.
References
Bosco, L. (2005). Happiness, social preferences and economic policy. Working Paper No. 459. Dipartimento di Economia Politica, Università degli Studi di Siena.

Cahuc, P., & Fontaine, F. (2002). On the efficiency of job search with social networks. Discussion Paper No. 583. Institute for the Study of Labor.

Clark, A. (2003). Unemployment as a social norm: Psychological evidence from panel data. Journal of Labor Economics, 21, 323–351.

Clark, A., Georgellis, Y., & Sanfey, P. (2001). The psychological impact of past unemployment. Economica, 68, 221–241.

Clark, A., Knabe, A., & Rätzel, S. (2010). Boon or bane? Others' unemployment well-being and job insecurity. Labour Economics, 17, 52–61.

Clark, A., & Oswald, A. (1994). Unhappiness and unemployment. The Economic Journal, 104, 648–659.

Di Tella, R., & MacCulloch, R. (2006). Some uses of happiness data in economics. The Journal of Economic Perspectives, 20, 25–46.

Di Tella, R., MacCulloch, R., & Oswald, A. (2001). Preferences over inflation and unemployment: Evidence from surveys of happiness. American Economic Review, 91, 335–341.

Di Tella, R., MacCulloch, R., & Oswald, A. (2003). The macroeconomics of happiness. Review of Economics and Statistics, 85, 809–827.

Diener, E., & Biswas-Diener, R. (2008). Happiness. Unlocking the mysteries of psychological wealth. Oxford and Victoria: Blackwell.

Eichhorn, J. (2012). Unemployment needs context: How societal differences between countries moderate the loss in life-satisfaction for the unemployed. Journal of Happiness Studies,. doi:10.1007/s10902-012-9402-y.

Eurostat. (2012). http://epp.eurostat.ec.europa.eu. Accessed September 12, 2001.

EVS. (2011). European Values Study. www.europeanvaluesstudy.eu. Accessed September 12, 2011.

Ferrer-i-Carbonell, A., & Fritjers, P. (2004). How important is methodology for the estimates of the determinants of happiness? The Economic Journal, 114, 641–659.

Frey, B. (2008). Happiness. A revolution in economics. Cambridge and London: The MIT Press.

Frey, B., & Stutzer, A. (2002). Happiness and economics. How the economy and institutions affect well-being. Princeton and Oxford: Princeton University Press.

Graham, C. (2009). Happiness around the world: The paradox of happy peasants and miserable millionaires. New York: Oxford University Press.

Green, F. (2011). Unpacking the misery multiplier: How employability modifies the impacts of unemployment and job insecurity on life satisfaction and mental health. Journal of Health Economics, 30, 265–276.

Grün, C., Hauser, W., & Rhein, T. (2010). Is any job better than no job? Life satisfaction and re-employment. Journal of Labor Research, 30, 285–306.

Hadler, M. (2005). Why do people accept different income ratios? Acta Sociologica, 48, 131–154.

Hox, J. (2010). Multilevel analysis. Techniques and applications. New York: Routledge.

Inglehart, R., Foa, R., Peterson, C., & Welzel, C. (2008). Development, freedom, and rising happiness. A global perspective (1981–2007). Perspectives on Psychological Science, 3, 264–285.

Kassenböhmer, S., & Haisken-DeNew, J. (2009). You're fired! The causal negative effect of entry unemployment on life satisfaction. Economic Journal, 119, 448–462.

Kreft, I. (1996). Are multilevel techniques necessary? An overview, including simulation studies (unpublished report). California State University, Los Angeles. http://www.eric.ed.gov. Accessed September 12, 2011.

Lu, L., & Gilmour, R. (2004). Culture and conceptions of happiness: Individual oriented and social oriented SWB. Journal of Happiness Studies, 5, 269–291.

Lucas, R. (2007). Adaptation and the set-point model of subjective well-being. Does happiness change after major life events? Current Directions in Psychological Science, 16, 75–79.

Lucas, R., Clark, A., Georgellis, Y., & Diener, E. (2004). Unemployment alters the set point for life satisfaction. Psychological Science, 15, 8–13.

Maas, C., & Hox, J. (2004). Robustness issues in multilevel regression analysis. Statistica Neerlandica, 58, 127–137.

Martin, P. (2005). Making happy people. The nature of happiness and its origins in childhood. London and New York: Fourth Estate.

Ouweneel, P. (2002). Social security and well-being of the unemployed in 42 nations. Journal of Happiness Studies, 3, 167–192.

Pittau, M., Zelli, R., & Gelman, A. (2010). Economic disparities and life satisfaction in European regions. Social Indicator Research, 96, 339–361.

Rubin, D. (1988). An overview of multiple imputation. In Proceedings of the survey research methods section (pp. 79–84). American Statistical Association.

Salanova, M., Bakker, A., & Llorens, S. (2006). Flow at work: Evidence for an upward spiral of personal and organizational resources. Journal of Happiness Studies, 7, 1–22.

Scheepers, P., Grotenhuis, M., & Gelissen, J. (2002). Welfare states and dimensions of social capital: Cross-national comparisons of social contracts in European countries. European Societies, 4, 185–207.

Uchida, Y., Norasakkunkit, V., & Kitayama, S. (2004). Cultural constructions of happiness: Theory and empirical evidence. Journal of Happiness Studies, 5, 223–239.

Winkelmann, R. (2009). Unemployment, social capital, and subjective well-being. Journal of Happiness Studies, 10, 421–430.
About this article
Cite this article
Eichhorn, J. The (Non-) Effect of Unemployment Benefits: Variations in the Effect of Unemployment on Life-Satisfaction Between EU Countries. Soc Indic Res 119, 389–404 (2014). https://doi.org/10.1007/s11205-013-0474-9
Accepted:

Published:

Issue Date:
Keywords
Life-satisfaction

Unemployment

Welfare state

Subjective well-being

Multilevel modelling