Abstract
Associations between loneliness, materialism, and life satisfaction were examined in a sample of 366 Malaysian undergraduate students. Also examined was the mediating role of materialism in the relation between loneliness and life satisfaction, and such a mediational link (i.e., loneliness–materialism–life satisfaction) is expected to be moderated by gender. Loneliness was significantly and positively associated with materialism but negatively associated with life satisfaction. Materialism was significantly and negatively associated with life satisfaction. In addition to these direct associations, materialism emerged as a significant partial mediator in the relation between loneliness and life satisfaction. As predicted, gender moderated the loneliness–materialism–life satisfaction relationship. In particular, materialism significantly mediated such a link for male undergraduate students but not for female undergraduate students. Theoretical and practical implications of the findings for youth wellness are discussed.
Access options
Buy single article
Instant access to the full article PDF.
US$ 39.95
Tax calculation will be finalised during checkout.
Subscribe to journal
Immediate online access to all issues from 2019. Subscription will auto renew annually.
US$ 119
Tax calculation will be finalised during checkout.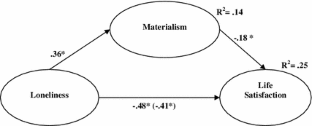 References
Adler, A. (1959). Understanding human nature. New York: Premier Books.

Ang, C. S., & Mansor, A. T. (2012). An empirical study of selected demographic variables on loneliness among youths in Malaysian university. Asia Life Sciences, 21, 107–121.

Ansbacher, H. L., & Ansbacher, R. R. (1956). The individual psychological of Alfred Adler. New York: Basic Books.

Archibald, F. S., Bartholomew, K., & Marx, R. (1995). Loneliness in early adolescence: A test of the cognitive discrepancy model of loneliness. Personality and Social Psychology Bulletin, 21, 296–301.

Arndt, J., Solomon, S., Kasser, T., & Sheldon, K. M. (2004). The urge to splurge: A terror management account of materialism and consumer behavior. Journal Consumer Psychology, 14, 198–212.

Baron, R. M., & Kenny, D. A. (1986). The moderator-mediator variable distinction in social psychological research: Conceptual, strategic, and statistical considerations. Journal of Personality and Social Psychology, 51, 1173–1182.

Barrett, L., & Bliss-Moreau, E. (2009). She's emotional. He's having a bad day: Attributional explanations for emotion stereotypes. Emotion, 9, 648–658.

Baumeister, R. F., & Leary, M. R. (1995). The need to belong: Desire for interpersonal attachment as a fundamental human motivation. Psychological Bulletin, 117, 497–529.

Best, D. L., & Williams, J. E. (1994). Masculinity/femininity in the self and ideal self descriptions of university students in fourteen countries. In A. M. Bouvy, F. van de Vijver, P. Boski, & P. Schmitz (Eds.), Journeys into cross cultural psychology: Selected papers from the Eleventh international conference of the international association for cross cultural psychology. Lisse: Swets & Zeitlinger.

Borys, S., & Perlman, D. (1985). Gender differences in loneliness. Personality and Social Psychology Bulletin, 11, 63–74.

Brown, G. D. A., Gardner, J., Oswald, A. J., & Qian, J. (2008). Does wage rank affect employees' well-being? Industrial Relations, 47(3), 355–389.

Buelga, S., Musitu, G., Murgui, S., & Pons, J. (2008). Reputation, loneliness, satisfaction with life and aggressive behavior in adolescence. The Spanish Journal of Psychology, 11, 192–200.

Burroughs, J. E., & Rindfleisch, A. (2002). Materialism and well-being: A conflicting values perspective. Journal of Consumer Research, 29(348), 370.

Christopher, A. N., Drummond, K., Jones, J. R., Marek, P., & Therriault, K. M. (2006). Beliefs about one's own death, personal insecurity, and materialism. Personality and Individual Differences, 40, 441–451.

Christopher, A. N., Lasane, T. P., Troisi, J. D., & Park, L. E. (2007). Materialism, defensive and assertive self-presentational styles, and life satisfaction. Journal of Social and Clinical Psychology, 26, 1146–1163.

Clark, M. S., Greenberg, A., Hill, E., Lemay, E. P., Clark-Polner, E., & Roosth, D. (2011). Heightened interpersonal security diminishes the monetary value of possessions. Journal of Experimental Social Psychology, 47, 359–3654.

Cohen, J. (1988). Statistical power analysis for the behavioral sciences (2nd ed.). Hillsdale, NJ: Lawrence Erlbaum Associates, Publishers.

Cryder, C. E., Lerner, J. S., Gross, J. L., & Dahl, R. E. (2008). Misery is not miserly: Sad and self-focused individuals spend more. Psychological Science, 19, 525–530.

Diener, E., Emmons, R. A., Larsen, R. J., & Griffin, S. (1985). The satisfaction with life scale. Journal of Personality Assessment, 49, 71–75.

Dolliver, M. (2007). At least you can't accuse the kids of wallowing in bogus selflessness. Adweek, 48(4), 26.

Gibbons, J., Stiles, D. A., & Shkodriani, G. M. (1991). Adolescents' attitudes toward family and gender roles: An international comparison. Sex Roles, 25(11–12), 625–643.

Howell, R. T., Pchelin, P., & lyer, R. (2012). The preference for experiences over possessions: Measurement and construct validation of the experiential buying tendency scale. The Journal of Positive Psychology, 7(1), 57–71.

Hu, L., & Bentler, P. M. (1999). Cutoff criteria for fit indexes in covariance structure analysis: Conventional criteria versus new alternatives. Structural Equation Modeling, 6, 1–55.

Kamineni, R. (2005). Influence of materialism, gender and nationality on consumer brand perceptions. Journal of Targeting, Measurement and Analysis for Marketing, 14, 25–32.

Kapıkıran, Ş. (2013). Loneliness and life satisfaction in Turkish early adolescents: The mediating role of self-esteem and social support. Social Indicators Research, 111, 617–632.

Kasser, T. (2002). The high price of materialism. Cambridge, MA: MIT Press.

Kau, A. K., Kwon, J., Jiuan, T. S., & Wirtz, J. (2000). The influence of materialistic inclination on values, life satisfaction and aspirations: An empirical analysis. Social Indicators Research, 49, 317–333.

Kim, Y., Kim, E. Y., & Kang, J. (2003). Teens' mall shopping motivations: Functions of loneliness and media usage. Family and Consumer Sciences Research Journal, 32, 140–167.

Knox, D., Vail-Smith, K., & Zusman, M. (2007). The lonely college male. International Journal of Men's Health, 6, 273–279.

Koskenvuo, M. (2004). Life satisfaction and depression in a 15-year follow-up of health adults. Social Psychiatric Epidemic, 39, 994–999.

MacKinnon, D. P., Lockwood, C. M., & Williams, J. (2004). Confidence limits for the indirect effect: Distribution of the product and resampling methods. Multivariate Behavioral Research, 39, 99–128.

Mahon, N. E., Yarcheski, A., Yarcheski, T. J., Cannella, B. L., & Hanks, M. M. (2006). A meta-analytic study of predictors for loneliness during adolescence. Nursing Research, 55, 308–315.

Perlman, D. (2004). European and Canadian studies of loneliness among seniors. Canadian Journal on Aging, 23, 181–188.

Preacher, K. J., & Hayes, A. F. (2008). Asymptotic and resampling strategies for assessing and comparing indirect effects in multiple mediator models. Behavior Research Methods, 40, 879–891.

Richins, M. L. (2004). The material values scale: Measurement properties and development of a short form. Journal of Consumer Research, 31, 209–219.

Richins, M. L., & Dawson, S. (1992). A consumer values orientation for materialism and its measurement: Scale development and validation. Journal of Consumer Research, 19, 303–316.

Rook, K. S. (1984). Promoting social bonding: Strategies for helping the lonely and socially isolated. American Psychologist, 39, 1389–1407.

Russell, D. (1996). UCLA Loneliness Scale (version 3): Reliability, validity, and factor structure. Journal of Personality Assessment, 66, 10–40.

Ryan, R. M., & Deci, E. L. (2000). Self-determination theory and the facilitation of intrinsic motivation, social development, and well-being. American Psychologist, 55, 68–78.

Ryan, L., & Dziurwiec, S. (2000). Materialism and its relationship to life satisfaction. Social Indicators Research, 55, 185–197.

Shahini, N. (2010). A study gauging perceived social support and loneliness with life satisfaction among students of Golestan University of Medical Sciences. European Psychiatry, 25, 842.

Sirgy, M. J. (1998). Materialism and quality of life. Social Indicators Research, 43, 227–260.

Swami, V., Chamorro-Premuzic, T., Sinniah, D., Maniam, T., Kannan, K., Stanistreet, D., et al. (2007). General health mediates the relationship between loneliness, life satisfaction and depression: A study with Malaysian medical students. Social Psychiatry and Psychiatric Epidemiology, 42, 161–166.

Tabachnick, B. G., & Fidell, L. S. (2001). Using multivariate statistics (4th ed.). Boston, MA: Allyn and Bacon.

Triandis, H. C. (2001). Individualism-collectivism and personality. Journal of Personality, 69(6), 907–924.

Trzcinski, E., & Holst, E. (2008). Subjective well-being among young people in transition to adulthood. Social Indicator Research, 87, 83–109.

Wong, N. Y., Rindfleisch, A., & Burroughs, J. E. (2003). Do reverse-worded items confound measures in cross-cultural consumer research? The case of the material values scale. Journal of Consumer Research, 30, 72–91.

Zhou, X., & Gao, D.-G. (2008). Social support and money as pain management mechanisms. Psychological Inquiry, 19, 127–144.
Acknowledgments
The authors would like to thank all of the study participants for their cooperation.
About this article
Cite this article
Ang, CS., Mansor, A.T. & Tan, KA. Pangs of Loneliness Breed Material Lifestyle but Don't Power Up Life Satisfaction of Young People: The Moderating Effect of Gender. Soc Indic Res 117, 353–365 (2014). https://doi.org/10.1007/s11205-013-0349-0
Accepted:

Published:

Issue Date:
Keywords
Gender

Life satisfaction

Loneliness

Materialism

Mediator

Moderator