Abstract
This paper investigates the link between job satisfaction and home ownership. We explicitly focus on the effect of a transition from non-ownership to ownership on the self-reported job satisfaction scores. In other words, we concentrate on the change in job satisfaction response for individuals observed right before and after the transition. Utilizing the panel feature of the British Household Panel Survey, we find that transition to ownership reduces job satisfaction within a year following the purchase—controlling for observed variation and unobserved heterogeneity. The reduction in job satisfaction is sharper when the purchase is financed through a mortgage. We also test if this pattern persists over years. We show that the initial reduction in job satisfaction is more than doubled within 3 years after the transition for both categories of ownership. We conclude that home ownership may be a constraint for the career prospects of the employed workers, since it reduces mobility and forces them to become more dependent on the local labor market conditions. These concerns are deeper in case of a debt-financed ownership.
Access options
Buy single article
Instant access to the full article PDF.
USD 39.95
Price excludes VAT (USA)
Tax calculation will be finalised during checkout.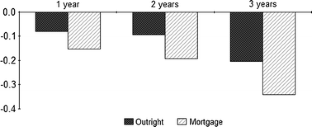 Notes
Alternative views also exist in the literature. For example, van Leuvensteijn and Koning (2004) argue that lower job mobility of home owners may result from higher job commitment.

There are very few studies reporting a potentially negative correlation between home ownership and happiness scores. See Parker et al. (2011) for a recent example.

Having a very short panel justifies the use of fixed (or time-invariant) effects to control for unobserved individual-level heterogeneity.

The lock-in effect is defined as decreased mobility with increased mortgage loan-to-value ratio, particularly if the value of equity turns negative.

See Table 1 for a brief comparison of the sample means and standard deviations for these two types of ownership.

Note that the job satisfaction due to promotion prospects question is available only for the first seven waves of the BHPS.
References
Battu, H., Ma, A., & Phimister, E. (2008). Housing tenure, job mobility, and unemployment in the UK. Economic Journal, 118, 311–328.

Clark, A. E. (1996). Job satisfaction in Britain. British Journal of Industrial Relations, 34, 189–217.

Clark, A. E., & Oswald, A. J. (1996). Satisfaction and comparison income. Journal of Public Economics, 61, 359–381.

Coulson, N. E., & Grieco, P. L. E. (2013). Mobility and mortgages: Evidence from the PSID. Regional Science and Urban Economics, 43, 1–7.

Dietz, R. D., & Haurin, D. R. (2003). The social and private micro-level consequences of homeownership. Journal of Urban Economics, 54, 401–450.

Dohmen, T. J. (2005). Housing, mobility, and unemployment. Regional Science and Urban Economics, 35, 305–325.

Ferreira, F., Gyourko, J., & Tracy, J. (2010). Housing busts and household mobility. Journal of Urban Economics, 68, 34–45.

Green, R., Henderschott, P. (2001). Home-ownership and unemployment in the US. Urban Studies, 38, 1509–1520.

Guven, C., & Sorensen, B. E. (2012). Subjective well-being: Keeping up with the perception of the Joneses. Social Indicators Research, 109, 439–469.

Heckman, J. J. (1979). Sample selection bias as a specification error. Econometrica, 47, 153–161.

Henley, A. (1998). Residential mobility, housing equity, and the labour market. Economic Journal, 108, 414–428.

Hu, F. (2013). Homeownership and subjective wellbeing in urban China: Does owning a house make you happier? Social Indicators Research, 110, 951–971.

Hughes, G., & McCormick, B. (1981). Do council housing policies reduce migration between regions. Economic Journal, 91, 919–937.

Hughes, G., & McCormick, B. (1987). Housing markets, unemployment, and labor market flexibility in the UK. European Economic Review, 31, 615–641.

Nickell, S. (1998). Unemployment. Questions and some answers. Economic Journal, 108, 802–816.

Oswald, A. J. (1997). Theory of homes and jobs. University of Warwick, Upublished manuscript.

Parker, L., Watson, D., & Webb, R. (2011). Family fortunes: Gender-based differences in the impact of employment and home characteristics on satisfaction levels. The Journal of Socio-Economics, 40, 259–264.

Rose, M. (1999). Explaining and forecasting job satisfaction: The contribution of occupational profiling. University of Bath, Unpublished manuscript.

Schulhofer-Wohl, S. (2012). Negative equity does not reduce homeowners' mobility. Federal Reserve Bank of Minneapolis, Quarterly Review, 35, 2–14.

Taylor, M. P. (2006). Tell me why I don't like mondays: Investigating day of the week effects on job satisfaction and psychological well-being. Journal of the Royal Statistical Society (Series A), 169, 127–142.

van Leuvensteijn, M., & Koning, P. (2004). The effect of home-ownership on labor mobility in the Netherlands. Journal of Urban Economics, 55, 580–596.
Acknowledgments
We thank Alex Michalos (the editor), Giovanni Peri, an anonymous referee, seminar participants at the Central Bank of the Republic of Turkey, and the participants of the EconAnadolu 2013 Conference in Eskisehir and the European Association of Labour Economists annual meeting in Turin for useful comments and suggestions. Tugba Zeydanli gratefully acknowledges financial support from the European Doctorate in Economics—Erasmus Mundus. The views expressed here are of our own and do not necessarily reflect those of the Central Bank of the Republic of Turkey. All errors are ours.
About this article
Cite this article
Tumen, S., Zeydanli, T. Home Ownership and Job Satisfaction. Soc Indic Res 117, 165–177 (2014). https://doi.org/10.1007/s11205-013-0338-3
Accepted:

Published:

Issue Date:

DOI: https://doi.org/10.1007/s11205-013-0338-3
Keywords