Abstract
According to most standard socioeconomic indicators (for example employment, income and education), Indigenous Australians tend to have worse outcomes than their non-Indigenous counterparts. Most objective health indicators including life expectancy also tend to be worse. Traditionally, these two domains and associated objective indicators have been the focus of research, government policy and evaluation. There has been less research, however, on differences between Indigenous and non-Indigenous Australians in subjective measures of wellbeing. In this paper, I attempt to answer three related research questions on Indigenous wellbeing—What is the average level of emotional wellbeing and satisfaction with life for the Indigenous and non-Indigenous population of Australia? How do the differences between the two populations change once other characteristics have been controlled for? What are the factors associated with emotional wellbeing within the Indigenous population? With regards to the first two questions, Indigenous Australians are less likely to report frequent periods of happiness and more likely to report periods of extreme sadness than the non-Indigenous population. Surprisingly, given these results for emotional wellbeing, a major finding from the analysis was that Indigenous Australians were significantly more likely to report above-average satisfaction with their life. The main finding with regards to the third question is that using retrospective measures, those in remote areas report higher levels of happiness than those in non-remote areas. This is different to the results for socioeconomic status and objective measures of health found elsewhere and has important implications for government policy in Australia.
This is a preview of subscription content,
to check access.
Access this article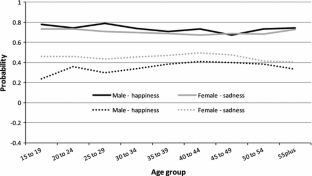 Notes
Australia has a federal system with three layers of government—the Commonwealth Government, State/Territory government and local government. COAG is the peak intergovernmental forum in Australia, comprising the Prime Minister, State Premiers, Territory Chief Ministers and the President of the Australian Local Government Association—see http://www.coag.gov.au.

The six targets are: close the life expectancy gap within a generation; halve the gap in mortality rates for Indigenous children under five within a decade; ensure access to early childhood education for all Indigenous 4 years olds in remote communities within 5 years; halve the gap in reading, writing and numeracy achievements for children within a decade; halve the gap for Indigenous students in Year 12 attainment or equivalent attainment rates by 2020, and halve the gap in employment outcomes between Indigenous and non-Indigenous Australians within a decade.

HILDA is Australia's largest household-based panel study, commencing in 2001 (http://melbourneinstitute.com/hilda/). Indigenous Australians have not been oversampled in the HILDA, nor did the initial sample selection extend to remote Australia, where a disproportionately high proportion of Indigenous Australians live.

The 2008 NATSISS is the third in a series of population surveys specifically focused on the Indigenous Australian population (with previous surveys undertaken in 1994 and 2002). The NATSISS is an omnibus survey, meaning that information is collected across a range of topics without too much detail on any one topic. The 2008 NATSISS is cross-sectional, with information collected on 7,823 Indigenous Australians aged 15 years and over. There was also a child component to the survey, but this did not have any information on subjective wellbeing.

Personal and equivalised household income were included separately (in log form) in two additional Models 3 and 4. Neither was found to be significant for either dependent variable. Given the potentially endogenous relationship between income and some of the other variables and the fact that it was not significant in a simple specification, the relationship between income and emotional wellbeing for the Indigenous population is left for future analysis.

The CDEP scheme is an Indigenous-specific program whereby communities agree to forego unemployment benefits in exchange for roughly equivalent wages on community-controlled development projects. In official statistics, those in the CDEP scheme are classed as employed rather than unemployed. The scheme (which commenced in the late 1970s) has recently been closed to new entrants and, at the time of writing, had a very uncertain status.
References
Altman, J. C. (2005). Development options on Aboriginal land: Sustainable Indigenous hybrid economies in the twenty-first century. In L. Taylor, G. Ward, G. Henderson, R. Davis, & L. Wallis (Eds.), The power of knowledge, the resonance of tradition (pp. 34–48). Canberra: Aboriginal Studies Press.

Australian Bureau of Statistics (ABS). (2001). Measuring wellbeing frameworks for Australian social statistics, cat. no. 4160.0. Canberra: ABS.

Australian Bureau of Statistics (ABS). (2010). Framework for measuring wellbeing: Aboriginal and Torres Strait Islander Peoples, 2010, cat. no. 4703.0. Canberra: ABS.

Australian Bureau of Statistics/Australian Institute of Health and Welfare (ABS/AIHW). (2008). The health and welfare of Australia's Aboriginal and Torres Strait Islander peoples 2008, cat. no. 4704.0. Canberra: ABS/AIHW.

Biddle, N. (2009a). Location and segregation: The distribution of the Indigenous population across Australia's urban centres. Working Paper No. 53. Canberra: Centre for Aboriginal Economic Policy Research, Australian National University.

Biddle, N. (2009b). Ranking regions: Revisiting an index of relative socioeconomic outcomes. Australasian Journal of Regional Studies, 15(3), 329–353.

Biddle, N., & Yap, M. (2010). Demographic and socioeconomic outcomes across the Indigenous Australian lifecourse: Evidence from the 2006 Census. CAEPR Research Monograph No. 31. Canberra: ANU E Press.

Cape York Institute for Policy and Leadership (CYI). (2005). Freedom, capabilities and the Cape York Reform Agenda. Cape York, Cairns: CYI.

Clark, A. E., Frijters, P., & Shields, M. (2008). Relative income, happiness and utility: An explanation for the Easterlin paradox and other puzzles. Journal of Economic Literature, 46, 95–144.

Clark, A., & Oswald, A. (1996). Satisfaction and comparison income. Journal of Public Economics, 61(3), 359–381.

Department of Families, Housing, Community Services and Indigenous Affairs (FaHCSIA). (2009). Closing the gap on Indigenous disadvantage: The challenge for Australia. Canberra: FaHCSIA.

Diener, E. (2009). Subjective well-being. In E. Diener (Ed.), The science of well-being: The collected works of Ed Diener (pp. 11–58). Social Indicators Research Series 37. New York: Springer.

Dolan, P., & White, M. (2007). How can measures of subjective well-being be used to inform public policy? Perspectives on Psychological Science, 2(1), 71–85.

Hughes, H., Hughes, M., & Hudson, S. (2010). Private housing on Indigenous lands. Sydney: Centre for Independent Studies.

Jordan, K., Bulloch, H., & Buchanan, G. (2010). Statistical equality and cultural difference in Indigenous wellbeing frameworks: A new expression of an enduring debate. Australian Journal of Social Issues, 45(3), 333–362.

Kahneman, D., & Deaton, A. (2010). High income improves evaluation of life but not emotional well-being. Proceedings of the National Academy of Science, 107(38), 16489–16493.

Kahneman, D., & Krueger, A. B. (2006). Developments in the measurement of subjective well-being. Journal of Economic Perspectives, 20(1), 3–24.

Kingdon, G. G., & Knight, J. (2007). Community, comparisons and subjective well-being in a divided society. Journal of Economic Behavior & Organization, 64(1), 69–90.

Lane, J. (2010). 'Remote Chance of University', The Australian. Viewed January 6, 2011, from http://www.theaustralian.com.au/news/opinion/remote-chance-of-university/story-e6frg6zo-1225976797477.

Luttmer, E. (2005). Neighbours as negatives: Relative earnings and well-being. Quarterly Journal of Economics, 120(3), 963–1002.

Sen, A. (1999). Development as freedom. Oxford: Oxford University Press.

Shields, M. A., Wheatley Price, S., & Wooden, M. (2009). Life satisfaction and the economic and social characteristics of neighbourhoods. Journal of Population Economics, 22(2), 421–443.

Steering Committee for the Review of Government Service Provision (SCRGSP). (2009). Overcoming Indigenous disadvantage: Key indicators 2009. Canberra: Productivity Commission.

Stevenson, B., & Wolfers, J. (2010). Subjective and objective indicators of racial progress. Viewed November 17, 2011, from http://bpp.wharton.upenn.edu/jwolfers/Papers/Happiness_Race.pdf.

United Nations Permanent Forum on Indigenous Issues (UNPFII). (2008). Indicators of well-being, poverty and sustainability relevant to Indigenous peoples. Accessed January 6, 2011, from http://www.tebtebba.org/index.php?option=com_docman&task=doc_details&gid=183&Itemid=27.

Yap, M., & Biddle, N. (2010). Gender gaps in Indigenous socioeconomic outcomes: Australian regional comparisons and international possibilities. International Indigenous Policy Journal, 1(2), 1–17.
Acknowledgments
Funding for this paper was received from the Australian Ministerial Council of Aboriginal and Torres Strait Islander Affairs. The author would like to thank Ms. Gillian Cosgrove for editorial assistance.
About this article
Cite this article
Biddle, N. Measuring and Analysing the Wellbeing of Australia's Indigenous Population. Soc Indic Res 116, 713–729 (2014). https://doi.org/10.1007/s11205-013-0317-8
Accepted:

Published:

Issue Date:

DOI: https://doi.org/10.1007/s11205-013-0317-8
Keywords