Abstract
China has undergone a rapid expansion in higher education since the late 1990s. Drawing on a recently collected nationwide representative data, the current study makes contributions to the understanding of the health benefits of college education in urban China. Using propensity score matching to deal with potential selection bias, the results of the current research suggest that higher education attainment can significantly promote people's self-rated health status, with the control for a series of demographic and socio-economic characteristics. Moreover, this research also highlights the heterogonous treatment effects: those who are more likely to attend college benefit less from the health returns to higher education than those who are less likely to go to college, lending support to a negative heterogeneous treatment effect pattern. Finally, we also examine the cohort difference in the heterogeneous treatment effect and it turns out that the negative pattern mainly takes place among the cohorts born after 1981, the generations who experienced the expansion of higher education.
Access options
Buy single article
Instant access to the full article PDF.
US$ 39.95
Tax calculation will be finalised during checkout.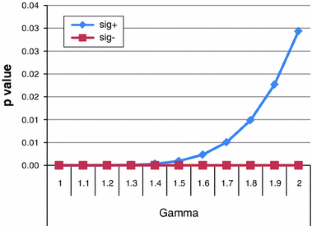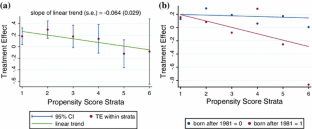 Notes
1.

2.

For instance, Loyalka et al. (2012) classified higher education institutions in China into four tiers. First tier higher education institutions are directly under the Ministry of Education and other central-government Ministries or Commissions. Second-tier institutions are "less-selective public institutions under the jurisdiction of provincial government agencies" (Loyalka et al. 2012: 290). Third-tier colleges are supported by private funding and are usually called "independent schools." Most of the fourth-tier universities are other types of institutions which are not 4 years colleges but vocational schools with a 3 years length of schooling.

3.

In the interests of clarification, the variables used to predict propensity score values are called covariates throughout this article in order to make a distinction from the control variables when analyzing the health benefits of higher education.

4.

It is necessary to point out that simply treating family background covariates as control variables in regular regression-like models may not be sufficient to address selection effect. In addition to the restrictions of model forms, regression-like models cannot guarantee the support of the data sufficiently overlap between treated and control individuals. More information about the advantages of propensity score matching relative to regression models, see Harding (2003).

5.

This covariate was dichotomized at the level of high school because the percentage of college graduates for parents is very low.

6.

The Communist Party, Democratic Parties, and the Communist Youth League are typical political identities in China. Members of Democratic Parties are generally viewed to be partners of the Communist Party and members of the Communist Youth League are the reserve individuals for the Communist Party.

7.

In the comparison between the findings based on the matched sample and the full sample, it is necessary to keep their sample sizes as close as possible because variation in sample sizes may change standard errors as well as statistical power. In this light, we restrict our full-sample analysis to those individuals who do not have missing values on the covariates used to predict propensity score. This restriction does not mean a replication of the analysis shown in Table 3. That is because we do not require individuals in the original sample to be matched although they have nonmissing values for the covariates predicting propensity score.

8.

Further analysis shows that around 40 % of those who did not experience higher education expansion hold a college degree. This percentage rises to over 60 % for those who were born after 1981.

9.

Since the data used in this research is a cross-sectional data, the findings here can only be used for illustrative purpose. Strict causal relationship should not be concluded.

10.

For example, most parents of the children who were born before 1981 worked for the state-owned enterprises or public agencies. The egalitarian distribution of compensations in these work units suggests the extent of income inequality between families was not salient. This egalitarian family origin background gradually died out in the process of marketization and the differentiation between family origin background is enlarged (Meng 2004). Such heterogeneous family background may partly account for the heterogeneous treatment effect of higher education.

11.

211 universities are listed in the Project 211, which was launched in 1995 by the central government to establish 100 key universities in China by the twenty-first century. "it is estimated that during the period 1996–2002 alone, nearly 18.3 billion RMB was allocated from the central government on Project 211, including 6.3 billion for quality improvement in key areas of study in universities that were selected by the MOE and 1.0 billion for improving infrastructure and equipment in related universities" (Huang 2005: 121). 985 Project was initiated in 1998 with the aim of establishing establish some first-rank and world-class universities in China. Universities listed in 985 Project can be funded jointly by the central government and local authorities. Many 211 universities are at the same time 985 universities.
References
Abrams, H. K. (2001). The resurgence of sexually transmitted disease in China. Journal of Public Health Policy, 22(4), 429–440.

Anson, O., & Sun, S. F. (2002). Gender and health in rural China: Evidence from Hebei province. Social Science and Medicine, 55(6), 1039–1054.

Averett, S. L., & Burton, M. L. (1996). College attendance and the college wage premium: Differences by gender. Economics of Education Review, 15, 37–49.

Berk, R. A. (1983). An introduction to sample selection bias in sociological data. American Sociological Review, 48(3), 386–398.

Blau, P. M., & Duncan, O. D. (1967). The American occupational structure. New York: Wiley.

Bourdieu, P. (1977). Cultural reproduction and social reproduction. In J. Karabel & A. H. Halsey (Eds.), Power and ideology in education (pp. 487–511). New York: Oxford University.

Bourdieu, P. (1997). The forms of capital. In: A. Halsey, H. Lauder, P. Brown & A. Stuart Wells (Eds.), Education: Culture, economy and society (pp. 46–58). Oxford: Oxford University Press.

Brand, J. E., & Halaby, C. N. (2006). Regression and matching estimates of the effects of Elite college attendance on educational and career achievement. Social Science Research, 35(3), 749–770.

Brand, J. E., & Xie, Y. (2010). Who benefits most from college? Evidence for negative selection in heterogeneous economic returns to higher education. American Sociological Review, 75(2), 273–302.

Breen, R., & Goldthorpe, J. H. (1997). Explaining educational differentials: Towards a formal rational action theory. Rationality and Society, 9(3), 275–305.

Byun, S., Schofer, E., & Kim, K. (2012). Revisiting the role of cultural capital in east Asian educational systems: The case of South Korea. Sociology of Education, 85(3), 219–239.

Carneiro, P., Hansen, K. T., & Heckman, J. J. (2003). Estimating distributions of treatment effects with an application to the returns to schooling and measurement of the effects of uncertainty on college choice. International Economic Review, 44, 361–422.

Carneiro, P., Heckman, J. J., & Vytlacil, E. (2005). Understanding what instrumental variables estimate: Estimating marginal and average returns to education. Paper presented as economic journal lecture at the royal economic society meeting, England: Durham.

Cheng, S. T., & Chan, A. C. M. (2006). Social support and self-rated health revisited: Is there a gender difference in later life? Social Science and Medicine, 63, 118–122.

Currie, J. (2011). Inequality at birth: Some causes and consequences. American Economic Review, 101(3), 1–22.

Dale, S. B., & Krueger, A. B. (2002). Estimating the payoff to attending a more selective college: An application of selection on observables and unobservables. The Quarterly Journal of Economics, 117, 1491–1527.

DiMaggio, P. (1982). Cultural capital and school success: The impact of status culture participation on the grades of US. High school students. American Sociological Review, 47, 189–201.

Fu, Q. & Ren, Q. (2010). Educational inequality under China's rural-urban divide: The hukou system and return to dducation. Environment and Planning, 42(3), 592–610.

Goesling, B. (2007). The rising significance of education for health? Social Forces, 85(4), 1621–1644.

Goldthorpe, J. H., & Jackson, M. (2008). Education-based meritocracy: The barriers to its realization. In A. Lareau & D. Conley (Eds.), Social class: How does it work? (pp. 93–117). New York: Russell Sage Foundation.

Guo, S. Y., & Fraser, M. W. (2009). Propensity score analysis: Statistical methods and applications. Thousand Oaks: Sage Publications.

Hannum, E. & Xie, Y. (1998). Ethnic stratification in northwest China: Occupational differences between Han Chinese and national minorities in Xinjiang, 1982–1990. Demography, 35(3), 323–333.

Harding, D. (2003). Counterfactual models of neighborhood effects: The effect of neighborhood poverty on dropping out and teenage pregnancy. American Journal of Sociology, 109(3), 676–719.

Herd, P. (2010). Education and health in late-life among high school graduates: Cognitive versus psychological aspects of human capital. Journal of Health and Social Behavior, 51(4), 478–496.

Herd, P., Goesling, B., & House, J. S. (2007). Socioeconomic position and health: The differential effects of education versus income on the onset versus progression of health problems. Journal of Health and Social Behavior, 48(3), 223–238.

Hu, B. J. (2007). A research report on the relationship between educational attainment and psychological wellbeing across different family backgrounds. Off-Campus Education in China, 6, 56–76.

Huang, F. T. (2005). Qualitative enhancement and quantitative growth: Changes and trends of China's higher education. Higher Education Policy, 18, 117–130.

Huang, C., & Elo, I. T. (2009). Mortality of the oldest old Chinese: The role of early-life nutritional status, socio-economic conditions, and sibling sex-composition. Population Studies, 63(1), 7–20.

Jann, B., Brand, J. E., & Xie, Y. (2008).–Hte–Stata module to perform heterogeneous treatment effect analysis. <http://ideas.repec.org/>. Accessed 1 Dec 2011.

Kandel, D. B., & Wu, P. (1995). The contributions of mothers and fathers to the intergenerational transmission of cigarette-smoking in adolescence. Journal of Research on Adolescence, 5(2), 225–252.

Lareau, A. (2011). Unequal childhoods: Class, race, and family life. Berkeley: University of California Press.

Liu, S., & Griffiths, S. M. (2011). From economic development to public health improvement: China Faces equity challenges. Public Health, 125, 669–674.

Liu, H., & Hummer, R. A. (2008). Are educational differences in U.S. Self-rated health increasing? An examination by gender and race. Social Science and Medicine, 67, 1898–1906.

Liu, Y. L., Rao, K. Q., & Fei, J. (1998). Economic transition and health transition: Comparing China and Russia. Health Policy, 44, 103–122.

Lohr, S. L. (2010). Sampling: Design and analysis. Boston: Brooks/Cole.

Loyalka, P., Song, Y. Q., & Wei, J. G. (2012). The effects of attending selective college tiers in China. Social Science Research, 41, 287–305.

Mare, R. D. (1981). Change and stability in educational stratification. American Sociological Review, 46, 72–87.

Meng, X. (2004). Economic restructuring and income inequality in urban China. Review of Income and Wealth, 50(3), 357–379.

Mirowsky, J., & Ross, C. E. (1998). Education, personal control, lifestyle and health—a human capital hypothesis. Research on Aging, 20(4), 415–449.

Mirowsky, J. & Ross, C. E. (2003). Education, social status, and health. New Brunswick, N.J.: Aldine Transaction.

Mocan, H. N., Tekin, E., & Zax, J. S. (2004). The demand for medical care in urban China. World Development, 32(2), 289–304.

Monda, K. L., Gordon-Larsen, P., Stevens, J., & Popkin, B. M. (2007). China's transition: The effect of rapid urbanization on adult occupational activity. Social Science and Medicine, 64(4), 858–870.

Morgan, S. L., & Winship, C. (2007). Counterfactuals and causal inference: Methods and principles for social research. New York: Cambridge University Press.

Murray, G., & Cook, I. G. (2002). Green China: Seeking ecological alternatives. London: Routledge.

Nee, V. (1989). A theory of market transition: From redistribution to markets in state socialism. American Sociological Review, 54, 663–681.

Nee, V. (1996). The emergence of a market society: Changing mechanisms of stratification in China. American Journal of Sociology, 100, 908–949.

Nee, V. & Cao, Y. (2005). Market transition and the firm: Institutional change and income inequality in urban China. Management and Organization Review, 1(1), 23–56.

Popkin, B. M. (2008). Will China's nutrition transition overwhelm its health care system and slow economic growth? Health Affairs, 27(4), 1064–1076.

Popkin, B. M., & Du, S. (2003). Dynamics of the nutrition transition toward the animal foods sector in China and its implications: A worried perspective. The Journal of Nutrition, 33, 3898s–3906s.

Raftery, A. E., & Hout, M. (1993). Maximally maintained inequality—expansion, reform, and opportunity in Irish education, 1921–75. Sociology of Education, 66(1), 41–62.

Ross, C. E., & Mirowsky, J. (2010). Why education is the key to socioeconomic differentials in health? In C. E. Bird, P. Conrad, A. M. Fremont, & S. Timmermans (Eds.), Handbook of medical sociology (pp. 33–51). Nashville: Vanderbilt University Press.

Ross, C. E., & Mirowsky, J. (2011). The interaction of personal and parental education on health. Social Science and Medicine, 72(4), 591–599.

Ross, C. E., & Wu, C. L. (1995). The links between education and health. American Sociological Review, 60(5), 719–745.

Ross, C. E., & Wu, C. L. (1996). Education, age, and the cumulative advantage in health. Journal of Health and Social Behavior, 37(1), 104–120.

Ross, C. E., & Zhang, W. (2008). Education and psychological distress among older Chinese. Journal of Aging and Health, 20(3), 273–289.

Rubin, D. B. (1997). Estimating causal effects from large data sets using propensity scores. Annals of Internal Medicine, 127(8), 757–763.

Rubin, D. B., & Thomas, N. (1996). Matching using estimated propensity scores: Relating theory to practice. Biometrics, 52(1), 249–264.

Shavit, Y., & Blossfeld, B.-P. (1993). Persistent inequalities: A comparative study of educational attainment in thirteen countries. Boulder: Westview Press.

Sullivan, K. M., Bottorff, J., & Reid, C. (2011). Does mother;s smoking influence girls' smoking more than boys' smoking? A 20-year review of the literature using a sex- and gender-based analysis. Substance Use and Misuse, 46(5), 656–668.

Sun, S., et al. (2011). Regional differences in health status in China: Population health-related quality of life results from the national health services survey 2008. Health & Place, 17, 671–680.

Thomas, S. L., & Zhang, L. (2005). Post-baccalaureate wage growth within four years of graduation: The effects of college quality and college major. Research in Higher Education, 46, 437–459.

Van De Poel, E., O'Donnell, O., & Van Doorslaer, E. (2012). Is there a health penalty of China's rapid urbanization? Health Economics, 21, 367–385.

Wan, Y. M. (2006). Expansion of Chinese higher education since 1998: Its causes and outcomes. Asia Pacific Education Review, 7(1), 19–31.

Wang, L. (2012). Economic transition and college premium in urban China. China Economic Review, 23, 238–252.

White, J. (2012). The Contribution of parent-child interactions to smoking experimentation in adolescence: Implications for prevention. Health Education Research, 27(1), 46–56.

Winship, C., & Mare, R. D. (1992). Models for sample selection bias. Annual Review of Sociology, 18, 327–350.

Wu, X. (2010). Economic transition, school expansion and educational inequality in China, 1990–2000. Research in Social Stratification and Mobility, 28(1), 91–108.

Wu, J., et al. (2003). Gender differences in education related health inequalities in Chinese northern rural areas: 1993 and 2001. Journal of Epidemiology and Community Health, 57(7), 506–507.

Wu, J., et al. (2004). Education-related gender differences in health in rural China. American Journal of Public Health, 94(10), 1713–1716.

Xu, J., et al. (2010). Self-rated health of population in southern China: Association with socio-demographic characteristics measured with multiple-item self-rated health measurement scale. BMC Public Health, 10, 393–404.

Yamamoto, Y., & Brinton, M. C. (2010). Cultural capital in east Asian educational systems: The case of Japan. Sociology of Education, 83(1), 67–83.

Zhang, L. (2005). Does quality matter? Benefits of attending a high-cost, prestigious college. New York: Routledge.

Zhao, Z. W. (2006). Income inequality, unequal health care access, and mortality in China. Population and Development Review, 32(3), 461–483.

Zhou, X., Moen, P. & Tuma, N. (1998). Educational stratification in urban China: 1949–94. Sociology of Education, 71(3), 199–222.
Acknowledgments
This research was supported by the Fudan University 985 Project Funding "Institutional Change, Transition in the Structure of Stratification, and Social Construction: Theoretical Exploration and Policy Implications" (2011SHKXZD008).
About this article
Cite this article
Hu, A. The Health Benefits of College Education in Urban China: Selection Bias and Heterogeneity. Soc Indic Res 115, 1101–1121 (2014). https://doi.org/10.1007/s11205-013-0266-2
Accepted:

Published:

Issue Date:
Keywords
Health benefits

College education

Urban China

Selection bias

Heterogeneity