Abstract
This paper proposes an innovative statistical matching method to combine the advantages of large national surveys and time diary data. We use data from two UK datasets that share stylised time-use information, crucial for the matching process. In particular, time-diary information of an individual from the Home On-line Study, our donor data set, is imputed to a similar individual from the British Household Panel Survey, our recipient dataset. Propensity score methods are used in conjunction with Mahalanobis matching to increase matching quality.
Access options
Buy single article
Instant access to the full article PDF.
US$ 39.95
Tax calculation will be finalised during checkout.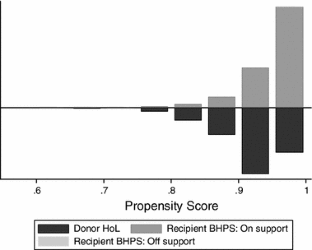 Notes
1.

2.

In the alternative constrained matching all the records in both dataset are represented in the matched file. To accomplish this, the units in both samples are replicated to the population size.

3.

4.

See the Rubustness Check section for recent developments in this methodology which overcome this drawback.

5.

120 BHPS observations had to be discarded because they had no HOL close matches available.

6.

We used the procedure developed by Becker and Ichino (2002) for STATA. We obtained 9 blocks.

7.

In fact, none of the differences are significant at the 1 % level.

8.

The additional variables were interaction terms between total working hours and age, civil status, education categories, number of children, childcare responsibility, and computer use. Results are available upon request.

9.

Instead of the 120 cases in our preferred method, radius matching leaves 360 observations out of the analysis.

10.

We used the Stata program uvis to compute this last estimation (Royston 2004).
References
Angrist, J. D., & Pischke, J.-S. (2009). Mostly harmless econometrics: An empiricists companion. Princeton: Princeton University Press.

Baydar, N., Greek, A., & Gritz, M. R. (1999). Young mothers' time spent at work and time spent caring for children. Journal of Family and Economic Issues, 20, 61–84.

Becker, S. O., & Ichino, A. (2002). Estimation of average treatment effects based on propensity scores. Stata Journal, 2(4), 358–377.

Bittman, M. (2004). Parenting and employment what time-use surveys show. In Michael. Bittman & Nancy. Folbre (Eds.), Family time: The social organization of care (pp. 152–170). London, New York: Routledge.

Bloemen, H., Pasqua, S., & Stancanelli, E. (2010). An empirical analysis of the time allocation of Italian couples: Are they responsive? Review of Economics of the Household, 8(3), 345–369.

Bonke, J. (2005). Paid work and unpaid work. Diary information versus questionnaire information. Social Indicators Research, 70, 349–368.

Connelly, R., & Kimmel, J. (2009). Spousal influences on parents' non-market time choices. Review of Economics of the Household, 7(4), 361–394.

Dehejia, R. H., & Wahba, S. (2002). Propensity score-matching methods for nonexperimental causal studies. Review of Economics and Statistics, 84(1), 151–161.

Gershuny, J. (2000). Changing times: Work and leisure in postindustrial society. Oxford: Oxford University Press.

Gershuny, J. (2004). Costs and benefits of time sampling methodologies. Social Indicators Research, 67, 247–252.

Gershuny, J. (2012). Too many zeros: A method for estimating long-term time-use from short diaries. Annales d'Ėconomie et de Statistique, 105(106), 247–270.

Gu, X., & Rosenbaum, P. (1993). Comparison of multivariate matching methods: Structures, distances, and algorithms. Journal of Computational and Graphical Statistics, 2, 405–420.

Joesch, Jutta. M., & Spiess, K. (2006). European mothers' time spent looking after children—Differences and similarities across nine countries. Electronic International Journal of Time Use Research, 3(1), 1–27.

Judson, D. H., & Poppoff, C. L. (2004). Selected general methods. In J. S. Siegel & D. Swanson (Eds.), The methods and materials of demography (pp. 667–732). San Diego, CA: Elsevier.

Juster, F. T., Ono, H., & Stafford, F. P. (2003). An assessment of alternative measures of time use. Sociological Methodology, 33, 19–54.

Kan, M. Y. (2008). Measuring housework participation: The gap between "stylised" questionnaire estimates and diary-based estimates. Social Indicators Research, 86(3), 381–400.

Kan, M. J., & Gershuny, J. (2009). Calibrating stylised time estimates using UK diary data. Social Indicators Research, 93, 239–243.

Kan, M. Y., & Pudney, S. (2008). Measurement error in stylized and diary data on time use. Sociological Methodology, 38, 101–132.

Kum, H. & Masterson, T. (2008). Statistical matching using propensity scores: Theory and application to the levy institute measure of economic wellbeing. Economics working paper archive wp_535, Levy Economics Institute. http://www.levyinstitute.org/pubs/wp_535.pdf. Accessed December 15, 2010.

Lechner, M. (2002). Program heterogeneity and propensity score matching: An application to the evaluation of active labor market policies. Review of Economics and Statistics, 84, 205–220.

Peichl, A., & Schaefer, T. (2009). FiFoSiM: An integrated tax benefit microsimulation and CGE model for Germany. International Journal of Microsimulation, 2(1), 1–15.

Räessler, S. (2002). Statistical matching: A frequentist theory, practical applications and alternative Bayesian approaches. New York: Springer.

Ridder, G., & Moffitt, R. (2007). The econometrics of data combination. In J. J. Heckman & E. E. Leamer (Eds.), Handbook of econometrics (Vol. 6, pp. 5469–5547). Amsterdam: Elsevier.

Rosenbaum, P., & Rubin, D. B. (1983). The central role of the propensity score in observational studies for causal effects. Biometrika, 70(1), 41–55.

Rosenbaum, P. R., & Rubin, D. B. (1985). Constructing a control group using multivariate matched sampling methods that incorporate the propensity score. The American Statistician, 39, 33–38.

Royston, P. (2004). Multiple imputation of missing values. Stata Journal, 4, 227–241.

Rubin, D. B. (1986). Statistical matching using file concatenation with adjusted weights and multiple imputations. Journal of Business and Economic Statistics, 4, 87–94.

Rubin, D. B., & Thomas, N. (2000). Combining propensity score matching with additional adjustments for prognostic covariates. Journal of the American Statistical Association, 95, 573–585.

Schulz, F. & Grunow, D. (2012). Comparing diary and survey estimates on time use. European Sociological Review, 28(5), 622–632.

Smith, J. (2000). A critical survey of empirical methods for evaluating active labor market policies. Swiss Journal of Economics and Statistics, 136(3), 247–268.

Stuart, E. A., & Rubin, D. B. (2008). Best practices in quasi-experimental designs: Matching methods for causal inference. In J. W. Osborne (Ed.), Best practices in quantitative methods (pp. 155–176). Thousand Oaks, CA: Sage Publications.

Sutherland, H., Taylor, R., & Gomulka, J. (2002). Combining household income and expenditure data in policy simulations. Review of Income and Wealth, 48(4), 517–536.

van Buuren, S., Boshuizen, H. C., & Knook, D. L. (1999). Multiple imputation of missing blood pressure covariates in survival analysis. Statistics in Medicine, 18, 681–694.

Zhao, Z. (2004). Using matching to estimate treatment effects: Data requirements, matching metrics, and Monte Carlo evidence. Review of Economics and Statistics, 86(1), 91–107.

Zhao, Z. (2008). Sensitivity of propensity score methods to the specifications. Economics Letters, 98(3), 309–319.

Zick, C. D., & Bryant, W. K. (1996). A new look at parents' time spent in child care: Primary and secondary time use. Social Science Research, 25, 1–21.
Acknowledgments
This paper has benefited from comments provided by Man Yee Kan, David Berrigan, and Oriel Sullivan. Any remaining errors are our own. This paper was partly prepared while Dr. Borra was an Academic Visitor in the Centre for Time Use Research at the University of Oxford (summer 2009, autumn 2010). The authors would like to express their thanks for the financial support provided by the Spanish Ministry of Education and Science (Project ECO2008-01297 and Movility Grant "José Castillejo" Convocatoria 2010), by the Andalusian Government (Convocatoria IAC 2009 2), and by the Economic and Social Research Council (Grant Number RES-060-25-0037).
Appendix
Appendix
See Table 6.
About this article
Cite this article
Borra, C., Sevilla, A. & Gershuny, J. Calibrating Time-Use Estimates for the British Household Panel Survey. Soc Indic Res 114, 1211–1224 (2013). https://doi.org/10.1007/s11205-012-0198-2
Accepted:

Published:

Issue Date:
Keywords
Statistical matching

Propensity score

Mahalanobis distance

Childcare time