Abstract
Little is known about the influence of people's diet on their psychological well-being. This study provides evidence of a link between the consumption of fruit and vegetables and high well-being. In cross-sectional data, happiness and mental health rise in an approximately dose–response way with the number of daily portions of fruit and vegetables. Well-being peaks at approximately 7 portions per day. We document this relationship in three data sets, covering approximately 80,000 randomly selected British individuals, and for seven measures of well-being (life satisfaction, WEMWBS mental well-being, GHQ mental disorders, self-reported health, happiness, nervousness, and feeling low). The pattern is robust to adjustment for a large number of other demographic, social and economic variables. Reverse causality and problems of confounding remain possible. We discuss the strengths and weaknesses of our analysis, how government policy-makers might wish to react to it, and what kinds of further research—especially randomized trials—would be valuable.
Access options
Buy single article
Instant access to the full article PDF.
US$ 39.95
Tax calculation will be finalised during checkout.
Subscribe to journal
Immediate online access to all issues from 2019. Subscription will auto renew annually.
US$ 119
Tax calculation will be finalised during checkout.
References
Blanchflower, D. G., & Oswald, A. J. (2004). Well-being over time in Britain and the USA. Journal of Public Economics, 88, 1359–1386.

Blanchflower, D. G., & Oswald, A. J. (2008). Is well-being U-shaped over the life cycle? Social Science and Medicine, 66, 1733–1749.

Blanchflower, D. G., & Oswald, A. J. (2011). International happiness: A new view on the measure of performance. Academy of Management Perspectives, 25, 6–22.

Capacci, S., & Mazzocchi, M. (2011). Five a day, a price to pay: An evaluation of the UK program impact accounting for market forces. Journal of Health Economics, 30, 87–98.

Carter, K. N., Krus, K., Blakely, T., & Collings, S. (2011). The association of food security with psychological distress in New Zealand and any gender differences. Social Science and Medicine, 72, 1463–1471.

Clark, A. E., Frijters, P., & Shields, M. A. (2008). Relative income, happiness, and utility: An explanation for the Easterlin Paradox and other puzzles. Journal of Economic Literature, 46, 95–144.

Dave, D. M., & Kelly, I. R. (2012). How does the business cycle affect eating habits? Social Science and Medicine, 74, 254–262.

Diener, E. (1994). Assessing subjective well-being: progress and opportunities. Social Indicators Research, 31, 103–157.

Diener, E., Suh, E. M., Lucas, R. E., & Smith, H. L. (1999). Subjective well-being: Three decades of progress. Psychological Bulletin, 125(2), 276–302.

Dolan, P., Peasgood, T., & White, M. (2008). Do we really know what makes us happy? A review of the economic literature on the factors associated with subjective well-being. Journal of Economic Psychology, 29, 94–122.

Easterlin, R. A. (2003). Explaining happiness. Proceedings of the National Academy of Sciences of the USA, 100, 11176–11183.

Farnworth, C. R. (2009). Well-being is a process of becoming: Respondent-led research with organic farmers in Madagascar. Social Indicators Research, 90, 89–106.

Goldberg, D. P., Gater, T., Sartorious, N., Ustun, T. B., Piccinelli, M., Gureje, O., et al. (1997). The validity of two versions of the GHQ in the WHO study of mental illness in general health care. Psychological Medicine, 27, 191–197.

Graham, C. (2005). Insights on development from the economics of happiness. World Bank Research Observer, 20, 201–231.

Graham, C. (2008). Happiness and health: Lessons—and questions—for public policy. Health Affairs, 27, 72–87.

Hu, Y. J., Stewart-Brown, S., Twigg, L., & Weich, S. (2007). Can the 12-item General Health Questionnaire be used to measure positive mental health? Psychological Medicine, 37, 1005–1013.

Jacka, F. N., Pasco, J. A., Myletun, A., et al. (2010). Association of western and traditional diets with depression and anxiety in women. American Journal of Psychiatry, 167, 305–311.

Layard, R. (2005). Happiness: Lessons from a new science. London: Allen Lane.

Ness, A. R., & Powles, J. W. (1997). Fruit and vegetables, and cardiovascular disease: A review. International Journal of Epidemiology, 26, 1–13.

Piqueras, J. A., Kuhne, W., Vera-Villarroel, P., van Straten, A., & Cuijpers, P. (2011). Happiness and health behaviours in Chilean college students: A cross-sectional survey. BMC Public Health, 11, Article number: 443. doi:10.1186/1471-2458-11-443.

Powdthavee, N. (2009). What happens to people before and after disability? Focusing effects, lead effects, and adaptation in different areas of life. Social Science and Medicine, 69, 1834–1844.

Propper, C., Jones, K., Bolster, A., Burgess, S., Johnston, R., & Sarker, R. (2005). Local neighbourhood and mental health: Evidence from the UK. Social Science and Medicine, 61, 2065–2083.

Shelton, N. J. (2009). Regional risk factors for health inequalities in Scotland and England and the "Scottish effect". Social Science and Medicine, 69, 761–767.

Shields, M. A., & Wheatley Price, S. (2005). Exploring the economic and social determinants of psychological well-being and perceived social support in England. Journal of the Royal Statistical Society (Series A), 168, 513–537.

Tennant, R., Hiller, L., Fishwick, R., Platt, S., Joseph, S., Weich, S., et al. (2007). The Warwick-Edinburgh mental well-being scale (WEMWBS): Development and UK validation. Health and Quality of Life Outcomes, 5, 1477–7527.

Tsai, A. C., Chang, T. L., & Chi, S. H. (2012). Frequent consumption of vegetables predicts lower risk of depression in older Taiwanese—results of a prospective population-based study. Public Health Nutrition, 15, 1087–1092.
Appendix: Data Description
Appendix: Data Description
Scottish Health Survey
|   | Mean | Standard deviation |
| --- | --- | --- |
| Life satisfaction | 7.6266 | 1.8858 |
| Warwick-Edinburgh | 49.8446 | 8.4733 |
| GHQ mental ill-being | 10.7911 | 5.0023 |
| Self-reported health | 3.9902 | 0.9572 |
One portion of fruit and vegetables is 80 g of any fruit or vegetable as defined by the Department of Health. A portion of fruit includes orange juice.
Life Satisfaction Question
All things considered, how satisfied are you with your life as a whole nowadays?

0—Extremely dissatisfied

1

2

3

4

5

6

7

8

9

10—Extremely satisfied
Self-Reported Health Question
How is your health in general? Would you say it was

5…very good,

4 good,

3 fair,

2 bad, or

1 very bad?
Welsh Health Survey 2008
|   | Mean | Standard deviation |
| --- | --- | --- |
| Happiness | 3.7181 | 0.9086 |
| Nervous | 1.6889 | 0.9738 |
| Downhearted and low | 1.9329 | 1.0136 |
Survey Question
These questions are about how you feel and how things have been with you during the past 4 weeks. For each question, please give the one answer that comes closest to the way you have been feeling. How much of the time during the past 4 weeks. (1) Have you been happy? (2) Have you been very nervous? (3) Have you felt downhearted and low?—none of the time; a little of the time; some of the time; most of the time; all of the time?
Health Survey of England, 2008
|   | Mean | Standard deviation |
| --- | --- | --- |
| GHQ | 10.4975 | 4.8910 |
GHQ Definition
In the GHQ measure, individuals answer 12 separate mental-distress questions: "Have you lost much sleep over worry?"; "Been able to concentrate on things?"; "Felt you are playing a useful part in things?"; "Felt capable of making decisions about things?"; "Felt constantly under strain?"; "Felt you could not overcome your difficulties?"; "Been able to enjoy your normal day-to-day activities"; "Been able to face up to your problems"; "Been feeling unhappy and depressed?"; "Been losing confidence in yourself?"; "Been thinking of yourself as a worthless person?"; "Been feeling reasonably happy all things considered?". People in the surveys are asked to answer on a scale from 'much more than usual' down to 'much less than usual'.
Portions of fruit and vegetables per day (% of the population)
| | |
| --- | --- |
| None | 0.054 |
| >0 portion but less than 2 | 0.171 |
| 2 portions or more but less than 3 | 0.166 |
| 3 portions or more but less than 4 | 0.169 |
| 4 portions or more but less than 5 | 0.139 |
| 5 portions or more but less than 6 | 0.116 |
| 6 portions or more but less than 7 | 0.072 |
| 7 portions or more but less than 8 | 0.043 |
| 8 portions or more | 0.070 |
WEMWBS Well-being Survey Questions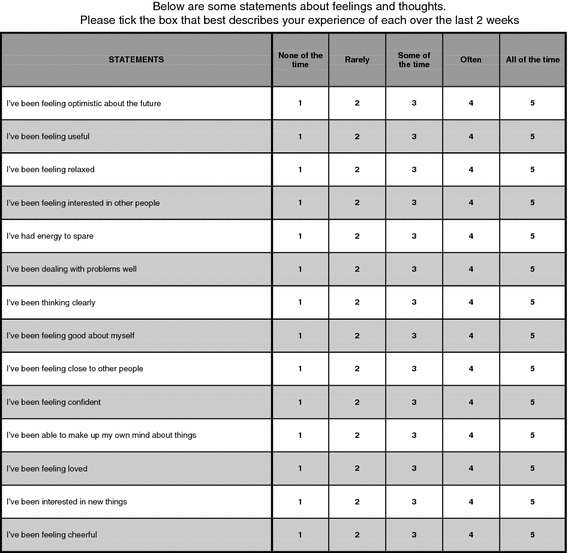 About this article
Cite this article
Blanchflower, D.G., Oswald, A.J. & Stewart-Brown, S. Is Psychological Well-Being Linked to the Consumption of Fruit and Vegetables?. Soc Indic Res 114, 785–801 (2013). https://doi.org/10.1007/s11205-012-0173-y
Accepted:

Published:

Issue Date:
Keywords
Subjective well-being

Healthy food

GHQ

Diet

Mental health

Depression

Happiness

WEMWBS