Abstract
This paper highlights the under-emphasised connection between theoretical conceptualisations and empirical operationalisations in the field of trust research. The paper proposes a matching of specific surveys measures with conceptualisations in order to work towards a more theoretically-informed empirical study of interpersonal trust. The work examines five widely-used survey measures of trust, and considers whether they are likely to operationalise conceptualisations of trust that are broadly more 'strategic' or more 'moralistic' in nature. It is argued that these trust questions, which are frequently used interchangeably, are likely to differ substantially from each other in terms of their conceptual underpinnings. This expectation is tested by examining the association between interpersonal trust and gender across seven UK social surveys. Findings indicate that the trust questions indeed have different associations with gender, providing support for the idea that some questions map more closely onto 'strategic' conceptualisations of trust, whilst others map more closely onto 'moralistic' conceptualisations. Implications of these findings are explored in the context of the search for construct validity in trust research.
Access options
Buy single article
Instant access to the full article PDF.
USD 39.95
Price excludes VAT (USA)
Tax calculation will be finalised during checkout.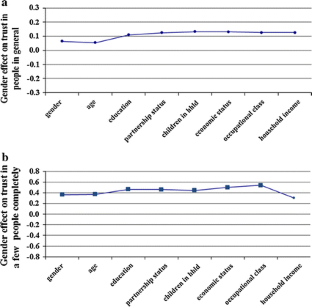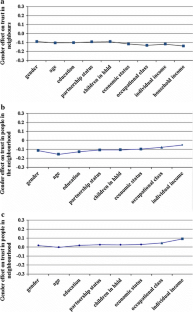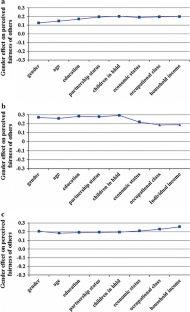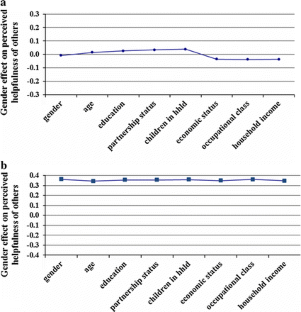 Notes
This principle is attributed to Saint Matthew with reference to Matthew 25:29: "For unto every one that hath shall be given, and he shall have abundance: but from him that hath not shall be taken away even that which he hath".
References
Arneil, B. (2006). Diverse communities: The problem with social capital. Cambridge: Cambridge University Press.

Beck, U. (1992). Risk society: Towards a new modernity. London: Sage.

Beck, U. (1999). World risk society. Cambridge: Polity Press.

Bekkers, R. (2006). When volunteering breeds trust—and when it does not: A panel study of the volunteering—trust relationship. Working Paper.

Berent, M.K., S.L. Bulloch and J.A. Krosnick (2012). Tracking national trends: Attrition, timing and context effects on population estimates of social trust. in process.

Blitzstein, D., Mitchell, O. S., & Utkus, S. P. (Eds.). (2006). Restructuring retirement risks. Oxford: Oxford University Press.

Boholm, A. (1998). Comparative studies of risk perception: A review of twenty years of research. Journal of Risk Research, 1(2), 135–163.

Burns, N. and D. Kinder (2000). Social trust and democratic politics. Report to the National Election Studies Board, Based on the 2000 NES Special Topic Pilot Study.

Campbell, R. (2006). Gender and the Vote in Britain: Beyond the gender gap? European Consortium for Political Research Monographs.

Chávez, M.L., B. Wampler and R.E. Burkhart (2006). Left out: Trust and social capital among migrant seasonal farmworkersn. Social Science Quarterly 87 (5).

Chodorow, N. (1978). The reproduction of mothering. Berkeley, California: University of California Press.

Claibourn, M. P., & Martin, P. S. (2000). Trusting and joining? An empirical test of the reciprocal nature of social capital. Political Behaviour, 22(4), 267–291.

Cote, S., & Healy, T. (2001). The Well being of nations: The role of human and social capital. Paris: Organisation for Economic Co-operation and Development (OECD).

Coulthard, M., Walker, A., & Morgan, A. (2002). People's perceptions of their neighbourhood and community involvement. New Port, The Stationery Office: The Office of National Statistics.

Delhey, J. (2009). How generalized is generalized social trust? A cross-national estimation of trust radii. European Survey Research Association Conference, Warsaw, 29 June–3 July.

Diamond, I., & Hartsock, N. (1981). Beyond interests in politics: A comment on Virginia Sapiro's When are interests interesting? The problem of political representation of women'. American Political Science Review, 75(3), 717–721.

Ermisch, J. F., Gambetta, D., Laurie, H., Siedler, T., & Uhrig, S. C. N. (2009). Measuring people's trust. Journal of the Royal Statistical Society Series A, 172(4), 749–769.

Flanagan, O., & Jackson, K. (1987). Justice, care, and gender: The Kohlberg-Gilligan debate revisited. Ethics, 97(3), 622–637.

Fukuyama, F. (1995). Trust: The social virtues and the creation of prosperity. London: Penguin.

Gaskell, G., Allum, N., Bauer, M. W., Durant, J., Allansdottir, A., Bonfadelli, H., et al. (2000). Biotechnology and the European public. Nature Biotechnology, 18(9), 935–938.

Gaskell, G., Allum, N., Wagner, W., Kronberger, N., Torgersen, H., Hampel, J., & Bardes, J. (2004). GM foods and the misperception of risk perception. Risk Analysis, 24(1), 185–194.

Giddens, A. (1990). The consequences of modernity. Stanford: Stanford Univerity Press.

Gilligan, C. (1982). In a different voice: Psychological theory and women's development. Cambridge, Massachusetts: Harvard University Press.

Gilligan, C., & Wiggins, G. (1987). The Origins of morality in early childhood relationships. In J. Kagan & S. Lamb (Eds.), The Emergence of morality in young children (pp. 277–306). Chicago: University of Chicago Press.

Glaeser, E. L., Laibson, D., Scheinkman, J. A., & Soutter, C. L. (2000). Measuring trust. The Quarterly Journal of Economics, 115, 811–846.

Gove, W. R. (1985). The effect of age and gender on deviant behaviour: A biopsychosocial perspective. In A. S. Rossi (Ed.), Gender and the life course (pp. 123–146). New York: Aldine.

Grenier, P. and K. Wright (2006). Social Capital in Britain: Exploring the Hall Paradox. Policy Studies 27 (1).

Gross, K., Aday, S., & Brewer, P. R. (2004). A panel study of media effects on political and social trust after September 11, 2001. Harvard International Journal of Press/Politics, 9(4), 49–73.

Gustafson, P. E. (1998). Gender differences in risk perception: Theoretical and methodological perspectives. Risk Analysis, 18(6), 805–811.

Hall, P. A. (1999). Social capital in Britain. British Journal of Politics, 29, 417–461.

Hamilton, M. (2010). Welfare reform and retirement incomes policy in Australia and Britain. In G. Marston, J. Moss, & J. Quiggin (Eds.), Risk, welfare and work (pp. 84–106). Melbourne: Melbourne, University Press.

Hardin, R. (1996). Trust worthiness. Ethics, 107(1), 26–42.

Hardin, R. (2006). Trust. Key concepts series. Cambridge: Polity Press.

Hooghe, M., T. Reeskens, D. Stolle and A. Trappers (2006). Ethnic Diversity, Trust, Ethnocentrism and Europe: A Multilevel Analysis of 21 European Countries 102nd Annual Meeting of the American Political Science Association, Philadelphia, 31 Aug–3 Sep.

Hooghe, M. and T. Reeskens (2007). To Trust or Not to Trust, That is the Question. European Survey Research Association Conference, Prague, 25–29 June.

Leigh, A. (2006). Does equality lead to fraternity?. Canberra: Centre for Economic Policy Research.

Lowndes, V. (2004). Getting on or getting by? Women, social capital and political participation. The British Journal of Politicas and International Relations, 6, 45–64.

Mansbridge, J. (1999). Altruistic trust. In M. E. Warren (Ed.), Democracy and trust (pp. 290–309). Cambridge: Cambridge University Press.

Miller, A. S., & Mitamura, T. (2003). Are surveys on trust trustworthy? Social Psychology Quarterly, 66(1), 62–70.

Miller, A. S., & Stark, R. (2002). Gender and religiousness: Can socialization arguments be saved? American Journal of Sociology, 107, 1399–1423.

Naef, M., Schupp J. (2009b). Measuring Trust: Experiments and Surveys in Contrast and Combination. European Survey Research Association Conference, Warsaw, 23 June–3 July.

Norris, P, Inglehart R. (2003). Gendering Social Capital: Bowling in Women's Leagues? Gender and Social Capital Conference, St John's College, University of Manitoba, 2–3 May.

Norris, P., Lovenduski, J., & Campbell, R. (2004). Gender and political participation. UK: Electoral Commission.

Park, A., J. Curtice, K. Thomson, M. Phillips, E. Clery and S. Butt (2010). British Social Attitudes 26th Report SAGE Publications.

Patterson, O. (1999). Liberty against the democratic state: On the historical and contemporary sources of American distrust. In M. E. Warren (Ed.), Democracy and trust (pp. 151–207). Cambridge: Cambridge University Press.

Paxton, P. (1999). Is social capital declining in the United States? A multiple indicator assessment. American Journal of Sociology, 105(1), 88–127.

Petersen, A., & Lupton, D. (1996). The new public health. St. Leonards: Allen and Unwin.

Potter, N. N. (2002). How can i be trusted? A virtue theory of trustworthiness. Oxford: Rowman & Littlefield Publishers.

Powell, M., & Ansic, D. (1997). Gender differences in risk behaviour in financial decision-making: An experimental analysis. Journal of Economic Psychology, 18, 605–628.

Putnam, R. (1995). Bowling alone: America's declining social capital. Journal of Democracy, 6(1), 65–78.

Putnam, R. (2000). Bowling alone: The collapse and revival of American community. New York: Simon and Schuster.

Rahn, W. M., & Transue, J. R. (1998). Social trust and value change: The decline of social capital in American youth, 1976–1995. Political Psychology, 19(September), 545–565.

Realo, A., Allik, J., & Greenfield, B. (2008). Radius of trust: Social capital in relation to familism and institutional collectivism. Journal of Cross-Cultural Psychology, 39(4), 447–462.

Rotter, J. B. (1980). Interpersonal trust, trustworthiness, and gullibility. American Psychologist, 35(1), 1–7.

Scott, J. (1997). Changing households in Britain: Do families still matter? The Sociological Review, 45(4), 591–620.

Sturgis, P., & Smith, P. (2010). Assessing the validity of generalized trust questions: What kind of trust are we measuring? International Journal of Public Opinion Research, 22(1), 74–92.

Uslaner, E. M. (2002). The moral foundations of trust. Cambridge: Cambridge University Press.

Veevers, J. E., & Gee, E. M. (1986). Playing it safe: Accident mortality and gender roles. Sociological Focus, 19, 349–360.

Yair, G. (2007). Existential uncertainty and the will to conform: The expressive basis of Coleman's rational choice paradigm. Sociology-the Journal of the British Sociological Association, 41(4), 681–698.

Yamagishi, T. and M. Yamagishi (1994). Trust and Commitment in the United States and Japan. Motivation and Emotion 18 (129–166).
About this article
Cite this article
Bulloch, S.L. Seeking Construct Validity in Interpersonal Trust Research: A Proposal on Linking Theory and Survey Measures. Soc Indic Res 113, 1289–1310 (2013). https://doi.org/10.1007/s11205-012-0139-0
Accepted:

Published:

Issue Date:

DOI: https://doi.org/10.1007/s11205-012-0139-0
Keywords