Abstract
A general societal consensus seems to have emerged that the pace of daily life, at least in the US and other Western countries, is speeding up. However, there seems little empirical evidence to document its presence, let alone its increase. The present article reviews results from two questions on subjective-time pressure that have been asked periodically in US national probability surveys since 1965, and which were repeated in separate 2009 and 2010 surveys. Counter to the popular societal consensus on an increasingly time-pressured society noted above, respondent reports of feelings of being "always rushed" declined by 6–9 points from those reported in 2004. The decline was found both among employed and unemployed respondents, indicating it was not simply a function of higher unemployment. At the same time, feelings of being "very happy" also declined over this period, despite the finding that time-pressured people have consistently reported being less happy. Moreover, more time-pressured people continued to report being less happy in these 2009–2010 surveys, even after controls for marital status, employment and other important predictors of happiness. Somewhat higher correlations with happiness were found for a related subjective-time question on having excess time on one's hands.
We're sorry, something doesn't seem to be working properly.
Please try refreshing the page. If that doesn't work, please contact support so we can address the problem.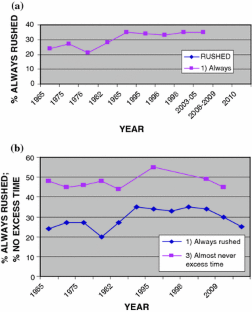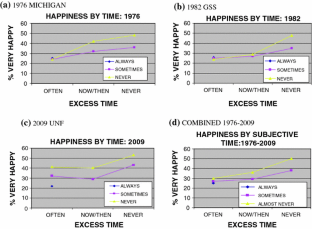 References
American Psychological Association. (2012). Stress in America. Washington, DC: American Psychological Association.

Andrews, F., Morgan, J., & Sonquist J. (1973). Multiple Classification Analysis. Institute for Social Research. University of Michigan.

Andrews, F., & Robinson, J. (1991). Happiness and life satisfaction. In J. Robinson, P. Shaver, & L. Wrightsman (Eds.), Measures of personality and social psychological attitudes New York. NY: Academic Press.

American Time-Use Survey. (ATUS). (2112). http://www.bls.gov/atus www.bls.gov/atus.

Bradburn, N., & Caplovitz, D. (1966). Reports on happiness. Chicago: Aldine.

Burns, Lee. (1993). Busy bodies: Why our time obsessed society keeps us running in place. New York: W.W. Norton.

Campbell, A., Converse, P. & Rodgers, W. (1978). The quality of American life. New York: Russell Sage.

Darrah, C., Freeman, J., & English-Lueck, J. (2007). Busier than ever! Why American families can't slow down. Palo Alto: Stanford University Press.

de Graff, J. (2003). Take back your time. San Francisco: Berrett-Koehler Publishers.

Economist. (2010). The great American slowdown. April 10, 2008.

Epstein, C., & Kalleberg, A. (Eds.). (2004). Fighting for time: Shifting boundaries of work and social life. London: Russell Sage Foundation.

Frey, W. (2010). The great American migration slowdown. Washington, DC: Brookings Research Report 12/9.

Hunnicutt, B. (1998). Work without end: Abandoning shorter hours for the right to work. Philadelphia: Temple University Press.

Jacobs, J., & Gerson, K. (2004). The time divide: work, family and gender inequality. Cambridge: Harvard University Press.

Mack, A. (Ed.). (2005). Busyness Issue of Social Research, 72(2).

Robinson, Joe. (2003). Work to live: The guide to getting a life. New York: Perigee Books.

Robinson, J., & Godbey, G. (1996). The great American slowdown. American Demographics, 18(6), 42–47.

Robinson, J., & Godbey, G. (1999). Time for life (revised edition) State College. PA: Penn State Press.

Robinson, J., & Martin, S. (2008). What do happy people do? Social Indicators Research, 89, 565–571.

Rosa, H. (2005). Acceleration, the change of time structures in the modern era. Frankfurt am Main: Suhrkamp.

Rosa, H., & Scheuerman, W. (2010). High-speed society: Social acceleration, power, and modernity. State college, PA: Penn State Press.

Schor, J. (1991). The overworked American: The unexpected decline of leisure. New York: Basic Books.

Smith, T. (2011). Trends in well-being: 1972–2010 General Social Survey. National Opinion Research Center. Chicago: University of Chicago.

Szalai, A. (1972). The use of time. The Hague: Mouton.
Acknowledgments
The research in this article was made possible by grant R24HD41041 from the National Institutes of Health and by the support of Prof. Sandra Hofferth of the Maryland Population Research Center and Prof. Paul Harwood formerly at the University of North Florida.
Additional information
John P. Robinson is a professor of sociology at the University of Maryland, where he directs the Americans' Use of Time Project.
Appendix: UNF Methodology: October–November Omnibus Survey 2009
Appendix: UNF Methodology: October–November Omnibus Survey 2009
Overview
This survey completed telephone interviews with 997 adult Americans. The survey was conducted by the Public Opinion Research Laboratory at the University of North Florida. The interviews, conducted in English and Spanish, were completed in October 2009. Analysis is weighted by Census Bureau data on age, education, income, marital status, employment status, race and region. The margin of error for the entire sample is ±3.0 %, with that margin of error being higher for cross tabulations.
Sample Design
The telephone samples were provided by Genesys Sampling Systems at Marketing Systems Group. These samples were drawn using standard list-assisted random digit dialing (RDD) methodology.
Procedure
Interviews were conducted from November 5 through November 17, 2009. As many as 6 attempts were made to contact every sampled telephone number. The sample is released in replicates–representative subsamples of the larger sample.
Analysis
Respondent gender, age, race, education, and income were weighted to data from the Census. Responses "Do not know" and "Refused" were removed for analysis purposes.
Sample Disposition
Table 5 below illustrates the disposition coding for all sampled callback telephone numbers ever dialed in this survey.
About this article
Cite this article
Robinson, J.P. Americans Less Rushed But No Happier: 1965–2010 Trends in Subjective Time and Happiness. Soc Indic Res 113, 1091–1104 (2013). https://doi.org/10.1007/s11205-012-0133-6
Accepted:

Published:

Issue Date:
Keywords
Subjective time

Social trends

Happiness

Quality of life

Time use