Abstract
In this study we raise the question how a nation's income inequality affects subjective well-being. Using information on 195,091 individuals from 85 different countries from the World Value Surveys and the European Value Surveys, we established that in general, people living in more unequal countries report higher well-being than people from more equal countries. This association however does not apply to all people similarly. First, the positive effect of a nation's income inequality is weaker when individuals express more social and institutional trust, and underscore egalitarian norms to a larger extent. Second, the positive association between national income inequality and subjective well-being is less strong for people from countries with high levels of social and institutional trust. So, our research predominantly indicates that there are far-reaching effects of an individual's and a nation's trust on people's well-being.
Access options
Buy single article
Instant access to the full article PDF.
US$ 39.95
Tax calculation will be finalised during checkout.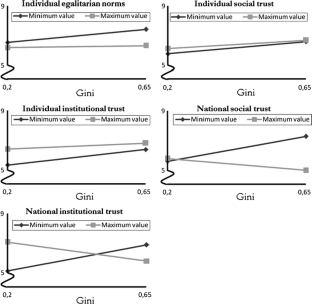 Notes
1.

We are aware of the different connotations of the terms subjective well-being, happiness, satisfaction, and quality of life. These factors, however, seem highly correlated and are often used as interchangeable (Veenhoven 1984, 2008). Especially in happiness research this seems standard practice (e.g. Easterlin 2001; Alesina et al. 2004; Verme 2011).

2.

Multilevel estimates with an additional random error were used to calculate imputed values. To maintain the same scaling, we used the restriction that the estimates could not become smaller than 0 or larger than 7. We presume single level imputations are justified because of the high correlation between both items (r = .809).

3.

To test whether the assumptions underlying multilevel regression were not violated, we used the Influence.Me package for R (Nieuwehuis and Te Grotenhuis 2009) to test for outliers within a multilevel setting, and perturbations to test for collinearity and ill-conditioned data within a multilevel setting. These tests showed that our results are robust. We used the RealCom macro for MlWin (Goldstein et al. 2009) to (multiple) impute missing values on perceived relative income within our multilevel setting.

4.

This effect is mediated by national wealth; high social trusting countries are also wealthier (model not displayed).

5.

A positive effect of income inequality on subjective well-being in a large international sample is reported by Haller and Hadler (2006). However, they provide the reader with additional explanations for this positive effect. Among others, the unequal but happy Latin American countries are portrayed as exceptions. Because of these explanations, which they do not test simultaneously, Haller and Hadler conclude (later on) that inequality decreases well-being.
References
Alesina, A., Di Tella, R., & MacCulloch, R. (2004). Inequality and happiness: Are Europeans and Americans different? Journal of Public Economics, 88, 2009–2044.

Baker, L. A., Cahalin, L. P., Gerst, K., & Burr, J. A. (2005). Productive activities and subjective well-being among older adults: The influence of number of activities and time commitment. Social Indicators Research, 73, 431–458.

Bay, A. H., & Pedersen, A. W. (2006). The limits of social solidarity: Basic income, immigration and the legitimacy of the universal welfare state. Acta Sociologica, 49(4), 419–436.

Beja, E. (2011). Subjective well-being approach to the valuation of income inequality. MPRA Paper No. 34177.

Berg, M., & Veenhoven, R. (2010). Income inequality and happiness in 119 nations: In search for an optimum that does not appear to exist. In B. Greve (Ed.), Social policy and happiness in Europe. Cheltenham: Edward Elgar.

Biancotti, C., & D'Alessio, G. (2008). Values, inequality and happiness. In Temi di discussione: Bank of Italy, Economic and Financial Statistics Department.

Bjørnskov, C., Dreher, A., & Fischer, J. A. V. (2008). Cross-country determinants of life satisfaction: Exploring different determinants across groups in society. Social Choice and Welfare, 20, 119–173.

Bjørnskov, C., Dreher, A., Fischer, J., & Schnellenbach J. (2010). Inequality and happiness: When perceived social mobility and economic reality do not match. CEIS Tor Vergata Research Paper Series 8 (5).

Clark, A. E. (2003). Inequality aversion and income mobility: A direct test. In Delta Working Papers, 11.

Clark, A. E., Frijters, P., & Shields, M. A. (2008). Relative income, happiness, and utility: An explanation for the Easterlin paradox and other puzzles. Journal of Economic Literature, 46(1), 95–144.

Coleman, J. S. (1988). Social capital in the creation of human capital. American Journal of Sociology, 94, 95–120.

Cramer, C. (2003). Does inequality cause conflict? Journal of International Development, 15, 397–412.

De Haan, J., & Sturm, J. (2000). On the relationship between economic freedom and economic growth. European Journal of Political Economy, 16, 215–241.

Delhey, J., & Newton, K. (2005). Predicting cross-national levels of social trust: Global pattern or Nordic exceptionalism. European Sociological Review, 21(4), 311–327.

Easterlin, R. (2001). Income and happiness, towards a unified theory. Economic Journal, 111, 465–484.

Fahey, T., & Smyth, E. (2004). Do subjective indicators measure welfare? Evidence from 33 European societies. European Societies, 6(1), 5–27.

Festinger, L. (1957). A theory of cognitive dissonance. Stanford: Stanford University Press.

Fischer, J. A. V. (2009). The welfare effects of social mobility. In OECD Social, Employment and Migration Working Papers 93: OECD, Directorate for Employment, Labour and Social Affairs.

Friedman, M. (1962). Capitalism and freedom. Chicago: University of Chicago Press.

Goldstein, H., Carpenter, J., Kenward, M., & Levin, K. (2009). Multilevel models with multivariate mixed response types. Statistical Modelling, 9(3), 173–197.

Graham, C., & Felton, A. (2005). Does inequality matter to individual welfare: An initial exploration based on happiness surveys from Latin America. In Center on Social and Economic Dynamics Working Papers No. 38. Washington, DC: The Brookings Institution.

Graham, C., & Pettinato, S. (2002). Happiness and hardship: Opportunity and insecurity in new market economies. Washington, DC: The Brookings Institution Press.

Greenfield, E. A., & Marks, N.F. (2004). Formal volunteering as a protective factor for older adult's psychological well-being. Journals of Gerontology: Series B: Psychological Sciences and Social Sciences 59b:258–64.

Gustavsson, M., & Jordahl, H. (2008). Inequality and trust in Sweden: Some inequalities are more harmful than others. Journal of Public Economics, 92, 348–365.

Hagerty, M. R. (2000). Social comparisons of income in one's community: Evidence from national surveys of income and happiness. Journal of Personality and Social Psychology, 78(4), 764–771.

Haller, M., & Hadler, H. (2006). How social relations and structures can produce happiness and unhappiness: An international comparative analysis. Social Indicators Research, 75(2), 169–216.

Heitmeyer, W. (2004). Was treibt die Gesellschaft auseinander? Frankfurt am Main: Suhrkamp.

Hetherington, M. J. (2004). Why trust matters: Declining political trust and the demise of American liberalism. Princeton: Princeton University Press.

Hudson, J. (2006). Institutional trust and subjective well-being across the EU. Kyklos, 59(1), 43–62.

Inglehart, R. (1977). The silent revolution: Changing values and political styles among western publics. Princeton: Princeton University Press.

Inglehart, R. (1990). Culture shift in advanced industrial society. Princeton: Princeton University Press.

Jordahl, H. (2007). Inequality and trust. Research Institute of Industrial Economics (IFN) working paper 715.

Juul, S. (2010). Solidarity and social cohesion in late modernity: A question of recognition, justice and judgement in situation. European Journal of Social Theory, 13(2), 253–269.

Kawachi, I., Kennedey, B. P., Lochner, K., & Prothrow-Stith, D. (1997). Social capital, income inequality, and mortality. American Journal of Public Health, 87(9), 1491–1498.

Linsen, R., Van Kempen, L., & Kraaykamp, G. (2011). Subjective well-being in rural India: The curse of conspicuous consumption. Social Indicators Research, 101(1), 57–72.

Lister, M. (2009). Institutions, inequality and social norms: Explaining variations in participation. The British Journal of Politics and International Relations, 9, 20–35.

Luttmer, E. F. P. (2005). Neighbors as negatives: Relative earnings and well-being. The Quarterly Journal of Economics, 20(3), 963–1002.

Maslow, A. H. (1954). Motivation and personality. New-York: Longmann.

Nannestad, P. (2008). What have we learned about generalized trust, if anything? The Annual Review of Political Scienc, 11, 413–436.

Nieuwehuis, R., Pelzer, B., & Te Grotenhuis, M. (2009). Manual for influence. ME: Tools for detecting influential data in mixed models Version 0.7.

Nozick, R. (1974). Anarchy, state, and utopia. New York: Basic Books.

O'Connell, M. (2004). Fairly satisfied: Economic equality, wealth and satisfaction. Journal of Economic Psychology, 25, 297–305.

Portes, A. (2000). The two meanings of social capital. Sociological Forum 15 (1).

Putnam, R. (2000). Bowling alone: the collapse and revival of american community. New-York: Simon & Schuster.

Ram, R. (2010). Social capital and happiness: Additional cross-country evidence. Journal of Happiness Studies, 11, 409–418.

Rawls, J. (2006) [1971]. Een theorie van rechtvaardigheid [A theory of justice]. Rotterdam Nederlands rechten lemniscaat.

Rodger, J. J. (2003). Social solidarity, welfare and post-emotionalism. Journal of Sociological Policy, 32(3), 403–421.

Rohstein, B., & Uslaner, E. M. (2005). All for all: Equality, corruption and social trust. World Politics, 58, 41–72.

Rojas, M. (2007). Heterogeneity in the relationship between income and happiness: A conceptual-referent-theory explanation. Journal of Economic Psychology, 28, 1–14.

Scheepers, P., Gijsberts, M., & Coenders, M. (2002). Ethnic exclusionism in European counteries: Public opposition to civil rights for legal migrants as a response to perceived ethnic threat. European Sociological Review, 18(1), 17–34.

Schneider, S. M. (2011a). Income inequality and its consequences for life satisfaction: What role do social cognitions play? Social Indicators Research,. doi:10.1007/s11205-011-9816-7.

Schneider, S. (2011). Income inequality and its consequences for life satisfaction: What role do social cognitions play?. Social Indicators Research:1–20.

Schwarze, J., & Härpfer, M. (2002). Are people inequality averse, and do they prefer redistribution by the state?. Evidence from German Longitudinal Data on Life Satisfaction. IZA Discussion Paper No. 430.

Snijders, T. A. B., & Bosker, R. J. (1999). Multilevel analysis: An introduction to basic and advanced multilevel modeling. London: Sage Publications.

Svendsen, G. T., & Bjørnskov, C. (2007). How to construct a robust measure of social capital: Two contributions. Journal of Comparative Policy Analysis: Research and Practice, 9(3), 275–292.

Tomes, N. (1986). Income distribution, happiness and satisfaction: A direct test of the interdependent preferences model. Journal of Economic Psychology, 7, 425–446.

Veenhoven, R. (1984). Conditions of happiness. Dordrecht: Kluwer.

Veenhoven, R. (2008). Sociological theories of subjective well-being. In M. Eid & R. J. Larsen (Eds.), The science of subjective well-being. New York/London: The Guilford Press.

Verme, P. (2011). Life satisfaction and income inequality. Review of Income and Wealth, 57(1), 111–137.

Wilkinson, R., & Picket, K. (2009). The spirit level why more equal societies almost always do better. London: Penguin.

WVS. (1981–2008). World Value Survey Official Aggregate v.20090901, 2009. World Values Survey Association (www.worldvaluessurvey.org). Aggregate File Producer: ASEP/JDS, Madrid.
About this article
Cite this article
Rözer, J., Kraaykamp, G. Income Inequality and Subjective Well-being: A Cross-National Study on the Conditional Effects of Individual and National Characteristics. Soc Indic Res 113, 1009–1023 (2013). https://doi.org/10.1007/s11205-012-0124-7
Accepted:

Published:

Issue Date:
Keywords
Subjective well-being

Income inequality

Cross-level interactions

World Value Survey

European Value Survey