Abstract
While it is generally agreed that income inequality affects an individual's well-being, researchers disagree on whether people living in areas of high income disparity report more or less happiness than those in more equal environments, thereby indicating the need to study how and why income inequality matters to the individual's well-being. Findings on group-specific reaction patterns to income inequality further fuel this need. Alesina et al. (2004) argue that a preference for inequality and the perception of the possibility of social mobility account for the indistinct relationship between income inequality and subjective well-being. Combining this hypothesis with previous research on social cognition and drawing on social justice theory, this paper aims to demonstrate the mediating nature of perceptions of income inequality. It argues that the perceived legitimacy of distributive outcomes and procedures contributes to how income inequalities affect individuals and their sense of well-being. The empirical analysis is based on data from the International Social Justice Project, developed from face-to-face interviews with a representative sample of the German population. Using structural equation modeling, the paper finds structural biases in the perception of income inequality. The paper concludes that subjective well-being is a product of the individual's perception and legitimating processes. The results indicate that social cognition is a useful tool for studies of income inequality and subjective well-being.
Access options
Buy single article
Instant access to the full article PDF.
USD 39.95
Price excludes VAT (USA)
Tax calculation will be finalised during checkout.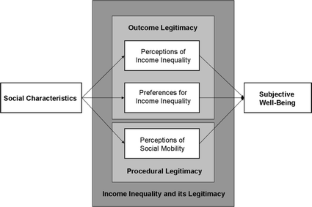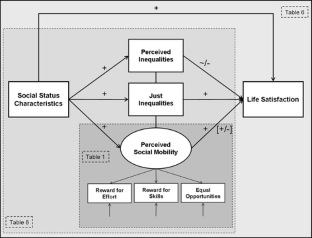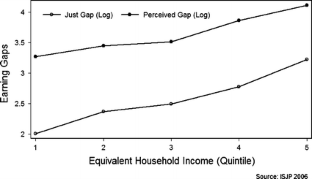 Notes
"Now please indicate how satisfied or dissatisfied you are with some different things in your life today using the scale on this card. If you are completely dissatisfied with the item I mention, you would say '1'. If you are completely satisfied, you would say '7'. If you are neither satisfied nor dissatisfied, you would say '4'. (You may use any number from 1 through 7). (…) All things considered, how satisfied are you with your life as a whole?".

Model fit of equivalence test using grouping analysis with metric invariance restrictions for differences between East and West Germany: χ²: 5.907, df(4), p < 0.2062; CFI:0.999; TLI: 0.998; RMSEA: 0.018; SRMR: 0.010.

The differences prove to be significant but must be interpreted with caution due to the violation of the precondition of equal variance within sub-groups (as indicated by the significant value of the Bartlett test of equal variance).

Due to a cut-off point of maximal earnings estimations (around 100 million Euros for managers), which was exceeded by 18 (perceived income) and 11 (just income) respondents, the average values are underestimated.

Consistent with previous studies, these differences cannot be fully explained by the long-lasting structural deficits in East Germany; cultural differences in the evaluation patterns and processes of social comparison may be reasonable explanations (see Schneider 2008).

According to theoretical reasoning, cognitions are expected to be interrelated with each other. Therefore, within the structural equation framework, I modeled correlations between mediating factors. The results show a negative (−0.05) but insignificant correlation between perceptions of social mobility and perceptions of income inequality in society. Significant and positive correlations are observed for preferences for social inequality and social mobility (0.18) and between perceptions and preferences of income inequality (0.73). This strong correlation is not surprising, as according to Homans (1976), perceptions of reality form expectations and therefore frame preferences.
References
Alesina, A., Di Tella, R., & MacCulloch, R. (2004). Inequality and happiness: Are Europeans and Americans different? Journal of Public Economics, 88, 2009–2042.

Alwin, D. F. (1987). Distributive justice and satisfaction with material well-being. American Sociological Review, 52, 83–95.

Bentham, J. (1789). Introduction to the principles of morals and legislation. London: Payne.

Berg, M., & Veenhoven, R. (2010). Income inequality and happiness in 119 nations. In B. Greve (Ed.), Happiness and social policy in Europe (pp. 174–194). Cheltenham: Edward Elgar.

Berger, J., Zelditch, M., Anderson, B, Jr., & Cohen, B. P. (1972). Structural aspects of distributive justice: A status value formulation. In J. Berger, M. Zelditch, & B. Anderson (Eds.), Sociological theories in progress (Vol. 2, pp. 119–146). Boston: Houghton Mifflin Company.

Bjørnskov, C., Dreher, A., Fischer, J., & Schnellenbach, J. (2009). On the relation between income inequality and happiness: Do fairness perceptions matter? MPRA paper, 19502.

Brown, T. A. (2006). Confirmatory factor analysis for applied research. New York: Guilford Press.

Burbank, M. J. (1995a). The psychological basis of contextual effects. Political Geography, 14(6/7), 621–635.

Burbank, M. J. (1995b). How do contextual effects work? Developing a theoretical model. In D. M. Eagles (Ed.), Spatial and contextual models in political research (pp. 165–178). London: Taylor & Francis.

Campbell, A., Converse, P. E., & Rodgers, W. L. (1976). The quality of American life. Perceptions, evaluations, and satisfactions. New York: Russell Sage Foundation.

Castillo, J. C. (2010). The legitimacy of economic inequality. An empirical approach to the case of Chile. Boca Ration. Dissertation.Com.

Castillo, J. C., & Schneider, S. M. (2008). The legitimacy of the distributive system: A comparison of Germany and Chile. Working Paper ISJP (Vol. 161, pp. 1–22).

Diener, E. (2009). Subjective Well-Being. In E. Diener (Ed.), Social indicators research series: The science of well-being (Vol. 37, pp. 11–58). Dordrecht: Springer.

Diener, E., & Seligman, M. E. P. (2004). Beyond money. Toward an economy of well-being. Psychological Science in the Public Interest, 5(1), 1–31.

Durkheim, E. (2008 [1897]). Der Selbstmord (1. Aufl., [Nachdr.]). Frankfurt am Main: Suhrkamp.

Esping-Andersen, G. (1999). Social foundations of post industrial economies. New York: Oxford University Press.

Evans, M. D. R., Kelley, J., & Kolosi, T. (1992). Images of class: Public perceptions in Hungary and Australia. American Sociological Review, 57, 461–482.

Fahey, T., & Smyth, E. (2004). The link between subjective well-being and objective conditions in European societies. In W. A. Arts & L. Halman (Eds.), European values studies: European values at the turn of the millennium (Vol. 7, pp. 57–80). Leiden: Brill.

Fiske, S. T., & Linville, P. W. (1980). What does the schema concept buy us? Personality and Social Psychology Bulletin, 6, 543–557.

Fiske, S. T., & Taylor, S. E. (1984). Social cognition. New York, NY: Random House.

Frey, B. S., & Stutzer, A. (2002). Happiness and economics: How the economy and institutions affect human well-being. Princeton, NJ: Princeton University Press.

Frijters, P. (2000). Do individuals try to maximize general satisfaction? Journal of Economic Psychology, 21, 281–304.

Graham, C., & Felton, A. (2006). Inequality and happiness: Insights from Latin America. Journal of Economic Inequality, 4, 107–122.

Hedström, P. (2008). Studying mechanisms to strengthen causal inferences in quantitative research. In J. M. Box-Steffensmeier, H. E. Brady, & D. Collier (Eds.), The Oxford handbook of political methodology (pp. 319–335). Oxford: Oxford University Press.

Hegtvedt, K. A. (1990). The effects of relationship structure on emotional responses to inequity. Social Psychology Quarterly, 53(3), 214–228.

Hollander, J. A., & Howard, J. A. (2000). Social psychological theories and social inequalities. Social Psychology Quarterly, 63(4), 338–351.

Homans, G. C. (1968). Elementarformen sozialen Verhaltens. Köln: Westdeutscher Verlag.

Homans, G. C. (1976). Commentary. In L. Berkowitz & E. Walster (Eds.), Equity theory: Toward a general theory of social interaction. Advances in experimental social psychology (pp. 231–259). New York: Academic Press.

Howard, J. A. (1994). A social cognitive conception of social structure. Social Psychology Quarterly, 57(3), 210–227.

Infas. (2006). Soziale Gerechtigkeit und Generationengerechtigkeit. Bevölkerungsbefragung 2006: Methodenbericht. Bonn: Infas Institut für angewandte Sozialwissenschaft.

Jasso, G. (2007). Studying justice: Measurement, estimation, and analysis of the actual reward and the just reward. In K. Törnblom & R. Vermunt (Eds.), Distributive and procedural justice: Research and social applications (pp. 225–253). Hampshire: Ashgate.

Jost, J. T., Pelham, B. W., Sheldon, O., & Sullivan, B. N. I. (2003). Social inequality and the reduction of ideological dissonance on behalf of the system: evidence of enhanced system justification among the disadvantaged. European Journal of Social Psychology, 33, 13–36.

Kahneman, D., Diener, E., & Schwarz, N. (Eds.). (1999). Well-being: The foundations of hedonic psychology. New York, NY: Russell Sage Foundation.

Kahneman, D., Krueger, A. B., Schkade, D., Schwarz, N., & Stone, A. A. (2004). Toward national well-being accounts. The American Economic Review, 94(2), 429–434.

Kie, W. C., Ying, W. K., & Ho, M. B. (2006). Subjective well-being, societal condition and social polity—the case study of a rich Chinese society. Social Indicators Research, 78, 405–428.

Kluegel, J. R., & Smith, E. R. (1986). Beliefs about Inequality. Americans' views of what is and what ought to be. New York: Aldine de Gruyter.

Kluegel, J. R., Csepeli, G., Kolosi, T., Örkény, A., & Neményi, M. (1995). Accounting for the rich and the poor: Existential justice in comparative perspective. In J. R. Kluegel, D. S. Mason, & B. Wegener (Eds.), Social justice and political change. Public opinion in capitalist and post-communist states (pp. 179–207). New York: Aldine de Gruyter.

Lane, R. (1986). Market justice, political justice. The American Political Science Review, 80(2), 383–402.

Layard, R. (2006). Happiness: Lessons from a new science. London: Penguin Books.

Layard, R. (2010). Measuring subjective well-being. Science, 327, 534–535.

Lengfeld, H. (2007). Subjective impartiality: Justice judgements between morality and self-interest. In K. Törnblom & R. Vermunt (Eds.), Distributive and procedural justice: Research and social applications (pp. 207–224). Hampshire: Ashgate.

Lindenberg, S. (1977). The direction of ordering and its relation to social phenomena. Zeitschrift für Soziologie, 6(2), 203–221.

Lott, B. (2002). Cognitive and behaviorial distancing from the poor. American Psychologist, 57(2), 100–110.

Markovsky, B. (1988). Injustice and arousal. Social Justice Research, 2(3), 223–233.

Muthén, L. K., & Muthén, B. O. (2007). Mplus users guide. Statistical analysis with latent variables (5th ed.). Los Angeles.

Schimmack, U., Radhakrishnan, P., Oishi, S., & Dzokoto, V. (2002). Culture, personality, and subjective well-being: Integrating process models of life satisfaction. Journal of Personality and Social Psychology, 82(4), 582–593.

Schneider, S. (2008). Materielles Wohlbefinden im Spiegel der Gerechtigkeit. Working paper ISJP (Vol. 169, pp. 1–80).

Schwarze, J., & Härpfer, M. (2007). Are people inequality averse, and do they prefer redistribution by the state? Evidence from German longitudinal data on life satisfaction. The Journal of Socio-Economics, 36, 233–249.

Sen, A. (1997). On economic inequality. Oxford: Clarendon Press.

Sen, A. (1999). Development as freedom. Oxford: Oxford University Press.

Senik, C. (2005). Income distribution and well-being: What can we learn from subjective data? Journal of Economic Surveys, 19(1), 43–63.

Stiglitz, J. E., Sen, A., & Fitoussi, J.-P. (2009). Report by the commission on the measurement of economic performance and social progress. www.stiglitz-sen-fitoussi.fr. Accessed 25 Mar 2010.

Tversky, A., & Kahneman, D. (1973). Availability: A Heuristic for judging frequency and probability. Cognitive Psychology, 5, 207–232.

Tversky, A., & Kahneman, D. (1974). Judgement under uncertainty: Heuristics and biases. Biases in judgements reveal some heuristics of thinking under uncertainty. Science, 185, 1124–1131.

Veenhoven, R. (2004). Subjective measures of well-being. WIDER Discussion paper no. 2004/2007.

Veenhoven, R. (2009). How do we assess how happy we are? Tenets, implications and tenability of three theories. In A. K. Dutt (Ed.), Happiness, economics and politics: Towards a multi-disciplinary approach (pp. 45–69). Cheltenham: Elgar.

Wegener, B. (1990). Equity, relative deprivation, and the value consensus paradox. Social Justice Research, 4(1), 65–86.

Wegener, B. (1992). Gerechtigkeitsforschung und Legitimationsnormen. Zeitschrift für Soziologie, 21, 269–283.

Wegener, B. (1999). Belohnungs- und Prinzipiengerechtigkeit: Die zwei Weltern der empirischen Gerechtigkeitsforschung. In U. Druwe & V. Kunz (Eds.), Politische Gerechtigkeit (pp. 167–214). Opladen: Leske and Budrich.

Wilkinson, R., & Pickett, K. (2009). The spirit level: Why more equal societies almost always do better. London: Allen Lane.
Acknowledgments
I would like to thank Ruut Veenhoven, Jouni Häkli, Martin Groß and the anonymous reviewer for their valuable comments on earlier drafts of this article. I also want to express my gratitude to Bernd Wegener, who made research on this issue possible. For all statements of fact, data analyses and interpretation of results the author alone bears responsibility.
About this article
Cite this article
Schneider, S.M. Income Inequality and its Consequences for Life Satisfaction: What Role do Social Cognitions Play?. Soc Indic Res 106, 419–438 (2012). https://doi.org/10.1007/s11205-011-9816-7
Accepted:

Published:

Issue Date:

DOI: https://doi.org/10.1007/s11205-011-9816-7
Keywords
Income inequality

Well-being

Social cognition

Social justice