Abstract
The purpose of this study was to examine the association between sustainable consumption and life satisfaction. One aspect of sustainable consumption focused on in this study is the environment friendly purchase or green purchase. Using data collected from consumers in 14 cities in China, we found that consumers who reported green purchase intention and behavior had higher scores in life satisfaction compared to other consumers after controlling for gender, age, education, and family income. The findings add evidence to the literature that suggests happiness is associated with prosocial spending (Dunn et al., Science 319:1687–1688 in 2008).
Access options
Buy single article
Instant access to the full article PDF.
US$ 39.95
Tax calculation will be finalised during checkout.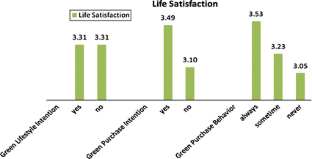 References
Brown, K. W., & Kasser, T. (2005). Are psychological and ecological well-being compatible? The role of values, mindfulness, and lifestyle. Social Indicators Research, 74(2), 349–368.

Diener, E. (1984). Subjective well-being. Psychological Bulletin, 95(3), 542–575.

Diener, E., & Biswas-Diener, R. (2002). Will money increase subjective well-being? Social Indicators Research, 57(2), 119–169.

Diener, E., Suh, E. M., Lucas, R. E., & Smith, H. L. (1999). Subjective well-being: Three decades of progress. Psychological Bulletin, 125, 276–302.

Dunn, E. W., Aknin, L. B., & Norton, M. I. (2008). Spending money on others promotes happiness. Science, 319, 1687–1688.

Franzen, A. (2003). Environmental attitudes in international comparison: An analysis of the ISSP surveys 1993 and 2000. Social Science Quarterly, 84(2), 297–308.

Guillen-Royo, M. (2008). Consumption and subjective wellbeing: Exploring basic needs, social comparison, social integration and hedonism in Peru. Social Indicators Research, 89(3), 535–555.

Heady, B., Muffels, R., & Wooden, M. (2008). Money does not buy happiness: Or does it? A reassessment based on the combined effects of wealth, income and consumption. Social Indicators Research, 87(1), 65–82.

Jacob, J., Jovic, E., & Brinkerhoff, M. (2009). Personal and planetary well-being: Mindfulness meditation, pro-environmental behavior and personal quality of life in a survey from the social justice and ecological sustainability movement. Social Indicators Research, 93(2), 275–294.

Kahneman, D., & Krueger, A. B. (2006). Developments in the measurement of subjective well-being. Journal of Economic Perspective, 20(1), 3–24.

Li, H. (2004). Mass consumption society in China: Market economy and consumer behavior. Kyoto, Japan: Mineruva Press. (in Japanese).

Lynbomirsky, S., Sheldon, K., & Schkade, D. (2005). Pursuing happiness: The architecture of sustainable change. Review of General Psychology, 9(2), 111–131.

Michalos, A. C. (1997). Combining social, economic and environmental indicators to measure sustainable human well-being. Social Indicators Research, 40(1–2), 221–258.

Oslo roundtable on sustainable production and consumption. (1994). Retrieved May 2, 2010 from, http://www.iisd.ca/consume/oslo000.html.

Sirgy, M. J., Michalos, A. C., Ferriss, A. L., Easterlin, R. E., Patrick, D., & Pavot, W. (2006). The quality-of-life (QOL) research movement: Past, present, and future. Social Indicators Research, 76, 343–466.

Struwig, J. (2010). South Africans' attitudes towards the environment. In B. Roberts, M. Kivilu, & Y. D. Davids (Eds.), South African social attitudes 2nd report: Reflections on the age of hope (pp. 198–219). Cape Town: Human Sciences Research Council.

Xiao, J. J., Tang, C., & Shim, S. (2009). Acting for happiness: Financial behavior and life satisfaction of college students. Social Indicator Research, 92, 53–68.

Xiao, J. J., & Ying, B. (2008). Sustainable consumption in China: Role of Chinese consumers. In M. O'Donoghue (Ed.), Global sustainable development: A challenge for consumer citizens (Ebook). Lucerne, Switzerland: IFHE.
About this article
Cite this article
Xiao, J.J., Li, H. Sustainable Consumption and Life Satisfaction. Soc Indic Res 104, 323–329 (2011). https://doi.org/10.1007/s11205-010-9746-9
Accepted:

Published:

Issue Date:
Keywords
Sustainable consumption

Green purchase

Prosocial spending

Life satisfaction

Subjective well-being

China