Abstract
This paper looks at the role of statistics-based knowledge in the making of EU policy. We highlight shortcomings in the use of statistical indicators made in the course of the Lisbon strategy, ended in 2010. In our opinion the shortcomings are: (i) The paradox of the coexistence within the same European Commission of two holistic frameworks: the Structural Indicators and the Sustainable Development Indicators. One does not understand which of these two systems is taken to measure the overall policy performance of the European Union. (ii) A communication issue whereby the Lisbon strategy and its offspring EU 2020 are not communicated (Lisbon is to the average citizen the capital of Portugal) and are especially not communicated in relation to existing statistical indicators of good quality, against the opinion of academicians that transparency and accountability based on sound statistics favour democracy and participation. We illustrate the reasons that lead us to see these points as problematic and offer suggestions on how these should be tackled in line with the practices developed in the Open Method of Coordination. The danger is that in the absence of a debate on the issue, these shortcomings be perpetuated in the EU 2020 strategy.
Access options
Buy single article
Instant access to the full article PDF.
US$ 39.95
Tax calculation will be finalised during checkout.
Subscribe to journal
Immediate online access to all issues from 2019. Subscription will auto renew annually.
US$ 119
Tax calculation will be finalised during checkout.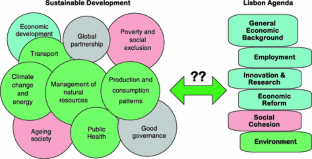 Notes
1.

Note that there are variations in the OMC modalities and procedures according to the policy area covered.

2.

The OMCs related to the social cohesion (social inclusion, pensions, and health care and long-term care for the eldery) were condensed into a separate "Social Protection and Social Inclusion OMC".

3.

The governance structure of the Lisbon strategy was totally overhauled with member states given more latitude in reporting their own progress via their annual country reports.

4.

More latitude is given to Member States in preparing their national reform programmes and reporting their own progress via their annual country reports.

5.

6.

7.

8.

9.

10.

11.

See e.g. the soft power praised by Rifkin (2004).
References
ALDE. (2010). Alliance of liberals and democrats for Europe, "EU 2020" STRATEGY, www.alde.eu.

Alesina, A. & Perotti, R. (2004). The European Union: A politically incorrect view, NBER working papers series, working paper 10342, http://www.nber.org/papers/w10342, Accessed 16 Nov 2009.

Altomonte, C., & Nava, M. (2005). Economics and politics of an enlarged Europe. Cheltenham: Edward Elgar Publishing.

Beyond GDP. (2009). see http://www.beyond-gdp.eu/. Accessed April 2010.

CEDEFOP. (2009). Future skill supply in Europe, medium-term forecast up to 2020: synthesis report, http://www.cedefop.europa.eu/etv/Upload/Information_resources/Bookshop/546/4086_en.pdf. Accessed 2 June 2010.

EC 2010a, Brussels, 2.2.2010, SEC. (2010a). 114 final, Commission Staff Working Document, Lisbon Strategy evaluation document.

EC 2010b, Brussels, 3.3.2010, COM. (2010b). 2020, Communication from the commission. EUROPE 2020. A strategy for smart, sustainable and inclusive growth.

Hanushek, E. A., & Woessman, L. (2010). The high cost of low educational performance. Paris: OECD.

Hix, S. (2008). Whats wrong with the Europe union and how to fix it (p. 184). Malden: Polity Press publisher.

Hofheinz, P. (2009). EU 2020: why skills are key for Europe's future, Lisbon Council's brief.

Kok, W. (2004). http://ec.europa.eu/growthandjobs/pdf/kok_report_en.pdf. Accessed 16 Nov 2009.

Lisbon Council. (2009). The 2009 European growth and jobs monitor, http://www.lisboncouncil.net/publication/publication/37-the-2009-european-growth-and-jobs-monitor.html. Accessed 2 June 2010.

Manca, A. R., Governatori, M., & Mascherini, M. (2010). Toward a set of composite indicators on flexicurity: A comprehensive approach, JRC scientific and technical report EUR 24329 EN.

Menon, A. (2008). Europe: The State of the Union (p. 3). London: Atlantic Books Publisher.

Mettler, A. (2009). Innovating indicators, choosing the right targets for EU 2020, The Lisbon council. http://www.lisboncouncil.net/publication/publication/55-innovatingindictors.html.

Monti, M. (2010). A New strategy for the single market at the service of Europe's economy and society, Report to the President of the European Commission José Manuel Barroso.

OECD2009, http://www.oecd.org/dataoecd/14/46/38883774.pdf. Accessed 2 June 2010.

OECD, European Commission, Joint Research Centre. (2008). Handbook on constructing composite indicators: methodology and user guide. In Nardo, M. M. Saisana, A. Saltelli and S. Tarantola (EC/JRC), A. Hoffman and E. Giovannini (OECD) (Eds.)., OECD publication Code: 302008251E1.

Pisani Ferry, J., & Sapir, A. (2006). Last exit to Lisbon, Bruegel brief, http://www.bruegel.org/uploads/tx_btbbreugel/pbf_140306_lisbon.pdf. Accessed 16 Nov 2009.

Rifkin, J. (2004). The European dream. New York: Tarcher-Penguin.

Saltelli, A. (2007). Composite indicators between analysis and advocacy. Social Indicators Research, 81(1), 65–77.

Saltelli, A., Jesinghaus, J., Manca, A., Mascherini, M., Nardo, M. & Saisana, M. (2010). Indicators for Lisbon post-2010. Business as usual? European Commission, Joint Research Centre, EUR Report 24280 EN–2010.

Sapir, A. (Ed.). (2009). Europe's economic priorities 2010–2015, Memos to the new Commission, Briegel report.

Stiglitz, J. E., Sen, A., Fitoussi, J. -P. (2009). Report by the commission on the measurement of economic performance and social progress, www.stiglitz-sen-fitoussi.fr.

The Economist. (2010). A special report on Germany. Much to learn. Germany's education system is a work in progress.

Thomasson-Lerulf, P., & Kataja, H. (2009). The European Union's burden. Information and communication to a reluctant people. In Philip Thomasson-Lerulf & Hannes Kataja (Eds)., Accessed 16 Nov 2009. http://www.timbro.se/innehall/?isbn=9175667256&flik=4&omr=180.

Tilford, S., & Whyte, P. (2010). The Lisbon scorecard X. The road to 2020. Centre for European Reform.

Wilkinson, R., & Pickett, K. (2009). The spirit level, why more equal societies almost always do better. London: Allen Lane Publishers.
Acknowledgments
A very preliminary version of this work was published as technical report of the European Commission—Joint Research Centre (Saltelli et al. 2010). Useful comments to were received by several colleagues, including foremost Anders Hingel (Education and Culture) and, Radek Maly (Employment). The responsibility for the text's limitations and errors rests with the authors.
Additional information
The views expressed in this paper are those of the authors and should not be attributed to the European Commission.
About this article
Cite this article
Saltelli, A., D'Hombres, B., Jesinghaus, J. et al. Indicators for European Union Policies. Business as Usual?. Soc Indic Res 102, 197–207 (2011). https://doi.org/10.1007/s11205-010-9678-4
Accepted:

Published:

Issue Date:
Keywords
Lisbon strategy

Indicators