Abstract
This study examines adolescent depressive symptoms and the quantity and quality of time spent by adolescents with their parents and siblings. We use measures of the quality of relationships with parents and siblings as proxy indicators for the quality of time spent with these social partners. The study emphasizes the salience of parent relationships to adolescent depression. The structural equation models suggest that time spent with parents is indirectly linked with the severity of depressive symptoms via adolescents' perceptions of how accepting their parents are of them, and the extent to which parents avoid exerting psychological control. We discuss these findings in relation to clinical practice.
This is a preview of subscription content, log in to check access.
Access options
Buy single article
Instant access to the full article PDF.
US$ 39.95
Price includes VAT for USA
Subscribe to journal
Immediate online access to all issues from 2019. Subscription will auto renew annually.
US$ 199
This is the net price. Taxes to be calculated in checkout.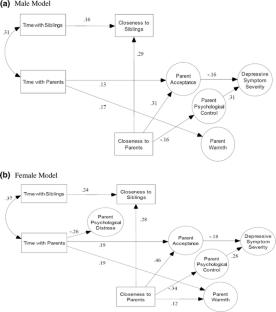 References
Anderson, J. C., & Gerbing, D. W. (1988). Structural equation modeling in practice: A review and the recommended two-step approach. Psychological Bulletin, 103, 411–423.

Arbuckle, J. L. (2003). Amos (Version 5.0). Chicago: SPSS.

Barber, B. K., & Olsen, J. A. (1997). Socialization in context: Connection, regulation, and autonomy in the family, school, and neighborhood, and with peers. Journal of Adolescent Research, 12(2), 287–315.

Bettge, S., Wille, N., Barkmann, C., Schulte-Markword, M., Ravens-Sieberer, U., & The BELLA Study Group. (2008). Depressive symptoms of children and adolescents in a German representative sample: results of the BELLA study. European Child and Adolescent Psychiatry, 17, 71–81.

Crouter, A. C., Head, M. R., & McHale, S. M. (2004). Family time and the psychosocial adjustment of adolescent siblings and their parents. Journal of Marriage and the Family, 66(1), 147–162.

Fagan, A. A., & Najman, J. M. (2003). Sibling influences on adolescent delinquent behaviour: An Australian longitudinal study. Journal of Adolescence, 26, 547–559.

Institute for Social Research. (2005). The panel study of income dynamics child development supplement. User Guide for CDS-II. From http://psidonline.isr.umich.edu/CDS/cdsii_userGd.pdf. Retrieved 9 Jan 2006.

Kessler, R. C., Andrews, G., Colpe, L. J., Hiripi, E., Mroczek, D. K., Normand, S.-L. T., et al. (2002). Short screening scales to monitor population prevalences and trends in non-specific psychological distress. Psychological Medicine, 32, 959–976.

Kovacs, M. (1992). Children's Depression Inventory (CDI) Manual. New York: Multi-Health Systems.

Lewinsohn, P. M., Rohde, P., Klein, D. N., & Seeley, J. R. (1999). Natural course of adolescent major depressive disorder. I: Continuity into young adulthood. Journal of the American Academy of Child and Adolescent Psychiatry, 38, 56–63.

Reinfjell, T., Hjemdal, O., Aune, T., Vikan, A., & Diseth, T. H. (2008). The pediatric quality of life inventory (PedsQL) 4.0 as an assessment measure for depressive symptoms: A correlational study with young adults. Nordic Journal of Psychiatry, 62, 279–286.

SPSS Inc. (2001). SPSS advanced models 11.0. Chicago, IL: SPSS Inc.

Starrels, M. E. (1994). Gender differences in parent-child relations. Journal of Family Issues, 15(1), 148–165.

Tucker, C. J., McHale, S. M., & Crouter, A. C. (2008). Links between older and younger adolescent siblings' adjustment: The moderating role of shared activities. International Journal of Behavioral Development, 32(2), 152–160.

Wade, R. J., Cairney, J., & Pevalin, D. (2002). Emergence of gender differences in depression during adolescence: National panel results from three countries. Journal of the American Academy of Child and Adolescent Psychiatry, 41, 190–198.

Weissman, M. M., Wolk, S., Goldstein, R. B., Moreau, D., Adams, P., Greenwald, S., et al. (1999). Depressed adolescents grown up. Journal of the American Medical Association, 18(281), 1707–1713.

Zisook, S., Lesser, I., Stewart, J. W., Wisniewski, S. R., Balasubramani, G. K., Fava, M., et al. (2007). Effect of age at onset on the course of major depressive disorder. American Journal of Psychiatry, 164(10), 1539–1546.
Acknowledgments
Data are from the Child Development Supplement II of the Panel Study of Income Dynamics. The PSID is primarily sponsored by the National Science Foundation, the National Institute of Aging, and the National Institute of Child Health and Human Development and conducted by The University of Michigan. Dr. Nicholson was funded by a National Health and Medical Research Council Population Health Career Development Award (390136).
About this article
Cite this article
Desha, L.N., Nicholson, J.M. & Ziviani, J.M. Adolescent Depression and Time Spent with Parents and Siblings. Soc Indic Res 101, 233–238 (2011). https://doi.org/10.1007/s11205-010-9658-8
Accepted:

Published:

Issue Date:
Keywords
Adolescence

Depressive symptoms

Time use

Shared time

Parents

Siblings