Abstract
A number of studies have suggested breastfed infants have improved bonding and attachment or cognitive development outcomes. However, mechanisms by which these differences might develop are poorly understood. We used maternal time use data to examine whether exclusively breastfeeding mothers spend more time in close interactive behaviors with their infants than mothers who have commenced or completed weaning. Mothers (188) participating in a time use survey recorded infant feeding activities for 24 h over a 7 day period using an electronic device. Tracking was conducted at 3, 6, and 9 months postpartum. Data was collected for maternal activities including infant feeding and time spent in emotional care. The mothers of exclusively breastfed infants aged 3–6 months fed them frequently and total time spent in breastfeeding averaged around 17 h a week. Maternal time spent in emotional care was also substantial, and found to correlate positively with time spent breastfeeding. Exclusively breastfed infants received greatest amounts of emotional care from their mother, and exclusively formula fed infants the least. Mixed fed infants received more emotional care time than formula fed infants, but less than fully breastfed infants. These findings may help explain the differential cognitive developmental outcomes reported in the medical literature for breastfed and non breastfed infants.
Access options
Buy single article
Instant access to the full article PDF.
USD 39.95
Price excludes VAT (USA)
Tax calculation will be finalised during checkout.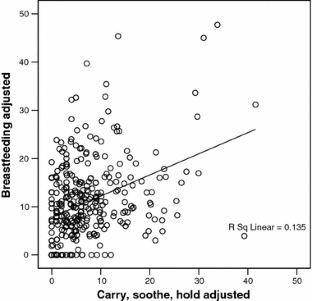 References
Britton, J. R., Britton, H. L., & Gronwaldt, V. (2006). Breastfeeding, sensitivity, and attachment. Pediatrics, 118, e1436–e1443.

Fergusson, D. M., & Woodward, L. J. (1999). Breast feeding and later psychosocial adjustment. Paediatric and Perinatal Epidemiology, 13, 144–157.

Golding, J., Rogers, I. S., & Emmett, P. M. (1997). Association between breast feeding, child development and behaviour. Early Human Development, 49(Suppl), S175–S184.

Kramer, M. S., Aboud, F., Mironova, E., et al. (2008). Breastfeeding and child cognitive development: New evidence from a large randomized trial. Archives of General Psychiatry, 65, 578–584.

National Health and Medical Research Council. (2003). Dietary guidelines for children and adolescents in Australia incorporating the infant feeding guidelines for health workers. Canberra: National Health and Medical Research Council.

Oddy, W. H. (2006). Fatty acid nutrition, immune and mental health development from infancy through childhood. In J. D. Huang (Ed.), Frontiers in nutrition research. New York: Nova Science Publishers.

Tu, M. T., Lupien, S. J., & Walker, C. D. (2005). Measuring stress responses in postpartum mothers: perspectives from studies in human and animal populations. Stress, 8, 19–34.

Uvnas-Moberg, K., & Petersson, M. (2005). Oxytocin, a mediator of anti-stress, well-being, social interaction, growth and healing. Z Psychosom Med Psychother, 51, 57–80.

World Health Assembly (Fifty-Fourth) (2001) Infant and young child nutrition: Resolution 54.2 Geneva, May, 2001.

WHO. (2002). Infant and young child nutrition global strategy on infant and young child feeding. Geneva: World Health Organization.
About this article
Cite this article
Smith, J.P., Ellwood, M. Feeding Patterns and Emotional Care in Breastfed Infants. Soc Indic Res 101, 227–231 (2011). https://doi.org/10.1007/s11205-010-9657-9
Accepted:

Published:

Issue Date:

DOI: https://doi.org/10.1007/s11205-010-9657-9
Keywords
Infant development

Time use, parent–infant interaction

Cognitive development

Attachment

Emotional care

Breastfeeding, bottle feeding, infant feeding