Abstract
Sleep duration has figured into claims of two trends promoted recently as dysfunctional in the mass media. One is the observation that the population at large is sleeping less than before. The second is that the annual change from Standard Time to Daylight Savings (or summer) Time causes adverse effects, largely through the loss of an hour's sleep. This paper relies on recent Canadian and U.S. time-use data to empirically test both of these value-laden allegations. Analysis of Statistics Canada's general social surveys containing time-use information in 1986, 1992, 1998, and 2005 shows that the mean duration of sleep was unchanged between 1986 and 1998 and actually declined by about 15 min a night in 2005, reflecting an earlier bedtime and unchanged arising time. Sleep duration is not constant in the population, though, and the media view might reflect the habits of population sectors such as the intelligence with great access to the media. The American Time Use Study sample of 20,720 respondents in 2003 enabled the analysis of time-use before, on, and after the dates of semi-annual time changes that year. These data showed that any sleep time "lost" in the spring-forward time change was insignificant and short-lived due to the fact that it occurred on the night between Saturday and Sunday, when people typically sleep much longer than on weekdays. While there are other time trade-offs observed after time changes, their explanation lies in other directions.
Access options
Buy single article
Instant access to the full article PDF.
USD 39.95
Price excludes VAT (USA)
Tax calculation will be finalised during checkout.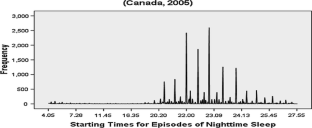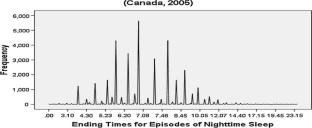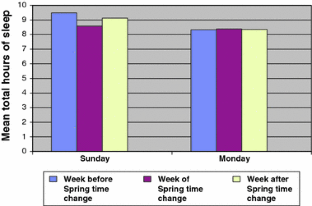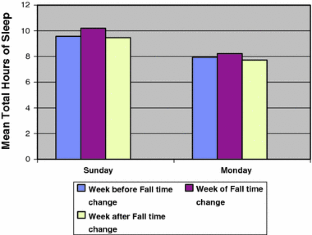 References
Carey, E. (2005). Good sleep just a dream for millions, study finds. Toronto Star, November 17, p. 1 ff.

Gershuny, J. (2000). Changing times: Work and leisure in postindustrial society. Oxford: Oxford University Press.

Jacobs, J., & Gerson, K. (2004). Understanding changes in American working time: A synthesis. In C. F. Epstein & A. Kalleberg (Eds.), Fighting for time: Shifting boundaries of work and social life (pp. 25–45). New York: Russell Sage Foundation.

Kotchen, M. J., & Laura E. G. (2008). Does daylight saving time save energy? Evidence from a natural experiment in Indiana. Paper prepared for discussion, NBER environmental and energy economics program meeting. Stanford University, February 8, 2008.

Michelson, W. (2007). Sleep: Erosion or compression in the computer age. Paper presented to the 2007 IATUR conference, Washington, D.C.

Michelson, W., & Frederick, T. (2005). Exploring Sleep. Paper presented to the 2005 IATUR conference, Halifax.

680 News. (2005). Radio news item. October 28, approximately 8:30 a.m.

Robinson, J., Converse, P., & Szalai, A. (1972). Everyday life in 12 countries. In A. Szalai (Ed.), The use of time, chapter 6. The Hague: Mouton.

Robinson, J., & Godbey, G. (1997). Time for life: The surprising ways Americans use their time. University Park, PA: Pennsylvania State University Press.

Robinson, J., & Martin, S. (2006) Trends and patterns in US sleep time public opinion pros, November.

Rydenstam, K. (2002, October 16–18). Time use among the Swedish population: Changes in the 1990 s. Paper presented to the 2002 IATUR conference, Lisbon, Portugal.

Stalker, G. (2004). Work and leisure in daily life: Constraints on and opportunities for social engagement in public and private spheres. Ph.D. Dissertation. Department of sociology, University of Toronto.

Szalontai, G., & Wittenberg, M. (2004, October 27–29). The demand for sleep: A South African study. Paper presented to the 2004 IATUR conference, Rome, Italy.

Timebooth.com. (2008). Daylight Savings Time, Retrieved from http://www.timebooth.com/articles/daylight-savings-time.php on 4 Sept 2008.

Vaage, O. F. (2002, October 16–18). Changes in work time and leisure time in Norway 1971–2000. Paper presented to the 2002 IATUR conference, Lisbon, Portugal.
About this article
Cite this article
Michelson, W. Sleep Time: Media Hype vs. Diary Data. Soc Indic Res 101, 275–280 (2011). https://doi.org/10.1007/s11205-010-9647-y
Accepted:

Published:

Issue Date:

DOI: https://doi.org/10.1007/s11205-010-9647-y
Keywords
Sleep

Duration

Change

Erosion

Compression

Time-use

Daylight savings time