Abstract
Married women continue to spend more time doing housework than men and economic resources influence women's housework more strongly than men's. To explain this, gender theorists point to how gender figures into identities, family interactions, and societal norms and opportunity structures. The extent of this configuration varies culturally and, in the United States, by race-ethnicity because of how race-ethnicity conditions access to resources and influences gender relations within marriages. Housework levels and gender differences may be lower in Black married couples compared to other couples because of Black women's higher historical levels of employment and consequently long-standing need to balance work and family responsibilities. Race-ethnicity also likely conditions the symbolic meaning and thus association of economic resources and housework. We use pooled time diary data from the 2003 to 2007 American Time Use Study from 26,795 married women and men to investigate how and why race-ethnicity influences housework. Our results indicate Hispanic and Asian women do more cooking and cleaning compared with White and Black women and the inverse relationship between women's earnings and housework is steeper for Hispanic women compared with other women. We find no evidence that married Black men devote more time to housework than White men, either core or occasional, unlike earlier studies.
Access options
Buy single article
Instant access to the full article PDF.
US$ 39.95
Tax calculation will be finalised during checkout.
Subscribe to journal
Immediate online access to all issues from 2019. Subscription will auto renew annually.
US$ 119
Tax calculation will be finalised during checkout.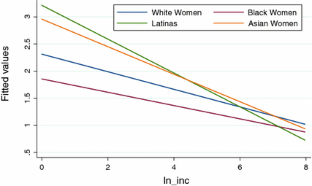 References
Bureau of Labor Statistics, U.S. Census Bureau. (2008). American time use survey user's guide June 2008. Washington, DC: Bureau of Labor Statistics.

Dill, B. T. (1998). A better life for me and my children: Low-income single mothers' struggle for self-sufficiency in the rural south. Journal of Comparative Family Studies, 29, 419.

Geist, C. (2005). The welfare state and the home: Regime differences in the domestic division of labour. European Sociological Review, 21, 23–41.

Gupta, S. (2007). Autonomy, dependence, or display? The relationship between married women's earnings and housework. Journal of Marriage and Family, 69, 399–417.

John, D., & Shelton, B. A. (1997). The production of gender among black and white women and men: The case of household labor. Sex Roles, 36, 171–193.

Orbuch, T. L., & Custer, L. (1995). The social-context of married womens work and its impact on Black husbands and White husbands. Journal of Marriage and the Family, 57, 333–345.

Orbuch, T. L., & Eyster, S. L. (1997). Division of household labor among Black couples and White couples. Social Forces, 76, 301–332.

Risman, B. (2004). Gender as a social structure: Theory wresting with activism. Gender & Society, 18, 429–450.

Sayer, L. C. (2005). Gender, time, and inequality: Trends in women's and men's paid work, unpaid work, and free time. Social Forces, 84, 285–303.

Segura, D. A. (1993). Ambivalence or continuity: Motherhood and employment among Chicanas and Mexican immigrant women. Aztlan: A Journal of Chicano Studies, 20, 119–150.
About this article
Cite this article
Sayer, L.C., Fine, L. Racial-Ethnic Differences in U.S. Married Women's and Men's Housework. Soc Indic Res 101, 259–265 (2011). https://doi.org/10.1007/s11205-010-9645-0
Accepted:

Published:

Issue Date:
Keywords
Gender

Housework

Race-ethnicity