Abstract
Unlike most studies on social cohesion, this study explores the concept as a real-life macro-level phenomenon. It assesses to what extent the conceptions of social cohesion suggested by several macro-level approaches represent coherent empirically observable forms of social cohesion. Additionally it discusses two perspectives on social cohesion—the universalist and the particularist perspective. The former would expect social cohesion to be related to stages of socio-economic development. The latter hypothesizes enduring, regionally unique regimes of social cohesion resisting the homogenizing pressures of modernization. The paper finds evidence for both perspectives. On the one hand, a syndrome of social cohesion was identified consisting of trust, equality, order (i.e. lack of crime) and consensus on basic values which correlates closely with indicators of socio-economic development. This finding supports the universalist perspective. On the other hand, and consistent with the particularist perspective, the study found regionally unique patterns for Latin America, Eastern Europe and Scandinavia.
Access options
Buy single article
Instant access to the full article PDF.
US$ 39.95
Tax calculation will be finalised during checkout.
Subscribe to journal
Immediate online access to all issues from 2019. Subscription will auto renew annually.
US$ 119
Tax calculation will be finalised during checkout.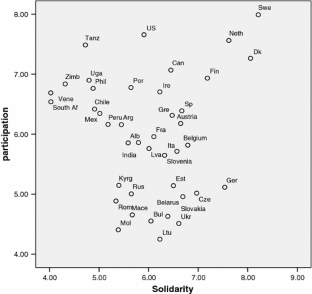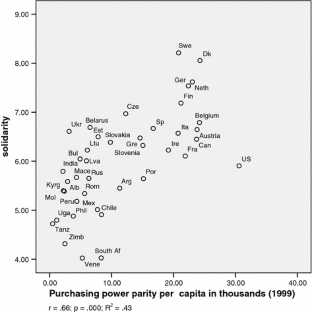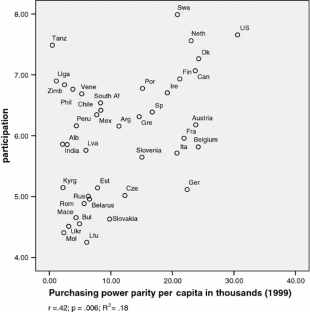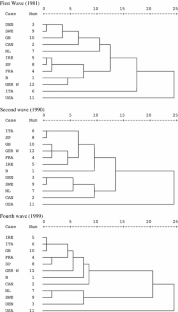 Notes
1.

We used standardized variables (Z-scores) for these cluster analyses as this ensures that each variable is given equal weight in the analyses.
References
Almond, G. A., & Verba, S. (1963). The civic culture. Political attitudes and democracy in five nations. Boston: Little, Brown and Company.

Bellah, R., Madon, R., Sullivan, W. M., Swindler, A., & Tipton, S. M. (1985). Habits of the heart. Berkeley: University of California Press.

Bendix, R. (1964). Nation-building & citizenship: Studies of our changing social order. New York: Barns and Noble.

Bernard, P. (1999). 'Social cohesion: A critique'. CPRN Discussion Paper No. F/09, Ottawa: Canadian Policy Research Networks.

Brubaker, R. (1992). Citizenship and nationhood in France and Germany. Cambridge, MA: Harvard University Press.

Chan, J., To, H., & Chan, E. (2006). Reconsidering social cohesion: Developing a definition and analytical framework for empirical research. Social Indicators Research, 75, 273–302.

Council of Europe. (2005). Concerted development of social cohesion indicators: Methodological guide. Strasbourg: Council of Europe Publishing.

Cramer, D. (2003). Advanced quantitative data analysis. Philadelphia: Open University Press.

Crepaz, M., & Damron, R. (2009). Constructing tolerance. How the welfare state shapes attitudes about immigrants. Comparative Political Studies, 42(3), 437–463.

Dahl, R. A. (1967). Pluralist democracy in the United States: Conflict and consent. Chicago: Rand McNally.

Dalton, R. J. (2004). Democratic challenges, democratic choices: The erosion of political support in advanced industrial democracies. Oxford: Oxford University Press.

Deutsch, K., & Foltz, W. (1963). Nation-building. New York: Atherton Press.

Dickes, P., Valentova, M., & Borsenberger, M. (2009). Social cohesion: Measurement based on the data from European value study. Paper presented at the NTTS Seminar (New Techniques and Technologies for Statistics), Brussels, 18–20 January 2009.

Durkheim, E. (1984). The division of labor in society. New York: The Free Press.

Esping Andersen, G. (1990). The three worlds of welfare capitalism. Cambridge: Polity.

Evans, M., & Toth, K. (2008). Does the welfare state increase tolerance of homosexuality? A multilevel model of international differences? . Paper presented at the annual meeting of the American Sociological Association Annual Meeting, Sheraton Boston and the Boston Marriott Copley Place, Boston, MA, Jul 31, 2008.

Green, A., Janmaat, J. G., & Han, C. (2009). Regimes of social cohesion, LLAKES Centre Research Paper Series. Available at: http://www.ioe.ac.uk/study/documents-/LLAKES_Centre_Research_Paper_1.pdf.

Green, A., Preston, J., & Janmaat, J. G. (2006). Education, Equality and social cohesion: A comparative analysis. Basingstoke: Palgrave Macmillan.

Green, A., Preston, J., & Sabates, R. (2003). Education, equality and social cohesion: a distributional approach. Compare: A Journal of Comparative Education, 33(4), 453–470.

Huntington, S. (1996). The clash of civilizations and the remaking of world order. New York: Simon & Schuster.

Hutton, W. (1995). The state we're in. London: Jonathan Cape.

Inglehart, R. (1990). Culture shift in advanced industrial society. Princeton, NJ: Princeton University Press.

Inglehart, R. (1997). Modernization and postmodernization. Princeton, NJ: Princeton University Press.

Inglehart, R., & Welzel, C. (2005). Modernization, cultural change and democracy. Cambridge: Cambridge University Press.

Janmaat, J. G. (2006). Civic culture in western and eastern Europe. European Journal of Sociology, 17(3), 363–396.

Kearns, A., & Forrest, R. (2000). Social cohesion and multilevel urban governance. Urban Studies, 37(5–6), 995–1017.

Kohn, H. (1944). The idea of nationalism. A study in its origins and background. New York: Macmillan.

Kohn, H. (1994). Western and eastern nationalism. In John. Hutchinson & A. D. Smith (Eds.), Nationalism (pp. 162–165). Oxford: Oxford University Press.

Kuznets, S. (1955). "Economic growth and income inequality", AER.

Letki, N. (2008). Does diversity erode social cohesion? Social capital and race in British neighbourhoods. Political Studies, 21(1), 109–123.

Mann, M. (1970). The social cohesion of liberal democracy. American Sociological Review, 35(3), 423–439.

Maxwell, J. (1996). Social dimensions of economic growth: Eric Journal Hansen Memorial Lecture, 25 January, University of Alberta.

Moody, J., & White, D. R. (2003). Social cohesion and embeddedness. American Sociological Review, 68, 103–127.

Newton, K. (1999). Social and political trust in established democracies. In P. Norris (Ed.), Critical citizens (pp. 169–187). Oxford: Oxford University Press.

Parsons, T. (1970). The social system. London: Routledge.

Putnam, R. (1993). Making democracy work: Civic traditions in modern Italy. Princeton, NJ: Princeton University Press.

Pye, L. W., & Verba, S. (1963). Political culture and political development. Princeton: Princeton UP.

Rajulton, F., Ravenera, Z., & Beaujot, R. (2007). Measuring social cohesion: And experiment using the Canadian national survey of giving volunteering and participating. Social Indicators Research, 80, 461–492.

Rose, R. (1969). Studies in British politics (2nd ed.). London: Mac- millan.

Rose, R., Mishler, W., & Haerpfer, C. (1997). Social capital in civic and stressful societies. Studies in Comparative International Development, 32(3), 85–111.

Rostow, W. (1960). The stages of economic growth. London: Cambridge UP.

Schoepflin, G. (2000). Nations, identity, power. London: Hurst & Company.

Smolar, A. (1996). From opposition to atomization. Journal of Democracy, 7(1), 24–38.

World Bank. (2001). World development report 2000/2001: Attacking poverty. Oxford: Oxford University Press.
Acknowledgements
I would like to thank Andy Green and the anonymous reviewer of this journal for their helpful and detailed comments on an earlier version of this paper.
Appendices
Appendix 1. Composition of Social Cohesion Indicators
Items composing the civic participation indicator:
"Please look carefully at the following list of voluntary organizations and activities and say which, if any, you belong to:"
social welfare for elderly, handicapped or deprived people;

religious or church organizations;

education, arts, music or cultural activities;

trade unions;

political parties;

third world development or human rights;

conservation, environment, animal rights groups;

professional associations;

youth work;
A not mentioned;
B mentioned
Active civic participation: Respondents were also asked whether they did voluntary work for these nine different organizations.
Appendix 2. Additional Social Cohesion Indicators Drawn From WVS
Respect for parents:
"Which of the two statements do you tend to agree with? <A—regardless of what the qualities and faults of ones parents are, one must always love and respect them; B—One does not have the duty to respect and love parents who have not earned it by their behaviour and attitudes"
Items composing Materialism-Postmaterialism index*:
Maintaining order in the nation (−)

Giving people more say in the decisions of the government (+)

Fight rising prices (−)

Protect freedom of speech (+)
*Postmaterialism = positive pole; a minus indicates that the item is negatively correlated with the index, a plus indicates a positive correlation
See Inglehart (1990) for a full description.
About this article
Cite this article
Janmaat, J.G. Social Cohesion as a Real-life Phenomenon: Assessing the Explanatory Power of the Universalist and Particularist Perspectives. Soc Indic Res 100, 61–83 (2011). https://doi.org/10.1007/s11205-010-9604-9
Accepted:

Published:

Issue Date:
Keywords
Social cohesion

Modernization theory

Varieties of capitalism

Welfare regimes

Civic culture