Abstract
While a growing literature demonstrates the impact of socio-political factors on citizens' quality of life, scholars have paid comparatively little attention to the role political organizations such as labor unions play in this regard. We examine labor organization as a determinant of cross-national variation in life satisfaction across a sample of advanced industrial polities. Our findings strongly suggest that unions increase the life satisfaction of citizens, and that that this effect holds for non-union members as well. Moreover, we also find that labor organization has the strongest impact on the subjective well-being of citizens with lower incomes. We confirm these hypotheses using both individual and aggregate-level data from fourteen nations. We show these relationships to have an independent and separable impact from other economic, political, and cultural determinants. The implications for the study of life satisfaction and of labor unions as political actors in general are discussed.
Access options
Buy single article
Instant access to the full article PDF.
US$ 39.95
Tax calculation will be finalised during checkout.
Subscribe to journal
Immediate online access to all issues from 2019. Subscription will auto renew annually.
US$ 119
Tax calculation will be finalised during checkout.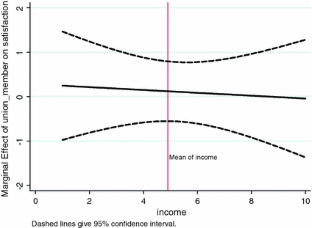 Notes
1.

We do not ignore the fact that recent dissenting opinions call into question the empirical usefulness of contemporary happiness/life-satisfaction research. Wilkinson's (2007) thoughtful piece expounds the position that most happiness surveys do not in fact capture precisely what they intend to in respondents' answers, and that better designed surveys will be necessary in the future to justify the often sweeping claims of happiness scholars. Nonetheless, for now the scholarly consensus is that the survey instruments hold up reasonably well provided one is careful not to attribute explanatory power to them beyond what they represent.

2.

Some evidence in the literature suggests that union members are actually more dissatisfied than non-members, but also that they are far less likely to quit then non-members (Freeman and Medoff 1984). This puzzle was resolved by applying the "voice hypothesis," in that unionization allows members to complain about their working conditions since they are in a position to ameliorate them through collective action. Workers thus sought to improve their working conditions rather then "exit" because they could, and presumably because they valued their jobs enough to try. There is also an endogeneity problem that Pfeffer and Davis-Blake (1990) successfully explain. Clark (1996, 202) nicely addresses the issue: "if unions address worker dissatisfaction, the more dissatisfied workers will be the most attracted to union membership," so that union shops will emerge in those industries and under those employers, that create the most initial dissatisfaction. When controlling for this effect, Pfeffer and Davis-Blake demonstrate that "unionization has a significant positive effect on [job] satisfaction." Similar evidence is provided by Bender and Sloane (1998).

3.

When respondents who were former but not current union members are instead coded as non-members, the results are substantively identical to those we report below.

4.

Data on social welfare expenditures and unemployment rate are from the OECD. Data on GDP are from Penn World Tables. Data on a country's level of "individualism" are drawn from Triandis (1993).

5.

Country-level measures of life satisfaction are computed by taking the mean response to the 1–10 scale life satisfaction item on the 2005 WVS.

6.

These results are robust to the inclusion of additional variables that measure a country's culture, political ideology, and general disposition toward labor unions. Specifically, we added country-level mean values for post-materialism (to control for the general culture of a country, y001), political ideology (to control for a progressive cultural outlook, v114), and general trust of labor unions (to control for political receptivity to the demands of organized labor, v135) from the 2005 wave of the WVS to the model specification for Table 1 and all subsequent individual-level models (Tables 2 and 3). In all models, the coefficient for union density and/or union membership remains statistically significant and its substantive impact is of a similar magnitude.

7.

To assess the intervening mechanisms that link union membership and life satisfaction, we ran a series of additional models.  Specifically, we regressed (separately) three factors linked to life satisfaction in previous studies on our indicator of union membership.  The three possible mechanisms were: (1) the extent of free choice and control over one's own life (v46), (2) satisfaction with one's household financial situation (v68), and (3) how much independence one has while doing tasks at work (v246). For all three factors, the coefficient for union membership is positive and bounded above zero (p < .01), indicating that being a member of a labor union positively predicts these three important factors that lead to higher levels of life satisfaction.
References
Argyle, M. (2001). The psychology of happiness (2nd ed.). London: Methuen.

Bender, K., & Sloane, P. (1998). Job satisfaction, trade unions, and exit-voice revisited. Industrial and Labor Relations Review, 51(2), 222–240.

Bjornskov, C. (2003). The happy few: Cross-country evidence on social capital and life satisfaction. Kyklos, 56, 3–16.

Bjornskov, C., Dreher, A., & Fischer, J. A. V. (2007). The bigger the better? Evidence of the effect of government size on life satisfaction around the world. Public Choice, 130, 267–292.

Brenner, M. H. (1987). Relation of economic change to Swedish health and social well-being. Social Science and Medicine, 25, 183–195.

Catalano, R. (1991). The health effects of economic insecurity. American Journal of Public Health, 81(9), 1148–1152.

Charles, K., & DeCicca, P. (2008). Local labor market fluctuations and health: Is there a connection and for whom? Journal of Health Economics, 27, 1532–1550.

Clark, A. (1996). Job satisfaction in Britain. British Journal of Industrial Relations, 34, 189–217.

Cohen, J., & Rogers, J. (1983). On democracy. New York: Penguin.

Cohen, S., & Wills, T. A. (1985). Stress, social support, and the buffering hypothesis. Psychological Bulletin, 98, 310–357.

Diener, Ed. (1984). Subjective well-being. Psychological Bulletin, 95(3), 542–575.

Diener, Ed., Diener, M., & Diener, C. (1995). Factors predicting the subjective well-being of nations. Journal of Personality and Social Psychology, 69, 851–864.

Diener, Ed., & Suh, E. M. (2000). Culture and subjective well-being. Cambridge, MA: MIT Press.

Edwards, R. (1979). Contested terrain. New York, NY: Basic Books.

Erikson, K. (1986). On work and alienation. American Sociological Review, 51(1), 1–8.

Fenwick, R., & Olson, J. (1986). Support for worker participation. American Sociological Review, 41(4), 505–522.

Freeman, R., & Medoff, J. (1984). What do unions do?. New York: Basic Books.

Frey, B., & Stutzer, A. (2000). Happiness prospers in democracy. Journal of Happiness Studies, 1, 79–102.

Frey, B., & Stutzer, A. (2002). Happiness and economics. Princeton and Oxford: Princeton University Press.

Greenberg, E., & Grunberg, L. (1995). Work, alienation, and problem alcohol behavior. Journal of Health and Social Behavior, 36, 83–102.

Hart, P. M. (1999). Predicting employee life-satisfaction: A coherent model of personality, work, and nonwork experience, and domain satisfactions. Journal of Applied Psychology, 84(4), 564–584.

Helliwell, J. F. (2003). How's life? Combining individual and national variables to explain subjective well-being. Economic Modeling, 20(2), 331–360.

Helliwell, J. F., & Huang, H. (2008). How's your government? International evidence linking good government and well-being. British Journal of Political Science, 38(4), 595–619.

Inglehart, R. (1990). Culture shift in advanced industrial democracies. Princeton, NJ: Princeton, University Press.

Inglehart, R. (2000). Globalization and postmodern values. Washington Quarterly, 23, 215–228.

Inglehart, R., Foa, R., Peterson, C., & Welzel, C. (2008). Development, freedom, and rising happiness: A global perspective (1981–2007). Perspectives on Psychological Science, 3(4), 264–285.

Jackson, P. (1992). Specifiying the buffering hypothesis: Support, strain, and depression. Social Psychology Quarterly, 55(4), 363–378.

Kohn, M., Naoi, A., Schoenbach, C., Schooler, C., & Slomcynski, K. M. (1990). Position in the class structure and psychological functioning in the United States, Japan, and Poland. American Journal of Sociology, 95(4), 964–1008.

Korpi, W., & Shalev, M. (1979). Strikes, industrial relations, and class conflict in capitalist society. British Journal of Sociology, 30, 164–194.

Kuttner, R. (1986). Unions, economic power, and the state. Dissent, 33, 33–44.

Laitinen, E., Ek, E., & Sovio, U. (2002). Stress related eating and drinking behavior and body mass index and predictors of this behavior. Preventative Medicine, 34(1), 29–39.

Lane, R. (1978). Autonomy, felicity, futility. Journal of Politics, 40, 1–24.

Lane, R. (2000). The loss of happiness in market democracies. New Haven, CT: Yale University Press.

Levi, M. (2003). Organizing power: Prospects for the American labor movement. Perspectives on Politics, 1(1), 45–68.

Loscocco, K., & Spitze, G. (1990). Working conditions, social support, and the well-being of female and male factory workers. Journal of Health and Social Behavior, 31(4), 313–327.

Lowe, G. S., & Northcott, H. C. (1988). The impact of working conditions, social roles, and personal characteristics on gender differences in distress. Work and Occupation, 15, 55–77.

Myers, D. (1993). The pursuit of happiness. New York: Avon Books.

Myers, D., & Diener, Ed. (1995). Who is happy? Psychological Science, 6, 10–90.

Myers, D., & Diener, Ed. (1997). The science of happiness. The Futurist, 31, 27–33.

Near, J. P., Smith, C. A., Rice, R. W., & Hunt, R. G. (1984). A comparison of work and nonwork predictors of life satisfaction. Academy of Management Journal, 27(1), 84–190.

Pacek, A., & Radcliff, B. (2008a). Assessing the welfare state: The politics of happiness. Perspectives on Politics, 6(2), 267–277.

Pacek, A., & Radcliff, B (2008b). Welfare policy and subjective well-being across nations: An individual-level assessment. Social Indicators Research, 89(1), 179–191.

Pateman, C. (1970). Participation and democratic theory. Cambridge, UK: Cambridge University Press.

Pfeffer, J., & Davis-Blake, A. (1990). Unions and job satisfaction. Work and Occupations, 17(3), 259–284.

Polity IV project: political regime characteristics and transitions, 1800–2007. (2007). George Mason University: Center for Systemic Peace.

Putnam, R. (1993). Making democracy work. Princeton, NJ: Princeton University Press.

Putnam, R. (2000). Bowling alone. New York: Simon and Schuster.

Radcliff, B. (2001). Politics, markets, and life satisfaction: The political economy of human happiness. American Political Science Review, 95(4), 939–952.

Radcliff, B. (2005). Class organization and subjective well-being: A cross-national analysis. Social Forces, 84(1), 513–530.

Radcliff, B., & Saiz, M. (1998). Labor organization and public policy in the American States. Journal of Politics, 60(1), 113–125.

Radcliff, B., & Wingenbach, Ed. (2000). Preference aggregation, functional pathologies, and participation: A social choice defense of participatory democracy. Journal of Politics, 62, 977–998.

Rice, R. W., McFarlin, D. B., Hunt, R. G., & Near, J. P. (1985). Organization work and the perceived quality of life: Toward a conceptual model. Academy of Management Review, 10, 296–310.

Rode, J. (2004). Job satisfaction and life satisfaction revisited: A longitudinal test of an integrated model. Human Relations, 57(9), 1205–1230.

Seeman, M., & Anderson, C. S. (1983). Alienation and alcohol: The role of work, mastery, and community in drinking behavior. American Sociological Review, 48(1), 60–77.

Sousa-Posa, A., & Sousa-Posa, A. (2000). Well-being at work: A cross-national analysis of the levels and determinants of job satisfaction. Journal of Socio-Economics, 29(6), 517–539.

Sutton, J. (1990). Bureaucrats and entrepreneurs: Institutional responses to deviant children in the united states. American Journal of Sociology, 95(6), 1367–1400.

Triandis, H. (1993). Collectivism and individualism as cultural syndromes. Cross-Cultural Research, 27(3–4), 155–180.

Uehara, E. (1990). Dual exchange theory, social networks, and informal social support. American Journal of Sociology, 96(3), 521–557.

Veenhoven, R. (1993). Happiness in nations. Rotterdam: Risbo.

Veenhoven, R. (1996). Developments in satisfaction research. Social Indicators Research, 37, 1–46.

Veenhoven, R. (1997a). Advances in understanding happiness. Revue Quebecoise de Psycologie, 18, 29–74.

Veenhoven, R. (1997b). Quality of life in individualistic societies. In M.-J. DeJong & A. C. Zijderveld (Eds.), The gift of society. Nijker, The Netherlands: Enzo Press.

Veenhoven, R. (2000). Well-being in the welfare state: Level not higher, distribution not more equitable. Journal of Comparative Policy Analysis, 2, 91–125.

Veenhoven, R. (2002). Why social policy needs subjective indicators. Social Indicators Research, 58(1–3), 33–45.

Watson, D., & Clark, L. (1991). Self vs. peer ratings of specific emotional traits. Journal of Personality and Social Psychology, 60, 927–940.

Western, B. (1997). Between class and market. Princeton, NJ: Princeton University Press.

Wilkinson, W. (2007). In pursuit of happiness research: Is it reliable? What does it imply for policy? Policy Analysis, 590, 1–41.
Additional information
Authors' names are listed alphabetically to reflect their equal contribution to the research. Radcliff gratefully acknowledges the generous support provided by the Netherlands Institute for Advanced Study. The authors also thank Frederick Boehmke for making his "grinter" program, a Stata utility for graphing the marginal effect of an interacted variable in regression models, publicly available on his website.
About this article
Cite this article
Flavin, P., Pacek, A.C. & Radcliff, B. Labor Unions and Life Satisfaction: Evidence from New Data. Soc Indic Res 98, 435–449 (2010). https://doi.org/10.1007/s11205-009-9549-z
Accepted:

Published:

Issue Date:
Keywords
Labor union

Happiness

Life satisfaction

Democratic

Industrial