Abstract
In order to track social change during a period of the rapid advances brought about by new information technologies (IT), a targeted module of IT-relevant and Internet questions was added to the 2000, 2002 and 2004 samples of the General Social Survey (GSS). The general issue inherent in and guiding the questions asked (as well as the analyses conducted) is whether IT functions to displace or expand various daily activities. In general, Internet use was not correlated with lower use of other personal communications or mass communications media—nor with lower levels of other social activities like church attendance or arts participation. In many cases the Internet was associated with increased use of other media or activities. Respondents who spend the most time on the Internet did report fewer social visits by relatives and neighbors, and perhaps less frequent sexual intercourse, but more visits with friends, compared to those who spent no time on the Internet.
This is a preview of subscription content, log in to check access.
Access options
Buy single article
Instant access to the full article PDF.
US$ 39.95
Price includes VAT for USA
Subscribe to journal
Immediate online access to all issues from 2019. Subscription will auto renew annually.
US$ 199
This is the net price. Taxes to be calculated in checkout.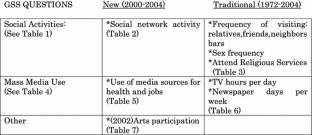 References
Andrews, F., Morgan, J., & Sonquist, J. (1973). Multiple classification analysis. Ann Arbor, MI: Institute for Social Research.

Bell, D. (1977) [1980]. Teletext and technology: New networks of knowledge and information in postindustrial society. In D. Bell (Ed.), The winding passage: Essays and sociological journeys, 1960–1980 (pp. 34–65). New York: Basic Books.

Bogart, L. (1956). The age of television: A study of viewing habits and the impact of television on American life. New York: Unger.

Castells, M. (1996). The information age: Economy, society, and culture: Vol. 2: The rise of the network society. Oxford, UK: Blackwell.

Coffin, T. (1954). Television's impact on society. American Psychologist, 10, 630–641.

Cole, J., Suman, J., Schramm, P., Lunn, R., Coget, J., et al. (2001). The UCLA Internet report 2001. Surveying the digital future. Los Angeles: University of California, Los Angeles, Center for Communication Policy.

De Haan, J., & Huysmans, F. (2002). Differences in time use between internet users and nonusers in the Netherlands. IT and Society, 1(2), 67–85.

De Haan, J., & Huysmans, F. (2003). Revolution or eVolution, an empirical approach to eCulture. In D. Dodd (Ed.), eCulture: The European perspective: Cultural policy—knowledge industries—information lag. Conference reader Zagreb, Croatia, 24–27 April 2003. Retrieved from http://www.culturelink.org/conf/ecult/ecultread.html.

Fu, S., Wang, R., & Qiu, Y. (2002). Daily activity and Internet use in dual-earner families: A weekly time-diary approach. IT and Society, 1(2), 37–43.

Gershuny, J. (2003). Web-use and net-nerds: A neo-functionalist analysis of the impact of information technology in the home. Social Forces, 82(1), 141–168.

Kestnbaum, M., Robinson, J. P., Neustadtl, A., & Alvarez, A. S. (2002). IT and social time displacement. IT and Society, 1(1), 21–37.

Knulst, W. P. (1995). Podia in een tijdperk van afstandsbediening. Onderzoek naar achtergronden van veranderingen in de omvang en samenstelling van het podiumpubliek sinds de jaren vijftig. Het culturele draagvlak, deel 1. Rijswijk/Den Haag: SCP/VUGA.

Knulst, W. P., & Kraaykamp, G. (1996). Leesgewoonten. Een halve eeuw onderzoek naar het lezen en zijn belagers. Het culturele draagvlak, deel 2. Rijswijk/Den Haag: SCP/VUGA.

Kraut, R. et al. (1998). Internet paradix. American Psychologist, 53(9), 1017–1031.

McQuail, D. (1994). McQuail's mass communication theory (4th ed.). London: Sage.

Nie, N. H., & Erbring, L. (2000). Internet and society: A preliminary report. IT and Society, 1(1), 275–283.

Nielsen/NetRatings. (1999). TV viewing in Internet households. A report by Nielsen Media Research. Retrieved from Retrieved from http://www.nielsen-netratings.com/.

Pronovost, G. (2002). The Internet and time displacement: A Canadian perspective. IT and Society, 1(2), 44–52.

Robinson, J. P. (1972). Television's impact on everyday life: Some cross-national evidence. In E. Rubinstein, G. Comstock & J. Murray (Eds.), Television and social behavior (Vol. 4, pp. 410–431). Washington, DC: Government Printing Office.

Robinson, J. P., Barth, K., & Kohut, A. (1997). Personal computers, mass media, and use of time. Social Science Computer Review, 15, 65–82.

Robinson, J., & De Haan, J. (2006). Information technology and family time displacement. In R. Kraut, M. Brynan & S. Kiesler (Eds.), Computers, phones and the Internet (pp. 51–69). Oxford: Oxford University Press.

Robinson, J. P., & Godbey, G. (1999). Time for life: The surprising ways Americans use their time. University Park: Pennsylvania State University Press.

Robinson, J. P., & Kestnbaum, M. (1999). The personal computer, culture and other uses of free time. Social Science Computer Review, 17, 209–216.

Robinson, J. P., Kestnbaum, M., Neustadtl, A., & Alvarez, A. (2000). Mass media use and social life among Internet users. Social Science Computer Review, 18(4), 490–501.

Schramm, W. L., Lyle, J., & Parker, E. B. (1961). Television in the lives of our children. Stanford, CA: Stanford University Press.

Szalai, A. (1972). The use of time: Daily activities of urban and suburban populations in twelve countries. The Hague: Mouton.

van Dijk, L., De Haan, J., & Rijken, S. (2000). Digitalisering van de leefwereld; een onderzoek naar informatie-en communicatietechnologie en sociale ongelijkheid; eindrapport. Den Haag: SCP.

Weiss, W. (1969). Effects of mass media on communication. In G. Lindzey & E. Aronson (Eds.), Handbook of social psychology (Vol. 5, pp. 77–195). Reading, MA: Addison-Wesley.

Wellman, B., Haase, A., Witte, J., Hampton, K., et al. (2001). Does the internet increase, decrease or supplement social capital? Social network, participation and community commitment. American Behavioral Scientist, 45, 437–456.

Wright, C. R. (1986). Mass communication; a sociological perspective. New York: Random House.
Acknowledgments
Grateful acknowledgment is given to the National Science Foundation, Office of Science and Technology, for support through grants NSF01523184, NSF0086143, and SBR-9602058 and the Alfred P. Sloan Foundation's Working Families Program.
Appendix: Yearly GSS Differences in Social Visiting Since 1990
Appendix: Yearly GSS Differences in Social Visiting Since 1990
The first way to test the declining social contact hypothesis with the GSS data is to examine whether overall declines have been seen since the introduction of the Internet since the mid-1990s. Using 1990–1994 as the reference point, it can be seen that the 2000–2004 results are not consistently nor significantly lower than the 1990–1994 results for any of the four measures.
Indeed, none of the person measures show much decrease since 1996, so that little overall decrease can be argued as a result of the Internet now taking up more time. Since the conversational "channel questions" (discussed in the text) were not asked in pre-2000 GSS surveys, there are no such comparisons possible for these questions.
About this article
Cite this article
Robinson, J.P., Martin, S. IT and Activity Displacement: Behavioral Evidence from the U.S. General Social Survey (GSS). Soc Indic Res 91, 115 (2009). https://doi.org/10.1007/s11205-008-9285-9
Received:

Accepted:

Published:
Keywords
Internet use

Time use

Methodology

Social life

Mass Media Use