Abstract
This paper reports results from a 'natural experiment' taking place in China on the impact of dogs on owners' health. Previous Western research has reported modest health benefits, but results have remained controversial. In China pets were banned in urban areas until 1992. Since then dog ownership has grown quite rapidly in the major cities, especially among younger women. In these quasi-experimental conditions, we hypothesise that dog ownership will show greater health benefits than in the West. Results are given from a survey of women aged 25–40 in Beijing, Shanghai and Guangzhou (N = 3031). Half the respondents owned dogs and half did not. Owners reported better health-related outcomes. They exercised more frequently, slept better, had higher self-reported fitness and health, took fewer days off sick from work and were seen less by doctors. The concluding section indicates how these results may be integrated and suggests further research on the potential economic benefits of pets.
Access options
Buy single article
Instant access to the full article PDF.
US$ 39.95
Tax calculation will be finalised during checkout.
Subscribe to journal
Immediate online access to all issues from 2019. Subscription will auto renew annually.
US$ 119
Tax calculation will be finalised during checkout.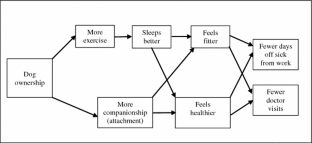 Notes
1.

All results were net of gender, age, income and self-assessed health status in 1996.

2.

It should be noted that this exercise question did not refer to walking the dog and was asked before pet-specific questions were raised.

3.

For example, point 3 on the scale was 'exercises 1–2 times each week'. A mid-point of 1.5 was interpolated.

4.

As for the exercise question, frequencies were interpolated at scale mid-points for these two questions.

5.

A negative binomial is one specific type of Poisson distribution.

6.

Individual income correlated more highly with health outcomes than household income. It was measured in 12 bands; the mid-point of each band was interpolated.

7.

The coefficients from the ordered probits cannot be given any straightforward interpretation beyond noting their sign and level of significance (Greene 2000, pp. 877–878).

8.

Being an agricultural worker is strongly negatively related to exercise, and having a health disability is, not surprisingly, strongly negatively related to fitness and health.

9.

Including Chinese rural people is not a sensible option at present, given that dogs in rural areas are not generally viewed as pets.

10.
References
Allen, K. M., & Blascovich, J. (1991). Presence of human friends and pet dogs as moderators of autonomic responses to stress in women. Journal of Personality and Social Psychology, 79, 582–589.

Allen, K. M., & Shykoff, B. E. (2001). Pet ownership, but not ace inhibitor therapy, blunts human blood pressure responses to mental stress. Hypertension, 38, 815–820.

Allen, K. M., Blascovich, J., & Mendes, W. B. (2002). Cardiovascular reactivity and the presence of pets, friends and spouses: the truth about cats and dogs. Psychological Medicine, 64, 727–739.

Beck, A. M., & Katcher, A. H. (1984). A new look at pet-facilitated psychotherapy. Journal of the American Veterinary Association, 184, 414–421.

Friedmann, E., Katcher, A. H., Lynch, J. J., & Thomas, S. A. (1980). Animal companions and one year survival of patients after discharge from a coronary care unit. Public Health Reports, 95, 307–312.

Friedmann, E., & Thomas, S. A. (1995) Pet ownership, social support and one year survival after acute myocardial infarction in the cardiac arrhythmic suppression trial, CAST. American Journal of Cardiology, 76, 1213–1217.

Fu, Na, & Zheng, R. (2003). Influences of pet ownership on the empty nester family. Chinese Mental Health Journal, 17, 31–39.

Garrity, T. F., & Stallones, L. (1998). Effects of pet contact on human well-being: review of recent research. In C. C. Wilson, & D. C. Turner (Eds.), Companion animals in human health (pp. 3–22). London: Sage.

Greene, W. H. (2000) Econometric analysis (4th ed.). New Jersey: Prentice Hall.

Headey, B. W. (1999). Health benefits and health cost savings due to pets: preliminary estimates from an Australian National Survey. Social Indicators Research, 47, 233–243.

Headey, B. W., Grabka, M., Kelley, J., Reddy, P., & Tseng, Y.-P. (2002). Pet ownership is good for your health and saves public expenditure too: Australian and German longitudinal evidence. Australian Social Monitor, 93–99.

Headey, B. W., & Grabka, M. (2007). Pets and human health in Germany and Australia: national longitudinal results. Social Indicators Research, 80, 297–311.

Jorm, A. F., Jacomb, P. A., Christensen, H., Henderson, S., Korten, A. E., & Rodgers, B. (1997). Impact of pet ownership on elderly Australians' use of medical services: an analysis using medicare data. Medical Journal of Australia, 166, 376–377.

Kingwell, B. A., Lomdahl, A., & Anderson, W. P. (2001). Presence of a pet dog and human cardiovascular responses to mild mental stress. Clinical Autonomic Response, 11, 313–317.

Matooka, M., Koike, H., Yokoyama, T., & Kennedy, N. L. (2006). Effect of dog-walking on autonomic nervous activity in senior citizens. Medical Journal of Australia, 184, 60–63.

Ory, M. G., & Goldberg, E. L. (1983). Pet possession and life satisfaction in elderly women. In A. H. Katcher, & A. M. Beck (Eds.), New perspectives on our lives with companion animals (pp. 303–317). Philadelphia: University of Pennsylvania Press.

Parslow, R. A., & Jorm, A. F. (2003). The impact of pet ownership on health and human service use: results from a community sample of Australians aged 40 to 44 years. Anthrozoos, 16.

Putnam, R. D. (2000). Bowling alone: the collapse and revival of American community. New York: Simon & Schuster.

Raina, P., Bonnett, B., & Waltner-Toews, D. (1998). Relationship between pet ownership and health care use among seniors, 8th Conference of the International Association of Human-Animal Interaction Organisations, Prague, Sept. 10–11.

Robb, S., & Stegman, C. (1983). Companion animals and elderly people: a challenge for evaluations of social support. Gerontologist, 23, 277–282.

Schwarze, J., Andersen, H., & Anger, S. (2000). Self-rated health and changes in self-rated health as predictors of mortality – first evidence from the German panel data, DIW Discussion Paper No. 203, Berlin, DIW.

Serpell, J. A. (1991). Beneficial aspects of pet ownership on some aspects of human health and behaviour. Journal of the Royal Society of Medicine, 84, 717–720.

Siegel, J. M. (1990). Stressful life events and the use of physician services among the elderly: the moderating effects of pet ownership. Journal of Personality and Social Psychology, 58, 1081–1086.

Stasi, M. F., Amati, D., Costa, C., Resta, D., Senepa, G., Scarafioti, C., Aimonino, N., & Molaschi, M. (2004). Pet-therapy: a trial for institutionalized frail elderly patients. Archives of Gerontology and Geriatrics, Supplement, 9, 407–412.

Winkelmann, R. (2000). Seemingly unrelated binomial regression. Oxford Bulletin of Economics and Statistics, 62, 553–560.

Wood, L., Giles-Corti, B., & Bulsara, M. (2005). The pet connection: pets as a conduit for social capital? Social Science & Medicine, 61(6), 1159–1173.

Wright, J. C., & Moore, D. (1982). Comments on animal companions and one-year survival of patients after discharge. Public Health Reports, 97, 380–381.
About this article
Cite this article
Headey, B., Na, F. & Zheng, R. Pet Dogs Benefit Owners' Health: A 'Natural Experiment' in China. Soc Indic Res 87, 481–493 (2008). https://doi.org/10.1007/s11205-007-9142-2
Received:

Accepted:

Published:

Issue Date:
Keywords
Pets

Health

China

Natural experiment