Abstract
The goal of the present study was to treat street harassment as a public health issue akin to sexual harassment in terms of its negative effects. Anxiety and depression were hypothesized to be mediators of the effect of street harassment on sleep quality. Fully 252 female undergraduate students at a large U.S. Northeastern university were surveyed. Findings indicated that street harassment was positively related to anxiety and depression as well as negatively related to sleep quality. Mediation analyses indicated that both anxiety and depression mediated the relationship between street harassment and sleep quality. Implications for health interventions are discussed, such as the need to address street harassment experiences in college women when creating interventions aimed at reducing anxiety and depression and at improving sleep quality.
Access options
Buy single article
Instant access to the full article PDF.
US$ 39.95
Tax calculation will be finalised during checkout.
Subscribe to journal
Immediate online access to all issues from 2019. Subscription will auto renew annually.
US$ 119
Tax calculation will be finalised during checkout.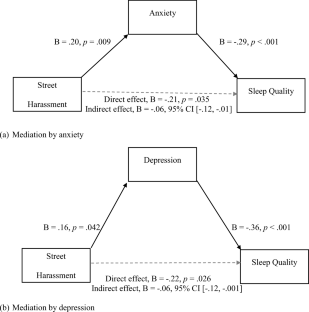 References
American Psychiatric Association. (2013). Diagnostic and statistical manual of mental disorders (5th ed.). Arlington: American Psychiatric Publishing.

Anxiety and Depression Association of America. (2018). Depression. Retrieved from https://adaa.org/understanding-anxiety/depression.

Bailey, B. (2016). Street remarks to women in women in five countries and four languages: Impositions of engagement and intimacy. Retrieved from https://works.bepress.com/benjamin_bailey/94/download/.

Bittner, A., Goodwin, R. D., Wittchen, H.-U., Beesdo, K., Höfler, M., & Lieb, R. (2004). What characteristics of primary anxiety disorders predict subsequent major depressive disorder? The Journal of Clinical Psychiatry, 65, 618–626. https://doi.org/10.4088/JCP.v65n0505.

Bittner, A., Egger, H. L., Erkanli, A., Costello, E. J., Foley, D. L., & Angold, A. (2007). What do childhood anxiety disorders predict? Journal of Child Psychology and Psychiatry, 48, 1174–1183. https://doi.org/10.1111/j.1469-7610.2007.01812.x.

Bowman, C. G. (1993). Street harassment and the informal ghettoization of women. Harvard Law Review, 106, 517–580. https://doi.org/10.2307/1341656.

Buysse, D. J., Reynolds, C. F., Monk, T. H., Berman, S. R., & Kupfer, D. J. (1989). The Pittsburgh Sleep Quality Index (PSQI): A new instrument for psychiatric research and practice. Psychiatry Research, 28, 193–213.

Centre for Equity and Inclusion. (2009). Perception and experience of gender violations in public places of Dehli. Retrieved from http://cequinindia.org/images/ResourcesItem/Pdf/PerceptionandExperience.pdf.

Cole, D. A., Peeke, L. G., Martin, J. M., Truglio, R., & Seroczynski, A. D. (1998). A longitudinal look at the relation between depression and anxiety in children and adolescents. Journal of Consulting and Clinical Psychology, 66, 451–460. https://doi.org/10.1037/0022-006X.66.3.451.

Davidson, M. M., Butchko, M. S., Robbins, K., Sherd, L. W., & Gervais, S. J. (2016). The mediating role of perceived safety on street harassment and anxiety. Psychology of Violence, 6(4), 553–562. https://doi.org/10.1037/a0039970.

Davis, D. (1993). The harm that has no name: Street harassment, embodiment, and African American women. University of California Los Angeles Women's Law Journal, 4, 133–178. Retrieved from https://cloudfront.escholarship.org/dist/prd/content/qt83b9f21g/qt83b9f21g.pdf.

DeMatteo, D., Galloway, M., Arnold, S., & Patel, U. (2015). Sexual assault on college campuses: A 50-state survey of criminal sexual assault statutes and their relevance to campus sexual assault. Psychology, Public Policy, and Law, 21(3), 227–238. https://doi.org/10.1037/law0000055.

Derogatic, L. R., & Melisaratos, N. (1983). The brief symptom inventory: An introductory report. Psychological Medicine, 13, 595–605. https://doi.org/10.1017/S0033291700048017.

di Leonardo, M. (1981). Political economy of street harassment. AEGIS: Magazine on Ending Violence Against Women, 51–57.

Egyptian Centre for Women's Rights. (2013). Egyptian women's status report. Retrieved from http://ecwronline.org/?p=4578.

Fairchild, K., & Rudman, L. A. (2008). Everyday stranger harassment and women's objectification. Social Justice Research, 21, 338–357. https://doi.org/10.1007/s11211008-0073-0.

Farmer, O., & Smock Jordan, S. (2017). Experiences of women coping with catcalling experiences in New York City: A pilot study. Journal of Feminist Family Therapy, 29, 205–225. https://doi.org/10.1080/08952833.2017.1373577.

Fileborn, B., & Vera-Gray, F. (2017). "I want to be able to walk the street without fear": Transforming justice for street harassment. Feminist Legal Studies, 25, 203–227. https://doi.org/10.1007/s10691-017-9350-3.

Gardner, C. B. (1995). Passing by: Gender and public harassment. Berkley: University of California Press.

Hayes, A. F. (2013). Introduction to mediation, moderation, and conditional process analysis: A regression-based approach. New York: The Guilford Press.

Hollaback. (2019). About. Retrieved from http://www.ihollaback.org/about/.

IBM Corp. (2017). SPSS statistics 25.0 [computer software]. Armonk: IBM Corp.

Jansson-Fröjmark, M., & Lindblom, K. (2008). A bidirectional relationship between anxiety and depression, and insomnia? A prospective study in the general population. Journal of Psychosomatic Research, 64, 443–449. https://doi.org/10.1016/j.jpsychores.2007.10.016.

Kilpatrick, D. G., Resnick, H. S., Ruggiero, K. J., Conoscenti, L. M., & McCauley, J. (2007). Drug facilitated, incapacitated, and forcible rape: A national study (Final report submitted to the National Institute of Justice, NCJ 219181). United States Department of Justice. Retrieved from https://www.ncjrs.gov/pdffiles1/nij/grants/219181.pdf.

Kissling, E. A. (1991). Street harassment: The language of sexual terrorism. Discourse and Society, 2, 451–460. https://doi.org/10.1177/0957926591002004006.

Lenton, R., Smith, M. D., Fox, J., & Morra, N. (1999). Sexual harassment in public places: Experiences of Canadian women. Canadian Journal of Sociology, 36, 517–540. https://doi.org/10.1111/j.1755-618X.1999.tb00962.x.

Macmillan, R., Nierobisz, A., & Welsh, S. (2000). Experiencing the streets: Harassment and perceptions of safety among women. Journal of Research in Crime and Delinquency, 37, 306–322. https://doi.org/10.1177/0022427800037003003.

Osmond, J. (2013). Public spaces and gender: An everyday occurrence: Women and public sexual harassment. Coventry Women's Voices. Retrieved from http://www.stopstreetharassment.org/wp-content/uploads/2011/04/CoventryUKReportaneveryday-occurence-april-2013.pdf.

Richman, J. A., Rospenda, K. M., Nawyn, S. J., Flaherty, J. A., Fendrich, M., Drum, M. L., & Johnson, T. P. (1999). Sexual harassment and generalized workplace abuse among university employees: Prevalence and mental health correlates. American Journal of Public Health, 89, 358–363. https://doi.org/10.2105/AJPH.89.3.358.

Rob Bliss Creative. (2014, October 28). Ten hours of walking in NYC as a woman [Video file]. Retrieved from https://www.youtube.com/watch?v=b1XGPvbWn0A.

Saunders, B. A., Scaturro, C., Guarino, C., & Kelly, E. (2017). Contending with catcalling: The role of system-justifying beliefs and ambivalent sexism in predicting women's coping experiences with (and men's attributions for) stranger harassment. Current Psychology, 36, 324–338. https://doi.org/10.1007/s12144-016-9421-7.

Shanahan, L., Copeland, W. E., Angold, A., Bondy, C. L., & Costello, E. J. (2014). Sleep problems predict and are predicted by generalized anxiety/depression and oppositional defiant disorder. Journal of the American Academy of Child and Adolescent Psychiatry, 53, 550–558. https://doi.org/10.1016/j.jaac.2013.12.029.

Stop Street Harassment. (2014). Unsafe and harassed in public spaces: A national street harassment report. Retrieved from http://www.stopstreetharassment.org/ourwork/nationalstudy/.

Stop Street Harassment. (2019). Definitions. Retrieved from http://www.stopstreetharassment.org/resources/definitions/.

Strine, T. W., & Chapman, D. P. (2005). Associations of frequent sleep insufficiency with health-related quality of life and health behaviors. Sleep Medicine, 6, 23–27. https://doi.org/10.1016/j.sleep.2004.06.003.

Sullivan, H. B. (2011). "Hey lady, you're hot!" Emotional and cognitive effects of gender-based street harassment on women (Unpublished doctoral dissertation). Indiana University of Pennsylvania. Retrieved from https://knowledge.library.iup.edu/etd/830/.

Thompson, D. M. (1994). The woman in the street: Reclaiming the public space from sexual harassment. Yale Journal of Law and Feminism, 6, 313–348. Retrieved from http://digitalcommons.law.yale.edu/yjlf/vol6/iss2/4.

Vera-Gray, F. (2016). Men's stranger intrusions: Rethinking street harassment. Women's Studies International Forum, 58, 9–17. https://doi.org/10.1016/j.wsif.2016.04.001.

Wesselmann, E. D., & Kelly, J. R. (2010). Cat-calls and culpability: Investigating the frequency and functions of stranger harassment. Sex Roles, 63, 451–462. https://doi.org/10.1007/s11199-010-9830-2.

Willness, C. R., Steel, P., & Lee, K. (2007). A meta-analysis of the antecedents and consequences of workplace sexual harassment. Personnel Psychology, 60, 127–162. https://doi.org/10.1111/j.1744-6570.2007.00067.x.

Wittchen, H. U., Kessler, R. C., Pfister, H., Höfler, M., & Lieb, R. (2000). Why do people with anxiety disorders become depressed? A prospective-longitudinal community study. Acta Psychiatrica Scandinavica, 102, 14–23. https://doi.org/10.1111/j.0065-1591.2000.acp29-03.x.

Woodford, M. R., Han, Y., Craig, S., Lim, C., & Matney, M. M. (2014). Discrimination and mental health among sexual minority college students: The type and form of discrimination does matter. Journal of Gay and Lesbian Mental Health, 18, 142–163. https://doi.org/10.1080/19359705.2013.833882.
Ethics declarations
Conflict of Interest
There are no potential conflicts of interest.
Human and Animal Rights and Informed Consent
All research involving human participants was approved by the Institutional Review Board. All participants were given informed consent and were able to opt out of participation at any time without penalty.
Additional information
Publisher's Note
Springer Nature remains neutral with regard to jurisdictional claims in published maps and institutional affiliations.
About this article
Cite this article
DelGreco, M., Christensen, J. Effects of Street Harassment on Anxiety, Depression, and Sleep Quality of College Women. Sex Roles 82, 473–481 (2020). https://doi.org/10.1007/s11199-019-01064-6
Keywords
Street harassment

Sexual harassment

Mental health

Anxiety

Depression

Sleep