Abstract
In the present article, we look at attitudes toward gender roles among young women and men in 36 countries with different levels of societal gender inequality. By applying multilevel models to data from the International Civic and Citizenship Education Study 2009, the study contributes to our understanding of gender inequality by showing that (a) both young women and young men (in 8th grade; Mage = 14.39 years) display more gender-egalitarian attitudes in countries with higher levels of societal gender equality; (b) young women in all countries have more egalitarian attitudes toward gender roles than young men do, but (c) the gender gap in attitudes is more evident in more egalitarian contexts; and (d) a higher level of maternal education is associated with more gender-egalitarian attitudes among young women. In contrast, no statistically significant association emerges between maternal employment and young men's attitudes. Overall, the findings suggest that adolescents in different contexts are influenced by the dominant societal discourse on gender inequality, which they interiorize and display through their own attitudes toward gender roles. However, the findings also indicate that young women are more responsive to external cues than young men are. This result, coupled with the fact that young men in egalitarian contexts have not adopted gender-egalitarian attitudes to the same extent as young women, is concerning because it suggests a slowdown in the achievement of societal gender equality that is still far from being reached.
Access options
Buy single article
Instant access to the full article PDF.
USD 39.95
Price includes VAT (USA)
Tax calculation will be finalised during checkout.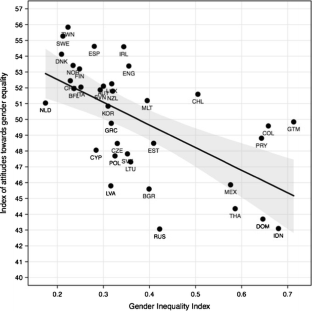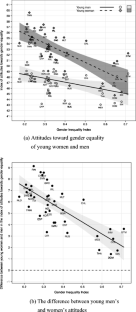 References
Antill, J. K., Cunningham, J. D., & Cotton, S. (2003). Gender-role attitudes in middle childhood: In what ways do parents influence their children? Australian Journal of Psychology, 55, 148–153. doi:10.1080/0004953042000298602.

Banaszak, L., & Plutzer, E. (1993). Contextual determinants of feminist attitudes: National and subnational influences in Western Europe. American Political Science Review, 87, 147–157. doi:10.2307/2938962.

Bandura, A. (1977). Social learning theory. Oxford: Prentice-Hall.

Baxter, J., & Kane, E. W. (1995). Dependence and independence: A cross-national analysis of gender inequality and gender attitudes. Gender and Society, 2, 193–215. doi:10.1177/089124395009002004.

Beere, C. A. (1990). Gender roles: A handbook of tests and measures. London: Greenwood Press.

Beere, C. A., King, D. W., Beere, D. B., & King, L. (1984). The sex-role egalitarianism scale: A measure of attitudes toward equality between the sexes. Sex Roles, 10, 563–576. doi:10.1007/BF00287265.

Bergh, J. (2006). Gender attitudes and modernization processes. International Journal of Public Opinion Research, 19, 5–23. doi:10.1093/ijpor/edl004.

Bettio, F., Plantenga, J., & Smith, M. (2013). Gender and the European labour market. London: Routledge.

Bolzendahl, C. I., & Myers, D. J. (2004). Feminist attitudes and support for gender equality: Opinion change in women and men, 1974–1998. Social Forces, 83, 759–790. doi:10.1353/sof.2005.0005.

Bose, C. E. (2015). Patterns of global gender inequalities and regional gender regimes. Gender and Society, 29, 767–791. doi:10.1177/0891243215607849.

Burns, N., Schlozman, K. L., & Verba, S. (2001). The private roots of public action: Gender, equality, and political participation. Cambridge: Harvard University Press.

Burt, K. B., & Scott, J. (2002). Parent and adolescent gender role attitudes in 1990s Great Britain. Sex Roles, 46, 239–245. doi:10.1023/A:1019919331967.

Cassidy, M. L., & Warren, B. O. (1996). Family employment status and gender role attitudes: A comparison of women and men college graduates. Gender and Society, 10, 312–329. doi:10.1177/089124396010003007.

Constantin, A., & Voicu, M. (2015). Attitudes towards gender roles in cross-cultural surveys: Content validity and cross-cultural measurement invariance. Social Indicators Research, 123, 733–751. doi:10.1007/s11205-014-0758-8.

Cooke, L. P. (2014). Gendered parenthood penalties and premiums across the earnings distribution in Australia, the United Kingdom, and the United States. European Sociological Review, 30, 360–372. doi:10.1093/esr/jcu044.

Council of the European Union (2011, March 7). Council conclusions on the European Pact for gender equality for the period 2011-2020. 3073th Employment, Social Policy, Health and Consumer Affairs Council meeting, Brussels.

Crouter, A. C., Whiteman, S. D., McHale, S. M., & Osgood, D. W. (2007). Development of gender attitude traditionality across middle childhood and adolescence. Child Development, 78, 911–926. doi:10.1111/j.1467-8624.2007.01040.x.

Dotti Sani, G. M. (2014). Men's employment hours and time on domestic chores in European countries. Journal of Family Issues, 35, 1023–1047. doi:10.1177/0192513X14522245.

Farré, L., & Vella, F. (2013). The intergenerational transmission of gender role attitudes and its implications for female labour force participation. Economica, 80, 219–247. doi:10.1111/ecca.12008.

Ferree, M. M. (1990). Beyond separate spheres: Feminism and family research. Journal of Marriage and the Family, 52, 866–884. doi:10.2307/353307.

Fortin, N. M. (2005). Gender role attitudes and the labour-market outcomes of women across OECD countries. Oxford Review of Economic Policy, 21, 416–438. doi:10.1093/oxrep/gri024.

FRA – European Union Agency for Fundamental Rights (2014). Violence against women: An EU-wide survey. Luxembourg: Publications Office of the European Union.

Freedom House (2016, October 15). Freedom in the world. Retrieved from https://freedomhouse.org/

Galambos, N. L., Almeida, D. M., & Petersen, A. C. (1990). Masculinity, femininity, and sex role attitudes in early adolescence: Exploring gender intensification. Child Development, 61, 1905–1014. doi:10.1111/j.1467-8624.1990.tb03574.x.

Ganzeboom, H. B. G., de Graaf, P. M., & Treiman, D. J. (1992). A standard international socio-economic index of occupational status. Social Science Research, 21, 1–56. doi:10.1016/0049-089X(92)90017-B.

Gelman, A., & Hill, J. (2006). Data analysis using regression and multilevel/hierarchical models. Cambridge: Cambridge University Press.

Goffman, E. (1977). The arrangement between the sexes. Theory and Society, 4, 301–332. doi:10.1007/BF00206983.

Hoffman, L. W., & Kloska, D. D. (1995). Parents' gender-based attitudes toward marital roles and child rearing: Development and validation of new measures. Sex Roles, 32, 273–295. doi:10.1007/BF01544598.

Inglehart, R. D. (1997). Modernization and postmodernization: Cultural, economic, and political change in 43 societies. Princeton: Princeton University Press.

Inglehart, R. D., & Norris, P. (2003). Rising tide: Gender equality and cultural change around the world. Cambridge: Cambridge University Press.

Johnston, D. W., Schurer, S., & Shields, M. A. (2014). Maternal gender role attitudes, human capital investment, and labour supply of sons and daughters. Oxford Economic Papers-New Series, 66, 631–659. doi:10.1093/oep/gpt039.

Krook, M. L. (2010). Women's representation in parliament: A qualitative comparative analysis. Political Studies, 56, 886–908. doi:10.1111/j.1467-9248.2010.00833.x.

Kunovich, R. M., & Kunovich, S. (2008). Gender dependence and attitudes toward the distribution of household labor: A comparative and multilevel analysis. International Journal of Comparative Sociology, 49, 395–427. doi:10.1177/0020715208097787.

Larsen, K. S., & Long, E. (1988). Attitudes toward sex-roles: Traditional or egalitarian? Sex Roles, 19, 1–12. doi:10.1007/BF00292459.

Lück, D. (2006). Cross-national comparison of gender role attitudes and their impact on women's life course. In H.-P. Blossfeld & H. Hofmeister (Eds.), Globalization, uncertainty, and women' careers (pp. 405–432). Cheltenham: Edward Elgar.

Marks, J. L., Lam, C. B., & McHale, S. M. (2009). Family patterns of gender role attitudes. Sex Roles, 61, 221–234. doi:10.2307/352640.

McDonald, P. (2013). Societal foundations for explaining low fertility: Gender equity. Demographic Research, 28, 981–994. doi:10.4054/DemRes.2013.28.34.

McHale, S. M., Crouter, A. C., & Tucker, C. J. (1999). Family context and gender role socialization in middle childhood: Comparing girls to boys and sisters to brothers. Child Development, 70, 990–1004. doi:10.1111/1467-8624.00072.

McHugh, M. C., & Frieze, I. H. (1997). The measurement of gender-role attitudes. A review and commentary. Psychology of Women Quarterly, 21, 1–16. doi:10.1111/j.1471-6402.1997.tb00097.x.

National Statistics Bureau Taiwan. (2016, October 15). Key figures for calculating composite Gender Equality Index. Retrieved from http://eng.stat.gov.tw/ct.asp?xItem=25280&ctNode=6032&mp=5.

OECD (2016). OECD family database. Gender differences in employment outcomes. Paris: OECD (Organisation for Economic Co-operation and Development).

Powell, B., & Carr Steelman, L. (1982). Testing an undertested comparison: Maternal effects on sons' and daughters' attitudes toward women in the labor force. Journal of Marriage and the Family, 44, 349–355. doi:10.2307/1389292.

Rhodebeck, L. A. (1996). The structure of men's and women's feminist orientations: Feminist identity and feminist opinion. Gender and Society, 10, 386–403.

Rogers, E. M. (1962). Diffusion of innovations. New York: Free Press.

Schulz, W., Ainley, J., Fraillon, J., Kerr, D., & Losito, B. (2010). ICCS 2009 International report: Civic knowledge, attitudes, and engagement among lower-secondary school students in 38 countries. Amsterdam: International Association for the Evaluation of Educational Achievement (IEA).

Schulz, W., Ainley, J., & Fraillon, J. (2011). ICCS 2009 technical report. Amsterdam: International Association for the Evaluation of Educational Achievement (IEA).

Schutz Lee, K., Tufis, P. A., & Alwin, D. F. (2010). Separate spheres or increasing equality? Changing gender beliefs in postwar Japan. Journal of Marriage and Family, 72, 184–201. doi:10.1111/j.1741-3737.2009.00691.x.

Smith, M., Akram-Lodhi, A. H., & Bettio, F. (2013). Do we have a case for gender equality? In F. Bettio, J. Plantenga, & M. Smith (Eds.), Gender and the European labour market (pp. 13–35). London: Routledge.

Spence, J. T., & Helmreich, R. I. (1978). Masculinity and femininity: Their psychological dimensions, correlates, and antecedents. Austin: University of Texas Press.

Thornton, A. (2001). The developmental paradigm, reading history sideways, and family change. Demography, 38, 449–465. doi:10.1353/dem.2001.0039.

Thornton, A., Alwin, D. F., & Camburn, D. (1983). Causes and consequences of sex-role attitudes and attitude change. American Sociological Review, 48, 211–227.

Treisman, D. (2007). What have we learned about the causes of corruption from ten years of cross-national empirical research? Annual Review of Political Science, 10, 211–244. doi:10.1146/annurev.polisci.10.081205.095418.

UN Women. (2016). Facts and figures: Economic empowerment. Retrieved from http://www.unwomen.org/en/what-we-do/economic-empowerment/facts-and-figures.

UNDP. (2010). Human development report 2010. Houndmills: Palgrave Macmillan.

United Nations. (2010). Commission on the status of women. Report on the Fifty-fourth session. Economic and Social Council Official Records, 2010, Supplement No. 7. New York: United Nations.

Van der Meer, T. W. G., te Grotenhuis, M., & Pelzer, B. (2010). Influential cases in multilevel modeling: A methodological comment. American Sociological Review, 75, 173–178. doi:10.1177/0003122409359166.

Wilensky, H. L. (2002). Rich democracies: Political economy, public policy, and performance. Berkeley: University of California Press.

Zuo, J., & Tang, S. (2000). Breadwinner status and gender ideologies of men and women regarding family roles. Sociological Perspectives, 43, 29–43. doi:10.2307/1389781.
Ethics declarations
Conflict of Interest
The authors declare that they have no conflict of interest.
Statement of Human Rights
This article does not contain any studies with human participants performed by any of the authors.
Informed Consent
Informed consent was obtained from all individual participants included in the study.
Electronic supplementary material
About this article
Cite this article
Dotti Sani, G.M., Quaranta, M. The Best Is Yet to Come? Attitudes Toward Gender Roles Among Adolescents in 36 Countries. Sex Roles 77, 30–45 (2017). https://doi.org/10.1007/s11199-016-0698-7
Keywords
Adolescents

Gender equality

Attitudes toward gender roles

Parental education

International civic and citizenship education study