Abstract
Grounded in aspects of objectification theory, social learning theory, and attachment theory, we investigated the extent to which mothers' and daughters' self-objectification were related to one another's and also identified three potential intervening factors. Specifically, we hypothesized a (statistical) direct effect of mothers' self-objectification on that of their daughters' (H1), as well as investigated a conditional direct effect (i.e., maternal care) (H2) and two indirect effects (i.e., co-rumination and mothers' weight concerns) (H3) as intervening factors that may help explain the relationship between mothers' and daughters' self-objectification. A sample of 199 U.S. undergraduate women and their mothers completed an online survey; daughters and mothers mean ages were 19.42 and 50.15, respectively, with a majority of them reporting a normal body mass index (daughters: 23.05; mothers: 25.74) and being White/Caucasian (daughters: 79.4 %; mothers: 80.9 %). The results generally supported the hypotheses. First, H1 was confirmed: Mothers' and daughters' self-objectification were positively related to one another's. Second, perceived maternal care was found to moderate this relationship, such that daughters reported higher levels of self-objectification when they perceived their mothers to be less caring; thus, H2 was confirmed. Third, H3 was partially confirmed: Perceived co-rumination about weight with mothers, but not perceived mothers' weight-related concerns, was found to be a significant mediator. These results suggest that mothers can serve as protective or inhibitory factors in daughters' experience of self-objectification depending on mothers' level of care and their direct communication with their daughters' about their bodies.
Access options
Buy single article
Instant access to the full article PDF.
USD 39.95
Price excludes VAT (USA)
Tax calculation will be finalised during checkout.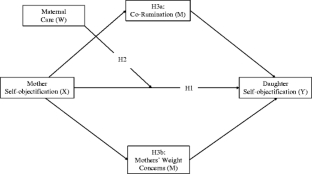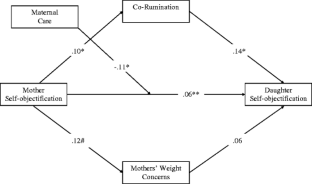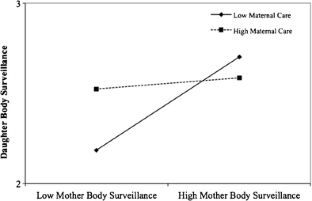 References
‬‬‬‬‬‬‬Abraczinskas, M., Fisak, B., & Barnes, R. D. (2012). The relation between parental influence, ‬‬‬‬‬‬‬‬body image, and eating behaviors in a nonclinical female sample. Body Image, 9, 93–100. doi:10.1016/j.bodyim.2011.10.005

Ackard, D. M., Neumark-Sztainer, D., Story, M., & Perry, C. (2006). Parent-child connectedness ‬‬‬‬and behavioral and emotional health among adolescents. American Journal of Preventive Medicine, 30, 59–66. doi:10.1016/j.amepre.2005.09.013.

Aiken, L. S., & West, S. G. (1991). Multiple regression: Testing and interpreting interactions. Thousand Oaks: Sage.

Arroyo, A., Segrin, C., & Harwood, J. (2014). Appearance-related communication mediates the link between self-objectification and health and well-being outcomes. Human Communication Research, 40, 463–482. doi:10.1111/hcre.12036.

Arroyo, A., Segrin, C., Harwood, J., & Bonito, J. A. (2015). Co-rumination of fat talk and weight control practices: An application of confirmation theory. Health Communication (in press).

Aubrey, J. S., Henson, J. R., Hopper, K. M., & Smith, S. E. (2009). A picture is worth twenty words (about the self): Testing the priming influence of visual sexual objectification on women's self-objectification. Communication Research Reports, 26, 271–284. doi:10.1080/08824090903293551.

Bakhshi, S. (2011). Women's body image and the role of culture: A review of the literature. Europe's Journal of Psychology, 7, 374–394. doi:10.5964/ejop.v7i2.135.

Bandura, A. (1977). Social learning theory. New York: General Learning Press.

Benedikt, R., Wertheim, E., & Love, A. (1998). Eating attitudes and weight-loss attempts in female adolescents and their mothers. Journal of Youth and Adolescence, 27, 43–57. doi:10.1023/A:1022876715005.

Berger, P. L., & Luckmann, T. (1966). The social construction of reality: A treatise in the sociology of knowledge. Garden City: Anchor Books.

Blumer, H. (1969). Symbolic interactionism; Perspective and method. Englewood Cliffs: Prentice-Hall.

Bowlby, J. (1969). Attachment and loss: Vol. 1 attachment. London: Pimlico.

Bussey, K., & Bandura, A. (1999). Social cognitive theory of gender development and differentiation. Psychological Review, 106, 676–713. doi:10.1037/0033-295X.106.4.676.

Calmes, C. A., & Roberts, J. E. (2008). Rumination in interpersonal relationships: Does co-rumination explain gender differences in emotional distress and relationship satisfaction among college students? Cognitive Therapy and Research, 32, 577–590. doi:10.1007/s10608-008-9200-3.

Calogero, R. M. (2009). Objectification processes and disordered eating in British women and men. Journal of Health Psychology, 14, 394–402. doi:10.1177/1359105309102192.

Center for Disease Control and Prevention (2015). Retrieved from http://www.cdc.gov/healthyweight/assessing/bmi/adult_bmi/

Clarke, L. H., & Griffin, M. (2007). Becoming and being gendered through the body: Older women, their mothers and body image. Ageing and Society, 27, 701–718. doi:10.1017/S0144686X0700623X.

Cohen, S., & Wills, T. A. (1985). Stress, social support, and the buffering hypothesis. Psychological Bulletin, 98, 310–357. doi:10.1037/0033-2909.98.2.310.

Cooley, E., Toray, T., Wang, M. C., & Valdez, N. N. (2008). Maternal effects on daughters' eating pathology and body image. Eating Behaviors, 9, 52–61. doi:10.1016/j.eatbeh.2007.03.001.

Crawford, M., Lee, I., Portnoy, G., Gurung, A., Khati, D., Jha, P., & Regmi, A. C. (2009). Objectified body consciousness in a developing country: A comparison of mothers and daughters in the US and Nepal. Sex Roles, 60, 174–185. doi:10.1007/s11199-008-9521-4.

Davidson, C. L., Grant, D. M., Byrd-Craven, J., Mills, A. C., Judah, M. R., & Lechner, W. V. (2014). Psychometric properties of the Co-Rumination Questionnaire. Personality and Individual Differences, 70, 171–175. doi:10.1016/j.paid.2014.07.002.

Estlein, R., & Theiss, J. A. (2013, June). Responsiveness and control in marital and parental communication: Exploring consistencies across family subsystems and between perceived and observed behavior. Paper presented at the meeting of the International Communication Association, London, England.

Francis, L. A., & Birch, L. L. (2005). Maternal influences on daughters' restrained eating behavior. Health Psychology, 24, 548–554. doi:10.1037/0278-6133.24.6.548.

Fredrickson, B. L., & Roberts, T. (1997). Objectification theory: Toward understanding women's lived experiences and mental health risks. Psychology of Women Quarterly, 21, 173–206. doi:10.1111/j.1471-6402.1997.tb00108.x.

Grabe, S., Hyde, J. S., & Lindberg, S. M. (2007). Body objectification and depression in adolescents: The role of gender, shame, and rumination. Psychology of Women Quarterly, 31, 164–175. doi:10.1111/j.1471-6402.2007.00350.x.

Grauerholz, E., & King, A. (1997). Primetime sexual harassment. Violence Against Women, 3, 129–148. doi:10.1177/1077801297003002003.

Grieve, R., & Helmick, A. (2008). The influence of men's self-objectification on the drive for muscularity: Self-esteem, body satisfaction and muscle dysmorphia. International Journal of Men's Health, 7, 288–298. doi:10.3149/jmh.0703.288.

Hayes, A. F. (2013). Introduction to mediation, moderation, and conditional process analysis: A regression-based approach. New York: The Guilford Press.

Kaschak, E. (1992). Engendered lives: A new psychology of women's experience. New York: Basic Books.

Katz-Wise, S. L., Budge, S. L., Lindberg, S. M., & Hyde, J. S. (2012). Individuation or identification? Self-objectification and the mother–adolescent relationship. Psychology of Women Quarterly, 37, 366–380. doi:10.1177/0361684312468425.

Keery, H., van den Berg, P., & Thompson, J. K. (2004). An evaluation of the tripartite influence model of body dissatisfaction and eating disturbance with adolescent girls. Body Image, 1, 237–251. doi:10.1016/j.bodyim.2004.03.001.

Keery, H., Eisenberg, M. E., Boutelle, K., Neumark-Sztainer, D., & Story, M. (2006). Relationships between maternal and adolescent weight-related behaviors and concerns: The role of perception. Journal of Psychosomatic Research, 61, 105–111. doi:10.1016/j.jpsychores.2006.01.011.

Krassas, N. R., Blauwkamp, J. M., & Wesselink, P. (2003). "Master your Johnson": Sexual rhetoric in Maxim and Stuff magazines. Sexuality and Culture, 7, 98–119. doi:10.1007/s12119-003-1005-7.

LaRossa, R., & Reitzes, D. C. (1993). Symbolic interactionism and family studies. In P. G. Boss, W. J. Doherty, R. LaRossa, W. R. Schumm, & S. K. Steinmetz (Eds.), Sourcebook of family theories and methods: A contextual approach (pp. 135–163). New York: Plenum Press.

Levine, M. P., Smolak, L., & Hayden, H. (1994). The relation of sociocultural factors to eating attitudes and behaviors among middle school girls. The Journal of Early Adolescence, 14, 471–490. doi:10.1177/0272431694014004004.

Lin, C. (1997). Beefcake versus cheesecake in the 1990s: Sexist portrayals of both genders in television commercials. Howard Journal of Communications, 8, 237–249. doi:10.1080/10646179709361757.

Lindberg, S. M., Grabe, S., & Hyde, J. S. (2007). Gender, pubertal development, and peer sexual harassment predict objectified body consciousness in early adolescence. Journal of Research on Adolescence, 17, 723–742. doi:10.1111/j.1532-7795.2007.00544.x.

MacGeorge, E. L., Feng, B., & Burleson, B. R. (2011). Supportive communication. In M. L. Knapp, & J. A. Daly (Eds.), Handbook of interpersonal communication (pp. 317–354). Thousand Oaks: Sage.

McKinley, N. M. (1999). Women and objectified body consciousness: Mothers' and daughters' body experience in cultural, developmental, and familial context. Developmental Psychology, 35, 760–769. doi:10.1037/0012-1649.35.3.760.

McKinley, N., & Hyde, J. (1996). The objectified body consciousness scale: Development and validation. Psychology of Women Quarterly, 20, 181–215. doi:10.1111/j.1471-6402.1996.tb00467.x.

Miga, E. M., Hare, A., Allen, J. P., & Manning, N. (2010). The relation of insecure attachment states of mind and romantic attachment styles to adolescent aggression in romantic relationships. Attachment & Human Development, 12, 463–481. doi:10.1080/14616734.2010.501971.

Mikulincer, M., Florian, V., & Hirschberger, G. (2003). The existential function of close relationships: Introducing death into the science of love. Personality and Social Psychology Review, 7, 20–40. doi:10.1207/S15327957PSPR0701_2.

Moradi, B. (2010). Addressing gender and cultural diversity in body image: Objectification theory as a framework for integrating theories and grounding research. Sex Roles, 63, 138–148. doi:10.1007/s11199-010-9824-0.

Moradi, B. (2011). Objectification theory: Areas of promise and refinement. The Counseling Psychologist, 39, 153–163. doi:10.1177/0011000010384279.

Moradi, B., & Huang, Y. P. (2008). Objectification theory and psychology of women: A decade of advances and future directions. Psychology of Women Quarterly, 32, 377–398. doi:10.1111/j.1471-6402.2008.00452.x.

Neumark-Sztainer, D., Bauer, K. W., Friend, S., Hannan, P. J., Story, M., & Berge, J. M. (2010). Family weight talk and dieting: How much do they matter for body dissatisfaction and disordered eating behaviors in adolescent girls? Journal of Adolescent Health, 47, 270–276. doi:10.1016/j.jadohealth.2010.02.001.

Nichter, M. (2000). Fat talk. Cambridge: Harvard University Press.

O'Dougherty, M., Schmitz, K. H., Hearst, M. O., Covelli, M., & Kurzer, M. S. (2011). Dual conversations: Body talk among young women and their social contacts. Qualitative Health Research, 21, 1191–1204. doi:10.1177/1049732311405804.

Parker, G., Tupling, H., & Brown, L. B. (1979). A parental bonding instrument. British Journal of Medical Psychology, 52, 1–10. doi:10.1111/j.2044-8341.1979.tb02487.x.

Rodgers, R. F., Faure, K., & Chabrol, H. (2009). Gender differences in parental influences on adolescent body dissatisfaction and disordered eating. Sex Roles, 61, 837–849. doi:10.1007/s11199-009-9690-9.

Rodin, J., Silberstein, L., & Striegel-Moore, R. (1984). Women and weight: A normative discontent. In T. B. Sonderegger (Ed.), Nebraska symposium on motivation (pp. 267–307). Lincoln: University of Nebraska Press.

Rose, A. J. (2002). Co-rumination in the friendships of girls and boys. Child Development, 73, 1830–1843. doi:10.1111/1467-8624.00509.

Rose, A. J., Carlson, W., & Waller, E. M. (2007). Prospective associations of co-rumination with friendship and emotional adjustment: Considering the socioemotional trade-offs of co-rumination. Developmental Psychology, 43, 1019–1031. doi:10.1037/0012-1649.43.4.1019.

Safford, S., Alloy, L., & Pieracci, A. (2007). A comparison of two measures of parental behavior. Journal of Child and Family Studies, 16, 375–384. doi:10.1007/s10826-006-9092-3.

Segrin, C., Woszidlo, A., Givertz, M., Bauer, A., & Taylor Murphy, M. (2012). The association between overparenting, parent-child communication, and entitlement and adaptive traits in adult children. Family Relations, 61, 237–252. doi:10.1111/j.1741.3729.2011.00689.x.

Spitzack C. (1990). Confessing excess: Women and the politics of body reduction‬. New York: SUNY Press‬‬‬‬‬‬‬.‬‬‬‬‬‬‬‬‬‬‬‬‬‬‬‬‬‬‬‬‬‬‬‬‬‬‬‬‬‬‬‬‬‬‬‬‬‬‬‬‬‬‬‬‬‬‬‬‬‬‬‬‬‬‬‬‬‬‬‬‬‬‬‬‬‬

Starr, C. R., & Ferguson, G. M. (2012). Sexy dolls, sexy grade-schoolers? Media & maternal influences on young girls' self-sexualization. Sex Roles, 67, 463–476. doi:10.1007/s11199-012-0183-x.

Thompson, J. K., Heinberg, L. J., Altabe, M., & Tantleff-Dunn, S. (1999). Exacting beauty: Theory, assessment, and treatment of body image disturbance. Washington DC: American Psychological Association.

Tiggemann, M., & McCourt, A. (2013). Body appreciation in adult women: Relationships with age and body satisfaction. Body Image, 10, 624–627. doi:10.1016/j.bodyim.2013.07.003.

van den Berg, P., Neumark-Sztainer, D., Hannan, P. J., & Jess Haines, J. (2007). Is dieting advice from magazines helpful or harmful? Five-year associations with weight-control behaviors and psychological outcomes in adolescents. Pediatrics, 119, e30–e37. doi:10.1542/peds.2006-0978.

Wilhelm, K., & Parker, G. (1990). Reliability of the parental bonding instrument and intimate bond measure scales. Australian and New Zealand Journal of Psychiatry, 24, 199–202. doi:10.3109/00048679009077683.

Wilhelm, K., Niven, H., Parker, G., & Hadzi-Pavlovic, D. (2005). The stability of the parental bonding instrument over a 20-year period. Psychological Medicine, 35, 387–393. doi:10.1017/S0033291704003538.

Wiseman, M. C., & Moradi, B. (2010). Body image and eating disorder symptoms in sexual minority men: A test and extension of objectification theory. Journal of Counseling Psychology, 57, 154–166. doi:10.1037/t19098-000.
Ethics declarations
Because our study involved human subjects, we followed the guidelines for seeking approval from the Institutional Review Board. Upon approval of IRB, all participants read and agreed to the informed consent presented to them before completing this study.
About this article
Cite this article
Arroyo, A., Andersen, K.K. The Relationship between Mother-Daughter Self-Objectification: Identifying Direct, Indirect, and Conditional Direct Effects. Sex Roles 74, 231–241 (2016). https://doi.org/10.1007/s11199-015-0554-1
Published:

Issue Date:

DOI: https://doi.org/10.1007/s11199-015-0554-1
Keywords