Abstract
In this article, we engage with the commentaries of our Feminist Forum article (McCormack and Anderson 2014) by Parent et al. (2014), Plummer (2014), Worthen (2014) and Negy (2014) to enhance understanding of the concept homohysteria and to explore its application to a range of demographic groups. Developing a stage model of homohysteria that accounts for both increases and decreases in levels of homophobia in U.S. cultures, we focus on three key issues that were highlighted by the commentaries. First, we discuss the definitional clarity of homohysteria. Next, we argue that while it is important to recognize the diversity of sexualities in the U.S. and historically, it is primarily heterosexuals' perceptions of homosexuality that are most important. Finally, we call for the incorporation of an intersectional and international approach that extends the concept beyond heterosexual men in the U.S.
This is a preview of subscription content, log in to check access.
Access options
Buy single article
Instant access to the full article PDF.
US$ 39.95
Price includes VAT for USA
Subscribe to journal
Immediate online access to all issues from 2019. Subscription will auto renew annually.
US$ 199
This is the net price. Taxes to be calculated in checkout.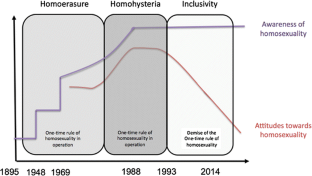 References
Adams, A. (2011). "Josh wears pink cleats": Inclusive masculinity on the soccer field. Journal of Homosexuality, 58, 579–596. doi:10.1080/00918369.2011.563654.

Afary, J. (2009). Sexual politics in modern Iran. Cambridge: Cambridge University Press.

Aggleton, P., Davies, P. M., Davies, P., & Hart, G. (Eds.). (1992). AIDS: Rights, risk, and reason. London: Taylor & Francis.

Allen, D. A. (1954). Antifemininity in men. American Sociological Review, 19, 591–593. doi:10.2307/2087798.

Anderson, E. (2009). Inclusive masculinity: The changing nature of masculinities. London: Routledge.

Anderson, E. (2014). 21st century jocks. London: Palgrave MacMillan.

Anderson, E., & McCormack, M. (2014). He's hot, she's hot: Bisexual men's social progress. New York: Columbia University Press.

Anderson, E., Adams, A., & Rivers, I. (2012). "I kiss them because I love them": The emergence of heterosexual men kissing in British institutes of education. Archives of Sexual Behaviors, 41, 421–430. doi:10.1007/s10508-010-9678-0.

Baker, P. L., & Hotek, D. R. (2011). Grappling with gender: Exploring masculinity and gender in the bodies, performances, and emotions of scholastic wrestlers. Journal of Feminist Scholarship, 1, 1–15.

Baunach, D. M. (2012). Changing same-sex marriage attitudes in America from 1988 through 2010. Public Opinion Quarterly, 76, 364–378. doi:10.1093/poq/nfs022.

Bird, S. R. (1996). Welcome to the men's club: Homosociality and the maintenance of hegemonic masculinity. Gender and Society, 10, 120–132. doi:10.1177/089124396010002002.

Bruce-Jones, E., & Itaborahy, L. P. (2011). State-sponsored Homophobia. New York: ILGA–The International Lesbian, Gay, Bisexual, Trans and Intersex Association.

Carrigan, T., Connell, B., & Lee, J. (1985). Toward a new sociology of masculinity. Theory and Society, 14, 551–604. doi:10.1007/BF00160017.

Cavalier, E. S. (2011). Men at sport: Gay men's experiences in the sport workplace. Journal of Homosexuality, 58, 626–646. doi:10.1080/00918369.2011.563662.

Chauncy, G. (1994). Gay New York: Gender, urban culture, and the making of the gay male world 1890–1940. New York: Basic Books.

Connell, R. W. (1995). Masculinities. London: Polity.

Dean, J. J. (2013). Heterosexual masculinities, anti-homophobias, and shifts in hegemonic masculinity: The identity practices of black and white heterosexual men. The Sociological Quarterly, 54, 534–560. doi:10.1111/tsq.12036.

Derlega, V. J., Lewis, R. J., Harrison, S., Winstead, B. A., & Costanza, R. (1989). Gender differences in the initiation and attribution of tactile intimacy. Journal of Nonverbal Behavior, 13, 83–96. doi:10.1007/BF00990792.

Drummond, M. J., Filiault, S. M., Anderson, E., & Jeffries, D. (2014). Homosocial intimacy among Australian undergraduate men. Journal of Sociology. Advance online publication. doi:10.1177/1440783313518251.

Field, T. (1999). American adolescencts touch each other less and are more aggressive toward their peers as compared with French adolescents. Adolescence, 34, 753–758.

Floyd, K. (2000). Affectionate same-sex touch: The influence of homophobia on observers' perceptions. The Journal of Social Psychology, 140, 774–788. doi:10.1080/00224540009600516.

Gottzén, L., & Kremer-Sadlik, T. (2012). Fatherhood and youth sports: A balancing act between care and expectations. Gender & Society, 26, 639–664. doi:10.1177/0891243212446370.

Greenberg, D. F. (1988). The construction of homosexuality. Chicago: University of Chicago Press.

Ibson, J. (2002). Picturing men: A century of male relationships in everyday life. Washington: Smithsonian Books.

Jarvis, N. (2013). The inclusive masculinities of heterosexual men within UK gay sport clubs. International Review for the Sociology of Sport. Advance online publication. doi:10.1177/1012690213482481.

Johnson, D. K. (2004). The Lavender scare: The cold war persecution of gays and lesbians in the federal government. Chicago: University of Chicago Press.

Karimi, A. (2014). Iranian homosexuals: Social identity formation and question of femininity. Culture & Psychology.

Keleher, A., & Smith, E. (2012). Growing support for gay and lesbian equality since 1990. Journal of Homosexuality, 59, 1307–1326. doi:10.1080/00918369.2012.720540.

Kimmel, M. S. (1996). Manhood in America: A cultural history. New York: Free Press.

Klein, F. (1993). The bisexual option. New York: Basic Books.

Kuper, L. E., Nussbaum, R., & Mustanski, B. (2012). Exploring the diversity of gender and sexual orientation identities in an online sample of transgender individuals. Journal of Sex Research, 49, 244–254. doi:10.1080/00224499.2011.596954.

Loftus, J. (2001). America's liberalization in attitudes toward homosexuality, 1973–1998. American Sociological Review, 66, 762–782. doi:10.2307/3088957.

Luttrell, W. (2012). Making boys' careworlds visible. Thymos: Journal of Boyhood Studies, 6, 186–202. doi:10.3149/thy.0602.186.

Makofane, K., Beck, J., Lubensky, M., & Ayala, G. (2014). Homophobic legislation and its impact on human security. African Security Review, 23(2), 186–195. doi:10.1080/10246029.2014.913832

Marsiglio, W. (1993). Attitudes toward homosexual activity and gays as friends: A national survey of heterosexual 15‐to 19‐year‐old males. Journal of Sex Research, 30, 12–17. doi:10.1080/00224499309551673.

McCormack, M. (2012). The declining significance of homophobia: How teenage boys are redefining masculinity and homophobia. New Y ork: Oxford University Press.

McCormack, M. (2014). The intersections of youth masculinities, decreasing homophobia and class: An ethnography. British Journal of Sociology, 65, 130–149. doi:10.1111/1468-4446.12055.

McCormack, M., & Anderson, E. (2014). The influence of declining homophobia on men's gender in the United States: An argument for the study of homohysteria. Sex Roles. doi:10.1007/s11199-014-0358-8. This issue

Miller, N. (1995). Out of the past: Gay and lesbian history from 189 to the present. London: Vintage.

Negy, C. (2014). Homohysteria: Useful construct? Or an unnecessary splitting of hairs? Sex Roles. doi:10.1007/s11199-014-0386-4. This issue

Parent, M. C., Batura, A., & Crooks, K. (2014). Homohysteria: A commentary and critique. Sex Roles. doi:10.1007/s11199-014-0393-5. This issue

Plummer, D. (2014). The ebb and flow of homophobia: A gender taboo theory. Sex Roles. doi:10.1007/s11199-014-0390-8. This issue

Pollack, W. (1999). Real boys: Rescuing our sons from the myths of boyhood. New York: Macmillan.

Riley, B. H. (2010). GLB adolescent's "coming out". Journal of Child and Adolescent Psychiatric Nursing, 23, 3–10. doi:10.1111/j.1744-6171.2009.00210.x.

Ripley, M., Anderson, E., McCormack, M., & Rockett, B. (2012). Heteronormativity in the university classroom novelty attachment and content substitution among gay-friendly students. Sociology of Education, 85, 121–130. doi:10.1177/0038040711427315.

Roberts, S. (2013). Boys will be boys won't they? Change and continuities in contemporary young working-class masculinities. Sociology, 47(4): 671–686.

Ruel, E., & Campbell, R. T. (2006). Homophobia and HIV/AIDS: Attitude change in the face of an epidemic. Social Forces, 84, 2167–2178. doi:10.1353/sof.2006.0110.

Savin-Williams, R. C. (2005). The new gay teenager. Cambridge: Harvard University Press.

Seidman, S. (2002). Beyond the closet: The transformation of gay and lesbian life. London: Routledge.

Smith, S. J., Axelton, A. M., & Saucier, D. A. (2009). The effects of contact on sexual prejudice: A meta-analysis. Sex Roles, 61, 178–191. doi:10.1007/s11199-009-9627-3.

Soboleva, I., & Bakhmet'ev, Y. (2014). "I was basically kicked off": Reaction of LGBT on the prohibition of homosexuality propaganda. The Journal of Social Policy Studies, 12, 217–232.

Spencer, C. (1995). Homosexuality in history. Florida: Harcourt Brace.

Walby, S. (1990). Theorising patriarchy. London: Blackwell.

Weeks, J. (2007). The world we have won. London: Routledge.

West, K., & Cowell, N. M. (2014). Predictors of prejudice against lesbians and gay men in Jamaica. The Journal of Sex Research. Advance online publication. doi:10.1080/00224499.2013.853725.

Wood, P. B., & Bartkowski, J. P. (2004). Attribution style and public policy attitudes toward gay rights. Social Science Quarterly, 85, 58–74. doi:10.1111/j.0038-4941.2004.08501005.x.

Worthen, M. G. F. (2014). The cultural significance of homophobia on heterosexual women's gendered experiences in the United States: A commentary. Sex Roles. doi:10.1007/s11199-014-0389-1. This issue
About this article
Cite this article
McCormack, M., Anderson, E. Homohysteria: Definitions, Context and Intersectionality. Sex Roles 71, 152–158 (2014). https://doi.org/10.1007/s11199-014-0401-9
Keywords
Gender

Heterosexuality

Homohysteria

Homophobia

Masculinities

Theory