Abstract
Previous studies have indicated that the research context has an influence on whether gender differences are found in sexual behavior, likely due to adherence to different gender norms for men and women. The present study utilized bogus pipeline methodology to help determine if the purported use of a lie detector would influence gender differences in reports of other types of behaviors considered more suitable for one gender or the other. Participants consisted of General Psychology students attending a regional campus of a major Midwestern university in the United States. Approximately half of 293 participants completed a questionnaire while connected to non-functioning lie detection equipment and the other half completed the questionnaire after the equipment had been disconnected. There were interactions between gender of participant and testing condition for sexual behavior but not for other types of common behaviors considered more appropriate for one gender or the other. This suggests that there is something specific to sexual behavior with regard to a differential willingness between men and women to report behavior unless there is pressure to be honest. Hypergender ideology was related to reports of sexual behavior (but not nonsexual behavior) only for men in the bogus pipeline condition, lending further support to the idea that gender role expectations influence reports of sexual behavior more than reports of other types of behavior.
Access options
Buy single article
Instant access to the full article PDF.
US$ 39.95
Tax calculation will be finalised during checkout.
Subscribe to journal
Immediate online access to all issues from 2019. Subscription will auto renew annually.
US$ 119
Tax calculation will be finalised during checkout.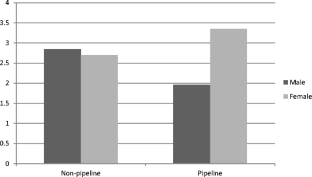 References
Alexander, M. G., & Fisher, T. D. (2003). Truth and consequences: Using the bogus pipeline to examine sex differences in self-reported sexuality. Journal of Sex Research, 40, 27–35. doi:10.1080/00224490309552164.

Allen, A. L. (1999). Lying to protect privacy. Villanova Law Review, 44, 161–188.

Bargh, J. A., & Chartrand, T. L. (2000). The mind in the middle: A practical guide to priming and automaticity research. In H. T. Reis & C. M. Judd (Eds.), Handbook of research methods in social and personality psychology (pp. 253–285). New York: Cambridge University Press.

Baumeister, R. F., Catanese, K. R., & Vohs, K. D. (2001). Is there a gender difference in strength of sex drive? Theoretical views, conceptual distinctions, and a review of relevant evidence. Personality and Social Psychology Review, 5, 242–273. doi:10.1207/S15327957PSPR0503_5.

Brown, N. R., & Sinclair, R. C. (1999). Estimating number of lifetime sexual partners: Men and women do it differently. Journal of Sex Research, 36, 292–297. doi:10.1080/00224499909551999.

Buss, D. M. (1998). Sexual strategies theory: Historical origins and current status. Journal of Sex Research, 35, 19–31. doi:10.1080/00224499809551914.

Buss, D. M., & Schmitt, D. P. (1993). Sexual strategies theory: An evolutionary perspective on human mating. Psychological Review, 100, 204–232. doi:10.1037/0033-295X.100.2.204.

Conley, T. D., Ziegler, A., & Moors, A. C. (2012). Backlash from the bedroom: Stigma mediates gender differences in acceptance of casual sex offers. Psychology of Women Quarterly. doi:10.1177/0361684312467169. Advance online publication.

Cortina, J. M. (1993). What is coefficient alpha? An examination of theory and applications. Journal of Applied Psychology, 78, 98–104. doi:10.1037/0021-9010.78.1.98.

Cowan, G. (1984). The double standard in age-discrepant relationships. Sex Roles, 11, 17–23. doi:10.1007/BF00287436.

Crowne, D. P., & Marlowe, D. (1960). A new scale of social desirability independent of psychopathology. Journal of Consulting Psychology, 24, 349–354. doi:10.1037/h0047358.

Cubbins, L. A., & Tanfer, K. (2000). The influence of gender on sex: A study of men's and women's self-reported high-risk sex behavior. Archives of Sexual Behavior, 29, 229–257. doi:10.1023/A:1001963413640.

Eagly, A. H., & Wood, W. (1991). Explaining sex differences in social behavior: A meta- analytic perspective. Personality and Social Psychology Bulletin, 17, 306–315. doi:10.1177/0146167291173011.

Eagly, A. H., & Wood, W. (1999). The origins of sex differences in human behavior: Evolved dispositions versus social roles. American Psychologist, 54, 408–423. doi:10.1037/0003-066X.54.6.408.

Fisher, T. D. (2007). Sex of experimenter and social norm effects on reports of sexual behavior in young men and women. Archives of Sexual Behavior, 36, 89–100. doi:10.1007/s10508-006-9094-7.

Fisher, T. D. (2009). The impact of socially conveyed norms on the reporting of sexual behavior and attitudes by men and women. Journal of Experimental Social Psychology, 45, 567–572. doi:10.1016/j.jesp.2009.02.007.

Hamburger, M. E., Hogben, M., McGowan, S., & Dawson, L. J. (1996). Development and initial validation of a gender-neutral measure of adherence to extreme gender-role beliefs. Journal of Research in Personality, 30, 157–178. doi:10.1006/jrpe.1996.0011.

Hertzberg, H. (2011, June 8). Anthony Weiner comes clean. Retrieved from http://www.newyorker.com/online/blogs/hendrikhertzberg/2011/06/anthony-weiner-comes-clean.html.

Jonason, P. K., & Fisher, T. D. (2009). The power of prestige: Why young men report having more sex partners than young women. Sex Roles, 60, 151–159. doi:10.1007/s11199-008-9506-3.

Kauffman, A. S. (2010). Coming of age in the Kisspeptin Era: Sex differences, development, and puberty. Molecular and Cellular Endocrinology, 324, 51–63. doi:10.1016/1j.mce.2010.01.017.

Kite, M. E., Deaux, K., & Haines, E. (2008). Gender stereotypes. In F. Denmark & M. Paludi (Eds.), Handbook on the psychology of women (2nd ed., pp. 205–236). Westport: Greenwood Press.

Knox, D., Schacht, C., Holt, J., & Turner, J. (1993). Sexual lies among university students. College Student Journal, 27, 269–272.

Leitenberg, H., & Saltzman, H. (2003). College women who had sexual intercourse when they were underage minors (13-15): Age of their male partners, relation to current adjustment, and statutory rape implications. Sexual Abuse: A Journal of Research and Treatment, 15, 135–147. doi:1079-0632/03/0400-0135/0.

Millham, J., & Kellogg, R. W. (1980). Need for social approval: Impression management or self-deception? Journal of Research in Personality, 14, 445–457. doi:10.1016/0092-6566(80)90003-3.

Nederhof, A. J. (1985). Methods of coping with social desirability bias: A review. European Journal of Social Psychology, 15, 263–280. doi:10.1002/ejsp.2420150303.

Petersen, J. L., & Hyde, J. S. (2010). A meta-analytic review of research on gender differences in sexuality, 1993-2007. Psychological Bulletin, 136, 21–38. doi:10.1037/a0017504.

Peterson, Z. D., & Muehlenhard, C. L. (2007). What is sex and why does it matter? A motivational approach to exploring individuals' definitions of sex. Journal of Sex Research, 44, 256–268. doi:10.1080/00224490701443932.

Roese, N. J., & Jamieson, D. W. (1993). Twenty years of bogus pipeline research: A critical review and meta-analysis. Psychological Bulletin, 114, 363–375. doi:10.1037/0033-2909.114.2.363.

Rudman, L. A., & Fairchild, K. (2004). Reactions to counterstereotypic behavior: The role of backlash in cultural stereotype maintenance. Journal of Personality and Social Psychology, 87, 157–176. doi:10.1037/0022-3514.87.2.157.

Rudman, L. A., Fetterolf, J. C., & Sanchez, D. T. (2013). What motivates the double standard? More support for male versus female control theory. Personality and Social Psychology Bulletin, 39(2), 121–143.

Sakaluk, J. K., & Milhausen, R. R. (2012). Factors influencing university students' explicit and implicit sexual double standards. Journal of Sex Research, 49, 464–476. doi:10.1080/00224499.2011.569976.

Sanchez, D. T., Kiefer, A. K., & Ybarra, O. (2006). Sexual submissiveness in women: Costs for sexual autonomy and arousal. Personality and Social Psychology Bulletin, 32, 512–524. doi:10.1177/0146167205282154.

Schmitt, D. P. (2005). Sociosexuality from Argentina to Zimbabwe: A 48-nation study of sex, culture, and strategies of human mating. The Behavioral and Brain Sciences, 28, 247–311. doi:10.1017/S0140525X05000051.

Seal, D. W., Agostinelli, G., & Hannett, C. A. (1994). Extradyadic romantic involvement: Moderating effects of sociosexuality and gender. Sex Roles, 31, 1–22. doi:10.1007/BF01560274.

Strahan, R., & Gerbasi, K. C. (1972). Short, homogeneous versions of the Marlowe-Crowne Social Desirability Scale. Journal of Clinical Psychology, 28, 191–193. doi:10.1002/1097-4679(197204)28:2<191::AID-JCLP2270280220>3.0.CO;2-G.

Tate, C. (2011). The "problem of number" revisited: The relative contributions of psychosocial, experiential, and evolutionary factors to the desired number of sexual partners. Sex Roles, 64, 644–657. doi:10.1007/s11199-010-9774-6.

Tavakol, M., & Dennick, R. (2011). Making sense of Cronbach's alpha. International Journal of Medical Education, 2, 53–55. doi:10.5116/ijme.4dfb.8dfd.

Tourangeau, R., Smith, T. W., & Rasinski, K. A. (1997). Motivation to report sensitive behaviors on surveys: Evidence from a bogus pipeline experiment. Journal of Applied Social Psychology, 27, 209–222. doi:10.1111/j.1559-1816.1997.tb00629.x.

Wiederman, M. W. (1997). The truth must be in here somewhere: Examining the gender discrepancy in self-reported lifetime number of sex partners. Journal of Sex Research, 34, 375–386. doi:10.1080/00224499709551905.

Witt, M. G., & Wood, W. (2010). Self-regulation of gendered behavior in everyday life. Sex Roles, 62, 635–646. doi:10.1007/s11199-010-9761-y.

Wood, W., Christensen, P. N., Hebl, M. R., & Rothgerber, H. (1997). Conformity to sex-typed norms, affect, and the self-concept. Journal of Personality and Social Psychology, 73, 523–535. doi:10.1037/0022-3514.73.3.523.

Zentner, M., & Mitura, K. (2012). Stepping out of the caveman's shadow: Nations' gender gap predicts degree of sex differentiation in mate preferences. Psychological Science, 23, 1176–1185. doi:10.1177/0956797612441004.
Acknowledgments
Thanks to the late Michele Alexander who assisted with the development of the primary measure, to Naomi Fisher for asking the question that inspired this study, to Philip Mazzocco who made valuable suggestions on an earlier version of this manuscript, and to Charlene Muehlenhard, who was an incredibly helpful and insightful reviewer. The lab assistants for this study were Seth Channing, Spencer Hall, Austin Hart, Kate Hoard, Jenna Hughes, Shaye McAlexander, and Martin Stull. Funding for this project was provided by a Professional Development Grant from OSU-Mansfield.
About this article
Cite this article
Fisher, T.D. Gender Roles and Pressure to be Truthful: The Bogus Pipeline Modifies Gender Differences in Sexual but Not Non-sexual Behavior. Sex Roles 68, 401–414 (2013). https://doi.org/10.1007/s11199-013-0266-3
Keywords
Gender roles

Sex roles

Sexual behavior

Bogus pipeline

Gender differences